Sweet, fragrant, and easy to make, korean desserts are a must-try if you're a sweets lover.
In Korea, desserts are a way of life.
From the sweet rice cakes to the fragrant hotteok pancakes, there are plenty of yummy treats to choose from.
And yes, you can find some pretty traditional recipes in this modern country.
But there are some fun and creative treats too!
So whether you're in the mood for something fruity or sweet or a little spicy, these Korean desserts will have you satisfied and wanting more.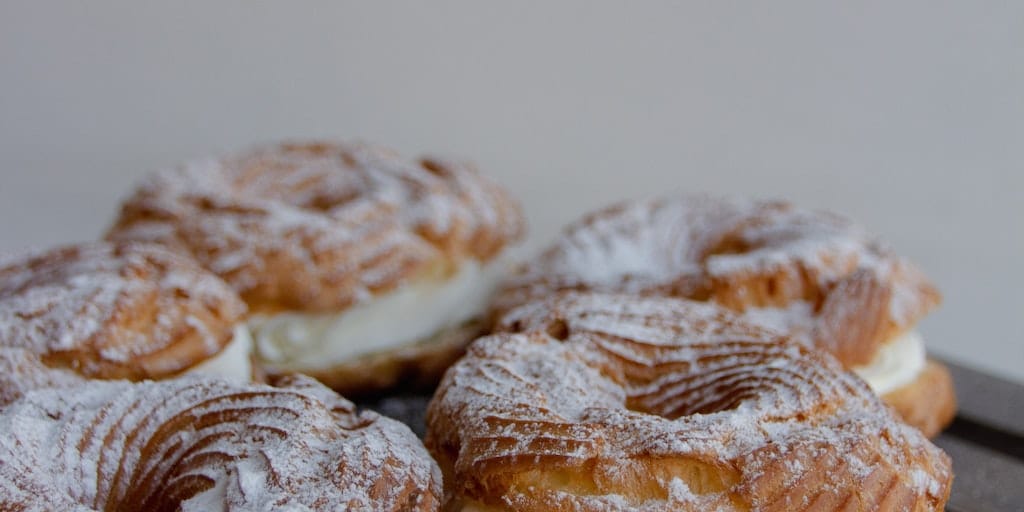 Hotteok is a popular Korean dessert made with rice cakes, syrup, and a sweetener.
They're not the most health-conscious sweets, but they're worth a try.
Plus, the cakes are easy to make and have fantastic texture.
This recipe uses cinnamon sugar for flavoring and you can use any type of sugar or honey for sweetness.
Just be sure to cut down on the extra sugars if you go with unsweetened syrup.
These hotteok are best eaten out of hand with sesame seeds sprinkled over them.
You can also serve them in a bowl for dipping!
A soft and chewy pastry that gives you a lot of sweet, buttery taste is what yakwa is.
It's a traditional Korean pastry that's filled with an almond paste filling.
The dough is made using rice flour mixed with baking powder, sugar, and water.
Once prepared, the dough goes into the pan to get the perfect golden-brown crust.
After it bakes, the filling gets poured over.
The resulting pie is delicious in both texture and flavor.
If you're looking for a new way to enjoy your donuts, try making them with Korean sweet food staples like sugar paste and kimchi!
They'll turn out soft and tender, but they won't be overly sweet.
You can serve them warm or cold, and the best part is that they're incredibly versatile.
Use any filling you like – jam, cream cheese, fruit preserves – just make sure it goes well with the sticky-sweet glaze.
As the name suggests, this cake is half-moon shaped.
The rice cakes are a bit more round than a traditional rice cake, but they're still quite round.
The ingredients you need to make these cakes are simple: yam flour and sugar, palm sugar, salt, and water.
So it's very easy to make even beginners successful with this recipe.
You can also use any regular white or brown rice flour instead of yam flour if you prefer that texture.
Since they're already so delicious already, the flavor is not changed much.
The bungeoppang is a kind of fish-shaped pastry.
It's made from flour, eggs, and sugar.
It's covered in a sweet glaze and finished with a crispy edge.
The texture of the bungeoppang is crisp on the outside, soft on the inside; it's like biting into a piece of flaky buttery puff pastry!
Because it uses egg white and powdered sugar, you can make this cake-like dessert or use as a high-protein cookie recipe.
Looking for a fantastically refreshing dessert that's perfect for summer?
This Korean gold citron spongecake is just the thing.
It has a light, airy texture with a hint of sweetness.
The bright yellow color is so pretty and makes it stand out from the crowd.
Plus, you can use any kind of citrus – lemon, orange, tangerine, and grapefruit are all good options.
One bite will remind you of an orange cream pie.
It'll transport you to a tropical paradise!
Dasik is a Korean tea cookie that's as amazing as it sounds.
These cookies are soft and spongy, with a buttery crust.
They have an irresistible cinnamon flavor and are deliciously sweet.
They make the perfect afternoon snack!
Although they contain sugar, these cookies are not sweet at all.
Instead, they're one of the healthiest desserts on this list.
Let's hop on the bandwagon and have some freshly made fruit shaved ice.
Ready?
Go!
The best part of this recipe is that it only calls for seven ingredients: fruit, condensed milk, white sugar, vanilla, water, egg yolk, and colored sprinkles.
This dairy-free treat will be a hit with kids and adults alike.
It's great for parties because who doesn't love a good slice of fruit?
If you've never had this milk before, you are in for a real treat!
It's sweet, creamy, and bursting with strawberries.
This milk is dairy-free, gluten-free, and vegetarian-friendly.
It's also ideal for vegan and paleo dieters.
Try it once and you won't be able to resist it again.
This dairy-free milk is perfect for making lattes or cappuccinos.
Here's another punch that tastes like you just got home from a Korean barbecue.
It has a super simple syrup recipe, and it makes a huge batch!
You can then serve this with your favorite ice cream or sorbet for an easy-to-make holiday treat.
I usually make up a big batch and take it to the office for some cold drinks!
This South Korean popular drink is made with rice wine, sugar syrup, and ginger.
It's sweet, smooth, and refreshingly cool.
The rice wine adds a touch of sweetness while the ginger helps to balance out the sweetness.
Sikhye was originally created by Sikh temple chefs who served it as a ceremonial drink for their guests.
(Sadly, I cannot confirm this fact because I never actually visited a Sikh temple.)
Sip on some of these tasty drinks during your next Asian-inspired sojourn!
Songpyeon is a typical Korean dessert that has been around for ages.
It's a soft, fluffy rice cake with sweet and salty flavors.
It's served as a dessert by itself or in the form of a slice of bread with berries.
Some people even cover it with pudding to make it extra sweet.
The most common way to enjoy this delicious cake is with ice cream, but you can also have it as part of an afternoon tea!
Here's another sorbet you can whip up in a flash.
It's similar to the recipe above, but instead of using tequila, you use Korean milk ice cream.
If that doesn't sound appealing enough for you, it has a secret ingredient: curdled egg yolk.
This adds an extra layer of tanginess that makes this one-of-a-kind dessert even more special.
This soy sauce-based dish is an excellent choice if you want something a bit lighter.
The sweet, sticky paste used to flavor the roots is a mouthful of flavor.
Plus, it's so simple to make.
If you love Asian flavors, this recipe will add a few tasty surprises!
Chicken and mushroom omelets are sandwiched together with sweetened sticky rice.
How lovely!
The crispy cheese breading on the chicken makes this dish so irresistible.
Between the creamy sauce, rich mushrooms, and chewy rice, you'll be asking for seconds.
To make a giant omelet sandwich, just add as many ingredients as you can fit in your omelet pan.
I like to cut it in half for easier scooping.
This cakes recipe is similar to the one above, but it's made with youngyang chaltteok instead.
It calls for a whole grain rice flour (youngyang pao) and goes well with fruit juices, desserts, and tofu.
Also, there are no eggs in this recipe. So if you want your cakes to be healthier, try this one instead!
When you do use eggs in your cakes, they should be small ones that aren't too runny.
Add them after the binder sets up so they don't cook while baking.
It's summertime, and the warm weather calls for a refreshing drink.
While this recipe is sweet and fruity, it can also be served as a fruit salad.
I love the mix of strawberries, watermelon, and mango.
If you want more protein in your punch, add some extra fruit.
And don't forget to garnish with cinnamon sticks!
Here's another tasty and fruity treat for you.
It's light and refreshing, with a filling of sweetened mango chunks, jello pudding mix, and cottage cheese.
It takes less than an hour to make, but the prep work is minimal – just add water to a pot, cook the ingredients until they thicken up a bit, and let it cool.
That's it!
The hardest part is waiting for all the flavors to meld together.
It'll take about 3 hours.
This bright and intensely flavorful dessert is great for parties or any occasion you want to impress.
It's a kind of Korean shortbread and it has an amazingly light and crumbly texture, making it perfect for dunking in ice cream.
The hotteok topping is just that – a layer of soft, custard-like filling topped with whipped cream.
It's such a simple idea but holds up to the test of time.
You can make this at home with store-bought or homemade flavoring!
I'm sure you've heard of cornbread, but what about this Korean rice cake?
The texture is similar to cornbread; it's fluffy and buttery.
But the flavor is a bit different from cornbread.
With this recipe, you can enjoy a savory taste without having to use wheat flour.
Plus, it's easy enough for beginners that even beginners can make this dish!
Did you know that egg bread is also called "Gyeran-ppang" in Korean?
While the world calls it rice cake, Koreans prefer to call it egg bread.
The reason for the name difference is that Korean people like the texture of egg bread.
In Asian countries, though, they use a yeast dough to make this popular breakfast choice.
It's soft and fluffy but still holds its shape nicely thanks to the eggs and milk.
It can be enjoyed as a dessert or as part of a meal.
(Although, it tastes best when eaten with soup or hot tea.)
Danpatjuk is the traditional breakfast of Norway and the Scandinavian countries.
It's a thick, creamy porridge made with red beans or lentils, sugar, and cinnamon.
The recipe calls for dried beans for its thick consistency, but you can use canned if you prefer.
It's a warming treat that pairs well with sweet bread or fresh berries.
(If you want to make it vegan, feel free to leave out the butter.)
Sticky rice cakes are a dish that everyone loves.
And if you're one of those people, here's your recipe.
These pancakes have a sweet and mildly spicy flavor that's hard not to love.
The sticky rice base makes them incredibly tender and soft, adding to their incredible flavors.
They have the perfect ratio of sweetness to spice so they come out as fluffy crepes when pressed flat.
They pair perfectly with steamed vegetables or stewed meats.
Jumeokbap is a Korean dish made with rice, meat, and vegetables.
The most popular ingredient is seafood which makes it very rich.
It's flavored with soy sauce and sesame oil for the perfect touch of umami.
Serve with chili peppers for added heat!
Korean dalgona, or kimchi candy, is a sweet treat with a unique texture that's both crunchy and chewy.
The mixture of kimchi and sugar turns into a sticky paste when you dip it in hot water.
Then it gets dunked in hot water again to set.
I just love the look of the finished product!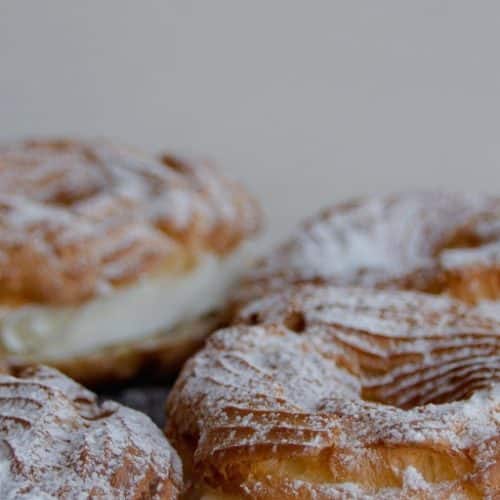 25 Easy Korean Desserts Recipes
Sweet, fragrant, and easy to make, korean desserts are a must-try if you're a sweets lover.
---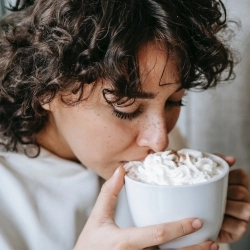 Latest posts by Grace Lambert
(see all)