Pork meat is versatile and loved by most of us.
The simple and quick preparation makes it ideal for a weeknight dinner stew paired with creamy mashed potatoes and sautéed veggies.
As you prepare to cook that delicious dinner, you wonder what is the cooked temperature for pork?
The new USDA guidelines recommend cooking pork to at least 145F with a 3-minute rest time.
Previously, undercooked pork was prone to transmitting trichinosis; thus, the cooking temperature for pork was higher at 160F to kill all the harmful parasites.
Improved curing methods and hygiene account for temperature reduction.
Therefore, you get tender and juicy pork regardless of the cut or method.
History of pork and trichinosis results in cooking pork at a higher temperature to eliminate the bacteria.
All that has changed, and we highlight the new recommendations for that perfect homemade pork recipe.
What is the cooked temperature for pork? New USDA rules
The previous cooking temperature for pork was 160F until 2011 when the USDA changed the regulations to 145F with a 3-minutes resting time.
On the other hand, you should cook ground pork, organ cuts, and pork sausages at 160F (710C).
The higher the cooking temperature, the better for tougher cuts.
So, you might wonder if the new rules apply only to pork.
No, beef, veal, and lamb will retain the 145F but with the addition of 3-5 minutes of rest time.
Unfortunately, for all ground meat, it's at 160F, while for poultry, including turkey and chicken, the safe cooking temperature remains at 165F.
Why the new changes in cooked pork temperature?
In retrospect, cooking pork at 160F combated teh trichinella parasite.
However, according to the USDA, new studies show that the parasite is killed at 137F, and 160F is overkill.
Recent decades have seen a tremendous reduction in trichinosis infections from pork meat.
Today, pork is leaner; thus hard to undercook it.
According to USDA, cooking pork to at least 145F with 3 minutes of rest time results in a microbiologically safe and quality product for consumption.
Although the prevalence of trichinosis has been low in recent decades, better safe than sorry.
New research by the USDA revealed that cooking pork at 145F is just as safe as cooking pork at 160F, provided there's a 3 minutes rest time.
It also adds that the color pink in pork is not as bad as the previously held perceptions.
Additionally, the only reliable way to know cooked pork is through a temperature measurement using a thermometer.
For instance, uncured pork loin with a bit of pink is safe for consumption provided it reaches an internal temperature of 145F with a 3-minute stand time.
In addition, the USDA recommends maintaining proper hygiene (surfaces, hands) when handling pork to prevent cross contaminations.
Cooking at appropriate temperatures and prompt refrigeration of leftovers.
Do you cook pork at 325F or 350F?
According to the USDA guidelines, the ideal oven temperature to cook pork is 325F, while the exact time depends on its thickness and whether boneless or not.
You can roast pork at 350F, but it will take a slightly shorter cooking time.
For example, pork chops at 325F cook for about 30 minutes per pound while covered in foil.
Depending on the thickness, the same takes about 20 minutes a pound at 350F.
What temperature do you cook pork on? The Different cuts
Pork meat is categorized into lean or ground meat, each with a different cook time and temperature.
Here's the breakdown;
Lean cuts (Trim)
Leaner pork meat refers to the least used muscles like loin, tenderloin, and pork chops.
These cuts are less fatty; thus, overcooking results in drying out.
Therefore, a final internal temperature of 145F is suitable to produce tender and juicy chops.
Trim cuts are best cooked at high temperatures for a short time to 140F and a 3 minutes rest time to a final 145F.
Slow cooking leaner cuts would likely cause drying out; instead, sear the outsides on a wok and transfer to a preheated oven at 350F.
Tougher cuts
These cuts have increased collagen, requiring prolonged cooking at lower temperatures to break the connectivity tissues.
Thus, cuts like shoulders, ribs, or ground pork are best for slow-cooking recipes.
Preferably, cook pork shoulders or ribs in a slow cooker for hours to an internal temperature of 180 – 195F.
This gives the meat enough tenderizing time resulting in juiciness and tasty pork.
How do you measure the cooked temperature for pork? Digital thermometer
A digital thermometer is the simplest and most effective method for measuring pork's internal temperatures.
Insert the instant thermometer in the thickest part of the meat avoiding the bones, fat, or gristle.
The meat is well cooked depending on the temperature reading and your desired doneness.
For instance, medium-rare (145F-150F), medium (150- 155F), medium-well (155- 160F), and well (160 – 180F).
Once the pork has reached the desired temperature, remove the heat source and rest for a few minutes.
Clean your thermometer before and after use for accurate readings and to avoid contamination.
This process applies to all pork cuts.
How to measure well-done pork without an instant thermometer
Meat lovers should at least invest in a digital thermometer.
However, if you don't have one and are in the process of cooking some delicious pork, here are a few tricks to know when it's well done;
Use a fork/knife: This method is best when using a slow cooker since the pork will reach an internal of 145F before desired tenderness. Thus, insert a long fork or skewer at the center part; if it slides in without resistance, your pork is done and tender. If you hit resistance, let the pork cook a little longer.
Use a metal cake tester: Insert a metal cake tester at the center of the pork and press it against the inner parts of your wrist. If hot, then your pork is done. A cold or slightly warm feel indicates your pork needs to cook longer.
Use your fingers: Gently squeeze pork cuts like chops and steaks to assess the doneness. If the pork is firm and bursting with clear juices, it's well done. A soft feel indicates more cook time.
What is meat rest time, and is it important?
Meat resting time is the period when you allow cooked meat to stand for about three minutes before carving or serving it.
The meat remains at the same internal temperature or continues to increase after removing it from the heat source.
A meat thermometer helps you determine if your meat is well-rested.
The resting time depends on the meat type, the thickness, and the size of your cut.
For pork, it's about 3 minutes or until a final internal temp of 145F for leaner cuts and 160F for tough ones.
Letting the meat rest deepens the flavors and juiciness by redistributing the juices back to the meat fibers.
It also kills harmful bacteria for a safe meal.
Frequently asked questions (FAQs)
What temperature is best for barbeque pork?
Barbeque cuts are tender and thus should reach a final internal temperature of 145F.
Cooking these cuts at 325F for brief period results in tender and flavorful meat.
In contrast, cuts like ribs require more prolonged cooking at low temperatures to break down the collagen resulting in tasty meat.
Is pink pork safe to eat?
Yes, a little pink doesn't hurt.
According to the new USDA research, pork doneness and safety are determined by an internal temperature of 145F, not its color.
So, if you enjoy medium-rare meat, pork is an option too.
Should you cover pork while baking?
Yes, it's ideal for covering ham while baking as it helps retain moisture and even cook.
It also deepens the flavors leading to a tastier meal.
Baking ham uncovered leads to moisture evaporation resulting in a dry and bland dish.
How long does it take to cook a 10lb pork roast?
It takes about 25 to 40 minutes per pound to cook a pork roast at 350F.
So, a 10-pound pork roast will take roughly 250 – 400 minutes (6.5 hours) to cook.
Use an instant thermometer to measure the doneness.
Depending on the desired doneness, it should be a final of 145F – 160F.
How long can you freeze pork?
Yes, adequately packaged cured, uncured, cooked, or uncooked ham can last up to 6 months in the freezer.
Freezing leftover pork in desired portions makes it easier when thawing.
The general rule is to separate and store in freezer-safe bags depending on the pork cut.
The bottom line
Even with the changing guidelines on temperature for cooking pork, practicing food safety and hygiene remains key in preventing cross contaminations.
Follow the recommended USDA cooking pork temperature of 145F-160F—depending on the cut and with a 3 minutes rest time before carving.
Otherwise, a little pink is fine for that juicy pork chop you've been meaning to cook.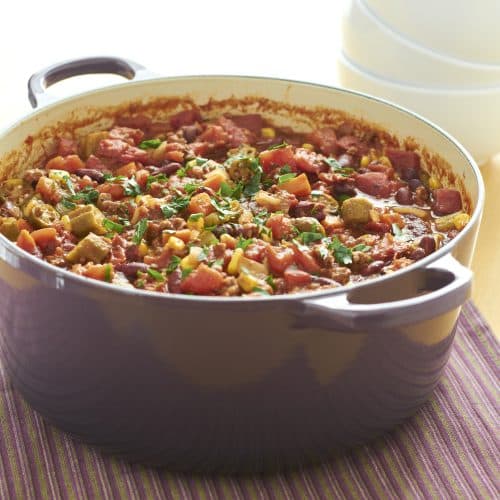 Pork Menudo
It's no surprise that pork menudo is one of America's most popular dishes since many people have grown up eating it.
Ingredients
1

tablespoon

oil

4

garlic

minced, large cloves

6

yellow onions

chopped, large

3

tablespoons

tomato paste

2

tablespoons

paprika

1

teaspoon

cumin

1

teaspoon

oregano

1

teaspoon

salt

½

teaspoon

black pepper

5

pounds

pork shoulder

cubed

4

cups

water

¼

cup

white vinegar

1

bay leaf

¾

cup

canned diced tomatoes

1

cup

corn kernels

1

bunch

scallions

sliced
Instructions
To start off, heat up a deep skillet over medium heat and pour in the oil.

Once the oil is hot, sauté the garlic and onion for about five minutes, until they begin to turn translucent.

Add the rest of the ingredients except the tomatoes and corn, and season with the salt and pepper.

Cook on low heat for 30 minutes.

Then, increase the heat to high, and add the tomatoes and corn.

Continue to cook until the meat is tender and the sauce has thickened, approximately 40-50 minutes.

Remove the bay leaf before serving.
Video
Nutrition
Calories:
3058
kcal
Carbohydrates:
201
g
Protein:
296
g
Fat:
117
g
Saturated Fat:
36
g
Polyunsaturated Fat:
16
g
Monounsaturated Fat:
54
g
Trans Fat:
0.1
g
Cholesterol:
927
mg
Sodium:
4611
mg
Potassium:
8014
mg
Fiber:
27
g
Sugar:
119
g
Vitamin A:
2582
IU
Vitamin C:
155
mg
Calcium:
801
mg
Iron:
28
mg
---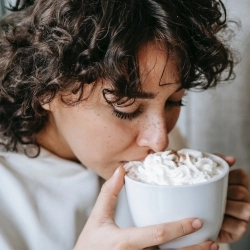 Latest posts by Grace Lambert
(see all)