Flaky, moist, and lean, baked salmon makes the perfect no-stress dinner.
The beauty of it is that you can move the flavors in many directions of the flavor spectrum through your choice of seasonings.
While we enjoy this delectable delight, we can't help but wonder how long we need to cook it.
Well, let's find out, shall we?
So, how long should you bake salmon?
If you bake your salmon in the oven at 450 degrees F, it will take about 12 to 15 minutes.
However, the baking time depends on the thickness of your salmon.
Preheat the oven to 450 degrees F and bake for about six minutes per side until your salmon cooks through.
This article will talk about everything you need to know when baking salmon.
It will also give you a few pointers on how to shop for salmon and its health benefits.
What's the best temperature for baking salmon?
According to USDA's safe temperature guidelines, fish, including salmon, should be baked to an internal temperature of 145 degrees F.
The best way to guarantee tenderness and doneness is by inserting a meat thermometer in the center of the thickest part of the meat.
It will take about four to six minutes per side to reach this temperature, depending on its thickness.
You can serve salmon medium-rare to medium well-done.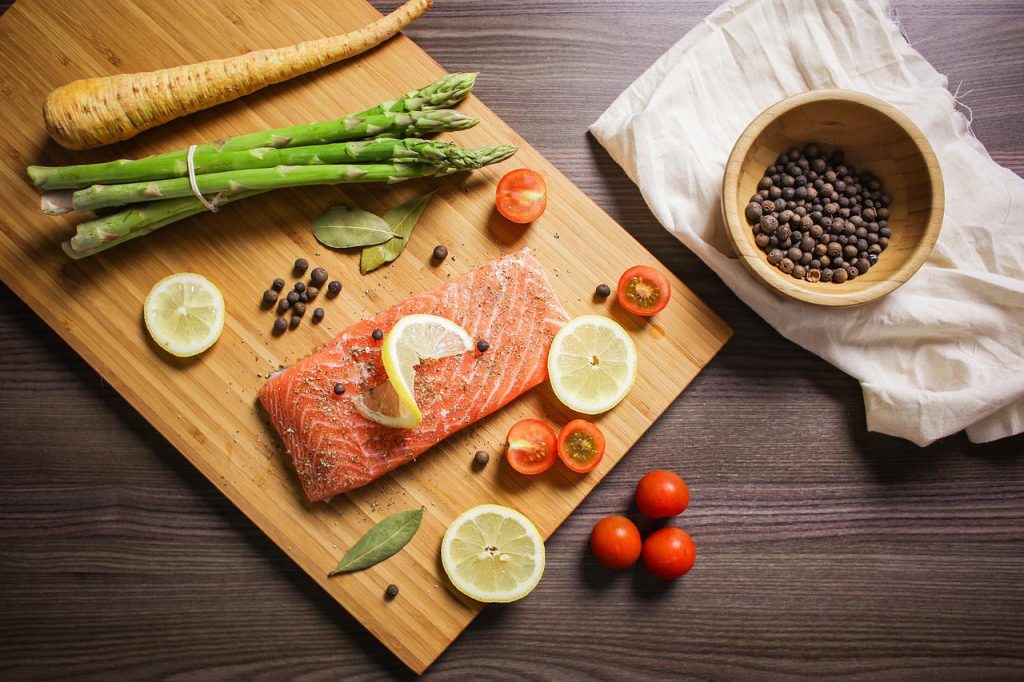 How to know when salmon is done baking
If you don't have a meat thermometer, there are several ways to know if your salmon is done cooking.
As your salmon continues to bake, it turns red to pink.
It should be slightly translucent in the center and beginning to flake.
You can check for doneness by cutting into the thickest part of the fish with a knife.
You can also use a toothpick by sticking it into the thickest part of your salmon.
If you feel resistance, the salmon is still raw.
However, if it sinks through, it's done.
Tips for perfectly baked salmon
The oven temperature is typically set at 450 degrees F for cooking salmon for about 12-15 minutes.
This temperature ensures your salmon cooks evenly without drying out.
If you go higher, the outer crust will burn before the interior cooks through.
Similarly, your salmon will overcook if you go lower on the heat.
For a juicy, tender outcome, ensure you:
Don't cook it at too high or too low temperatures, or it'll dry out
Cover your salmon with aluminum foil while it cooks for it to remain moist
Keep the skin on to help create a natural barrier between the salmon and the hot pan to retain moisture in the fish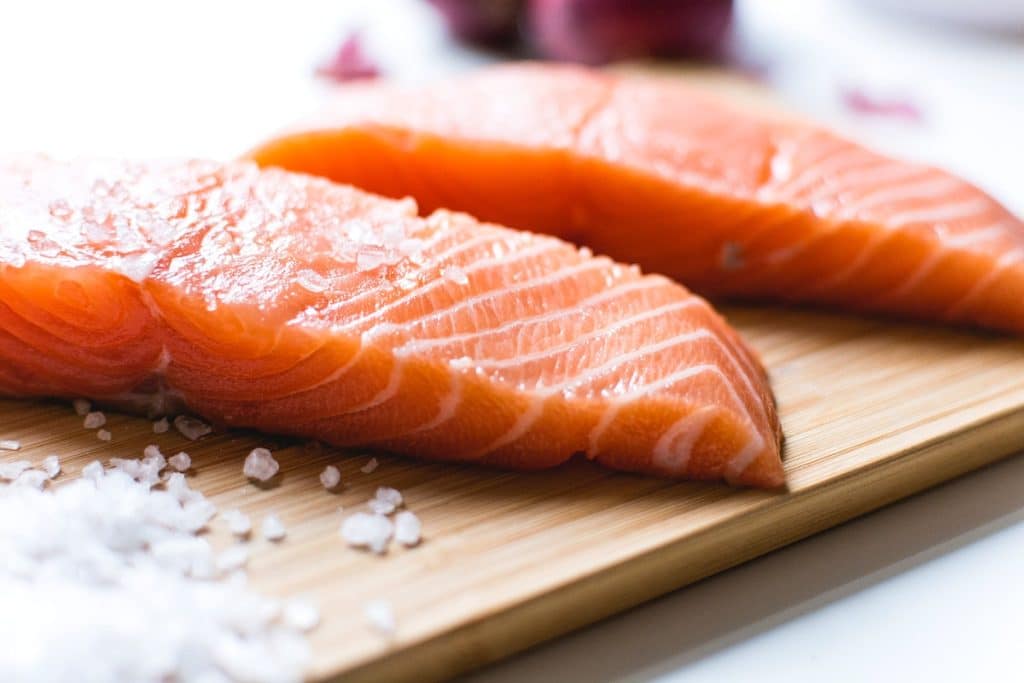 Simple and healthy baked salmon recipe
This recipe will easily become your go-to as it's made with lemon and garlic to intensify the flavor and baked in the oven for flaky tenderness.
Ingredients
Salmon fillets – look for fresh salmon fillets that are pink and moist. Alternatively, purchase frozen fillets that are vacuum sealed with no freezer burn
Olive oil – I use extra virgin, but any kind will work. You can also substitute vegetable oil
Salt – Kosher salt works perfect, but you can also use Himalayan pink salt
Cracked black pepper – I tend to go overboard but remember to use a little pepper first and taste before adding more
Minced garlic – Minced garlic in oil purchased at the store is excellent, or you can mince your own
Italian herb seasoning blend (or Herbs de Provence) – Any well-known brand will do or make your own. Don't skimp on this salmon recipe's aromatic flavors of Italian seasonings
Lemon – A medium-size lemon is fine here, or purchase a larger one if you love the tangy tartness of extra lemon
Directions
Preheat the oven to 400 degrees and grease a large baking pan. Arrange the salmon fillets on the baking sheet and season generously with salt and pepper.
Stir the olive oil, garlic, herbs, and juice of 1/2 of the lemon. Thinly slice the remaining 1/2 of the lemon and top each piece of salmon with a slice of lemon. Spoon this sauce over salmon fillets, being sure to rub it all over the tops and sides of the salmon, so it has no dry spots.
Bake the salmon in the oven for 15-18 minutes or until the salmon is opaque and flaky when pulled apart with a fork. You can broil the last 1-2 minutes if desired.
Garnish with fresh thyme or parsley if desired, and serve.
How to shop for salmon
There are a few tips you need to remember when shopping for salmon.
Ensure your salmon doesn't smell fishy. Fresh salmon shouldn't have any kind of fishy smell
Avoid fresh salmon that looks dried out and has brown spots or bruising
The flesh of the salmon should have a vibrant pink color and not pale looking
When buying frozen or pre-packaged salmon, ensure there is a tight seal around the packaging and that it isn't broken or open
Read the brand label carefully and avoid anything that says color-added or has too many ingredients listed
Consult your fishmonger for advice on the various types of salmon if one is available
How to store and reheat
If you plan on storing your baked salmon for a few days, simply put it in an airtight container or wrap tightly in aluminum foil and put it in the fridge.
It will stay fresh for about 3-4 days.
When reheating oven-baked salmon, go slow and low to ensure it doesn't dry out.
You can also add a splash of water for added moisture.
Put the salmon on a rimmed baking sheet and warm it in a 275 degrees F oven for about 15 minutes until it reaches an internal temperature of 125 degrees F to 130 degrees F.
Health benefits of salmon
Salmon is not only delicious, but it also packs a punch on healthy nutrients.
It's a nutritious source of lean protein, healthy fatty acids, and vitamin D.
Salmon is rich in omega-3s, which are essential fats that may help to:
Reduce the likelihood of heart attack and stroke
Lower blood pressure
Potentially reduce the chance of abnormal heart rhythm
Possibly lower your risk of breast cancer
Reduce triglycerides
Lessen the chance of sudden cardiac death in people with heart disease
Salmon is an excellent source of vitamin D, which supports your body in:
Facilitating regular immune system function
Regulating mood and reducing depression
Improving the anxiety symptoms
strong bones
The high amount of lean protein in salmon can help lower blood pressure and increase your system's good cholesterol (LDL cholesterol).
Adding a few servings of salmon can help you avoid high blood pressure and all the risks that come with it.
FAQs
Is it better to bake salmon at 350 or 400?
The temperature of 350 F is perfect for cooking salmon.
This temperature ensures the salmon cooks slowly without becoming burnt or dried out.
How long should you cook salmon at 400?
Preheat the oven to 400 degrees F, line a sheet pan with foil, and spray it with cooking spray.
Place the salmon onto a foil-lined sheet pan, drizzle it with olive oil and sprinkle a dash of salt and pepper.
Bake for about 10-15 minutes, or until the salmon reaches an internal temperature of 135 degrees F at its thickest inner part.
Is 425 too high for salmon?
To prevent foodborne illness, salmon should reach an internal temperature of 145 degrees F, when cooking.
However, most people prefer eating salmon that is still slightly pink in the center.
If you like it this way, you should bake the salmon at 425 degrees F for up to 20 minutes.
Do you cover salmon when baking?
Measure the thickness of your salmon once you place it on your baking pan.
Bake it uncovered for 4 to 6 minutes per ½-inch thickness.
For a dressed salmon, bake it for 6 to 9 minutes per 8 ounces of fish.
Check the internal temperature with an instant-read thermometer a few minutes before your salmon is done to avoid overcooking it.
Can you eat raw salmon?
While you can eat raw salmon, undercooked salmon is highly discouraged.
You should also avoid salmon that's gone bad.
You can tell if it's stale by a gray color, slimy texture, and a fishy smell.
For storage, refrigerate your raw salmon in a sealed container and eat it within 1 to 2 days.
How do you bake salmon, so it's moist?
Preheat the oven to 425 degrees F.
Place your salmon on a parchment sheet pan and coat it lightly with olive oil and kosher salt.
You can also cover the salmon with aluminum foil when cooking to retain moisture.
Bake for 25 minutes, remove and allow it to rest before cutting and serving.
In summary
Baked salmon fillets are an excellent choice for a convenient and elegant main course.
When baked at the right temperature, salmon offers a less hands-on experience while not skipping on the flavors.
Ensure you measure the internal temperature with a food thermometer before removing it from the oven, with a three-minute rest before cutting and serving.
The result will be salmon that's both safe and perfectly done.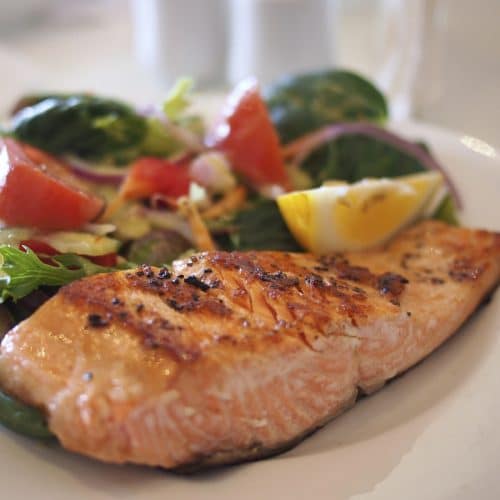 Baking Salmon Recipe
Baking salmon isn't complicated; with a few simple tips, you can have perfectly cooked salmon on the table in no time.
Equipment
1 oven

1 Parchment paper

1 fork
Ingredients
1-3

pound

salmon fillets

Salt

Pepper

Lemon wedges
Instructions
Preheat your oven to 350 degrees F.

Line a baking sheet with parchment paper and set it aside.

Rinse your salmon fillets under cold water and pat them dry with a paper towel.

Season the fillets generously with salt and pepper on both sides.

Place the salmon skin-side up on the prepared baking sheet.

Bake for 18-22 minutes, or until the salmon is cooked.

The cooking time will vary depending on the thickness of your fillets.

To check if the salmon is ready, insert a fork into the thickest part of the fish.

If it flakes easily, it's ready to eat.

Remove the salmon from the oven and squeeze fresh lemon juice over each fillet.

Serve immediately with your favorite sides.
Video
Nutrition
Calories:
129
kcal
Protein:
18
g
Fat:
6
g
Saturated Fat:
1
g
Polyunsaturated Fat:
2
g
Monounsaturated Fat:
2
g
Cholesterol:
50
mg
Sodium:
40
mg
Potassium:
445
mg
Vitamin A:
36
IU
Calcium:
11
mg
Iron:
1
mg
---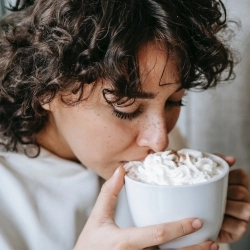 Latest posts by Grace Lambert
(see all)