Image
Product Title
Features
Price

Large Capacity

4 rack positions,

13 functions,

Convection,

Slow Cooking,

Dehydrating

Check Price

Compact

3 rack positions,

10 Functions,

Convection,

Slow Cooking

Check Price

Small & Smart

3 rack positions,

8 cooking functions,

4 slices or 12" pizza

Check Price

Rotisserie

3 Rack positions,

8 Cooking Functions,

4 slices or 11" pizza

Check Price
If you have been following me even in the least, you know that I love toaster ovens – they are practical and efficient – but I'm particularly impartial to Breville toaster ovens. In this guide, I will help you choose the best Breville toaster oven for your needs based on countless hours of research.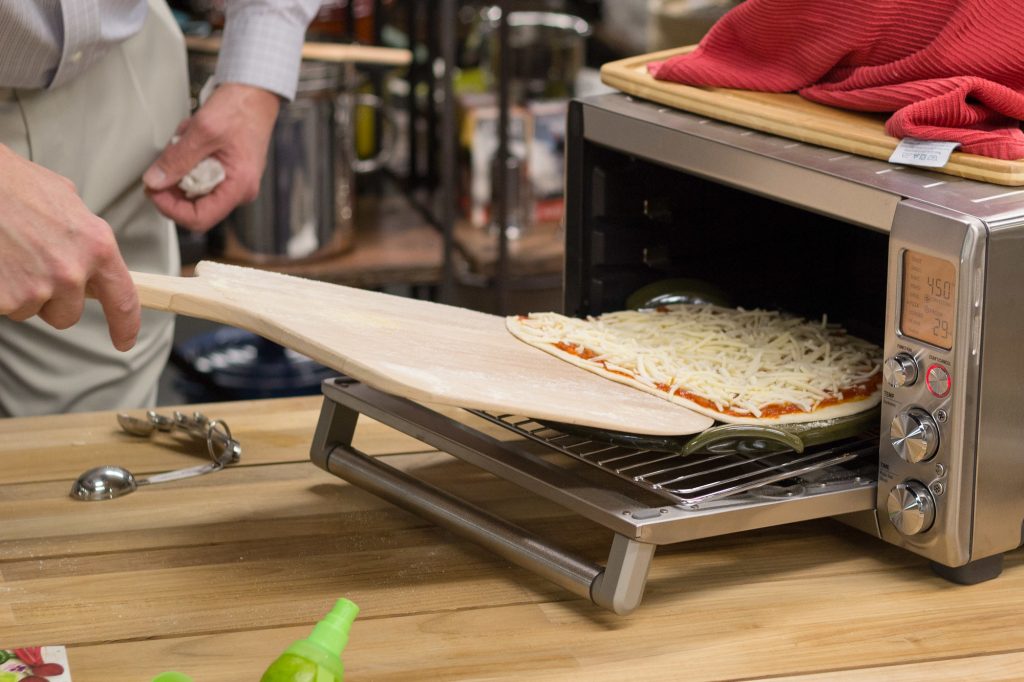 Reasons Why Breville
These are the pros of Breville toaster ovens that are common to all of them:
Brand authority. Unlike some Chinese brands, Breville has been around for a long time and has proven itself time and time again.
Longevity. Breville toaster ovens are Buy-It-For-Life material. And in the event that they do break, customer support is exceptional, going to great lengths even out-of-warranty.
Versatility. Every toaster oven on this list will have different capabilities, but generally, they can handle almost any kind of cooking awesomely using cooking functions like roast, bake, broil, toast, bagel, pizza, reheat, warm, cookies, and grill.
Easy to use. The controls are really easy to use and uninvolved.
Just great taste. Breville's quality of cooking is simply top of the glass, ensuring perfect results every time.
Easy to clean. Breville's toaster ovens all feature a non-stick coating and removable crumb trays, so the cleanup is a breeze
Element IQ and Design
Another reason why I like Breville is because of their implementation of cooking presets they call the Element IQ system. At its core, it's the same as with other big brands' versions: it controls the amount of hot air, transfers heat intelligently across, controls the time, and has a "super convection" fan to cook food the best way it can. However, with smart Element IQ technology, you get much more control over the temperature, time, and other settings.
What Element also does is remember the changes you make to the preset. For example, say you pop in a pizza, and you choose the Pizza preset. Usually, the oven would bake it for 15 minutes because that includes defrosting it, but you know you need to bake it – not defrost – so you dial it down to 10 minutes, and next time the oven will remember that.
In terms of design, we can disagree there, but I prefer the clean and industrial stainless steel look of Breville to other brands. They look top-of-the-shelf and fit in any interior.
Cons
All of this comes at a price: Breville is more expensive than the others, many times substantially so. Part of the reason is that they position themselves as a premium brand, part of the reason is that their products are really in a different league. It's really worth it. Try to snag one during a sale.
Another con is the fact that the exterior of almost every Breville toaster oven gets hot during cooking, so the manufacturer advises against putting it under cabinets, or storing stuff on it.
Breville-Specific Accessories
Breville toaster ovens come with enough pans and racks, but some other accessories really crank the experience up a notch. And Breville not only makes excellent toaster ovens (and other kitchen appliances) but also best-in-class accessories for them.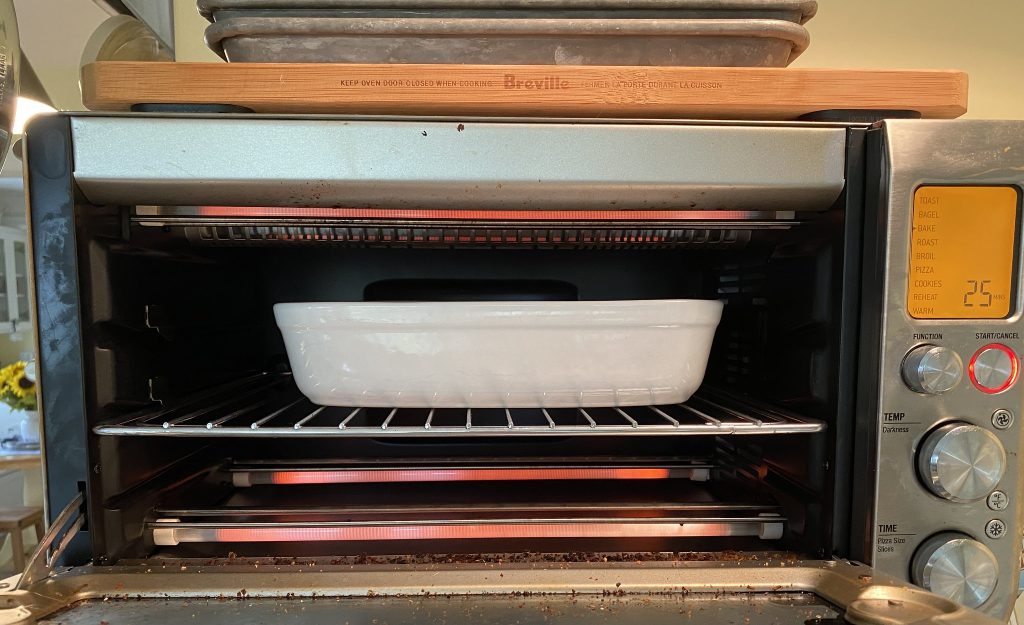 What you really need to get is the Bamboo cutting board. It checks so many boxes:
It looks great and fits a Breville like a glove
It's a good and eco-friendly cutting board
It helps you leverage the space on top (since Brevilles get hot it's not recommended to put anything there)
I will include a link to the board for each toaster oven size below. I will also include a link to a pizza crisper and a pizza stone of the correct size.
Alternatively, I have covered other miscellaneous accessories and the best (oftentimes cheaper) third-party alternatives in my Toaster Oven Accessory Buying Guide.
Best Breville Toaster Oven: Your Choice
Most of the toaster ovens listed here share the same Breville secret sauce, but with a few notable differences:
size
capacity
price
number of pre-programmed cooking functions
features like slow cooking, air frying, oven light, and auto-eject rack
My Choice: Breville Smart Oven Air
Breville Element iQ System
Use super convection to reduce cooking time by up to 30%
Toast, Bagel, Broil, Bake, Roast, Warm, Pizza, Proof, Air Fry, Reheat, Cookies, Slow Cook and Dehydrate
Extra Large Capacity
Interior light
Pros
Massive interior – it can cook for a family of four, you can roast a whole Thanksgiving turkey in it
Other pros mentioned above
Cons
Big – it's the size of four small toaster ovens
Fans are noisy
Other cons mentioned above
The Breville BOV900BSS Smart Oven Air is the convection toaster oven to rule them all: it cooks whatever you throw at it, and does so splendidly. It's really big, so it can cook for a whole family (and that's what I need), but make sure you have plenty of counter space. It's also the most versatile with the air fry, dehydrate, and slow cook functions. Read my full review.
Accessories
Best Overall: Breville Smart Oven Pro
Breville Element iQ System

Smart algorithms steer power to where it's needed

Convection setting reduces cooking time by up to 30%

10 Cooking Functions

Slow cook for 10hrs
If the Smart Oven Air is the best toaster oven for big households, the BOV845BSS Smart Oven Pro is the best normal-sized convection toaster oven. I loved every second of it and I'm sure you will as well. I heartily recommend it as the best choice here. It can slow cook. Read my full review.
Accessories
Best Value: Breville Compact Smart Oven
Breville Element iQ System

8 Cooking Functions

Medium capacity - 4 slice of toast, 6 cups muffin tray, 12 inch pizza, roast chicken

LCD display

Non stick coating for easy cleaning
Pros
Compact
LCD Display
Other pros mentioned above
Cons
Small
No Convection
No Oven Light
The Breville BOV650XL Compact Smart Oven is a more dialed-down version of the smart oven – smaller and with a more attractive price tag, but not as powerful as the first two smart ovens. Read my full review.
Accessories
Best Compact: Breville Mini Smart Oven
Breville Element iQ System

Smart algorithms steer power to where it's needed

8 Cooking Functions

Small capacity - 4 slices of toast, bagels, cookies, tuna melts, 6 cup muffin tray and 11 inch pizza

LCD Display

Non Stick Cavity
Pros
Super Compact
LCD Display
8 cooking functions
Cons
Small
No Convection
No Oven Light
The BOV450XL Mini Smart Oven is the most compact smart oven that's still very good. Read my full review.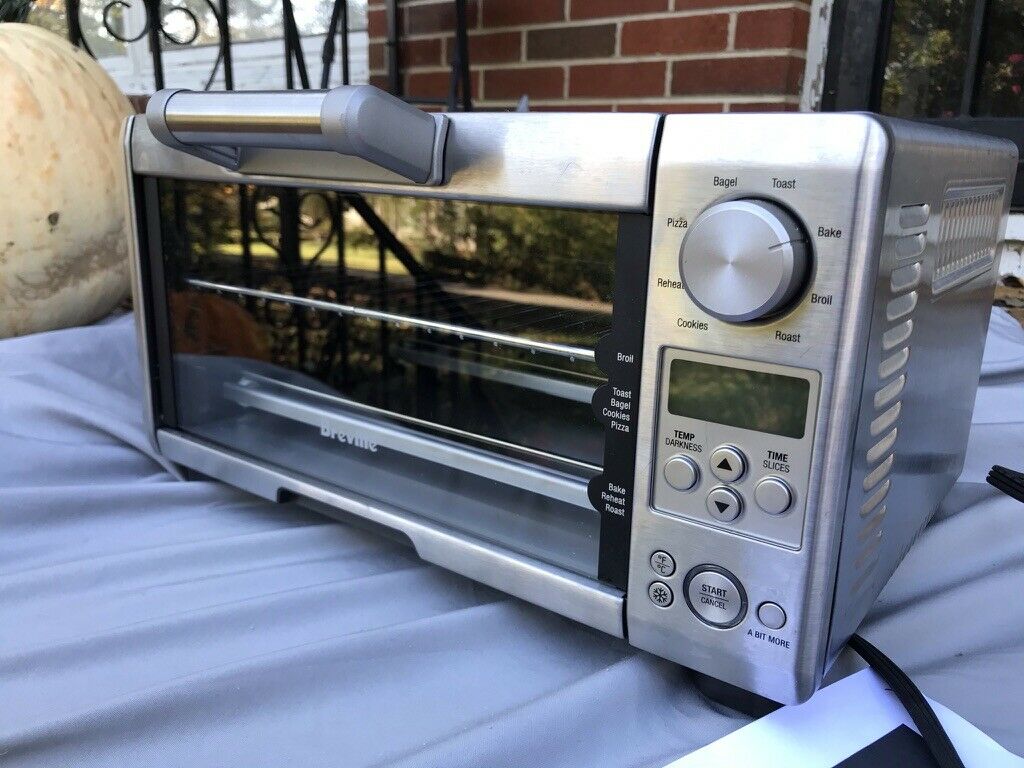 Accessories