Check out my guide to the various Breville Toaster Oven models on the market today!
Looking for a small oven with powerful features?
Breville Element iQ System

Smart algorithms steer power to where it's needed

8 Cooking Functions

Small capacity - 4 slices of toast, bagels, cookies, tuna melts, 6 cup muffin tray and 11 inch pizza

LCD Display

Non Stick Cavity
The Breville BOV450XL Mini Smart Oven packs a lot of value in a small package. With amazing heating elements, consistent temperatures, and a multitude of settings, you'll never want to go back to the microwave. You may even want to bake and cook all your meals in it!
So, how smart is the Mini Smart Oven? Is the price justified by its value?
Breville BOV450XL Review – Is It Good?
Here's what I liked the most about the Breville BOV450XL:
Amazing Temperature Accuracy
If you've seen the rest of the BOV XL line, you know those ovens have a pretty good temperature accuracy. This little oven is no exception.
The BOV450XL is incredible at providing you with accurate temperature, usually staying within 10˚ of the temperature you set it in. That's more than most ovens like this can say. Plus, since it's very small, it heats up quite quickly, so there's barely any need for preheating.
Great For Toasting Bread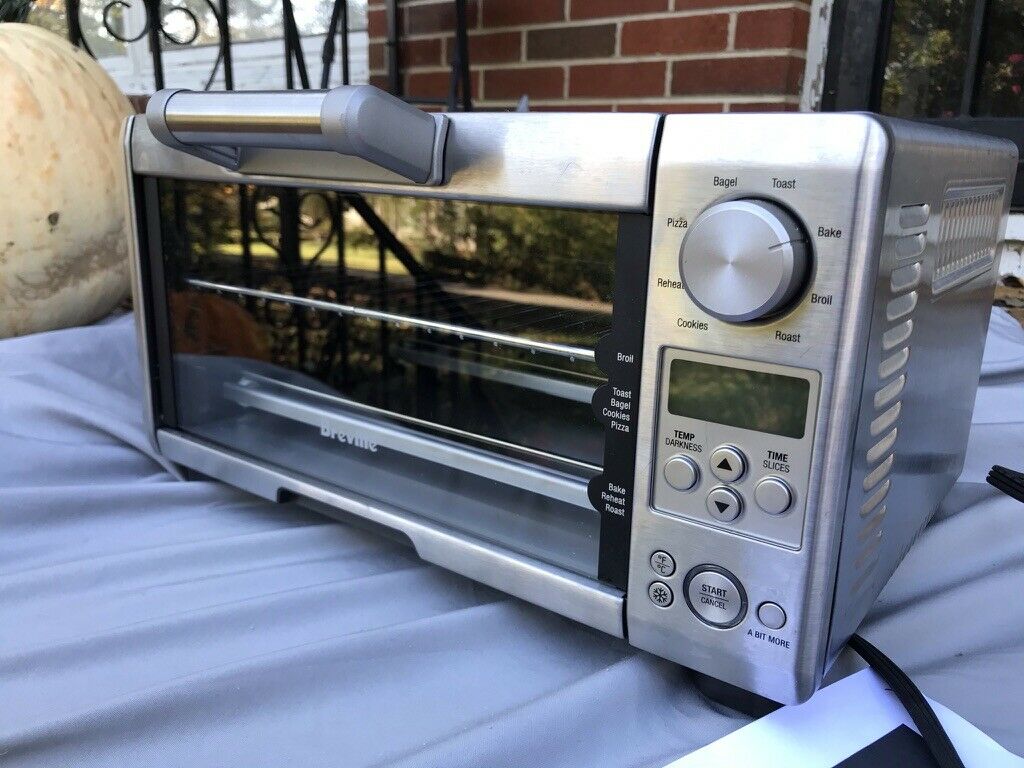 If you're looking for a toaster oven you need to make sure it has toasted bread properly. The Mini Smart Oven is amazing at that.
You can fit up to four bread slices knowing that they'll be toasted evenly to perfection. You can even use the toasting setting for bagels to get crispy outsides and soft insides.
Cooking Without Defrosting
If you're looking for a small oven that can cook frozen food, you may have probably found it in the Mini Smart Oven. With it, you can cook a frozen pizza and get out a delicious crispy and warm pizza after a few minutes. No defrosting required!
All you need to do is to press on the "Snowflake" symbol. Once you do, it'll tell the oven that you just placed something that's frozen. Your oven will use the Element IQ feature to efficiently defrost it and cook it at the same time.
No more burnt outsides and frozen insides!
Great Design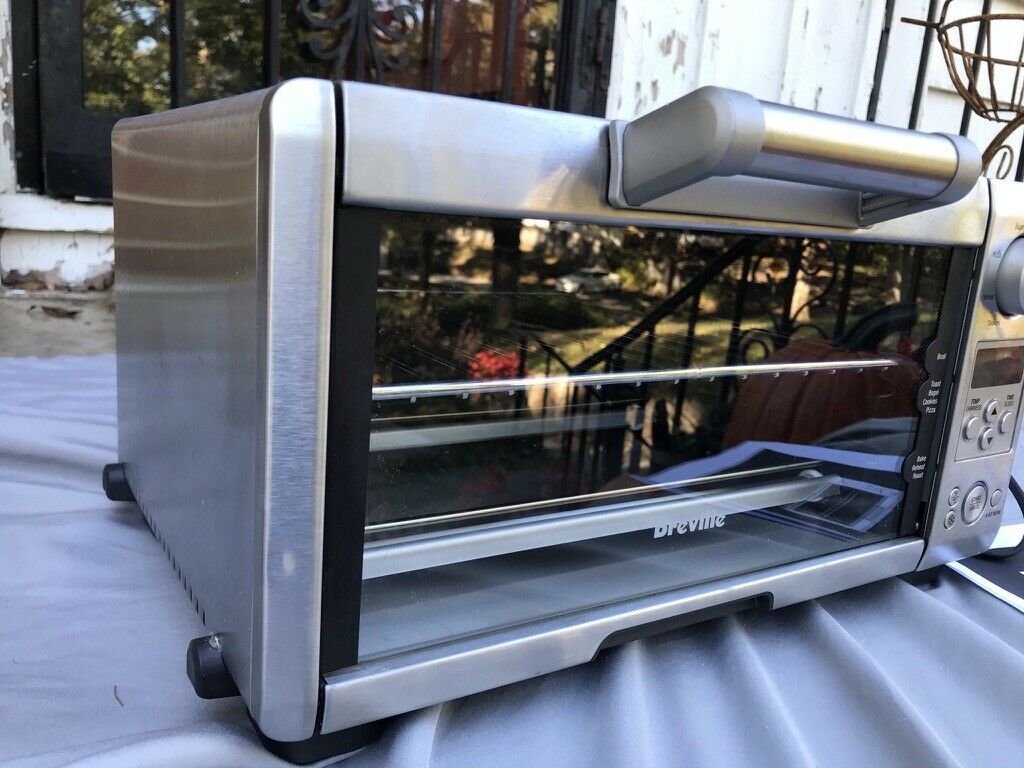 With a gorgeous and classic stainless steel design and minimalistic touches, this mini oven can perfectly fit in practically any kitchen.
It features a large window at the door so you can easily keep an eye on your food without opening the oven.
With a gorgeous and functional design, it will not only cook, toast and warm up any food you ask it to, but it'll look gorgeous while doing it.
Breville BOV450XL Main Specs
Here are the main features of the Breville BOV450XL Toaster Oven:
Oven Size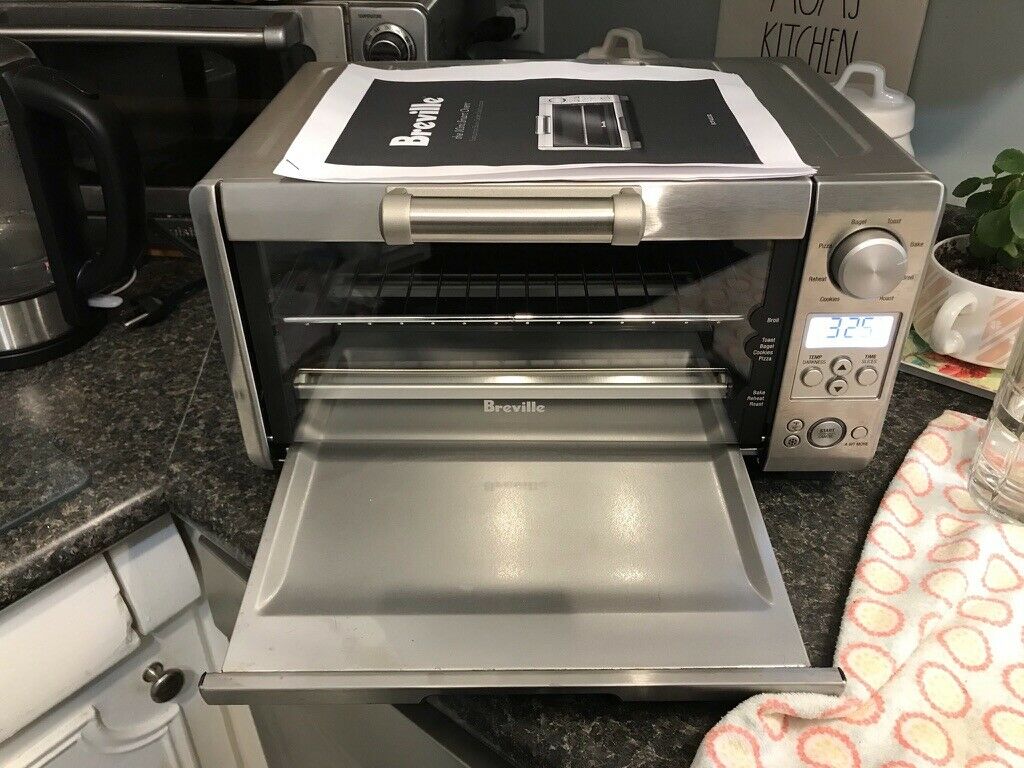 The Breville Mini Smart Oven measures 16" (40 cm) x 13" (33 cm) x 9" (23 cm) and weighs 15 pounds (6.5 kg). It's perfect if you don't have a lot of counter space or if you want to keep it stored until you need it.
Inside you get a spacious 0.45 cubic feet interior, where you can toast up to four slices of bread or an 11" pizza.
Heating Elements
In most other small ovens like this one, you usually get your heat out of metal elements, like with any cheap toaster oven. That's not the case here.
The Breville BOV450XL four quartz heating elements. These elements are controlled by Breville's patented Element IQ. Element IQ is a smart system that gives you heat where your food needs it the most. It controls heat distribution according to what you're cooking by controlling each quartz element separately and monitoring temperature.
Controls and Navigation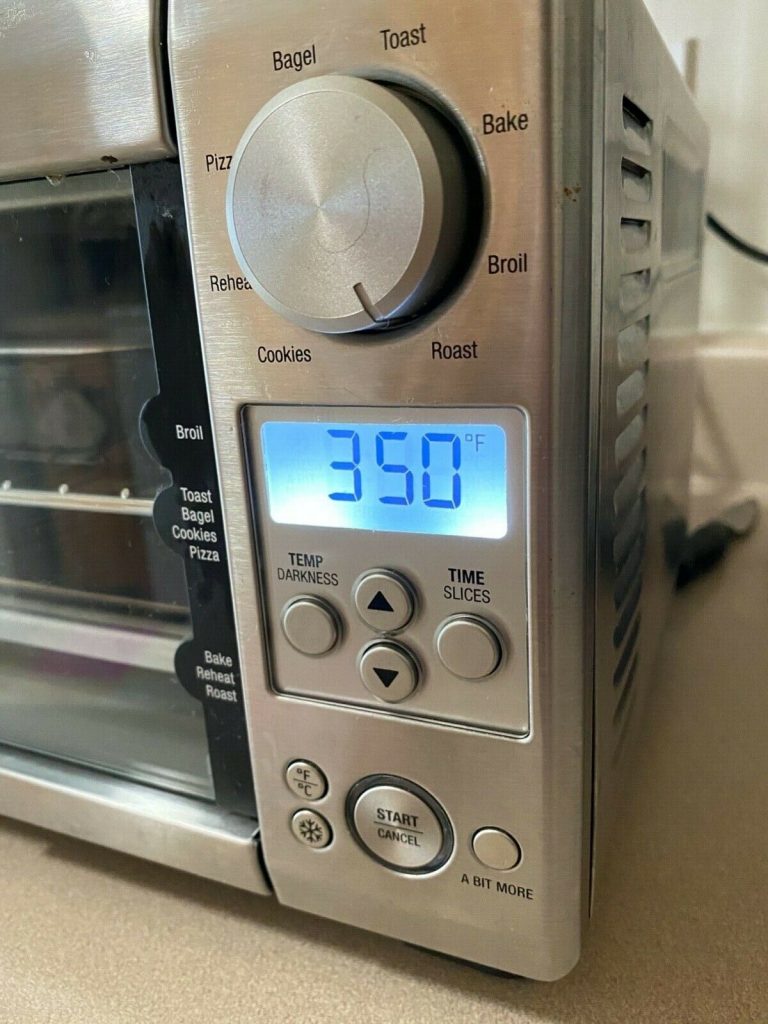 When you get an oven, you'll probably want to start using it right away. Luckily, the BOV450XL makes it easy to start, regardless of what you want to heat or bake.
This mini oven comes with a lot of preset cooking settings so you can select what you're putting in and make sure your oven will deliver what your food needs, without any guesswork. These are: Toast, Bagel, Bake, Roast, Cookies, Reheat, and Pizza.
These presets are already programmed to activate the right amount of heating elements at the right places to ensure your food is heated properly and evenly.
Once you select the right option, you can tweak the settings and the oven will save them for the next time. No more light toast or burnt pizzas! Your oven will remember how you like your food so all that's needed from you is to select the setting.
When your oven starts cooking, the LCD display light will change from blue to orange to indicate that it's working. It'll tell you how long is left and the temperature inside the oven.
Want to add just a bit more time? With Breville's trademarked "A Bit More" button, you can add a bit more time to the timer. The amount of time will depend on what's inside. For example, if you're toasting it'll add 30 seconds, if you're baking it'll add 5 more minutes.
Included Accessories
The Breville Mini Smart Oven comes with a wire rack, user guide and a baking pan.
Breville BOV450XL – Should You Buy It?
The Breville Mini Smart Oven is a pretty great small oven. Here are its pros and cons:
What I Liked:
With a very accurate temperature and an even distribution of heat, this oven gives outstanding cooking results all the time.
The four quartz elements and the Element IQ function makes this oven far superior to most other ovens its size.
You can easily adapt the position to what you're cooking it and remove it for cleaning when you're done.
You can easily heat up or cook practically anything by setting up one of its functions and let the oven do the rest, instead of tinkering with temperature.
Stainless steel on the outside, a crumb tray and non-stick surfaces on the inside make the cleaning as easy as wiping everything down with a damp cloth.
Easy to hear it over a noisy kitchen or even from another room.
What I Didn't Like:
You'll have to get your gloves to take food in and out of this oven.
With only four inches of height space inside, you can't really fit tall things in.
This oven is definitely on the pricier side of most toaster ovens, so it may not be great if you want it just for toast
Like with most ovens of its kind, this oven's exterior gets really hot, so you'll need to keep an eye on it to avoid getting burnt and wait until it cools off to store it away.
Conclusion – Should You Get It?
The Breville BOV450XL Mini Smart Oven is pricier than most ovens of its kind, but it does give you more value than them. With an extremely effective heating system and very intuitive controls you can definitely use it for more than toast and warming food.
If you're looking for a powerful little oven that can bake anything just as well (or sometimes even better) than your regular sized oven, this is probably the best toaster oven for you.