Canned oysters have more essential nutrients like phosphorous and potassium than their raw counterparts.
However, you may wonder if they are safe for consumption, considering this fish easily causes food poisoning.
So, are oysters in a can safe for consumption?
Canned oysters are safe for consumption.
Although this fish isn't as fresh as its raw counterparts, ingesting them won't cause any health problems as they are cooked during the canning process.
Cooking kills all the viruses and bacteria present in oysters.
This article discusses the nutritional benefits of ingesting canned oysters.
It also includes a list of the best-canned oysters and recipes for preparing this delicacy.
Canned oysters' nutritional benefits
Canned oysters are a powerhouse of essential nutrients that boost the immune system.
Some of them include:
Vitamin B12 – Aside from keeping nerve cells healthy, this compound helps in DNA production. Additionally, ingesting Vitamin B12 prevents you from contracting anemia, a blood condition.
Protein – Proteins increase muscle mass, strengthen bones, help lower blood pressure, boost metabolism, and reduce hunger.
Calcium – This compound promotes proper heart, nerve, and muscle functioning. It also builds strong bones and reduces the risk of contracting cancer.
Iron – Iron promotes blood transportation by enhancing hemoglobin function. This nutrient also aids in gastrointestinal processes and enhances the immune system.
Sodium – Sodium promotes brain development, relieves heartburn, prevents indigestion, helps release toxins, and enhances skin and teeth health.
Omega 3 – These fatty acids prevent the risk of suffering from abnormal heart rhythm, stroke, and sudden cardiac death. It also lowers blood pressure and reduces inflammation.
Antioxidants – Oysters are rich in the DHMBA antioxidant, which is vital in reducing oxidative stress.
Vitamin K – Vitamin K promotes bone metabolism and regulates blood calcium levels. It also supports proper blood clotting.
Vitamin D – Ingesting this nutrient will reduce your chances of contracting heart disease. Additionally, vitamin D aids in weight loss and enhances the immune system.
Are canned oysters safe for consumption?
Canned oysters are safer than their raw counterparts as the canning process, which involves cooking, eliminates any existing pathogens.
Oysters feed by filtering water, drawing in lots of this liquid in the process.
Aside from the algae that oysters feed on, water also includes bacteria and viruses, which may end up in the oyster's body.
The most common pathogen in raw oysters is known as vibrio bacteria.
Although some individuals can recover from vibriosis, an infection caused by this bacteria, severe cases may escalate to death.
Therefore, visit the clinic immediately if you notice the following symptoms after consuming raw oysters.
Vomiting
Watery diarrhea
Chills
Abdominal pain
Fever
Ear infections
Considerations when buying canned oysters
Below is a list of what to consider when purchasing canned oysters.
Boiled or smoked
Selecting between these two is dependent on one's preference.
If you like a kick in your dishes, then smoked salmons are the best for you as they are more flavorful than their boiled counterparts.
That said, you shouldn't add any spices to these fish when snacking on them.
On the other hand, if you enjoy oysters' natural taste, buy the boiled variety because they are plain and have a mild flavor.
Boiled oysters are also the best option for soups and stews as you can add the specific spices and herbs you enjoy.
Ingredients
Always read canned oysters' ingredients and buy those that contain natural and safe elements.
That said, avoid those that have cadmium and lead.
Cadmium damages the lungs and causes muscle pain, fever, and chills.
On the other hand, high ingestion of lead may lead to brain and kidney damage.
Canned oysters with high amounts of sodium are also unsafe as they raise blood pressure, increasing the risk of heart disease.
Lastly, avoid oysters doused in cottonseed oil as it increases cholesterol levels.
Always go for those soaked in olive or sunflower oil, as they are low in cholesterol and saturated fats.
Packaging
Canned oysters in airtight tins or cans stay longer than the other varieties.
However, they are hard to open, and you may even need a lid opener.
On the other hand, canned oysters with pull-out lids are convenient as you won't have to struggle when opening them.
Moreover, the chances of making a mess when using these canned oysters are pretty narrow.
Best canned oysters
Some of the best-canned oysters include:
Crown prince naturally smoked oysters with red chili pepper – This canned fish is doused in olive oil, making it safe for consumption. It also has a blunt flavor hence suitable for pasta dishes and pizza.
Pampa Smoked oysters – Aside from being picked straight from the farm, this canned oysters have an exciting and intense smoky flavor. Additionally, this product has a rich texture and no shell cuts.
Roland foods premium naturally smoked medium oysters in oil – The oysters have a firm texture making them the best to snack on. They also have a rich flavor as they are smoked in cherrywood.
MW polar boiled oysters – These will last a long time as they come in a twelve-pack, and each can has a generous amount of fish. Additionally, this product contains whole oysters, making them perfect for gumbos, soups, and stews.
Bumble bee fancy smoked oysters – This product is many people's favorite as it's gluten-free, making it best for those on diets. It also has a fantastic flavor hence suitable for salads and sandwiches.
Canned oyster recipes
Aside from being nutritious, canned oyster dishes are also simple and easy to make.
Some of their recipes include:
Korean oyster broth
Ingredients
1 can of oysters(eight ounces)
1 ½ tablespoon of soy sauce
1 scallion(thinly sliced)
Instructions
Fill a pot with six cups of water, then add the dried kelp and radish.
Heat the pot under high temperatures until the water boils.
Once boiled, reduce heat to a simmer, so the vegetables cook till they soften.
Add soy sauce, garlic, salt, and pepper to taste.
Let it cook for two minutes.
Add the oysters and sliced scallions.
Oyster stew
Ingredients
1 tablespoon of olive oil
Instructions
Spread some oil on a pan, then cook the bacon until they are brown and remove from heat
Chop the chilies, potatoes, celery, leek, and onions
Heat some oil on a pan, then add the chopped vegetables and let them cook till they start to soften.
Add flour, bacon, oyster juice, and stock to the vegetable.s
Reduce the heat to low and let the mixture cook for five minutes.
Add pepper, salt, corn, milk, heavy cream, and oysters.
Let the stew boil for seven minutes or until the potatoes are soft.
Serve and sprinkle the parsley to garnish.
How do I tell if my canned oysters have gone bad?
Below are signs that indicate your canned oysters have gone bad.
Pungent smell – If you get a pungent smell after opening your canned oysters, discard the whole tin of fish as it has gone bad.
Change in color – If the color of your oysters is strange or different, they are probably spoiled. Pink, brown, black, and grey indicate that this fish is rotten.
Old cans – If your canned oysters tin has rusted, bulged or dented, don't eat from it. This is because the high chances are that the oysters are expired and hence not safe for consumption.
Mold – Mold is a clear sign that your canned oysters are past their expiry date. Ingesting bad oysters can lead to severe health problems; throw a can of spoiled oysters into a bin.
Difference between canned and fresh oysters
Canned oysters are mostly cooked, while their fresh counterparts are raw.
This means that canned oysters contain no pathogens while the fresh variety is filled with bacteria and viruses.
Canned oysters are more nutritious than fresh ones.
Most canned oysters are soaked in either olive or sunflower oils which benefit the body.
Olive oil has anti-inflammatory properties and prevents strokes.
On the other hand, sunflower oil boosts digestion and improves skin, heart, and hair health.
Lastly, canned oysters are easy to bite into, slightly fishy, and salty.
However, their fresh counterparts are slimy and hence hard to chew.
Storing canned oysters
Sealed and canned oysters don't need freezing to stay fresh.
Store your canned oysters in the cupboards, and they'll be safe to use for at least one year.
Although they may taste fresh even after that period, always check the expiration date on the packaging before eating.
On the other hand, if you've already opened the can, pour the leftovers into a bowl and put it in the refrigerator for not more than two days.
You can increase your canned oysters' life by freezing them.
Place the oysters in an airtight container or freezer bag for best results.
Frequently asked questions(FAQs)
Are oysters in a can raw or cooked?
Canned oysters are cooked.
These delicacies are always smoked or boil then doused in nutritious oils like sunflower and olive oil.
Should I chew oyster in a can?
You can chew canned oysters as they are firm compared to fresh ones.
Moreover, chewing oysters is more enjoyable than swallowing the whole fish once.
This is because it allows getting the fish's full flavor.
Conclusion
Canned oysters are safe for ingestion as they contain no pathogens.
These fish contain essential nutrients like calcium, sodium, iron, and omega-3 fatty acids.
That said, you can incorporate this delicacy into your diet by trying out the oyster stew and Korean oyster broth recipes described above.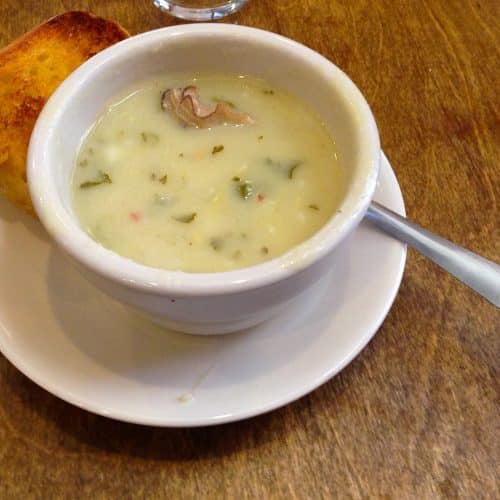 Oyster Chowder
Warm up the crowd with this delicious chowder brimming with succulent oysters.
Ingredients
3

cups

milk

8

oz

oysters

canned

1

small

onion

finely chopped or grated

2

tablespoons

parsley

finely chopped (or 1 tablespoon, if using dried)

2

tablespoons

butter

2

teaspoons

Worchester Sauce

1

pinch

salt

to taste

1

pinch

black pepper

to taste

1

pinch

cayenne

to taste

1/3

cup

flour
Instructions
Scald milk in a saucepan (bring just to a boil).

While the milk is heating, strain the oysters and set them aside, saving the liquid.

Heat the onion and parsley in butter in a separate pot over low heat until soft and translucent.

Season the onion and parsley with salt, cayenne pepper, black pepper, and Worchester Sauce.

Add the oyster liquid and stir constantly while it heats up.

Continue stirring to thicken with flour.

Add oysters and cook until the edges curl, about 5 minutes.

When the milk is scalded, add it to the oysters and stir until well combined.

Toss with crackers or crusty bread and serve.
Video
Nutrition
Calories:
167
kcal
Carbohydrates:
15
g
Protein:
6
g
Fat:
9
g
Saturated Fat:
6
g
Polyunsaturated Fat:
0.4
g
Monounsaturated Fat:
2
g
Trans Fat:
0.2
g
Cholesterol:
31
mg
Sodium:
105
mg
Potassium:
267
mg
Fiber:
1
g
Sugar:
8
g
Vitamin A:
523
IU
Vitamin C:
3
mg
Calcium:
191
mg
Iron:
1
mg
---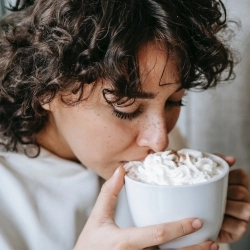 Latest posts by Grace Lambert
(see all)