A can of oysters can be a quick snack, or a perfect addition to a dish, especially when you're craving seafood but are short on time.
Oysters are the purest expression of a fun bonding meal as you can share them with friends over a chilled glass of white wine.
However, you may wonder if canned oysters are as good as fresh ones.
Let's see.
So, are canned oysters any good?
Yes.
Canned oysters have an incredible nutritional value similar to the raw or fresh variety.
They're rich in antioxidants that reduce lipoprotein, which is bad cholesterol.
However, they're a low-fat source of protein but are higher in calories and fat than raw oysters.
This article will help you clear any confusion you might have concerning canned oysters.
It will also discuss the most popular edible varieties in a store near you.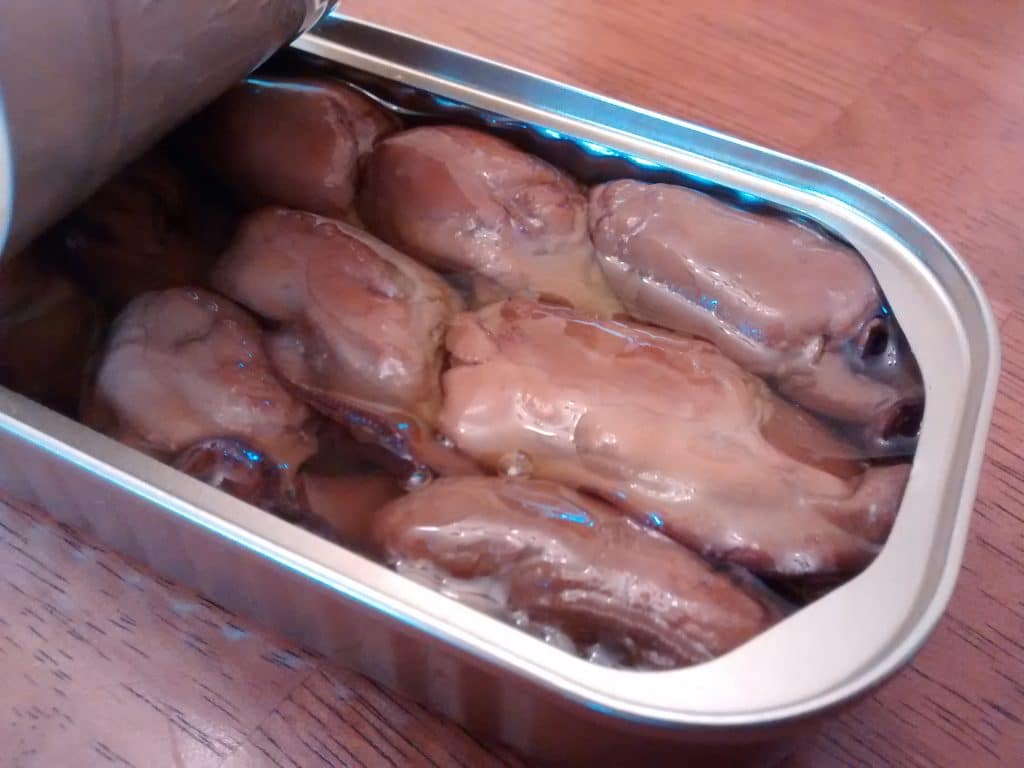 Are Canned Oysters as good as fresh oysters?
Canned oysters are still oysters, with the only difference being the freshness.
Canned oysters are either fresh or smoked, have been cooked to a safe temperature, and are edible right out of the can.
They are loaded with antioxidants that reduce lipoprotein, which is bad cholesterol.
The canned variety has a shelf life of at least a year, and once opened, you should store the unused portion in the refrigerator.
You should consume the leftovers within two days as they will spoil.
Can you eat canned oysters raw?
Most canned oysters are safe to eat right out of the can unless made for cooking.
Either way, depending on your preference, you can eat them as is or cook them.
However, you can use them as an ingredient in dip, soup, chowder, stuffing, or casserole.
That said, following the label guidelines as you would with any food product before consuming them is imperative.
Ensure you check the label to see the shelf life of the product.
Do canned oysters lose nutrients?
Canned oysters have nearly the same nutritional value as raw or fresh ones.
However, the main difference is that they're higher in calories, fats, and sodium than fresh oysters.
On the other hand, canned oysters have more protein, calcium, zinc, magnesium, selenium, and Vitamin A.
They're also an excellent source of minerals and vitamins like Vitamin D, E, and B12.
When eaten in moderation, canned oysters can be beneficial to your health.
Eating too many oysters can lead to adverse health effects such as reduced levels of copper and iron, which zinc competes with for absorption, causing zinc toxicity.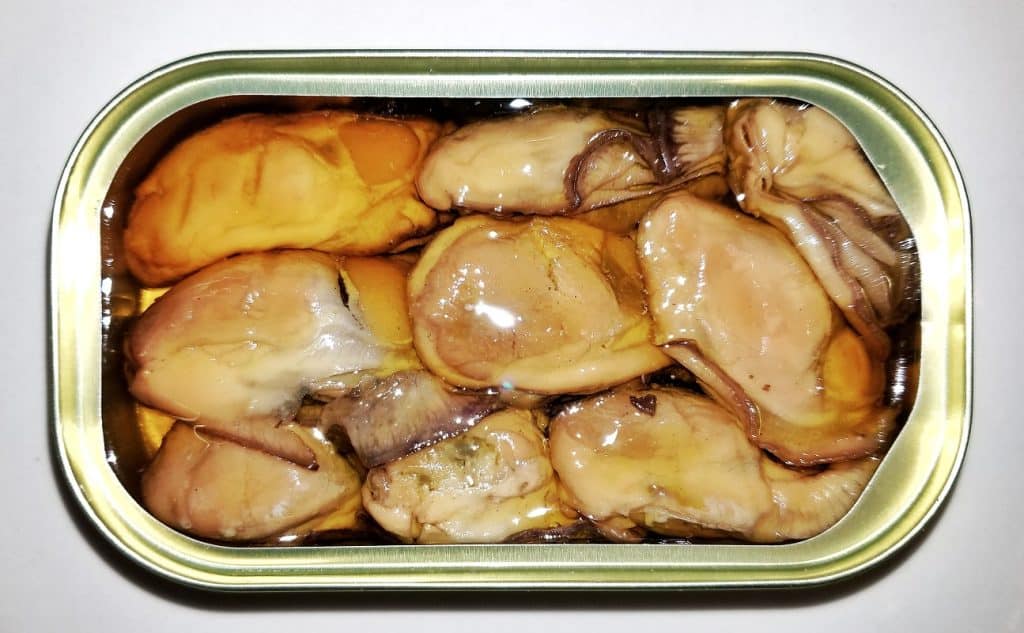 How many species of oysters are edible?
While there are a lot of varieties of edible oysters, the most popular types worldwide are five species;
Pacific or Crassostrea Gigas, Eastern or Crassostrea Virginica, Kumamoto, or Crassostrea Sikamea, European flat or Ostrea Edulis, and Olympia or Ostrea Conchaphila.
However, edible oysters are not the kind that grows pretty pearls, the pearl-producing mollusk is different.
Some of these oysters are commonly consumed cooked or raw and are a highly nutritious delicacy.
Let's take a look at each of these species and how they differ from each other.
Pacific oysters
The Pacific oyster is an oyster native to the Pacific coast of Asia but has been translocated and spread worldwide for aquaculture.
It has an elongated shell that's thick, rough, and sometimes sharp.
The shell's inside is white to off/white and contains purple streaks, with its meat having a black mantle with creamy notes.
Pacific oysters grow from spat to pack size in 12-18 months and are cheaper than the rest.
This type of species comprises 97% of oyster production worldwide as it's more resistant to diseases.
Similarly, Pacific oysters are increasingly popular as they're full-bodied and firm with tons of nutritional value.
A can of this brand is low in fat, calories, and cholesterol and high in protein, iron, omega-3, fatty acids, calcium, zinc, and vitamin C.
However, you can best consume this delicacy cooked.
Depending on your preference, you can steam, grill, poach, roast, pan-fry, or even smoke them.
Eastern oysters
The Eastern oyster, also known as the Atlantic oyster, is a species native to eastern North and South America.
It's tear-shaped but flatter than the Pacific oyster and with smooth edges.
The shell's inside is white to off/white to brownish, with its meat having a heavy salty taste.
The meat texture is often chewy and distinctly more solid, with its predominant flavors being brine, copper, seaweed, or vegetal tastes.
However, the flavor profiles can vary depending on where they're grown.
The oysters are usually medium in size and have plenty of plump meat and clean liquor.
Like all shellfish, you should cook Eastern oysters to prevent harmful bacteria like Vibrio.
These oysters are an excellent choice for barbeque as they're able to retain flavor when you put them on the grill.
That said, most canned oysters are treated for safety after they're harvested and can be safe to eat raw.
Kumamoto oysters
These deep-cupped oysters originated in Kyushu, Japan, and can be enjoyed by beginners and pros alike.
The Kumamoto oysters are a popular favorite for their wonderful sweetness and clean, fruity aromas.
They have petite meats with a large sip of liquor and a delicate creaminess.
These oysters are about 2-3 inches in shell length, with their flavor profile varying wildly depending on the water they grow up in.
Depending on how you serve them, Kumamoto oysters are well-suited for poaching, baking, steaming, deep-frying, or even raw.
You can also include them in pasta or chowders.
Of all the five species, the Kumamoto is one of the best when eaten raw.
Although the size is smaller than the Pacific, it has a sweet, non-fishy taste, making it a classic to pair with wine or champagne.
European flat
The Ostrea edulis, commonly known as the European flat oyster, is a type of oyster native to Europe.
It is much larger and has an oval or pear-shaped shell with a rough, scaly surface.
This hard rough gray shell contains meat that may vary in color from creamy beige to pale gray.
Their flavor is distinctive as it's creamy, with a more robust flavor of smoke and a long-lasting metallic aftertaste.
They accumulate minerals, giving them that unique salty undertone and a sweet flinty overtone.
You can have them raw, topped with cayenne pepper and a squeeze of lemon juice, as canned oysters are safely treated after harvesting for human consumption.
You may grill them in the half shell to curl or top with garlic butter.
Toss them in your soups and chowders if you prefer a hearty meal.
Olympia oysters
The Olympia oyster, also known as Ostrea lurida, is a species of edible oyster native to the northern Pacific coast of North America.
They're the smallest oyster species in North America that reaches a maximum size of about 1 ½ inch in diameter throughout their 3-10 year lifespan.
The Olympia oyster has a hard sturdy shell and is accustomed to fighting the tides, clamping tightly shut during low tides to preserve their liquor and to protect themselves against predators.
This gives them a longer shelf life compared to other oysters.
Olympia oysters have smaller meats with a high brininess and sweet, coppery, or metallic flavor, sometimes described as peppery.
FAQs
Q: Are canned oysters any good?
A: Yes, canned oysters are a surprisingly healthy food source when eaten in moderation.
Although higher in calories, they're abundant in antioxidants and vitamins, especially vitamin B-12.
They're also rich in all nine essential amino acids and omega-3 fatty acids.
Q: Can you eat oysters right out of the can?
A: You can eat canned oysters right out of the can as they're cooked to safe and edible temperatures during packaging.
However, you can safely use them as an ingredient in a dip, soup or chowder, stuffing, or casserole.
Q: Can canned oysters make you sick?
A: Yes, consuming too many oysters can harm your health.
Eating undercooked seafood can put you at risk for infections such as vibriosis caused by certain strains of Vibrio bacteria.
Excessive consumption of canned oysters can also lead to reduced levels of copper and iron, essential for normal body functioning.
Q: What are the side effects of eating oysters?
A: The primary health concerns associated with eating raw or undercooked oysters are vibrio infection, norovirus infection, and hepatitis A.
You may experience vomiting, diarrhea, nausea, stomach pains, and severe weakness.
Q: How long are canned oysters good for?
A: Properly stored, an unopened can of smoked oysters will generally stay at best for about 3 to 5 years, although it will usually remain safe to use after that.
Once opened, store the unused portion in the refrigerator and use it within two days.
Ensure you check the product label for the expiration date.
In summary
Oysters aren't exclusive to fine dining or eating raw.
Canned oysters are also a delicacy that can make a tremendous once-in-a-while snack.
Add them to your seafood stew, soup, or chowder once every week or two for a refreshing afternoon snack.
You can also try mixing them into the pasta as they're a delectable dish with creamy sauces.
If you haven't tried, give canned oysters a try to tell the difference.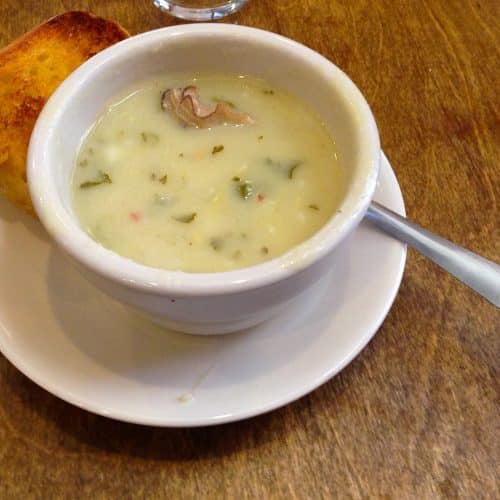 Oyster Chowder
Warm up the crowd with this delicious chowder brimming with succulent oysters.
Ingredients
3

cups

milk

8

oz

oysters

canned

1

small

onion

finely chopped or grated

2

tablespoons

parsley

finely chopped (or 1 tablespoon, if using dried)

2

tablespoons

butter

2

teaspoons

Worchester Sauce

1

pinch

salt

to taste

1

pinch

black pepper

to taste

1

pinch

cayenne

to taste

1/3

cup

flour
Instructions
Scald milk in a saucepan (bring just to a boil).

While the milk is heating, strain the oysters and set them aside, saving the liquid.

Heat the onion and parsley in butter in a separate pot over low heat until soft and translucent.

Season the onion and parsley with salt, cayenne pepper, black pepper, and Worchester Sauce.

Add the oyster liquid and stir constantly while it heats up.

Continue stirring to thicken with flour.

Add oysters and cook until the edges curl, about 5 minutes.

When the milk is scalded, add it to the oysters and stir until well combined.

Toss with crackers or crusty bread and serve.
Video
Nutrition
Calories:
167
kcal
Carbohydrates:
15
g
Protein:
6
g
Fat:
9
g
Saturated Fat:
6
g
Polyunsaturated Fat:
0.4
g
Monounsaturated Fat:
2
g
Trans Fat:
0.2
g
Cholesterol:
31
mg
Sodium:
105
mg
Potassium:
267
mg
Fiber:
1
g
Sugar:
8
g
Vitamin A:
523
IU
Vitamin C:
3
mg
Calcium:
191
mg
Iron:
1
mg
---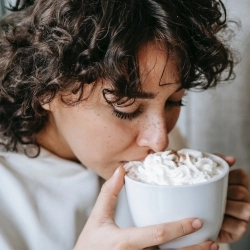 Latest posts by Grace Lambert
(see all)