The only thing better than a healthy salad is shredded chicken whisked with celery and mayonnaise until it becomes evenly crunchy and flavorful.
All chefs agree that a good meal comprises a uniform balance of salt and texture.
Zoe's chicken salad has it all.
While mayonnaise provides fluffiness, celery gives it the crunch.
This is a healthy recipe that will awaken your taste buds.
With only five ingredients, this recipe is so easy to fix and it will keep you full for hours.
Take a bite of the fresh crunchiness of this chicken salad.
The added scoops of mayo take the flavor to another level.
It is a summer-friendly salad you could eat bowl after bowl without feeling like you've guzzled too many calories- because you haven't.
Zoe's chicken salad is low carb and healthy, a perfect fit if you're watching your weight.
Why It's a Must-try Recipe
●Easy to prepare- This is one easy recipe that you can even instruct your kids to help with.
It only involves shredding, chopping, and mixing. Simple!
●It is versatile- Zoe's chicken salad is a versatile and family-friendly meal that you can serve as a main meal, a side dish, or as a sandwich.
The chicken salad is so versatile, you can have it with anything.
●Diet-friendly- The low calories in the recipe makes it ideal for people who are on a diet.
Filled with nutrients, this chicken salad is healthy and has no fat.
Recipe Tips
1.Since this is a raw salad recipe, use fresh, crispy celery.
Wilted vegetables are not for salads.
To get the best out of this recipe, your celery must be fresh to give it a good texture.
2.Wash and thoroughly dry your celery.
Any leftover water on your celery will make your chicken salad runny and less thick.
3.Chop the celery into fine, small pieces.
You need that crunch texture, and the secret to that is in the chopping.
4.To shred your cooked chicken breasts, use either of these two methods:
● Two Forks
○Place your chicken on a chopping board.
○Using two forks, separate the meat while shredding until you achieve your desired sizes.
●Stand Mixer
A stand mixer provides the easiest and fastest way of shredding chicken.
○Put all your chicken in the stand mixer bowl.
○Turn the stand mixer on low.
○In 15 seconds, your shredded chicken is ready.
How to Prepare Zoe's Chicken Salad
Ingredients
●3 cups of shredded chicken breasts
●¼ cup of chopped celery
●¼ teaspoon of salt
●¼ teaspoon of pepper
●¾ cup of mayonnaise (low FODMAP)
Instructions
●Put your shredded chicken breasts in a bowl.
●Add celery- The way you mix your chicken and celery will make your salad stand out.
Ensure your celery is chopped into very small pieces, then mix well
●Add mayonnaise and combine well
●Sprinkle salt and pepper and mix.
●Chill and serve
To enjoy this chicken salad, serve it cold.
Allow the salad to chill in the refrigerator for a few minutes before serving.
By chilling, all the flavors fuse for an even taste
How to Serve Zoe's Chicken Salad
Since this is a versatile meal, pairing it with other foods is easy.
Whichever food you choose to pair this chicken salad with, ensure that it has a different but complementing taste.
Below are some ways to serve it:
●With other meats- since chicken is bland, adding other types of meat to it complements its taste.
Ham and bacon are perfect complements because of their salt-like taste.
●As a sandwich or a wrap- You can sandwich your chicken salad between toasted slices of bread or a croissant.
Alternatively, you can wrap it with homemade cassava tortillas.
●On a bed of lettuce – You can use several layers of lettuce depending on your preference.
●With croutons – Since they're made from wheat, croutons act as perfect toppings.
They will enhance the taste of the meal and make it heavier.
●With main dishes– Zoe's chicken salad can act as a side dish for main dishes like:
○Barbecue
○Regular potato chips
○Sweet potato chips
○Tortilla chips
○Roasted potatoes
How Long Can Zoe's Chicken Salad Last in the Refrigerator?
Chicken salad is best eaten as soon as it's prepared for maximum crunchiness and natural flavor.
However, it can last in the refrigerator as a leftover for 2 to 5 days.
However, these two reasons will determine how long your chicken salad with remain fresh:
How you store- homemade chicken salad contains no preservatives, therefore to keep it longer than three days, keep it in an airtight glass jar.
Alternatively, you can wrap using aluminum foil.
Airtight jars help to keep your chicken salad free from air and moisturize and as a result keep it fresh and tastier for longer.
Temperature- Homemade chicken salad should not stay in open-air beyond hours after preparation.
Instead, it should be kept in the refrigerator.
Chicken salad kept above 40 Degrees F is not safe for consumption because bacteria grow at those temperatures.
Can You Freeze Zoe's Chicken Salad?
With plenty of leftover chicken salad, you may be left wondering if you can freeze it.
As long as you store it well in the freezer, your chicken salad can last up to three months.
Store in airtight containers or zip-top bags at room temperature, an hour after its preparation.
Zoe's chicken salad contains mayonnaise.
Since mayonnaise is an emulsion, freezing separates it, making it watery.
When you are ready to use your chicken salad, thaw it overnight.
If it's too watery, whisk or stir until all ingredients mix well.
You can add some mayonnaise to the mixture to give it a thick consistency.
How to Tell if Zoe's Chicken Salad has Gone Bad
Using these three ways, you can tell if your chicken salad is ready for the trash can:
1. Appearance:
●If your celery looks darkened, discolored, and weak.
●The salad has a slimy and moist surface.
●The chicken looks brownish-gray.
●Mold.
2. Smell
Any unpleasant odor means your chicken salad is spoiled.
It could be the container used for storage wasn't tightly closed or the smell could have transferred from other foods in the refrigerator.
3. Taste
It's not advisable to taste especially if the chicken salad is emitting a bad odor or has mold.
However, if you are still in doubt, only taste a tiny portion.
Health Benefits
1. No fat and preservatives
Zoe's chicken salad has no added preservative or fat, it is made of three healthy ingredients.
Most people add artificial preservatives to their foods to prolong their shelf life, maintain quality, and improve appearance.
However, preservatives have been linked with increased causes of colon cancer.
2. IBS friendly
Zoe's chicken salad uses low FODMAP mayonnaise which helps to curb gastrointestinal symptoms such as bloating and constipation.
It is an ideal recipe for people with Irritable Bowel Syndrome (IBS) because it lowers pain and discomfort.
3. Nutrient-dense
This recipe contains raw celery, meaning it's rich in nutrients.
Celery is a good source of fiber.
The fiber content in celery is beneficial for detoxification.
Celery is rich in Vitamin A which the body needs to achieve strong immunity.
This salad is loaded with nutrients and is ideal for healthy digestion.
4. Ideal for weight loss
Chicken breast is a lump of lean meat that is low in calories.
Celery is a negative-calorie vegetable.
A combination of these two makes Zoe's chicken salad a low-calorie diet, which is an ideal choice for weight loss.
5. A rich source of protein
Chicken is the main ingredient in the recipe.
This recipe contains about 20g of protein in one serving.
To ensure the normal functioning of the body, you need to consume protein every day because it is responsible for building and repairing tissues and muscles.
Proteins also ensure that blood and other body fluids maintain a good PH.
FAQs
1. Why does Zoe's chicken salad use low FODMAP mayonnaise?
Using low FODMAP mayonnaise helps to curb digestive issues such as diarrhea, bloating, and abdominal pain.
When foods with FODMAP aren't absorbed well in the small intestines, water and gas form leading to stomach discomforts.
2. Is Zoe's chicken salad low carb?
Yes, with just 1 net carb per serving, it is ideal for weight-conscious people.
3. How many calories are in Zoe's Chicken salad?
One serving of Zoe's chicken salad contains 400 calories.
Conclusion
During the hustle of everyday life, you are likely to get busy but still want to try out an easy recipe with available, tasty, and simple ingredients with little or no hustle, right?
Zoe's chicken salad is ideal for those times when there's a need for speed because you will have it ready in less than 10 minutes.
It is crunchy and flavorful enough to serve it at a family get-together.
It is versatile, you can have it during lunch break at work tomorrow.
Packed with enough nutrients, this chicken salad is best for everyone, kids and adults alike.
With its versatility, you can never have enough of this meal.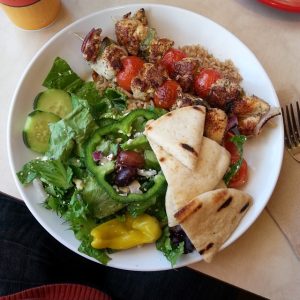 Zoe's Chicken Salad
Zoe's chicken salad is low carb and healthy, a perfect fit if you're watching your weight. It is a summer-friendly salad you could eat bowl after bowl without feeling like you've guzzled too many calories- because you haven't.
Ingredients
3

cups shredded

chicken breasts

¼

cup chopped

celery

¼

teaspoon

salt

¼

teaspoon

pepper

¾

cup

mayonnaise
Instructions
Put your shredded chicken breasts in a bowl.

Add celery- The way you mix your chicken and celery will make your salad stand out.

Ensure your celery is chopped into very small pieces, then mix well

Add mayonnaise and combine well

Sprinkle salt and pepper and mix.

Chill and serve
Video
Nutrition
Calories:
978
kcal
Carbohydrates:
1
g
Protein:
76
g
Fat:
72
g
Saturated Fat:
12
g
Polyunsaturated Fat:
39
g
Monounsaturated Fat:
17
g
Trans Fat:
1
g
Cholesterol:
262
mg
Sodium:
1246
mg
Potassium:
1366
mg
Fiber:
1
g
Sugar:
1
g
Vitamin A:
219
IU
Vitamin C:
5
mg
Calcium:
31
mg
Iron:
2
mg
---