If you've ever had a ripe strawberry that started to rot after you picked it, then you know what it feels like when your prized fruit starts to go bad.
The culprit behind this rotten feeling isn't always bacteria or a virus – sometimes it's a fungus.
In fact, there are many different types of fungi that can infect your strawberries, including those that cause strawberry mold.
So how can you tell whether or not you have strawberry mold?
What causes strawberry mold in the first place?
And how can you prevent it from spreading?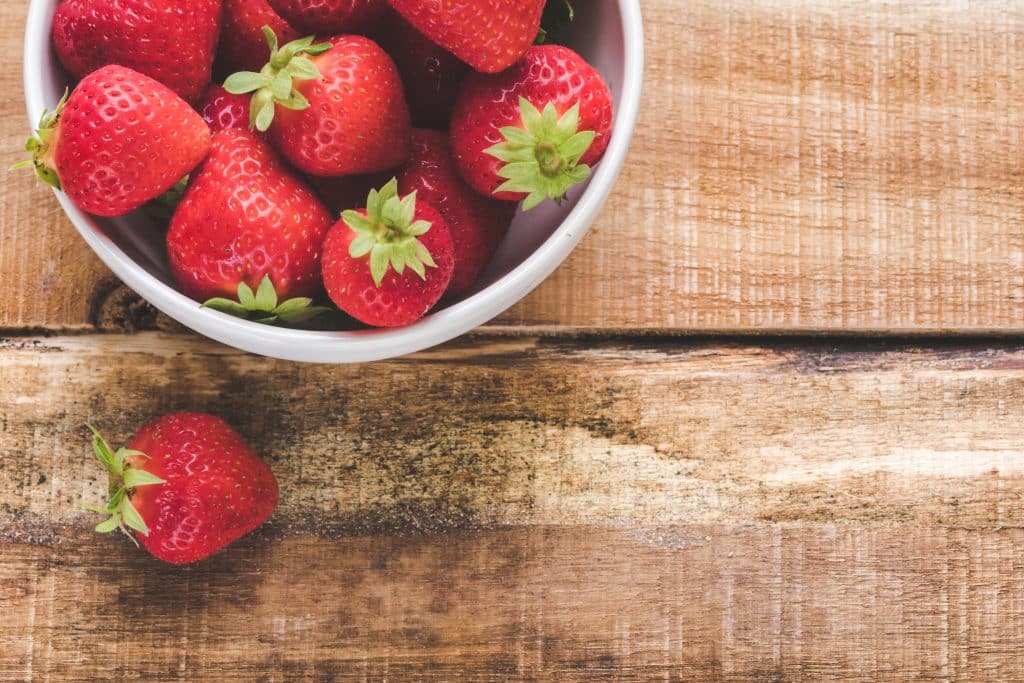 What causes strawberry mold?
There are several different types of fungi that can infect your strawberry.
Some of these fungal species are harmless while others are very harmful.
But regardless of which type of fungus infects your berries, they all share one thing in common – they love strawberries.
When a strawberry is infected with strawberry mold, the fungus grows on the surface of the berry as well as inside the strawberry.
This means that the mold will grow on both sides of the strawberry, giving the whole berry an uneven appearance.
The mold also affects the taste and texture of your strawberry, making them less appealing to eat.
How does strawberry mold affect strawberries?
Because the mold is growing on the outside of the strawberry, it will start to affect the way the strawberry looks.
It will begin to turn brown, losing its vibrant color and becoming more wrinkled.
In addition, the mold will make the strawberry smell mustier than usual.
If you don't take care of your strawberries right away, then the mold can even start to penetrate the flesh of the strawberry, causing decay.
Additionally, the mold can cause the strawberry to become soft and mushy, making it difficult to remove from the stem.
When this happens, the strawberry won't ripen properly, leading to a reduction in overall quality.
Even worse, if the mold spreads through the entire strawberry, then it can destroy the flavor of the berry.
So, if you want to enjoy your strawberries without any problems, then it's important to get rid of strawberry mold as soon as possible.
How can strawberry mold be prevented?
To prevent your strawberry from getting moldy, you need to keep the mold from spreading.
To do this, you need to wash your hands before handling your strawberries, and make sure that you only pick ripe strawberries.
You also need to store your berries in a cool, dark area so that they don't spoil too quickly.
Additionally, you should never leave your strawberries out in the open air.
Instead, you should put them in a container with a lid so that they stay fresh.
Finally, if you suspect that your strawberry has already been contaminated by strawberry mold, then you should cut off the mold-infected portion of the strawberry and discard it.
You should also dispose of any other moldy fruits and vegetables that you have on hand.
What are the symptoms of strawberry mold?
As we mentioned earlier, the mold that grows on your strawberries will change the way that your berries look.
Because the mold makes the berries appear older and more dried up, it will often give them an unappealing appearance.
The mold can also make the berries feel mushy and unripe, causing them to lose their appeal.
In addition to looking and tasting bad, the mold may also cause your strawberries to smell bad.
The mold itself doesn't produce any odors, but it can transfer some of its bad smells onto the fruit.
If you don't clean up your strawberries right away, then the mold will continue to grow on top of the strawberry, creating an unsightly mess.
How does strawberry mold spread?
If you buy strawberries that have already been infected with strawberry mold, then you might think that you're safe because they were purchased at the grocery store.
Unfortunately, this isn't true.
Bacteria and viruses can easily travel across the countertops, floors, and even walls.
As such, you could unknowingly carry mold into your kitchen and inadvertently contaminate your strawberries.
Additionally, if you purchase a box of strawberries from a local farmer, then you could end up eating moldy fruit if you don't properly wash your hands before you eat the berries.
You should also avoid purchasing strawberries that are past their prime, since they'll likely contain mold.
What are the treatment options for strawberry mold?
There are two main methods that you can use to treat strawberry mold.
The first option is to just throw away the moldy fruit and replace it with new, healthy ones.
If you have enough strawberries on hand, then you can simply wait until the next batch of strawberries comes in and repeat the process.
Another option is to soak the moldy berries in water overnight.
Then, the next day, you can scrub the mold off the berries using a vegetable brush.
Once you've done this, rinse the berries under running water.
Finally, dry the berries thoroughly and store them in a cool, dark place.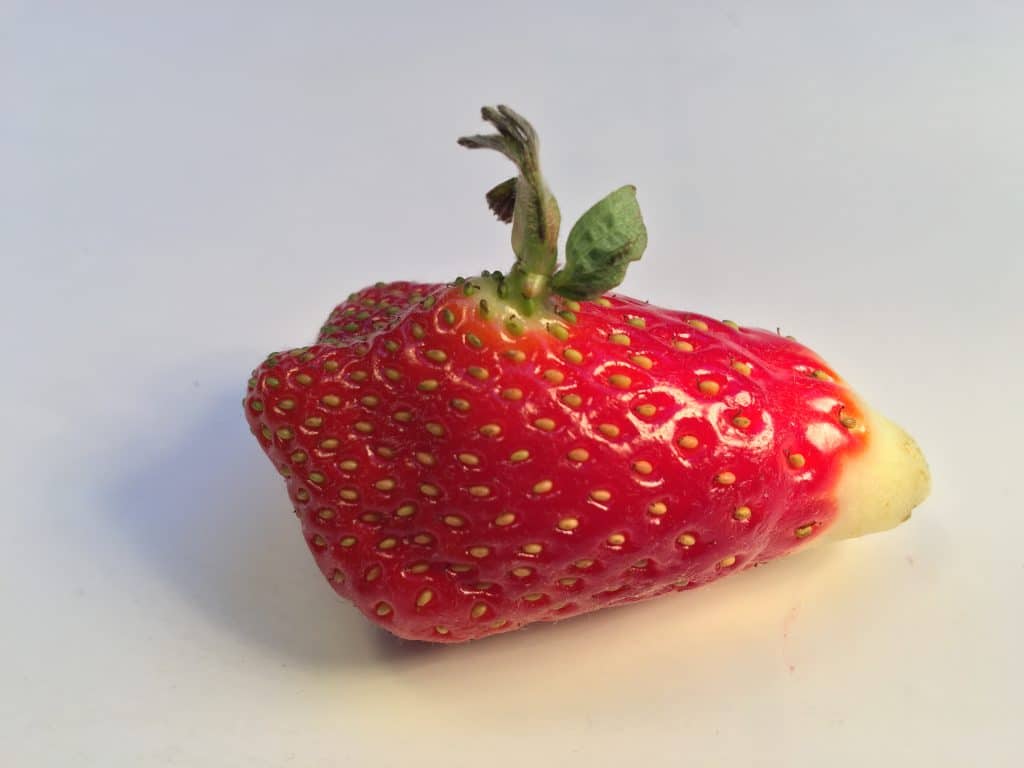 Is strawberry mold dangerous?
While strawberry mold can often be removed with simple cleaning, there are times when the mold becomes so severe that it cannot be cleaned off.
In these cases, the mold needs to be removed permanently.
Fortunately, there are ways to kill the mold once and for all.
First, you should try soaking the moldy berries in salt water.
Salt water can help to dissolve the mold, allowing you to remove it completely.
After you've done this, you can either toss the moldy berries in the trash or compost them.
How can you tell if a strawberry has mold?
To determine whether or not a strawberry has mold, you need to examine the exterior of the berry.
Look closely at the skin of the strawberry and see if you can spot any discoloration or mold growth.
If you notice anything unusual, then you should immediately discard the strawberry and wash your hands before picking another one.
What should you do if you find strawberry mold?
If you discover mold on your strawberries, then you should throw the moldy berries away and wash your hands immediately.
You should also wash your cutting board and utensils with hot, soapy water.
The last step is to wash your hands again to ensure that you haven't accidentally transferred any mold to other foods.
Then, you should wash the strawberries with hot water and store them in a cool, dark place.
Recommendation of strawberry mold :
There are some people that throw strawberry mold into the trash . We can utilise the parts of the strawberry that have not been moldy to make delectable dishes.
Smoothie King Strawberry Banana recipe comprises many healthy ingredients, including bananas and strawberries.
It is easy to consume, contains protein, and can replace healthy meals.
The taste of strawberry and banana blends beautifully in this delicious smoothie.
Plus, making this drink at home is much cheaper (roughly $1), and you can customize the smoothie to be sweet or make it healthy.
Can strawberry mold be cured?
After you've washed your strawberries and stored them in a cool, dark place, then you should allow them to cure naturally.
Over time, the strawberry will develop a natural resistance to mold, making it much harder for the mold to infect the fruit.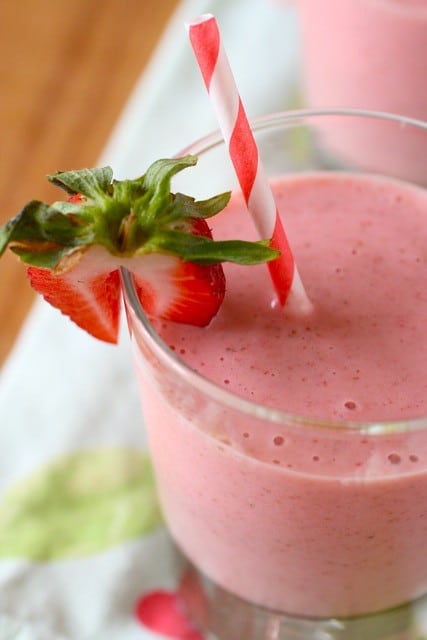 Smoothie King Strawberry Banana
Smoothie King Strawberry Banana is an excellent way to eliminate this dilemma.
Ingredients
1

piece

banana

200

g

strawberry

250

ml

milk

1

tbsp

vanilla extract
Instructions
You will require a large-sized blender for preparing the smoothie. It should be powerful enough to blend the fruit perfectly into a delicious smoothie.

Clean the strawberries and bananas.

Chop them up into pieces before adding them to your blender.

Add the milk and vanilla essence into the blender. Blend until smooth and stir.

Pour into glasses and serve the fruity cocktail with strawberries and whipped cream. Moreover, top your strawberry banana smoothie off with a bit of honey for extra sweetness.
Video
Nutrition
Calories:
83
kcal
Carbohydrates:
14
g
Protein:
3
g
Fat:
2
g
Saturated Fat:
1
g
Polyunsaturated Fat:
1
g
Monounsaturated Fat:
1
g
Cholesterol:
8
mg
Sodium:
25
mg
Potassium:
277
mg
Fiber:
2
g
Sugar:
9
g
Vitamin A:
126
IU
Vitamin C:
32
mg
Calcium:
86
mg
Iron:
1
mg
---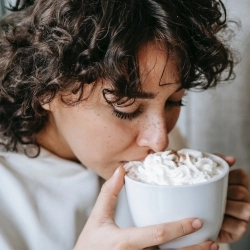 Latest posts by Grace Lambert
(see all)