These sumptuous summer soups are the perfect way to cool down in the summer!
From zippy corn chowder to creamy white bean soup, these easy recipes are so satisfying, you won't want to wait for next season!
Summer soups are a great way to cool down when it's hot out.
But they also look fantastic on the dinner table and give your home a fresh taste of summer.
So, if you can't beat eating soup in the summer, at least you know it tastes delicious!
These summer soups are packed with flavor and will definitely satisfy your cravings for something warm.
There's something for everyone on this list of summer soups.
So read on and make your tastebuds happy!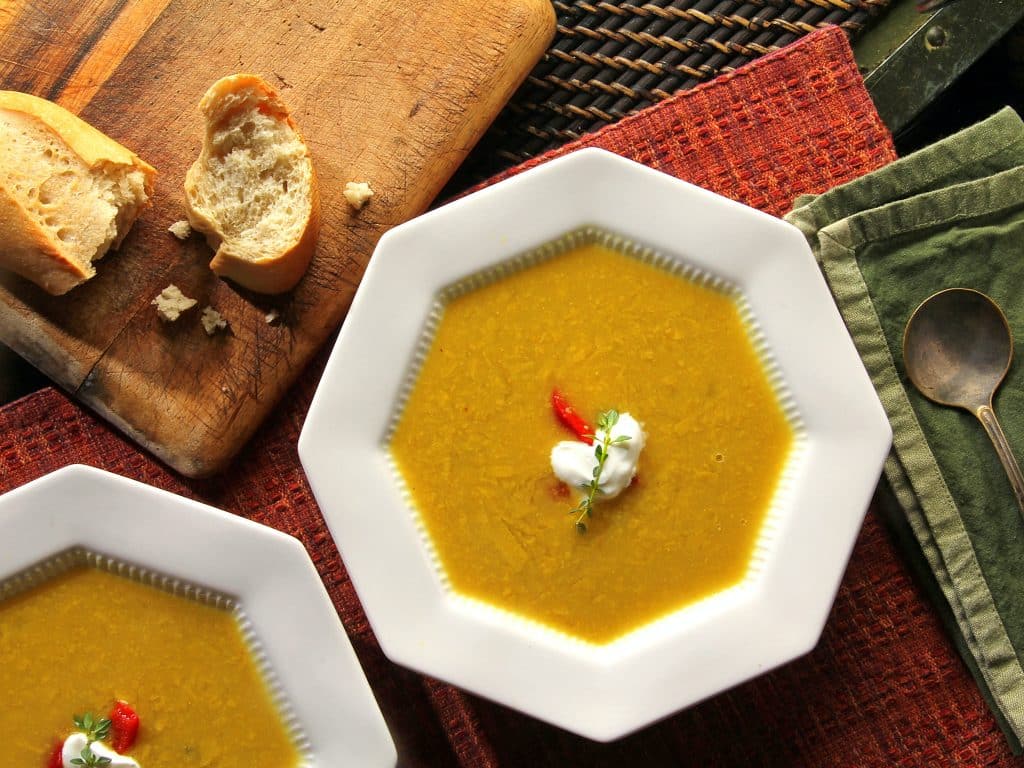 If you're looking for a healthy and tasty soup that's packed with flavor, you can't beat this one.
The base of this recipe consists of chopped spinach and zucchini.
There are also lentils, tomatoes, and seasoned chicken.
But the star of the show here is the thick, creamy broth.
You could even use any white corn soup base if you like.
Just keep in mind that this soup will be more filling if it has a thicker texture.
Not only is this an excellent use for corn, but it also saves a ton of calories.
You can whip up the entire meal in one pot, and you won't even taste the corn!
A savory broth that's sweet, sour, and slightly salty?
Yeah, I'm sold!
This soupe au pistou is a delicious blend of vegetables, herbs, and spices.
Plus it has a lovely creamy texture from the coconut milk.
The flavors are on fire.
You'll love how all the ingredients mix together for one amazing dish.
Serve it for brunch or dinner, and you'll be given such an array of tastes!
Carrot, zucchini, and squash are all things that you'll want to get your hands on to make this soup.
It's packed with nutrient-rich ingredients like carrots, potatoes, onions, and garlic.
The broth is a blend of tomato paste, vegetable stock for volume, and coconut milk for richness.
Serve it in a bowl with plenty of crusty bread or whole wheat pancakes.
I know what I'll be up for tomorrow!
If you love tomato soup, you'll go nuts for this one.
It's thick, creamy, and full of flavor.
Plus, it's a breeze to make with only five ingredients right in the Instant Pot!
This recipe is pretty easy to follow.
But I think it tastes best when served piping hot with crusty bread on the side.
This veggie stew is a bright, comforting meal that's great for cold days.
It's loaded with carrots, potatoes, and beans that are pleasantly flavored with the zing of red bell peppers.
This stew is also incredibly filling and nutritious.
One serving makes you feel like you just ate five meals in one!
Best of all, it's easy to make.
Simply combine your ingredients and simmer on low heat until everything is tender!
This soup is creamy and full of flavor.
It's made with white beans, carrots, celery, onion, garlic, and spices.
The ingredients are simmered in a rich stock until they become velvety smooth.
Because the vegetables are covered in broth – not water – it's very mild.
You could also use chicken or beef broth if you prefer it meatier.
If you want to make it vegetarian-friendly, swap out the onions for mushrooms or roasted veggies.
This chowder is full of vegetables, which makes it healthy and comforting.
Vegetable chowder is the perfect dish for a cold winter night.
The richness of the broth blends with the bite of celery, carrots, corn, and potatoes in the thick soup.
Serve this chowder with crusty bread or a blanket to help you get cozy!
This is a fantastic dinner option for those who love comfort food and are looking for something hearty.
It's a filling, hearty meal that brings out the best in you.
Made with tender vegetables, beans, and minced herbs, it has everything you could ask for in an omelet.
The reason it's called "potage aux legumes" is because of the variety of vegetables used to make it.
That means there are plenty of colors to choose from!
It also means this dish is very filling and satisfying.
I think that earns it a spot on your dinner table every night.
This soup is a Mexican street corn flavor experience.
I'm talking deep, dark chocolate, caramelized onions, and loads of fresh herbs.
It has everything you could ask for in a hearty soup – protein (corn), veggies, and spice.
It's also very easy to make and will be ready in just 30 minutes.
I'm a Minestrone fan.
It's comforting, tasty, and full of beans and veggies.
This recipe makes it even more scrumptious with some turkey meatballs and a fresh herb salad.
If you have kids around, they might be suspicious that it's an adult dinner, but I bet they won't know.
They do like "adult" food at times!
This Finnish soup is a blend of Veggie-Salami, capers, and mayo.
It's so good I don't know why it's called "summer soup." But I love its bright citrusy flavor.
Crunchy vegetables marinate in the hot broth with the salty salami for an extraworldly taste.
If you can find canned salmon or any canned fish, I highly recommend it.
It gives this dish a creamier finish that makes all the difference.
Okroshka is a Russian dish made with potatoes, carrots, and onions.
It's mild and meaty but also very rich.
The recipe uses beef or pork but you can easily swap it in for chicken or use a vegetarian option if you have it on hand.
If you're not a fan of the broth flavor, you can throw in some flavored butter to make things extra special.
Gazpacho is a refreshing, cold drink that can be served at any time of the year.
This frosty soup is perfect after a hot summer day when you need some relief from the heat.
You'll love how this recipe adds all kinds of fresh flavors to your life.
It's high in vitamins and minerals, and it's so versatile!
You can use it as a side dish or as a main meal.
Cucumbers are full of nutrition and flavor, so you won't want to leave out on this list!
If you've never had gazpacho before, this is the recipe for you.
It's a cool and refreshing dish perfect for summer.
The ingredients are simple to find and fairly inexpensive.
All you will need are cucumber, onions, olive oil, tomato paste, watermelon cubes, salt, pepper, and Greek yogurt.
All of these ingredients provide a flavorful base with which to build your chilled soup.
You can add in lots of other veggies if you want it more than just watermelon cubes.
Just be sure they're firm enough to chew.
Peach gazpacho is another keeper!
It's sexy, refreshing, and a perfect summer meal.
In this recipe, you'll combine fresh peaches with roasted tomatoes and almonds.
It's a simple yet tasty combination that tastes as good as it looks.
This smooth tomato peach soup is rich in flavor but also light enough to serve on a hot day.
I'm a big fan of thick soups, like this one.
They're some of my favorite winter dishes, and the thicker they are, the better they'll be.
This soup is just as thick as your average minestrone.
However, it has a little more zing to it thanks to zucchini and white beans.
It also has tons of fresh herbs and tomatoes that add so much flavor that you won't even need garlic or onion in place of them.
This recipe is perfect for those who find themselves in a bind and are feeling down.
The sweetness of the corn, the savory pork, and the rich potatoes will cheer you up.
I think this soup would make such a wonderful base for other recipes like chicken noodle soup or chili!
And if you're really feeling sad, why not try making this with cauliflower rice?
It's almost as good!
This may not be the most exciting soup on this list, but it's definitely one of my favorites.
The flavor combination of Parmesan cheese and bacon is amazing.
It's also a little bit spicy with some kick from chili powder and cayenne pepper.
It's a rich, thick soup that will warm you up when you need it.
And that bacon… it'll make you drool!
This yellow squash soup is a fantastic autumn dish.
It's rich, creamy, and wonderfully fresh.
It's also a vegan-friendly treat!
The best part about this recipe is that it only takes 10 minutes to make.
And even better, it has only 1 serving so you can prep the rest for lunch or dinner.
It's healthy, hearty, and delicious!
This hearty soup is a delicious and filling meal that features chickpeas, lemon juice, olive oil, and some seasonings.
It's thick, creamy, and full of flavor.
It will warm your soul on a cold winter day.
And it's so easy to make!
Just cook the ingredients in one pot with some water.
Then you can add all the other ingredients to your crockpot.
Unlike many soups on this list, this one doesn't require cooking anything at all.
All you need is 10 minutes of prep time!
This roasted cauliflower soup is a meaty, creamy delight that's perfect for any occasion.
It's hearty enough to keep you full but still light enough to be enjoyed on a warm summer evening.
I like to serve it with a side of pita bread and crusty rolls for dipping.
It'll definitely fill you up!
Thai gazpacho is a simple yet delicious salad that's as easy as chopping up veggies and adding them to a blender.
Unlike most other Thai recipes, this one doesn't require any cooking.
Perhaps the reason it tastes so good is that it uses so few ingredients.
It has just four basic ingredients: cucumber, carrots, red bell pepper, and tomato sauce.
You can also use other vegetables or fruits if you feel like something a little different.
It still tastes great in its own right, though!
This Thai soup is packed with flavor and a little bit of texture.
You'll love the zucchini, corn, and tofu cubes.
There are carrots and bell peppers as well, but you can leave them out if you want it more vegan-friendly or even vegetarian.
For this recipe, you'll add fermented soy sauce to make the broth thicker with umami flavors.
But if you want to go all out (and save some money), use gluten-free tamari instead of soy sauce.
If you love crunchy peanut shells in your soups, feel free to sprinkle on some here!
This soup is the perfect combination of savory, spicy, and sweet.
It's rich and creamy but light enough that you don't feel guilty about eating a whole bowl of it.
It takes just 15 minutes to make, though that typically includes chilling it for an hour.
It's also fantastic served as a side or main dish.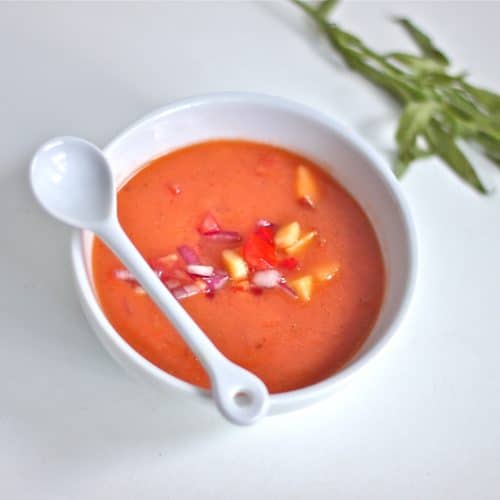 25 Delicious Summer Soups
Tomato Peach Gazpacho with Basil is a chilled summer soup that is refreshing and easy to make. Vegan-friendly and low-calorie
Ingredients
2

large

peaches

3–4 inches wide save 1/4 cup for garnish

3

large

tomatoes

same size as peaches save 1/4 cup for garnish

1/3

English cucumber

about 1 1/2 cups– save 1/4 cup for garnish

1/4

cup

red onion

sliced, plus 1/4 cup for garnish

10

basil leaves

plus more for garnish

1

tablespoon

olive oil

1

teaspoon

salt

2

teaspoon

red wine vinegar

sherry vinegar, or champagne vinegar (or Apple Cider vinegar)

cracked pepper

to taste
Garnish:
peaches

Finely diced

tomato

Finely diced

cucumber

Finely diced

red onion

Finely diced

torn basil leaves

Finely diced

Drizzle of olive oil, sliced avocado, burrata cheese (or ricotta or vegan ricotta).

Pick one

Croutons

Optional

Crusty bread

Optional

Fresh crab

Optional
Instructions
Set aside one wedge of each of the peaches and tomatoes for garnish.

In a blender, combine the remaining peaches and tomatoes. Add the onion, cucumber, basil (reserving some for garnish), olive oil, 1/2 teaspoon salt, pepper, and 1 teaspoon vinegar.

Blend until the mixture is relatively smooth. Taste. Adjust the salt and vinegar to your taste, and strike the perfect balance. If it's too peachy, add some tomato! It should have a tomato base with hints of peach.

Allow at least 2 hours to chill.

While the dish is chilling, finely chop the garnish ingredients. Chill as well.

To serve, ladle the cold gazpacho into a bowl and top with garnishes—a crescent shape is pretty, but you can make your own. Drizzle with olive oil and top with burrata or ricotta. Sprinkle with shredded basil leaves. Serve with crusty bread or croutons if desired.
Video
Nutrition
Calories:
101
kcal
Carbohydrates:
16
g
Protein:
2
g
Fat:
4
g
Saturated Fat:
1
g
Polyunsaturated Fat:
1
g
Monounsaturated Fat:
3
g
Sodium:
601
mg
Potassium:
486
mg
Fiber:
3
g
Sugar:
12
g
Vitamin A:
1501
IU
Vitamin C:
24
mg
Calcium:
26
mg
Iron:
1
mg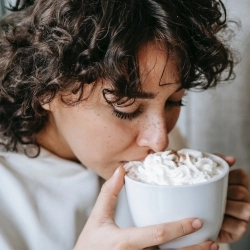 Latest posts by Grace Lambert
(see all)