Looking for the best Instant Pot to cook your meals?
Instant Pot is a Canadian brand with many multicooker options. That's why I went through their current pots to narrow them down to just these three:
These are truly the best that Instant Pot has to offer. You can click on each one to go directly to the review.
Let's get started.
The Best Instant Pot Cookers You Can Buy
Here are my reviews of the best Instant Pot multi cookers you can buy in 2020:
Best All-Round: Instant Pot Ultra
No products found.
Packing a lot of functionality, great design, and a ton of power, the Instant Pot Ultra is a classic cooker you can't go wrong with.
Here's why:
Functions and Features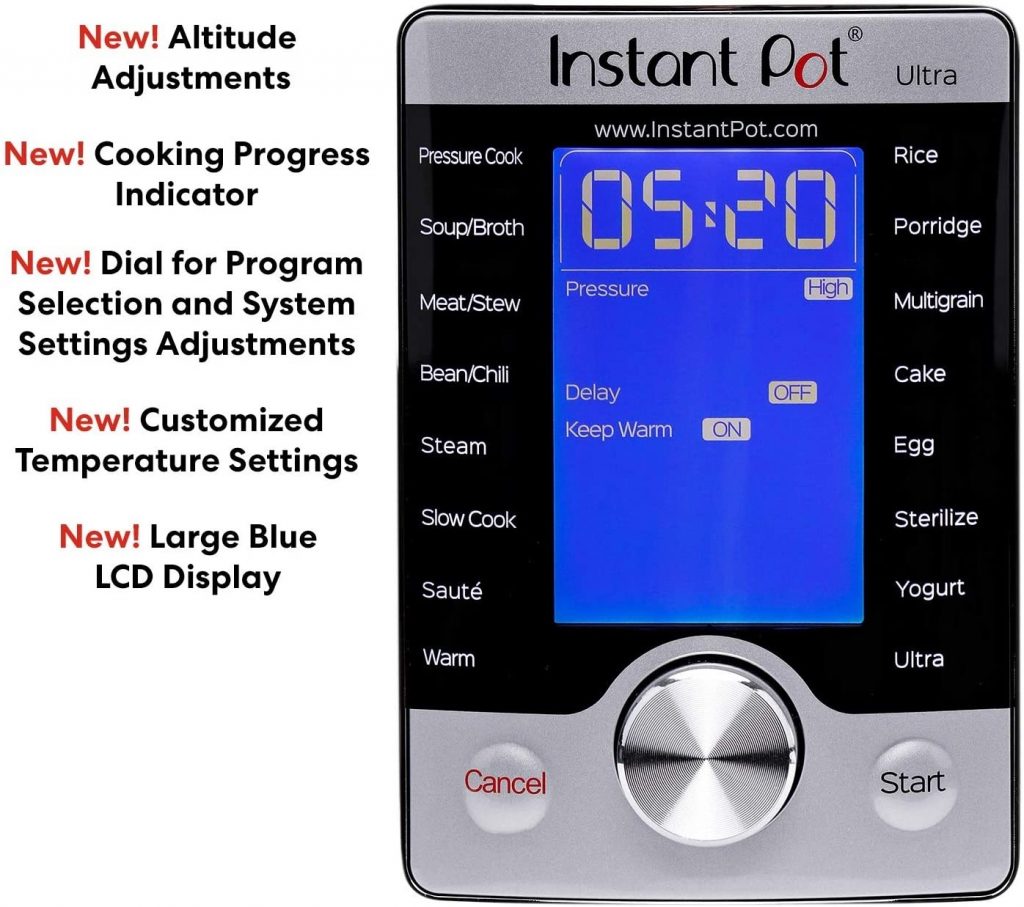 Let me start with the main feature which sets it apart from the rest: the "Ultra". This feature is a great enhancement for any Instant Pot. It allows you to pre-program your cooker with any cooking time and any temperature or pressure. This is perfect for anyone looking to get precision and full control over their cooker.
This cooker also comes with a whopping 16 Smart Built-In Programs: Slow Cooker, Saute and Sear, Rice, Soup and Broth, Meat and Stew, Bean and Chili, Egg, Cake, Steam, Release, Porridge, Multigrain, Sterilize, Yogurt, Warm, Pressure Cook, Ultra.
You also have over 21 temperature settings, automatic altitude modification, and 11 safety features.
All in all, the Instant Pot Ultra packs as much as you can ask for a cooker, and then some, replacing many of your appliances in one machine.
Design & Navigation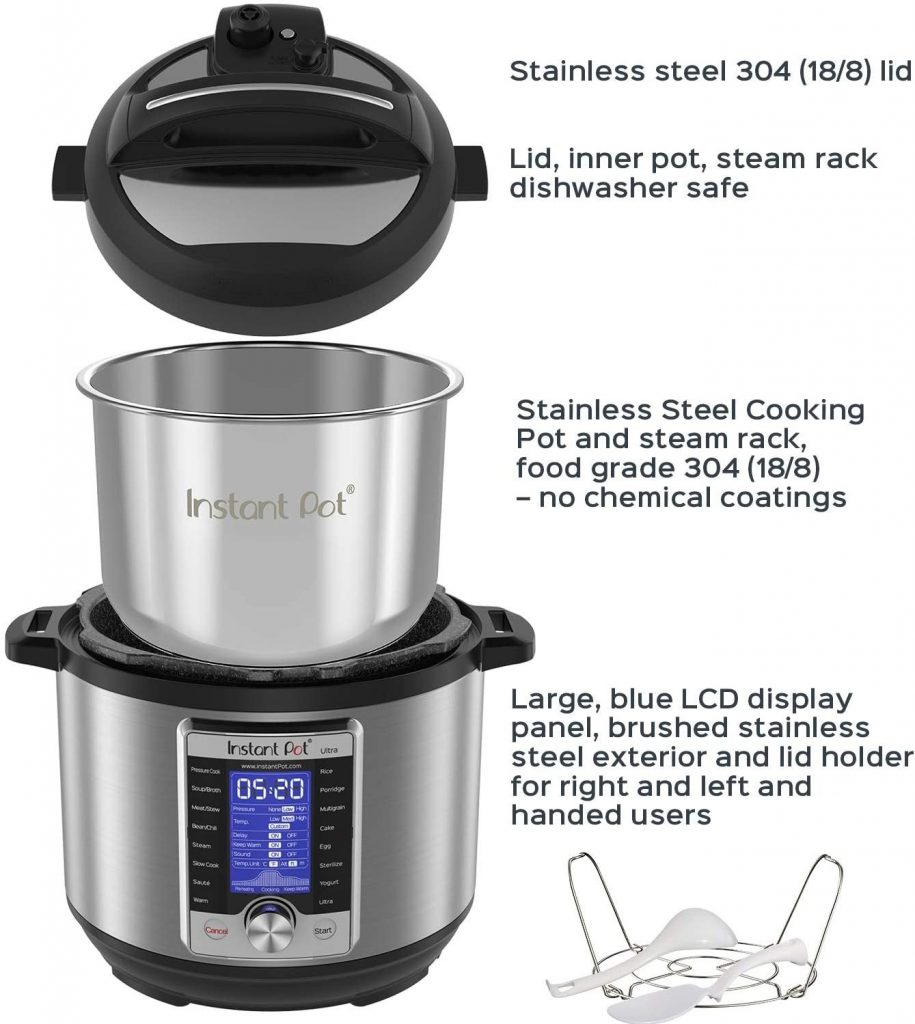 You can easily control the Ultra feature by specifying the temperature from 104 to 208 degrees Fahrenheit. It also allows you to finetune cooking time, pressure level, and the delay time, with just a turn of the knob.
This model has a sleek steel-and-black design that you see in so many modern appliances nowadays. This cooker features a separate Quick Release button on top of the lid, which I rarely see in these types of cookers, that allows you to keep your hand out of the reach of the steam when opening the lid.
The large blue NASA-looking display has great viewing angles and shows you a ton of useful info, including preheating, cooking, and warmth graph. Navigation, however, can be a bit tricky.
Since all controls are digital, it takes some getting used to. You navigate through the menus using the knob, but the controls can be a bit confusing, so you'll definitely need the manual the first time you're setting it up.
Size and Capacity
The Instant Pot Ultra is available in 3-quart, 5-quart, 6-quart, and 8-quart sizes. The 3-quart version also called "Mini Instant Pot", is perfect for single people who like to prep their meals, couples, and even small families.
The 5 and 6-quart versions are perfect for regular to large families, and the 8-quart version is the best one for cooking tons of food for five people and up.
Size: 14.8" by 14" by 14.5"
Performance
As we mentioned before, this cooker can go from 104 to 208 Fahrenheit, and it does so very easily. However, that's not the only thing it does well.
With such a wide array of options, the Ultra will definitely become a must-have in your kitchen. It cooks in a near-vacuum, making the heat penetrate and cook the food extremely fast.
Its microprocessor checks on the food constantly, controlling time, pressure, and temperature to make sure your experience is always consistent.
Although it lacks some advanced capabilities from other models, the Ultra can definitely excel at every single one of its features.
Pros and Cons
Here's where the Instant Pot Ultra shines, and where it doesn't:
Pros
Highly-customizable cooking settings
Many cooking options and preset features
Large and informative display
Energy efficient
Very well built
Multiple sizes to choose from
Cons
Not extremely easy to use
Not as affordable as other options
Verdict
If you're looking for a powerful cooker that can handle all kinds of meals, and that allows you to control and finetune all cooking features, the Instant Pot Ultra is the way to go.
Best Performance: Instant Pot Duo Crisp
No products found.
The Instant Pot Duo Crisp is one of the most useful and feature-filled cookers you can get. With many presets, swappable lids, and powerful capabilities, the Duo Crisp can cook, dehydrate, saute, steam, broil, air fry, and much more.
Here's what you can expect from the Instant Pot Duo Crisp:
Functions and Features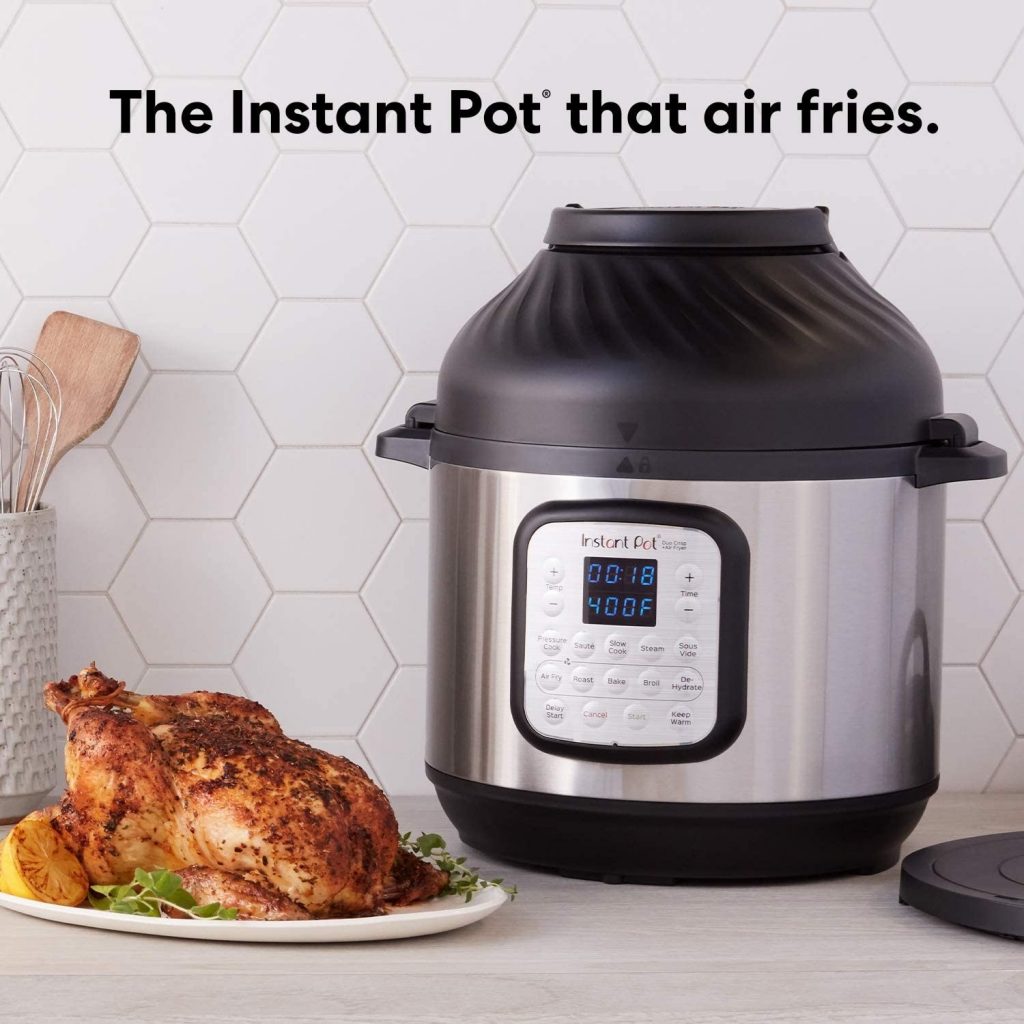 The Duo Crisp is an 11-in-1 multicooker with a ton of functionality packed into it. To achieve it, this cooker has two swappable lids. The normal pressure lid is used for "wet" functions, or functions that need water, like slow cook, pressure cook, sauté steam, and sous vide. The domed air fryer lid is instead used for anything that doesn't need water, like air fry, broil, roast, and dehydrate food.
Sure, you won't find a "yogurt" option in there, like in more high-end cookers, but chances are you probably don't need one either.
The Instant Pot Duo Crisp also features Instant Pot's patented EvenCrisp Technology, which allows you to air fry your food by quickly circulating the air inside to get a quick frying experience that leaves your food crispy on the outside, soft on the inside.
Design & Navigation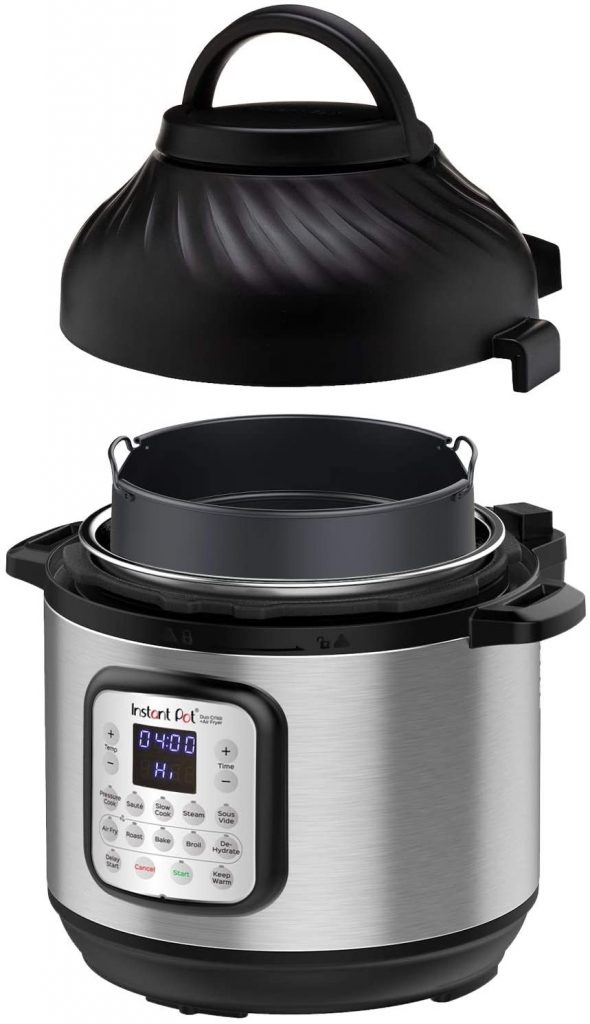 The Duo Crisp is a large, somewhat bulky multicooker with the classic sleek Instant Pot design and a very simple control panel.
This control panel has individual buttons for each function, taking out the guesswork of setting it up to cook something. All that's needed to set it up is to select the cooking option, set up the right lid, and you're cooking.
This is perfect for even beginner cooking enthusiasts since there are no knobs or settings to adjust before using it.
Size and Capacity
The Instant Pot Duo Crisp only comes in an 8-quart version, making it a somewhat large machine. You can easily fit a full chicken inside, or food enough to feed a regular-sized family with leftovers.
At 22 pounds, it's far heavier than similar Instant Pots, because the machine itself is quite larger and has to pack much more stuff to manage both cooking and air frying.
Size: 22.3" by 15.6" by 17.9"
Performance
Since it's packing 11 functions, I was skeptical that this cooker would be able to do everything well, so I was pleasantly surprised when I saw how well it performed.
Like any other Instant Pot, the Duo excels at any "wet" cooking options, like slow cooking and sautéing. However, when it comes to the "dry" functions, where you need to swap the lid, it's not as great as a fully-fledged air fryer.
That being said, The EvenCrisp technology does a great job at circulating the air inside the machine, so it's definitely a good air fryer if you don't mind waiting a bit longer to get the same results as with other air fryers.
Pros and Cons
Here's where the Instant Pot Duo Crisp shines, and where it doesn't:
Pros
Does everything most multicookers do, perfectly.
Multicooker plus air fryer for a fraction of the cost
Great safety features
Very easy to use
Dishwasher safe accessories included
Extremely versatile
Cons
Only comes in one size
Heavier than most multicookers
Occupies a large counter area
Not as powerful as a normal air fryer
On the expensive side
Verdict
If you're looking for an appliance that can do as much as both a multicooker and an air fryer and can live with waiting a bit longer for a perfect air fryer experience, the Duo Crisp is a perfect option.
Best Budget Option: Instant Pot Lux 6-in-1
No products found.
The small 3-quart Instant Pot Lux is a great little cooker that can still help you prepare food for the whole family.
Here's everything you need to know before you buy it:
Functions and Features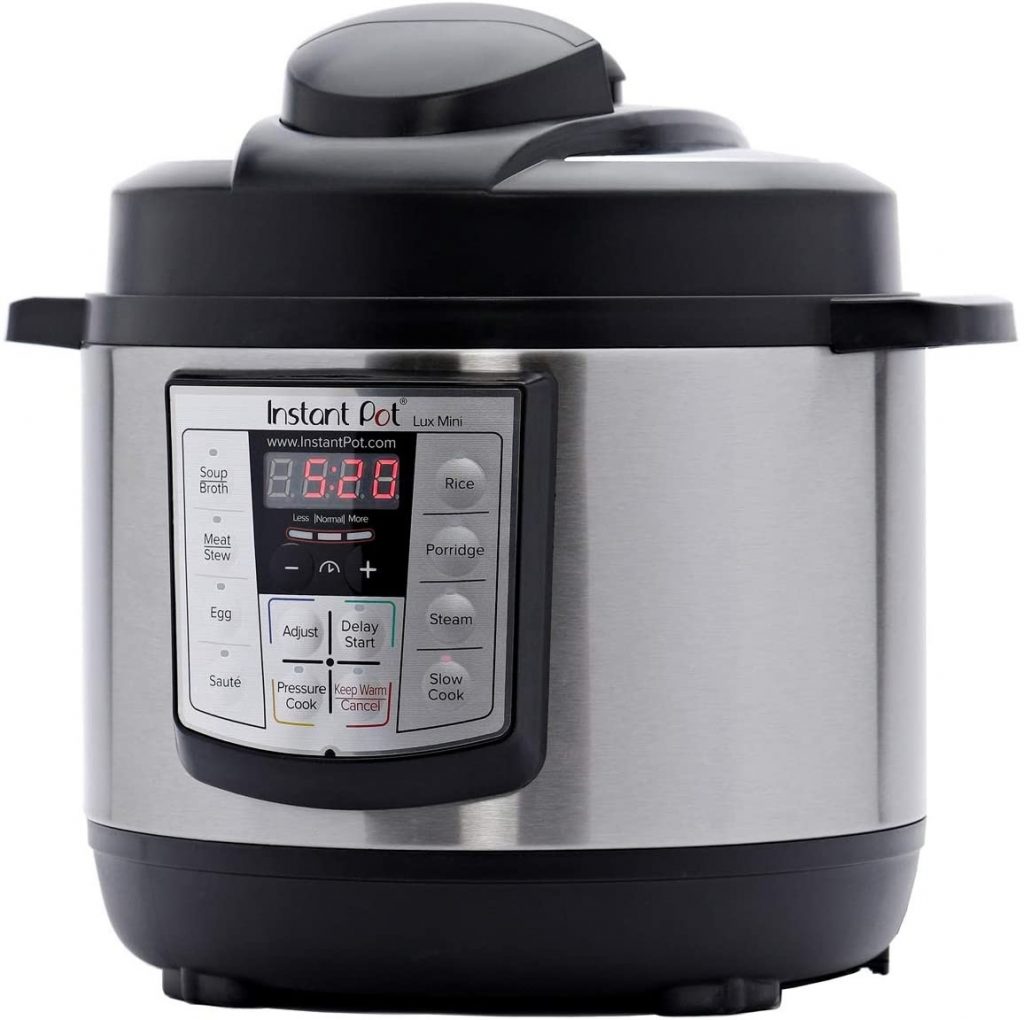 The Instant Pot Lux is a 6-in-1 multi cooker where you can pressure cook, slow cook, cook rice, sauté, steam, and warm your food.
This cooker comes with the following pre-set programs: Soup/Broth, Meat/Stew, Egg, Sauté, Rice, Porridge, Steam, Pressure Cook, Keep Warm, Slow Cook.
Although it's missing a couple of usual Instant Pot functions, like "cake" and "multigrain", it still gives you almost as much for a fraction of the price.
Design & Navigation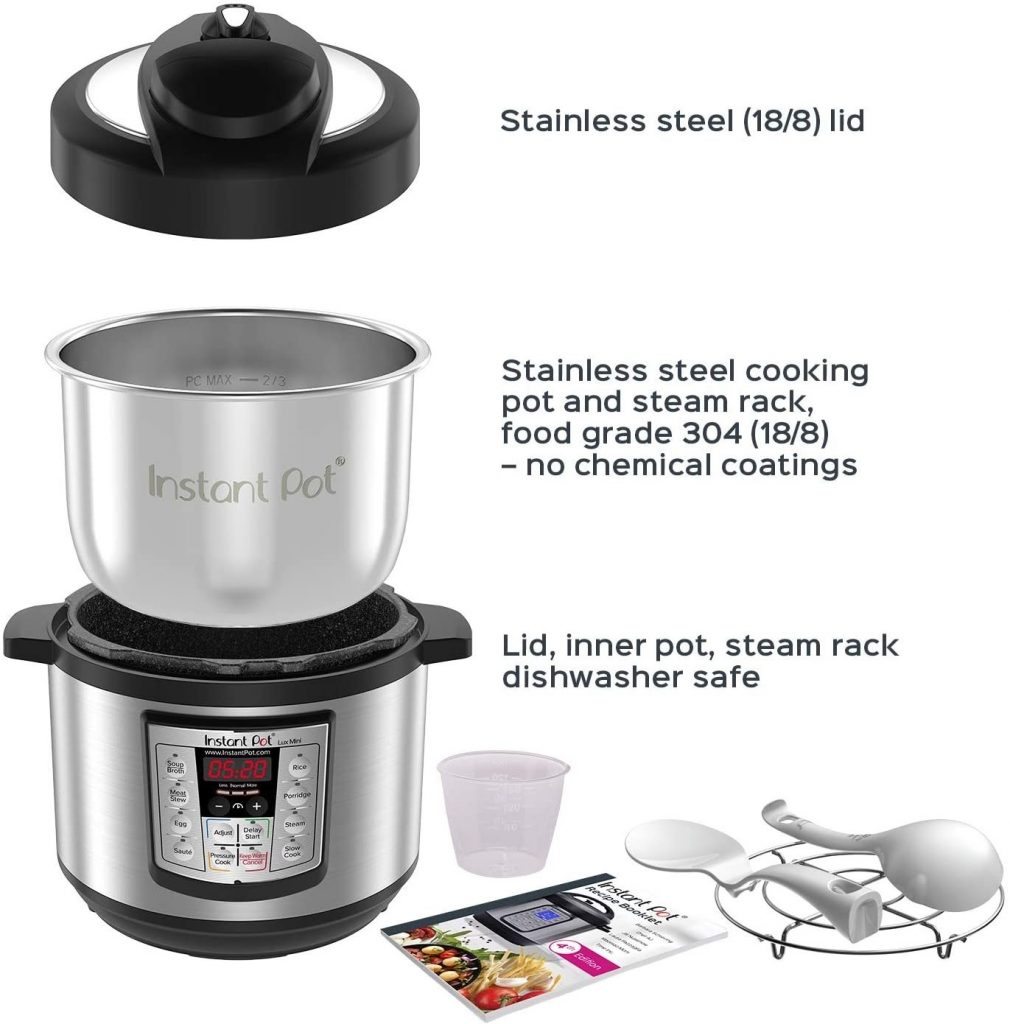 The Instant Pot Lux looks just like many other Instant Pot cookers. With a cylindrical, steel-and-black look, and reflective fingerprint-resistant surfaces, it looks just like another Instant Pot.
However, upon a closer look, you'll see that it's missing the "U"-shaped handle of both the Duo and Ultra models we listed above. The handle is instead placed on the front of the lid to lower the profile even more, making it more compact and easy to store.
I also noticed that, unlike many other options, this one doesn't have a detachable cord and plug. Since this pot is smaller, it doesn't fit many of the standard Instant Pot accessories either, although it does come with its own metal wire rack for steaming.
With fewer options also comes easier navigation. There are no complex menus to check, just press a button and start cooking.
Size and Capacity
The pot is fairly wide, so you can fit a surprisingly large amount of ingredients in it. The pot is also big enough to fit up to three cups of uncooked rice to pressure cook.
Although you can't fit a whole chicken in it, you can still fit a couple of pounds of chicken breasts.
Its small size and profile make it perfect to place in the pantry after using it, so it's great for small homes and apartments where you need as much counter space as you can get.
Size: 11.50" by 10.51" by 10.51"
Performance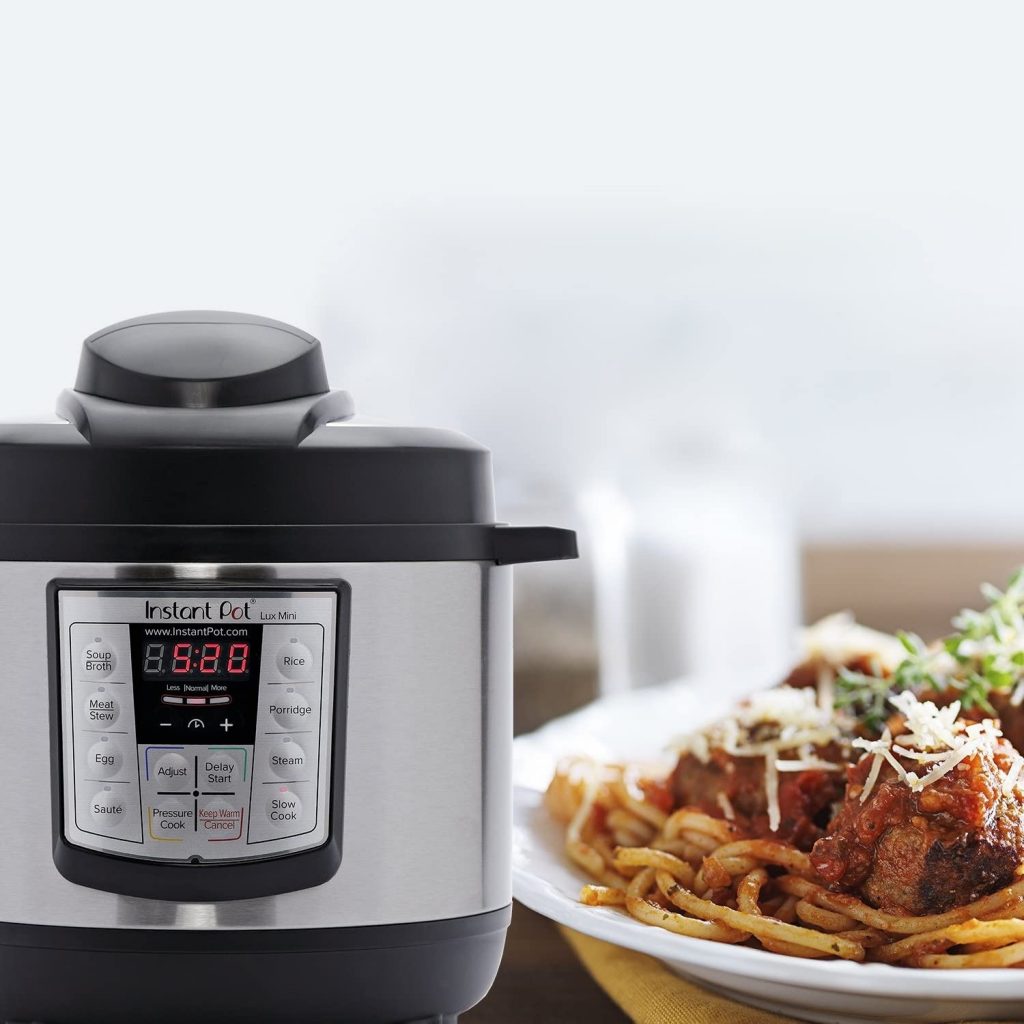 If you get the mini (3 quart) version, don't get fooled by its small size. The Instant Pot Lux Mini packs as much power as a regular-sized Instant Pot.
Since it's small, the Lux has no problem heating up very quickly and evenly. It doesn't leak any steam either, so it maintains good pressure to cook the food quickly and thoroughly without burning it.
Whether you're making rice, slow-cooking meat, or even make mini cheesecakes, the Lux won't disappoint you with its performance.
Pros and Cons
Here's where the Instant Pot Lux shines, and where it doesn't.
Pros
Small and lightweight (mini version)
Has many features of its larger cousins
Dishwasher-safe inner pot and accessories
Very easy to use
Very affordable
Cons
Small capacity (mini version)
No detachable power cord
One pressure setting
No induction heating
Verdict
The Lux is perfect for new multicooker users that don't need a ton of functionality or a ton of food and want to cook as quickly and easily as possible.
Which One Is The Best Instant Pot For You?
Here's my TL:DR:
Instant Pot Ultra: This cooker is perfect if you want a powerful cooker that lets you fine-tune every setting and fully take control of how your food is being cooked.
Instant Pot Duo Crisp: If you're looking for a great cooker that can also air fry, and you don't mind spending a bit more and waiting a bit more for great results, this is the one for you.
Instant Pot Lux 6-in-1: This small cooker is perfect if you're a causal pressure cooker user and want an easy version that still packs as much functionality without breaking the bank.