We can all agree (well, at least most of us) that slow-cooked food just tastes better.
There's something about the low and slow cooking process that breaks down the tough fibers in the meat and infuses it with flavor.
That's exactly what happens with this slow-cooked pickled pork recipe.
This gorgeous slow-cooked pickled pork recipe features tender pork and flavor-packed gravy ready to delight your taste buds.
In the UK, pickled pork is called Gammon, and salted pork in the US, but the basics are similar.
The vinegar adds that distinct flavor you can't find any other way; dont skip that part. Preparation time is about 10 minutes, and you relax as it slowly cooks to perfection in the pot.
It might become a favorite, just saying.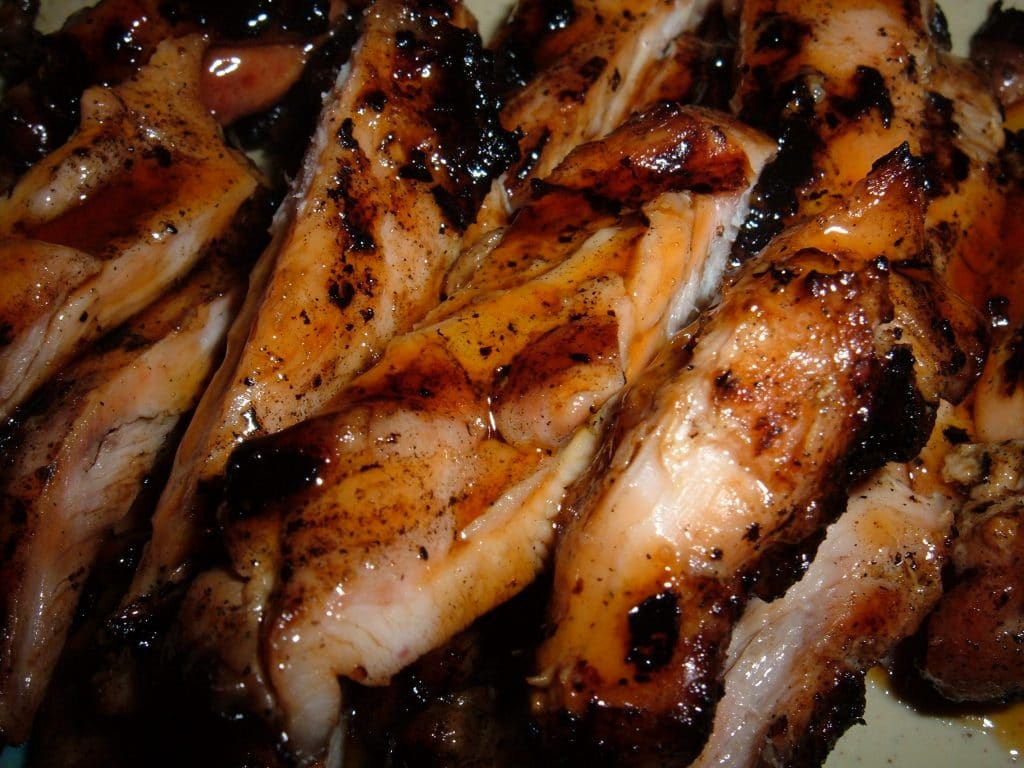 The historic way of preserving meat
Before refrigeration, food preservation, especially meat, was a challenge.
Different cultures invented versions of preservation or pickling in brine or vinegar.
The brine combined other spices such as mustard seed, cloves, and garlic for flavor and preservation needs.
Meat with high water content was preserved in the salt only and lasted days.
Pork was a staple diet for French settlers in Nova Scotia, previously called Acadiana.
After the British forced them out of their home, most drifted to Louisiana and retained pork in their diets.
Out of frugality, the French had to develop ways of preserving the pork, and hence the brine method was invented.
Currently, pickled meat remains a staple in Louisiana kitchens.
Let's dive into the recipe right away.
How to pickle pork traditionally
Ingredients
●6 lb salt
●4 oz saltpeter Brown sugar
●8 ounces water
●Pork (Size that fits in your crockpot)
Instructions
●Step 1: Making the brine
Bring the water to boiling over high heat.
●Step 2: Add all the ingredients (saltpeter, salt, sugar).
●Step 3: Boil until a large foam appears and remove from the pot to coo at room temperature.
●Step 4: Pickling the pork
Portion the pork in zip lock bags and coat with the brine. Shake off the excess brine and tightly cover the bags. Store in the fridge for up to seven days.
●Step 5: After 7 days, rinse off the brine from the pork and prepare as desired.
How to make pickled pork recipe in a slow cooker
Ingredients
●2 lb. boneless pork, cut into 2-inch cubes
●1 large onion, thickly sliced
●6 garlic cloves, crushed
●3 tbsp. Sugar
●3 tbsp. Yellow mustard seed
●3 tbsp. Hot sauce
●2 tbsp. Celery seed
●2 bay leaves
●½ tsp. Black peppercorns, whole
●Kosher salt
●8 oz. ice
●1¼ cups apple cider vinegar
●2 cups water
Instructions
●Step 1: Place the onions, peppercorns, garlic, brown sugar, apple vinegar, bay leaves, and celery into a slow cooker pot.
●Step 2: Add in the pork.
●Step 3: Top with water to barely cover the pork.
●Step 4: Set over high heat and bring to boil. Cover and cook over low heat for about 7 hours.
●Reduce the heat and maintain a simmer for 5 minutes.
●Step 5: Let the pork rest for 10 minutes uncovered.
●Step 6: Garnish with parsley as desired.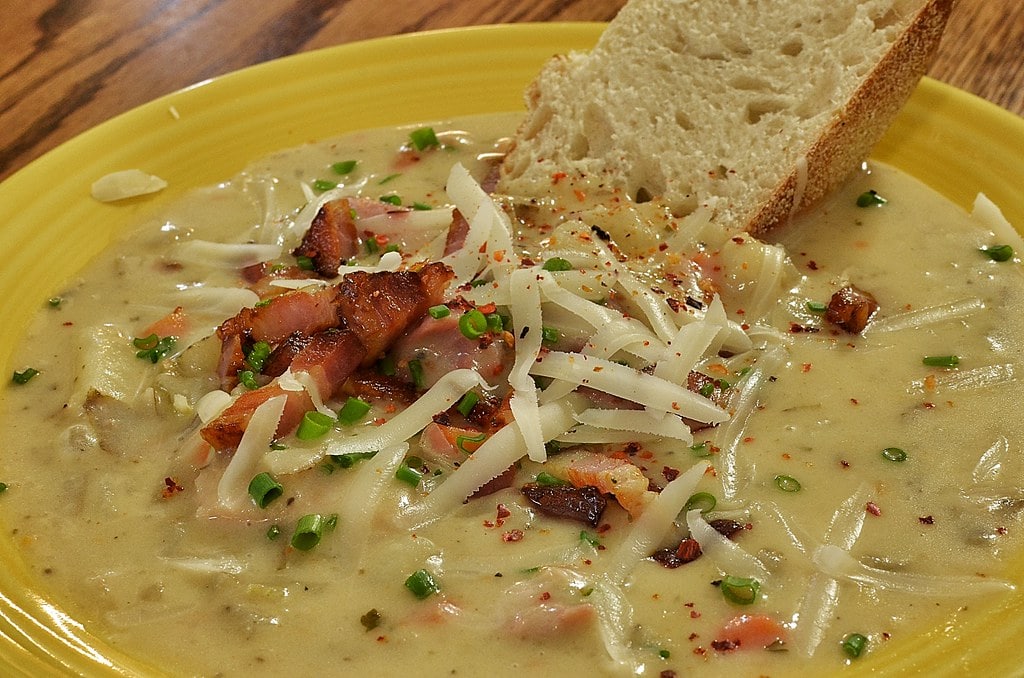 Tips for the perfect pickled pork recipe
Extra flavors- You can substitute water with chicken or beef broth to add an extra layer of thickness and deep flavors.
However, water works perfectly fine too.
Adding veggies – Cook the veggies in a separate cooker to prevent them from absorbing the vinegar flavor.
Pork cut – Since it's a slow simmer, cuts with high collagen are the best.
Such include pork feet, shoulders, or pork butt.
These parts exude some deep gamey flavors when properly pickled.
The rib and loin are the most tender parts, which are okay for roasting and quick dishes.
If used, they may dry out due to the long cooking.
What to serve with pickled pork
Many side dishes combine well with pickled pork.
Here are a few ideas that match the flavors of slow-cooked pickled pork.
●Veggies – cauliflower cheese is a favorite. Roasted veggies (carrots and broccoli), sautéed veggies (red peppers and cauliflowers), or steamed veggies (asparagus, carrots) also make a great combo.
●Starchy foods – Mashed potatoes, regular rice, and zucchini noodles are a great pair.
●No-knead bread – Sourdough bread and bread rolls are excellent pairings for this pickled pork dish when sopped in melted butter. If you're adventurous, try the garlic bread, you'll love it.
●Pasta – Lemon or parmesan pasta would be a good combo, particularly for dinner.
●Salads – Pasta salads, tomato, and lettuce salads are great options.
How to store pickled pork
Refrigerating
Let the pickled pork with its juices cool to room temperature.
Wrap in a plastic wrapper in portions (For easier reheating), and place them in the fridge.
Leftover pickled pork should last up to 4 days in the refrigerator if properly stored.
Freezing
Properly stored, uncooked pickled pork can last up to 3 months in the freezer.
Wrap the pickled pork in plastic bags and place it in a zip-freezer bag.
Check the smell and color of the pickled pork to determine if they're still in good condition.
Discard pork with a foul odor, slimy texture, or dull stain.
A similar storing process applies to cooked, pickled pork.
However, leftovers have a short span and can quickly dry out when stored for long.
Reheating pickled pork
In the microwave
Although not the best method because it dries out food, use the microwave if you're in a rush.
Place the pickled pork in a microwave dish and pour some gravy over the top to retain its moisture and flavors.
Cover the dish and microwave it on medium power for 20-seconds intervals as you flip sides. Heat to a safe temperature.
High power will dry out the pork.
In the oven
Although this method takes time (20 minutes), it results in flavorful and tender pork.
First, preheat the oven to 3250.
Place the meat in an oven-safe pan and cover with aluminum foil to allow even heat on both sides.
Put the pork inside once the oven is preheated and cook for 20 minutes. Check the internal temperature to ensure it's done.
On the stovetop
Place a skillet on medium heat and add beef broth.
Add the pork once the broth starts to bubble.
Flip the sides after 5 minutes and serve.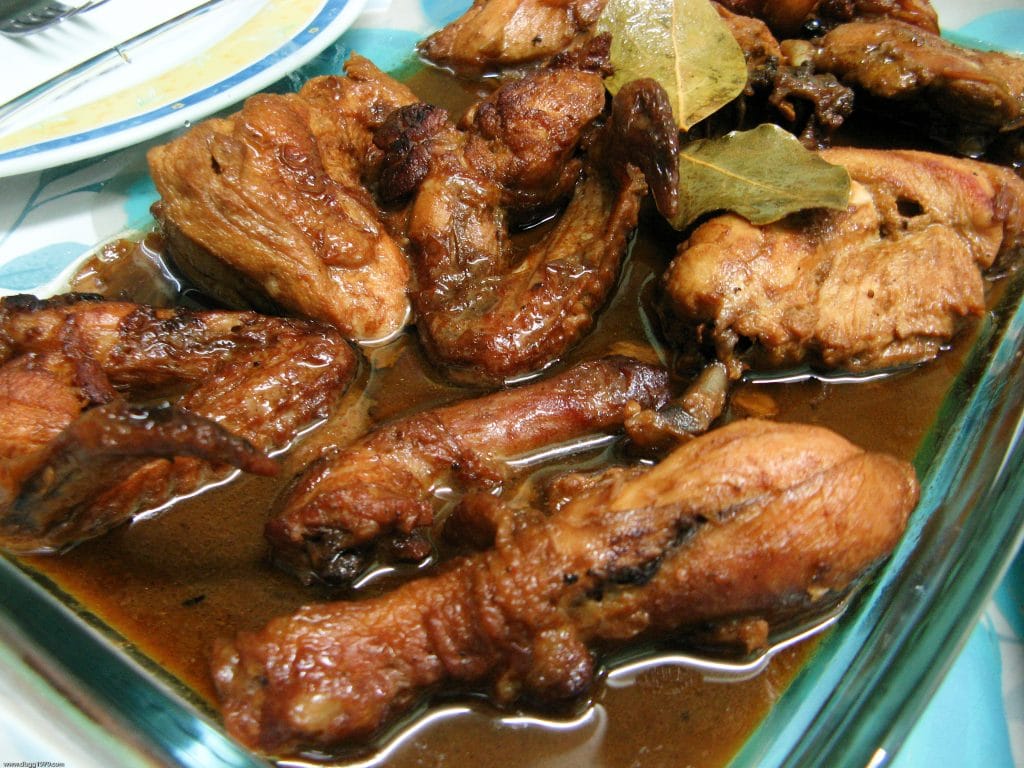 Nutritional facts: Serving size: 250g (8.8 oz)
●Calories Per Serving: 303
●Total Fat: 13.5g
●Saturated Fat: 4.7g
●Trans Fat: 0g
●Total Carbohydrate: 4g
●Dietary Fiber: 0g
●Sugars: 4g
●Cholesterol: 125mg
●Sodium: 2815mg
●Protein: 43g
Frequently asked questions (FAQs)
Can you make pickled pork at home?
Yes. The process is simple; cut the pork into 2-inch cubes, coat them in dry rub spices and let it sit.
Make a brine and let it cool.
Then combine the brine and the coated pork, and place in the fridge for up to seven days.
Drain the brine after 7 days and separate the pickled pork as desired.
What does saltpeter help within the pickling process?
Saltpeter contains nitrogen and was used as a preservative in the pickling process during the old centuries.
Although rarely used in current preservations with the invention of refrigerators, it's replaced in items like gunpowder.
What is the best way to reheat pickled pork?
Whichever method you use (oven, stovetop, or microwave), thaw the pork on a kitchen table before reheating to allow for even cooking.
The secret is to add gravy over the top to maintain the moisture and flavors while reheating.
Otherwise, the method depends on your time and your desired doneness.
What exactly is pickled pork?
It's pork meat preserved in brine which consists of sugar, salt, vinegar, and seasonings.
The preservation enhances its deep and exotic flavors.
Pickled pork has different names depending on where you come from.
Londoners call it Gammon, while Americans say it's simply salted pork.
Conclusion
Pickled pork is simply pork brined in seasonings, salt, and vinegar, adding flavors and moisture.
Paired with red beans or apples, it gives off an authentic homestyle taste that will become your family's favorite.
This dish is adjustable to fit small and large crowds.
You can opt to prepare the dish over the weekend and preserve it for those busy weeknights; it tastes better the next day. Feel free to try it out soon.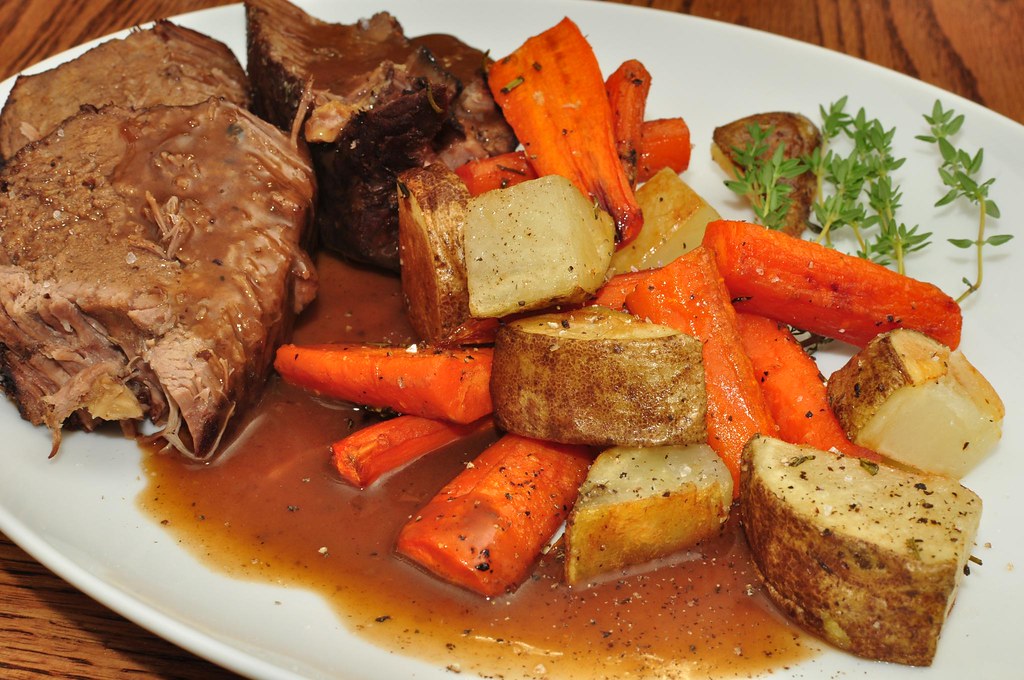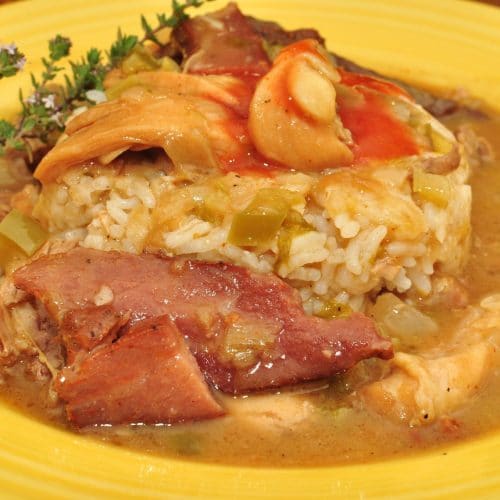 Make pickled pork recipe in a slow cooker
This pickled pork recipe is very easy to make!
Ingredients
2

lb.

boneless pork

1

large onion

6

garlic cloves

3

tbsp.

Sugar

3

tbsp.

Yellow mustard seed

3

tbsp.

Hot sauce

2

tbsp.

Celery seed

½

tsp.

Black peppercorns

Kosher salt

8

oz.

ice

¼

cups

apple cider vinegar

2

cups

water
Instructions
Place the onions, peppercorns, garlic, brown sugar, apple vinegar, bay leaves, and celery into a slow cooker pot.

Add in the pork. Top with water to barely cover the pork.

Set over high heat and bring to boil. Cover and cook over low heat for about 7 hours. Reduce the heat and maintain a simmer for 5 minutes.

Let the pork rest for 10 minutes uncovered.

Garnish with parsley as desired.
Video
Nutrition
Calories:
451
kcal
Carbohydrates:
22
g
Protein:
56
g
Fat:
15
g
Saturated Fat:
3
g
Polyunsaturated Fat:
2
g
Monounsaturated Fat:
7
g
Cholesterol:
143
mg
Sodium:
429
mg
Potassium:
1127
mg
Fiber:
3
g
Sugar:
13
g
Vitamin A:
33
IU
Vitamin C:
14
mg
Calcium:
196
mg
Iron:
6
mg
---