Looking for a delicious and healthy dinner?
Try these salmon and rice recipes.
They're super versatile and can be used in so many ways.
Salmon is such a versatile protein.
It can be steamed, grilled, fried, or even baked.
It's got that crispy exterior you're looking for but also the soft, flaky flesh you love.
That means salmon rice recipes are ideal for those who enjoy a hearty meal with plenty of protein.
These salmon and rice recipes are full of flavor and can be ready in minutes.
They're loaded with nutrients, making them an ideal addition to your dinner table.
We've got everything from sweet and mild to spicy.
Let the cooking begin!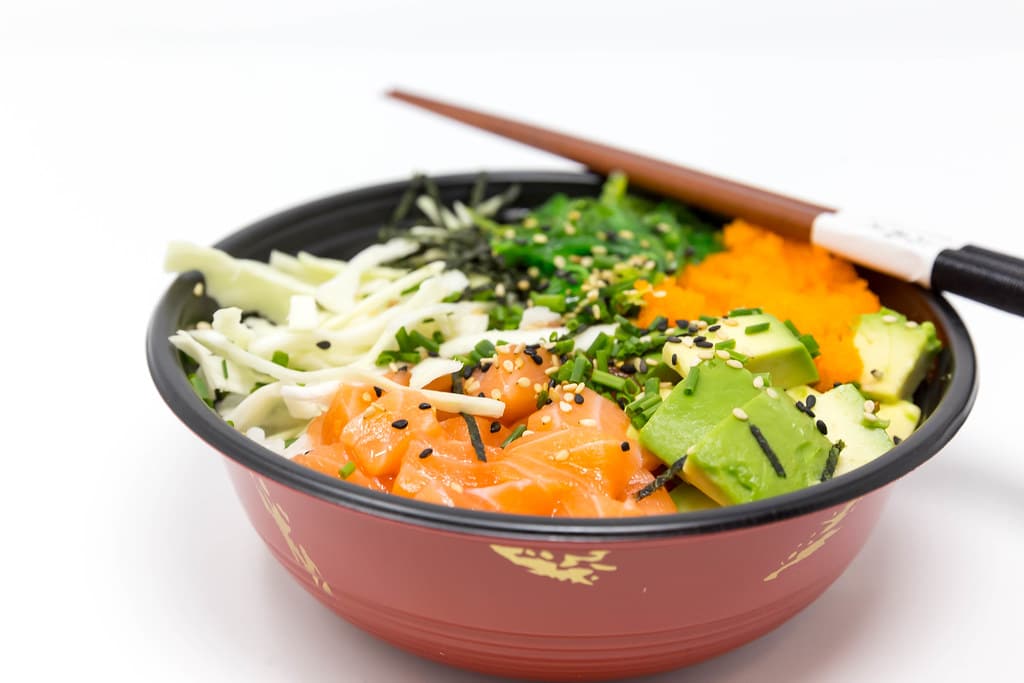 Here's another excellent dish that'll make you happy.
It takes only 15 minutes to make and is a fantastic alternative for those looking for something more healthy.
The salmon is fried in olive oil, garlic, ginger, and soy sauce.
It has a hint of spice from the red pepper flakes and sesame oil.
This is a fabulous addition to any meal!
These salmon rice bowls are a great way to get your protein fix in the comfort of your own home.
The salmon is tender, flaky, and bursting with flavor.
The rice adds texture, while the kale and avocado add healthy fats.
Best of all, it's ready in just 20 minutes!
This simple one-pot meal will transform your life.
You'll love how naturally the salmon and rice cook together in this dish.
The best part about it is that you make all of this in one pot!
There's no need to fuss with multiple pots and separate bowls, as you can have everything done in one pot.
You also don't need to worry about any extra ingredients.
All you'll need to do is saute a few veggies, toss your salmon, and then add the rest of the ingredients into the Instant Pot.
Then, let it go for 10 minutes.
Don't forget to top with fresh dill or parsley because it makes a big difference!
Fried rice is the ultimate comfort food.
This recipe combines it with salmon and a sharp Asian twist to create one delicious dish.
The best part about this recipe?
You can make it for dinner, breakfast, or a light lunch.
Whether you're cooking for two or sixty, this Japanese fried rice is always a winner.
It's packed with fresh flavors that will delight your palate and fill your tummy.
If you want to add some spice, go ahead and throw in some green onions or scallions!
This simple but scrumptious salmon rice bowl takes only 10 minutes to make.
It's healthy, satisfying, and packed with flavor.
Plus, it's a great way to get extra protein in your diet.
This recipe has plenty of veggies and protein-rich salmon.
It also uses one of the best sources of omega-3 fatty acids – avocadoes.
By adding avocado, you get twice as much healthy fats as normal.
If you're looking for an easy salmon recipe that's healthy, flavorful, and as tasty as it is simple to make, this one's for you.
The teriyaki sauce is a simple blend of soy sauce and sesame oil.
It gives the salmon a rich taste and flavorsome texture.
It comes together in just five minutes, so all you need to do is season the salmon on both sides with garlic powder, ginger, red pepper flakes, and black pepper.
Bake it until it turns golden brown and delicious.
There's no better way to start a dinner than with this scrumptious salmon and wild rice casserole.
It's a meal the whole family will love, and the kids will love it even more!
Each bite bursts with savory flavors from the creamy sauce, tender fish, and fluffy wild rice.
And then there's a drizzle of lemon-herb butter for that lovely flavor contrast.
This recipe is so easy to make and taste even better than a restaurant-quality dish.
That's because it uses simple ingredients like butter, garlic, parsley, and salmon.
It's also loaded with parmesan cheese and cauliflower rice.
So, you can enjoy the best of both worlds without feeling guilty about eating out all the time.
Serve this delicious meal with a side salad for complete meal perfection!
Cauliflower rice is healthy, flavorful, and easy to make.
This recipe uses salmon instead of chicken, but you can use either fish or any white fish you prefer.
It's rich in flavor from the spice rub and lemon juice.
Cauliflower rice pairs well with all seafood, so this dish will be a hit in your house.
A bowl of this salmon miso soup will take your tastebuds on a journey.
The savory miso broth is the perfect base for succulent salmon flake, which gets coated with a delicious sauce.
Serve it with a side of steamed veggies and some fresh julienned spinach, and you're all set.
It's hearty, warm, and absolutely addictive!
If you need a quick and easy lunch recipe, these salmon lettuce cups are it!
You only need 10 minutes to whip these up.
Best of all, they're full of flavor with a touch of spice.
They're super light but filling enough to keep you going until dinner rolls around.
This rice puff is the ultimate comfort food.
The soft and fluffy puff pastry is wrapped around a tender salmon fillet and served with a simple green salad.
It's as easy to make as it is delicious, and you can have this ready in 30 minutes or less!
How can you beat a classic?
This Cajun salmon with mango salsa is the perfect way to start your meal.
The spicy, tangy sauce mixes perfectly with the succulent flaky fish.
Not only is this dish bursting with flavor, but it's also super healthy!
This recipe features zero carbs and tons of protein.
It's also gluten-free, so everyone can enjoy it.
You'll need to make this dish with rice paper, and it's one of those recipes you'll have to try in person if you want to get the exact right texture.
The rice paper is amazing, but don't be afraid to just use a plate if you can.
Even using a regular cooking sheet will alter the texture and taste of the dish.
As a last-minute side, I think paprika would be excellent for this, along with chili powder or chipotle chiles.
Sushi is a Japanese dish that's made up of various pieces of raw fish.
In this sushi bowl, salmon serves as the star of the show.
It's marinated in soy sauce and ginger before being cooked in seaweed and sesame seeds.
The combination of savory, sweet, salty, and umami flavors makes this recipe a game-changer.
This honey sriracha salmon and rice dish is one of my favorite ways to get my protein fix.
Packed with veggies, avocado, and a generous helping of protein-rich salmon, it's delicious!
The sauce gives the salmon a sweet and tangy flavor that pairs beautifully with the creamy rice.
Serve this sensational meal over a bed of steamed cauliflower for an extra kick of heat.
Yum!
This dish is a delightful fusion of Southeast Asian and Mediterranean cuisines.
The salmon, black rice, and apple slaw are all excellent sources of nutrients while the dressing has a sweet touch.
It's a refreshing spoonful of unreal flavors with just the right amount of spice.
You can serve this easily cleaned-up lunch on its own or pair it with roasted veggies or grilled chicken.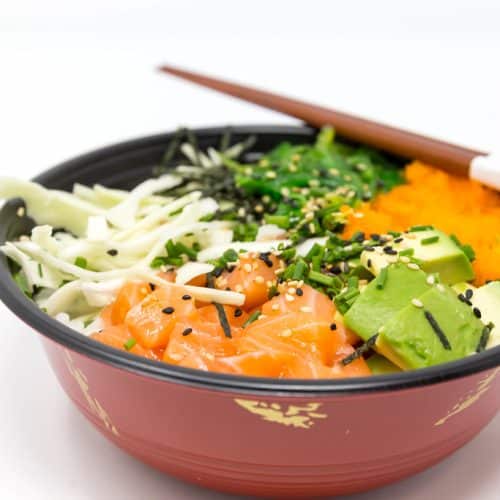 17 Easy Salmon And Rice Recipes
Sushi is a Japanese dish that's made up of various pieces of raw fish. In this sushi bowl, salmon serves as the star of the show.
Ingredients
Sushi Rice
1.5

cups

uncooked sushi rice

2

cups

water

¼

cup

seasoned rice vinegar
Bowl
1

cup

pickled sliced cucumbers

1

cup

pickled matchstick carrots

1

avocado

2

sheets seaweed

1

tablespoon

Furikake
Instructions
Sushi rice should be prepared as directed on the packaging.

Rice paddles or large spoons can be used to gently stir rice vinegar into the warm, cooked rice until it is thoroughly incorporated.

In a large skillet over medium-high heat, warm the sesame oil.

Salt and pepper the fish on all sides.

When the salmon is added to the pan, sauté it until a deep golden-brown crust forms on all sides.

Turn down the heat to medium-low and stir in the soy sauce, ginger, and garlic. For two to three minutes, simmer gently.

Rice, cucumbers, carrots, avocado, seaweed, and grilled salmon should all be added to bowls.

In a small bowl, combine the mayonnaise, soy sauce, and sesame oil.

Sprinkle Furikake over the bowls and drizzle soy mayo over them.
Video
Nutrition
Calories:
1364
kcal
Carbohydrates:
133
g
Protein:
63
g
Fat:
63
g
Saturated Fat:
9
g
Polyunsaturated Fat:
25
g
Monounsaturated Fat:
24
g
Trans Fat:
0.1
g
Cholesterol:
137
mg
Sodium:
3017
mg
Potassium:
2129
mg
Fiber:
13
g
Sugar:
6
g
Vitamin A:
11126
IU
Vitamin C:
18
mg
Calcium:
113
mg
Iron:
6
mg
---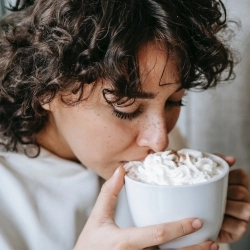 Latest posts by Grace Lambert
(see all)