These pool party food ideas are the perfect way to keep your party jumping!
Whether you're hosting a pool party at the beach or a pool party in the backyard, these recipes are sure to please.
With so much fun to be had at a pool party, it can be hard to come up with the best recipes.
But these recipes do the work for you.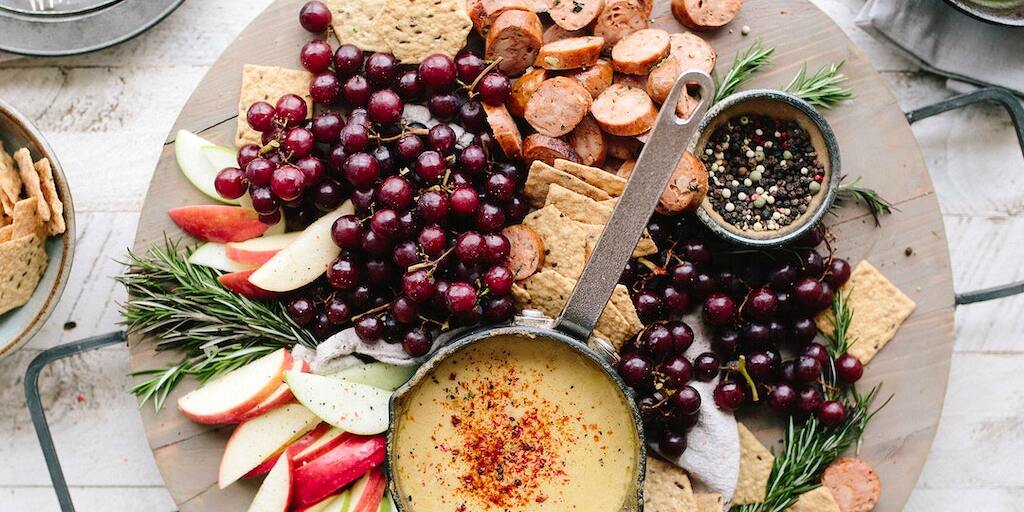 From appetizers and snacks to dessert, these recipes will have your party guests asking for more.
And since they're made with ingredients that kids love, they're also safe for them!
So get ready to impress your guests and make their next pool party one to remember!
These jello cups look like swimming teddy bears, but they're so much more than that!
They're also delicious cookies and a fun way to decorate your cupcakes.
The best part is that you can make these in just a few easy steps.
All you need are small Jell-O cups, red candies, white chocolate chips, and melted white chocolate.
They're super simple to prepare, yet they look so professional.
I think everyone will love them!
These make the perfect snack to bring to the pool party.
They're not just tasty, they're also fun.
I mean, you can have them in one hand and a drink in another!
The recipe calls for both Jello and vodka, so you get all kinds of flavors.
A slice of pineapple is mixed with mini-marshmallows for something sweet and lightly spiced.
You can even choose from chocolate or caramel if that's your thing.
Once these are set, you won't be able to stop yourself from taking a few more shots!
This pepper octopus vegetable platter is a delicious way to add some color, flavor, and some veggies to your dinner.
The dish takes only 30 minutes to make, so it's perfect for busy weeknights.
It features sliced peppers, zucchini strips, tomatoes, onions, bell peppers, cucumbers, garlic cloves (about five cloves per person – less if you want it spicier), avocado slices (optional but recommended), olive oil (optional), salt and pepper.
If you find that the vegetables don't fit in exactly on their own plate and need them grouped together into a bowl or platter as well as a plate with your main dish on top of it all, that's okay.
Just try to keep them in one group for now.
This is the kind of seafood salad that's sure to impress your guests.
The bright, zesty flavor of the honey and lime pairs perfectly with the fresh flavors of the seafood.
Plus, it's packed with protein.
And because this recipe calls for a few different types of fish, you can use whatever you have on hand.
If you don't like scallops, for example, try adding in some shrimp or crab meat instead.
The best part of this recipe is that it's so simple.
All you need are tortellini and some marinara pasta.
They'll cook in the same pan just like pasta sticks, only these wont stick to your grill at all, so they're a lot more fun.
Plus, you can make them ahead of time and then pull them out for dinner on a rainy night when everyone is ready to dig in.
Of course, you can also mix your favorite Jello with some water and make these shark-water jello shots!
These are super cute and fun to use in a variety of activities.
They're great for birthday parties, kid showers, or just a fun snack.
They're also super easy to make.
Just mix the Jello with water, then pour into shot glasses.
I love how this recipe uses cake batter for added texture.
When I heard about this recipe, my mind immediately began racing.
I'm so obsessed with the idea of a secret ingredient…
This blend of water, cucumber, mint, and basil is already pretty tasty on its own!
But if you want to give it an extra punch of flavor and depth, try adding things like lemon juice or honey.
The mint will take it from refreshing to downright amazing.
If you don't like mint in your ice tea, just use the recipe above.
But trust me; you won't be disappointed.
These s'more sticks are sugar-coated, sweet and spicy with a delicious marshmallow filling.
They're strong enough to stand up to the heat of a grilling fire, but light enough for you to indulge in one bite alone.
Can't decide between ham and pineapple?
Well, this Hawaiian ham and pineapple sliders are the answer!
This sandwich features a tender, juicy ham on a fluffy Hawaiian roll.
The sweet, tangy filling is made of a fresh pineapple slice with cream cheese and mayo.
It's just what you need to fill your belly with some deliciousness!
Serve these delicious treats as part of your summer BBQ or family get-together.
If you like pink, lemonade jello shots, you'll love these.
They look just as vibrant and fun as the original recipe.
Just like the previous beer-based dishes from above, you need to soak your gelatin in pink lemonade before adding it to the Jell-O base.
I recommend using frozen berries since they will allow all those amazing flavors to coat everything, including the gelatin!
This blue lagoon mocktail is the other end of the spectrum from the green one above.
It's light, refreshing, and absolutely delicious.
The blueberry cordial goes in for a mild taste that you can appreciate.
You'll also add a few violet tea bags to give it some depth.
The purple grapefruit soda water adds layers of flavor that are perfect for this mocktail's tropical climate.
The mint leaves add a nice floral hint that makes the drink even more appealing.
This is the perfect party appetizer.
It's so good, it'll make your guests want to do a little dance.
All you'll need are crab meat, mayo, leftover rice, lettuce, and celery sticks.
These look just like the crab cakes from above, but in sandwich form.
They taste even better this way!
Grape juice is the perfect grape drink for the holidays.
It has lots of tart and fruity notes, and it's sweet enough to pair with spicy food.
Though it doesn't have any alcohol in it, you can add booze to make this more festive.
If you miss your favorite alcoholic beverage, try making some rum-flavored grog instead!
These pinwheels are so good, you'll want to make as many as you can!
They're full of cheese and chicken tortilla strips, with a perfectly crunchy tortilla topping.
The buffalo sauce is a must-have for the perfect kick.
A big bowl of this classic comfort food will cure that mid-afternoon slump!
Fruit salad is a super popular side dish, and this recipe is no exception.
It's packed with tons of fresh fruits and includes plenty of fruit juice for added flavor.
You can literally have this ready in a matter of minutes and feel free to add some extra toppings.
This is great as it is or you can add nuts, seeds, or different fruits.
I like to have fun with mine!
Here's another punch recipe you can make without having to worry about making cocktails or serving drinks at a party.
Just pour it into a pitcher and serve it straight from the fridge.
It's also super easy to customize, so feel free to add in some favorite flavor combinations.
With this punch, you can do just that!
But I think this is my favorite because of the combination of flavors and colors!
The pink grapefruit juice is so bright and bubbly.
It pairs perfectly with the lemonade and pineapple chunks.
These incredible jello shots are a must-try for all lovers of champagne.
The Jell-O is topped with sparkling champagne and then covered in whipped cream.
It's easy to decorate, and the result is a pretty pink drink that looks like a child's birthday party.
But I'll bet these will be a hit with adults too!
There are thousands of ways to make this bark, but I like mine with an orange theme.
It's a fun way to dress up the color and make it look more "real."
Plus, there are all sorts of different colors of white chocolate you could use, so you can match any mermaid's skin tone.
I also like to add some colorful sprinkles over the top for good measure.
They work as decorations or even edible jewels.
Top off your watermelon Jello shots with this easy recipe.
Grab a shot glass, and choose your favorite flavor.
Then, pour a shot of some fresh watermelon juice over the top.
Add in some mint leaves, and voila!
You'll love how this simple drink transforms those sweet watermelon slices into something so refreshing.
I like to add more mint leaves to the mix for added flavor.
However, you could always go with just the watermelon juice if that's all you have.
This is not your average popcorn snack!
It uses healthy ingredients and has a fun, unique flavor profile.
Crispy pretzels are coated with honey, caramel, and nuts.
The salty goodness contrasts with the sweet taste of honey and caramel.
It's a great way to get kids to eat their snacks!
These cupcakes are made with a mix of cake mix, white chocolate pudding, and vanilla frosting.
They're moist and fluffy, bursting with sweetness and delightful little crumbly bits.
The best part?
These babies make for a fun party favor!
You can have people just start cutting the cakes in half when they hear they're brimming with deliciousness.
I think these would be perfect at any beach party.
This Olaf-inspired Jello jig is an easy, no-bake dessert everyone will love.
It's made with a blend of Cool Whip and crushed up Jell-O mold.
Then, you add the gelatin cubes for added thickness, and it looks like the big guy from Frozen was really having a good time!
The fun part comes when you put all that in a large glass bowl and top it with ice cream and whipped topping.
You may be wondering how to make this nutty Jell-O float.
Well, it's as easy as mixing your ingredients together – except for the gelatin – then pouring into your mold.
Once they set up, they look like giant Olafs floating on top of the water.
These chocolate-covered fruit cones look like something out of the candy aisle at the grocery store, but they taste just as good.
They're soft and fluffy with a mild chocolate flavor that'll leave you wanting more.
The best part is, they can be made ahead of time and kept refrigerated until you need them.
Just pull one out when you need it.
Either way, they'll make an impressive dessert to bring to your next party.
These tortellini skewers are the perfect fall-into-mouth food.
Each bite is tender and full of flavor.
Pair these with a tasty salad, and you'll have an instant meal.
They're also great for entertaining!
Serve them with a simple veggie dip for dipping or enjoy them on their own as a light appetizer.
If you're looking for something a little more appetizing than your usual sandwiches, why not try a fresh and delicious dill pickle sandwich?
These pinwheels are brimming with spicy dill pickles that will bring out the best in your favorite stuffings.
It's just one of those "oh-my-gosh-I can't believe this is good" moments that is sure to leave you impressed.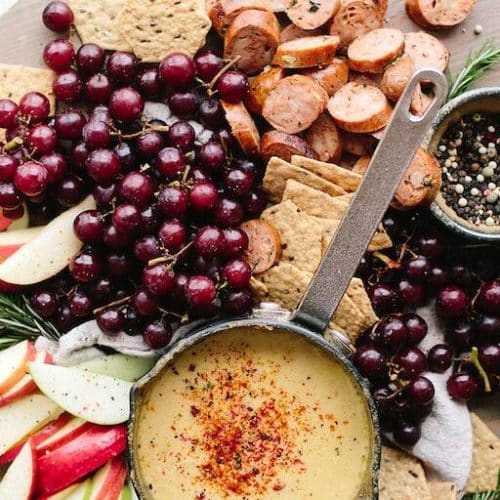 25 Pool Party Food Ideas
These pool party food ideas are the perfect way to keep your party jumping!
Instructions
Select your favorite recipe.

Organize all the required ingredients.

Prep a 25 Pool Party Food Ideas in 20 minutes or less!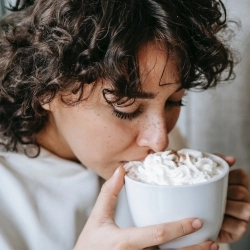 Latest posts by Grace Lambert
(see all)