Are you looking for ways to add more poblano peppers into your diet?
If so, then these poblano pepper recipes are just what you're looking for.
Poblano peppers are a staple of Mexican cuisine.
They're sweet, smoky, and full of flavor.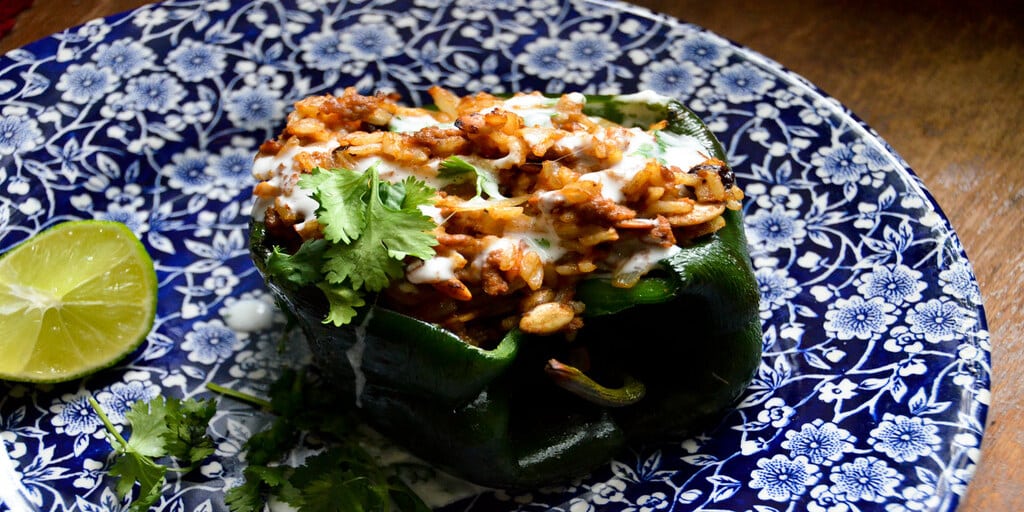 They're great for adding to everything from soups and chili to tacos and enchiladas.
If you haven't tried them before, you're in for a real treat!
I've gathered up some of my favorite poblano pepper recipes, so read on!
These peppers are stuffed with shrimp, topped with a creamy sauce, and baked to perfection.
They're so flavorful and taste like something from a restaurant (which is why I love them!).
You can make the recipe ahead of time, keeping it in the fridge for up to 4 days.
After that, just reheat it in the oven or on the grill when you're ready to serve.
If you have never had poblano peppers before, you need to try these!
They're so easy to prepare, and they have a ton of flavor.
The thought of roasting a poblano pepper makes me think of Mexican food, and it really does make the best chili.
If you're not a fan of the spice, try adding some chipotle chilies instead.
This will give your chili an even deeper flavor and make it even more spicy.
This recipe is pretty long, but don't let that put you off!
It couldn't be easier to whip up.
This chicken poblano pepper soup is one of my favorites in the summer during meal prep.
It's so creamy and filling, yet it doesn't take long to make.
It's made with a base of tomatoes, chicken broth, cream cheese, cream, cilantro, and red pepper flakes.
You can also add some corn for extra texture or seasonings.
Tender and rich, this salsa has a hint of smokiness from the Poblano peppers.
This recipe is perfect for tacos, burritos, or to serve as a side with your favorite Mexican entree.
It pairs well with any meal that includes eggs and chicken.
This homemade salsa is an excellent addition to your existing salsa collection.
You'll love its smoky flavors that taste like you're dining in Mexico!
If you're looking for a good way to add some heat to your life, this white chicken chili is the recipe for you.
It pairs all of the ingredients that you love in a classic chili but swaps out the beef.
Instead, it uses chicken and green chilies instead.
This recipe is an excellent base for many other variations.
You can even mix up the spices to suit your tastes!
I was surprised to find that poblano peppers deliver such flavor even when they're cooked in a Dutch oven.
The sweet, smoky taste of the peppers is truly unique.
If you love spicy food and don't mind a little bit of heat in your meal, give this recipe a try!
Stuffed peppers are a great way to use up leftover poblano peppers.
If you're looking for something different, these Southwest stuffed peppers will taste amazing on your next dinner table.
Poblano peppers are delicious in any form, and this recipe adds a spicy kick from the jalapeños.
The chicken and cheese fillings make them the perfect bite-sized appetizer or main course.
Nothing's better than a good appetizer that doesn't need much prep time.
And this recipe is definitely perfect.
Shrimp and peppers are simmered in Cajun seasoning before being stuffed with cheese, tomato sauce, and the rest of the ingredients.
It's pretty much just a casserole, but it tastes like a meal.
It's one of those recipes you can make ahead of time and come back to once dinner rolls around.
This poblano pepper dip is a delicious way to add a pop of color and flavor to your next party.
The sweet, spicy flavors will make you crave another dip.
It makes an impressive appetizer for your next game day feast, too!
I like to serve my dips with tortilla chips or veggies on the side.
But you can also enjoy it as is.
Poblano peppers are a festive staple in Mexican cuisine, and this recipe is my new favorite way to use them.
Sweet and hot, they're great for traditional Mexican dishes like tamales and enchiladas.
Use the leftover pepper pulp in this savory casserole to create a hearty potluck side dish.
It goes well with anything from pasta to chicken.
If you're looking for something a little more filling, why not try these grilled chorizo-stuffed poblano peppers?
These are perfect for when you want something hearty and cheap.
And the flavor is just as good as any of the other chorizo-filled recipes on this list.
Not only that, but they also have a creamy and savory sauce to go over them.
Serve at your next backyard barbecue and watch how much people will eat!
Chile relleno is a classic Mexican appetizer that's always served in the north of Mexico.
It tastes amazing, so it's no wonder it's such a hit with locals and tourists alike.
This recipe calls for perfectly ripe avocados, which is super easy to do.
Just rip them open and let them rest for about 10 minutes or so.
Serve with a side of salsa to really pump up your party.
Stuffed peppers are a staple in Mexican cooking.
They're full of flavor and can be served with rice, beans, or your favorite salsa.
This recipe is great for when you need a quick meal that's low in carbs but also packed with protein.
I like to serve this dish with some avocado slices on top, but I think it would taste great as an appetizer if you want to keep it light.
This soup is super spicy and loaded with corn, chicken, bell peppers, black beans, and salsa.
It's also creamy and thick enough to be a meal on its own.
I love adding frozen corn kernels to this soup for the added texture.
The flavor from the seasonings will definitely make it taste better.
You can serve it with tortillas if you prefer.
Pro-tip: This is a great recipe to prep ahead of time as it has all the ingredients already steamed!
These tacos are loaded with flavor, and they're so easy to make.
You can whip them up in just 10 minutes, and they taste even better than the kind you find at Taco Bell.
The poblano peppers have a slightly sweet and spicy flavor that's worth trying.
And if you're looking for something different for dinner tonight, these poblanos are it!
Serve them with plenty of sour cream on the side for rich flavor.
This recipe is ridiculously easy to make.
It only calls for three ingredients and 45 minutes.
The result is a sauce that has the same smoky, tomatillo flavor as other sauces.
But it has a subtle sweetness from the poblano peppers.
It also has a wonderfully crisp texture, which makes it ideal for salads or adding to pasta dishes.
These egg-stuffed poblano peppers are the perfect way to enjoy a healthy and satisfying meal.
They're also great for everyday use.
Each bite of this dish is filled with tender, juicy poblano peppers stuffed with eggs.
The plant-based filling doesn't skimp on flavor either.
The combination of chilies and spices makes these poblanos a must-try.
These canning poblano peppers are a fun way to add color and flavor to your dishes.
They're chunky and packed with goodness, thanks to the addition of bacon.
The sauce will give you a hint of smokiness with every spoonful.
And it pairs well with everything from tacos and guacamole to salads.
If you're not sure how much heat is right for your family, check out these recipes instead:
Chicken Enchiladas
Paleo Guacamole
(Not to be confused with the scalloped potatoes above.)
(I know… They look similar! But just like potatoes, they're two different things.)(Like all of our other potato recipes, you can use whatever kind of bacon you like here.
Poplar or regular will work.)[citation needed] These rolls are wrapped in cheddar cheese before pan-frying them until they start to crisp up at the edges.
Enjoy with mashed potatoes or on their own as sandwich spread or crackers.[citation needed] If you find yourself craving something meaty and savory, these ham and swiss rollups are perfect for you!
If you're looking for something special to serve at your next gathering, these breakfast stuffed poblano peppers are the perfect choice!
The filling is a blend of cheese and eggs that will keep you full well after dinner.
This recipe also calls for cilantro, chile powder, and cumin for added heat.
These stuffed peppers are perfect if you're looking to whip up a healthy meal on a busy weeknight.
The bell pepper is coated in seasoned pork carnitas and then roasted until the edges get crispy.
Serve them with refried black beans for a complete, satisfying meal.
Not only is this recipe paleo, it's also Whole30-friendly.
And that doesn't mean it lacks a bit of spice.
This dish combines roasted chicken with poblano peppers and zucchini.
Then, it gets the lightest touch of lime juice.
Stuffed with eggs and cheese, you can't say no!
If you're looking for a healthy and delicious way to get your daily dose of peppers, then this recipe is perfect for that.
The poblano peppers are stuffed with chorizo sausage and baked until they're tender.
This dish is so good it almost doesn't need any toppings, but the fresh cilantro leaves will add a nice kick of flavor.
I like to serve my spicy peppers with some avocado slices on top.
It gives the dish a little bit more texture, but otherwise, it tastes just as amazing as it does without.
If you're on the hunt for a new recipe that uses Chipotle's incredible taco seasoning, this one is for you.
You can't beat the mild heat of this Taco Bell-inspired recipe, and it takes only 30 minutes to whip up.
To get that smoky flavor, you'll use chipotle peppers with adobo sauce.
The result is a mixture of spices that never disappoints.
I've been known to make a huge pot of soup and then devour leftovers all summer long.
It just makes sense!
This tasty and filling dish is the perfect way to enjoy something with a little bit of extra flavor.
The poblano peppers are filled with shrimp, crab meat, scallops, andouille sausage, fish sauce, lime juice, cilantro, and poblanos.
Feel free to add in some more seafood for an even heartier meal.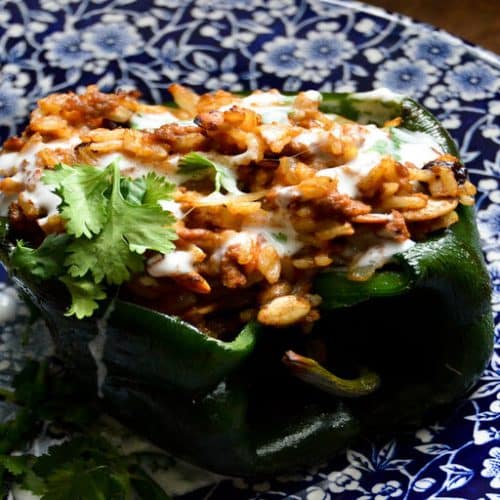 Stuffed Poblano Peppers
Ground beef, red peppers, cheese, and lots of flavour go into these Stuffed Poblano Peppers, a low-carb, healthy meal suggestion.
Ingredients
1

tbsp

olive oil

4

poblano peppers

Salt & pepper

to taste

1

lb

extra-lean ground beef

or ground turkey

2

cloves

garlic minced

1

tbsp

chili powder

1

tsp

cumin

1

tsp

paprika

1

red pepper

diced

1

red onion

diced

1/2

cup

shredded cheddar cheese
Optional toppings
Store-bought pico de gallo or salsa

Sliced avocado

cilantro

sour cream
Instructions
Set the oven at 400 F. Poblano peppers should be washed and deseeded before being seasoned with salt & pepper and a sprinkle of olive oil. Add to a baking sheet covered with parchment paper, and bake for 10 minutes.

Ground beef should be cooked over medium-high heat until browned (approximately 5-7 minutes), then any extra fat should be drained. Add the following ingredients and continue to sauté for an additional 2 minutes, or until the vegetables are tender: chilli powder, cumin, paprika, salt, and pepper to taste.

Fill poblano peppers with the ground beef mixture, then sprinkle cheese over top. 10 more minutes of baking is required to melt the cheese.

Remove from oven, then add desired toppings. Dispense and savour!
Nutrition
Calories:
294
kcal
Carbohydrates:
12
g
Protein:
30
g
Fat:
15
g
Saturated Fat:
6
g
Polyunsaturated Fat:
1
g
Monounsaturated Fat:
6
g
Trans Fat:
0.4
g
Cholesterol:
84
mg
Sodium:
207
mg
Potassium:
765
mg
Fiber:
4
g
Sugar:
6
g
Vitamin A:
2152
IU
Vitamin C:
137
mg
Calcium:
142
mg
Iron:
4
mg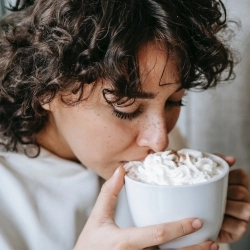 Latest posts by Grace Lambert
(see all)