If you're looking for some delicious dessert ideas that are rich, creamy, and loaded with peanut butter, you can't go wrong with these easy peanut butter desserts.
I've got a lot of favorites here, from cheesecake to blondies to poke cake.
I think you'll love them all!
I know what you're thinking.
How could there be a list of "peanut butter desserts" if peanut butter isn't the main ingredient?
Well, it's true that some of these recipes don't call for peanut butter directly.
Instead, you'll see peanut butter-infused ingredients like chocolate and ornaments.
But don't let those things take the spotlight.
These peanut butter desserts are the star of the show.
And believe it or not, they won't break the bank!
They're sweet enough to please even the fussiest of eaters, but they won't break the bank at all.
How about making some of these peanut butter desserts today?
I know you want to!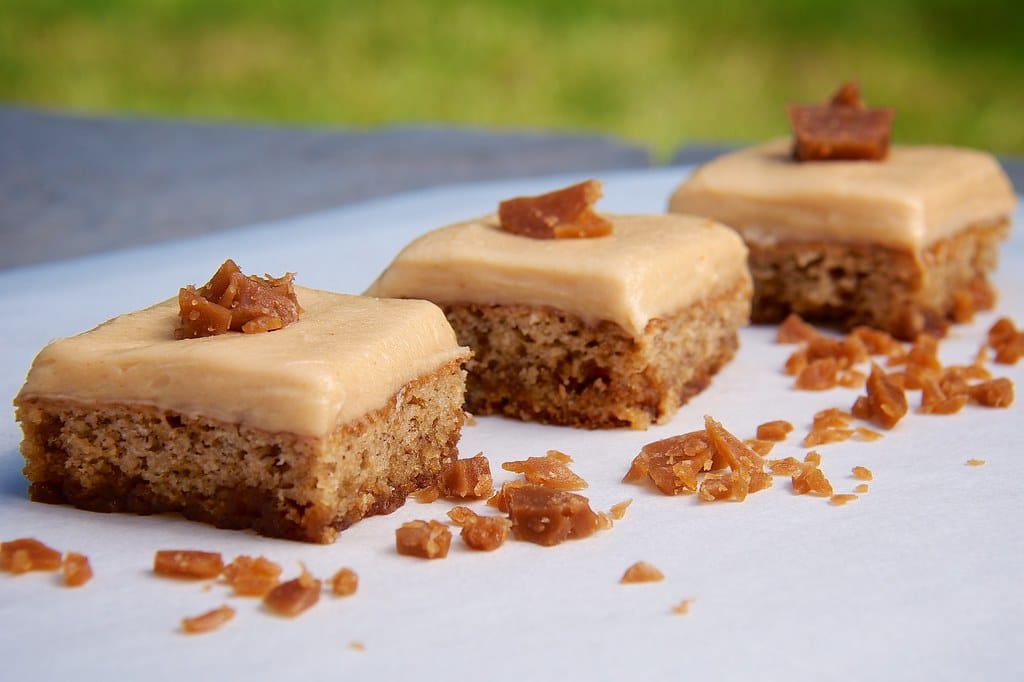 This pie is a fantastic, indulgent dessert your whole family will love.
It's the perfect balance of sweet and salty.
The peanut butter filling is nutty, creamy, and oh-so-smooth.
Plus, it has a delightful crunch from the graham cracker crust.
And that topping adds some crunch to keep it all tasting great.
I like to make this with chocolate chips in place of the peanuts.
But you could use any flavor you like best!
This is the ultimate chocolate peanut butter dessert.
It's delicious, creamy, and incredibly easy to make.
As you can see from the pictures, it looks a bit intimidating.
But don't be scared! You won't get it wrong if you tell yourself it will take ages to make.
The truth is that it only takes 20 minutes to pull together.
And with just eight ingredients (all store-bought), you can have this ready in less than half that time.
I love how simple this recipe makes the layers look.
You could probably decorate the top with some edible glitter and sprinkles too.
Both would add a touch of flair.
These chocolate peanut butter pies are the perfect little bite.
They're a bit like brownies, but they're infinitely more indulgent.
These babies are packed with peanut butter goodness, and they're simple to make.
In fact, you won't need to worry about any fancy ingredients at all.
Just layer your cookie dough in the middle of a graham cracker crust.
Top it with chopped peanuts, enjoy!
This peanut butter mousse is a sweet and creamy dream.
The base is made from Greek yogurt, powdered sugar, and butter.
While it's still warm, add cream and peanut butter to the mixture.
After that, stir in crushed candy canes before serving.
I like to garnish mine with chopped peanuts for a crunchy finish that gives this mousse a unique flavor.
These peanut butter cookie bars are the ultimate snacking treat.
They're soft and chewy with a nutty, sweet-tart flavor that will make you feel like a kid at Christmas.
Plus, they have more chocolate than your average cookie bar.
So they're easy to share and make great gifts!
Sometimes, you just need a tasty dessert that's healthy, indulgent, and perfect for any occasion.
And that's exactly what this recipe is.
This peanut butter cheesecake is creamy, sweet, and nutty.
It has all the rich flavors of summer in one bite.
Serve it with a scoop of ice cream or hot cocoa for the ultimate chocolate treat!
This recipe is a little different from the others above, but it's just as good.
It has layers of creamy, chocolatey goodness and peanut butter crust.
The lasagna is a bit on the dry side for me, so I prefer to use some cream cheese in the filling.
That way, you get plenty of melt-in-your-mouth flavors when you bite into it.
This recipe makes enough for two big meals!
Sometimes, the only way to make a peanut butter and jelly sandwich is to make a peanut butter bar!
The texture of these bars is much like when you have peanut butter in the middle of a cookie.
They're soft and chewy with a lovely crunch from the oats.
Simple homemade vanilla extract may not be necessary, but I still love it in my tea!
These blondies have to be one of my favorite "filling" desserts around.
They're so easy to make and are guaranteed to satisfy any sweet tooth.
The dough is a basic flour-and-sugar mix that can be made with store-bought or homemade peanut butter.
Be sure to form it into a ball, because you won't want pieces of your blondies going everywhere.
Once baked, the blondies will become rich and chocolatey thanks to the addition of white chocolate chips.
If you're looking for a quick, easy dessert that's foolproof, try this recipe.
Simply whisk the cream cheese and condensed milk until smooth.
Then pour that into your crust of choice and bake.
When it comes out of the oven, add your graham cracker crumbs to the top with some chopped Reese's Pieces.
Watch it as it cooks because once it starts bubbling, turn off the oven and let it cool in the fridge before cutting.
These peanut butter squares are so soft and chocolatey that you'll come right up to the counter just to get a second one.
And if you use this recipe, it's so easy!
Simply mix everything together in a bowl, scoop out your own squares, and bake.
We all know that Disneyland doesn't have any refrigeration during the summer, so these will be out of this world.
(I believe they might freeze well.)
I love this cake for its unique flavor and texture.
It's soft and fluffy with a light, crispy outer shell.
It's super moist and incredibly satisfying.
Plus, you can make it in just 30 minutes! How awesome is that?
The best part is that you don't have to worry about an oven or a hot kitchen.
Just toss everything together in the microwave and bake.
Done!
This is where the dessert trifle takes a different turn.
Instead of just having layers of cake, pudding, and whipped cream, this recipe has all three in one bowl!
Of course, you can use whatever flavor pudding you like best.
But if you want to be extra decadent, try using cherry or chocolate chip.
Cheesecake is crazy easy to make and an excellent option for kids.
But sometimes, you just want something sweet but with less calories.
If that's the case, this Oreo peanut butter cup cheesecake is a great choice.
It's not as rich and creamy as traditional cheesecakes are.
That said, it's delicious and super chocolatey!
It has a rich cheesecake filling along with a smooth creamy Oreo crust.
How can you say no to that?
Looking for a quick, easy dessert?
Try this peanut butter pudding with just five ingredients and about 15 minutes of your time.
This pudding is incredibly creamy, delicious, and has a rich peanut butter flavor.
It's vanilla-flavored with the added kick of an extra dash of powdered sugar.
The sweetness from the powdered sugar will help balance out the creamy dark chocolate, making this dessert super decadent and irresistible!
If you've ever had peanut butter and jelly sandwiches, then you already know the magic of this sauce.
It is smooth, creamy, and sweet-n-savory.
It tastes like it's straight from a jar – with no artificial ingredients or preservatives!
You can use it on just about anything: chocolate cake, cookies, brownies, burgers… the list goes on.
Serve it over ice cream for breakfast or an afternoon snack.
Did you know that chocolate and peanut butter go hand in hand? Well, I didn't until I tried these.
I love the combination of these two.
They balance each other out perfectly, making for a fabulous recipe.
The crunchy sugar on top is such a beautiful contrast to the soft oats and chewy chocolate.
Plus, it comes together so quickly, making this an ideal treat to make ahead.
How do you pair a creamy chocolate cheesecake with an incredibly rich and chocolaty peanut butter filling?
You make them together, of course!
This recipe uses a traditional chocolate cheesecake base with a layer of peanut butter ganache.
Then, it's topped with chocolate-covered peanuts for added crunch.
It's as simple as that!
These peanut butter balls are a healthy alternative to the classic cookie.
They're vegan, gluten-free, and dairy-free, so everyone can enjoy them.
Each one is soft and chewy with a sweet crunch from the toasted coconut.
If you want your peanut butter balls to be extra indulgent, add some chocolate chips or chopped nuts.
If you love peanut butter and chocolate, I think you'll fall for these bars.
They're filled with creamy peanut butter and crunchy rice cereal.
The combination of salty, sweet, and nutty is just irresistible.
These bars are so good that even kids will taste them.
They look so much like regular Reese's Cups that they might go on a hunger strike!
What's better than a warm, chocolatey cobbler?
A warm, chocolatey cobbler with peanut butter!
This recipe comes together quickly and is so easy to customize.
From berries and pecans to chocolate chips and caramel, this dessert will impress everyone.
These dessert cups are as delicious as they are pretty.
And I think you'll love this one, especially if you hate chocolate.
The peanut butter cups have the perfect soft centers and wonderful chewy texture.
But instead of fruit or jam, these babies come with a sweet-n-spicy peanut butter filling.
Best of all, each cup comes with a layer of salted caramel that will melt in your mouth!
I love how this recipe gives you two options for the crust.
Why?
Because it's a super easy way to add a little extra crunch!
I love the use of oats and brown sugar here, too.
It makes all the ingredients so moist and chewy.
Each bite is basically a peanut butter ooey-gooey mess.
(It's also great if you don't have time to make your own filling.)
This is a fun twist on classic lasagna, and it's insanely tasty.
The cookie dough between layers of marinara sauce is just to die for.
It has almost an Oreo-like texture that's utterly sinfully addictive.
If you want to make this more healthy, swap out the ground beef with chicken or turkey sausage.
If you're a fan of peanut butter cupcakes and chocolate kisses, this recipe is the ultimate treat for you.
These cupcakes are a moist, fudgy chocolate cake with a sugar-dense peanut butter filling.
Each bite is nutty, chewy, and sweet with just the right amount of crunch to make it super addictive.
The best part is that these cupcakes are easy to make.
They're packed with flavor without any baking!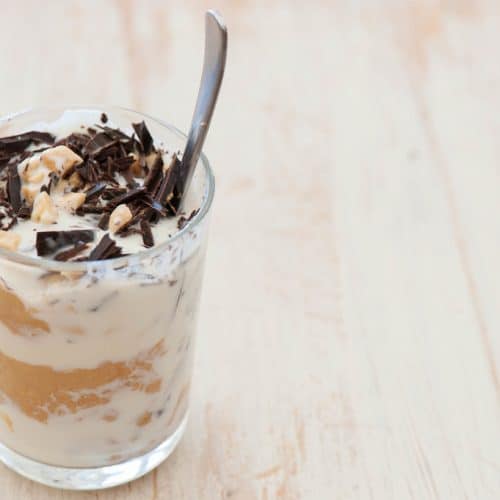 Peanut Butter Mousse
This peanut butter mousse is a sweet and creamy dream. The base is made from Greek yogurt, powdered sugar, and butter.
Ingredients
1

cup

peanut butter sugar

1

cup

cream cheese softened

1

cup

sugar free powdered sugar

1

teaspoon

vanilla extract optional

1

cup

heavy cream
Instructions
Mix the cream cheese, powdered sugar, vanilla extract, and peanut butter in a sizable mixing basin. The heavy cream should be combined in a different mixing dish and whisked until stiff peaks form.

14 of the beaten heavy cream should be gently folded into the peanut butter mixture. Add another half of the cream and combine well. Blend in the remaining cream after adding it.

Put the mousse in a piping bag fitted with a wavy tip. Pour into glass or Mason jars, and then chill for at least 30 minutes.
Video
Nutrition
Calories:
1578
kcal
Carbohydrates:
101
g
Protein:
39
g
Fat:
148
g
Saturated Fat:
63
g
Polyunsaturated Fat:
19
g
Monounsaturated Fat:
54
g
Cholesterol:
249
mg
Sodium:
942
mg
Potassium:
993
mg
Fiber:
6
g
Sugar:
22
g
Vitamin A:
3274
IU
Vitamin C:
1
mg
Calcium:
252
mg
Iron:
2
mg
---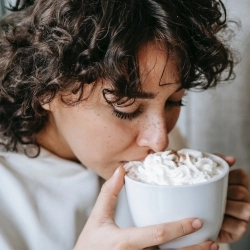 Latest posts by Grace Lambert
(see all)