Crispy, tasty, and oh-so-fresh, these easy monkfish recipe are a perfect way to take your seafood game to the next level.
Because what's better than a perfectly cooked monkfish?
A delicious and healthy way to incorporate it into your meals!
This ocean fish is similar in appearance to a cod, but with a little more muscle.
It's sweet and mild, making it perfect for all kinds of recipes.
And from fried fillet to satay, there are tons of ways to enjoy this affordable seafood.
So read on, find your favorite style of monkfish with this list of mouthwatering recipes, and get cooking!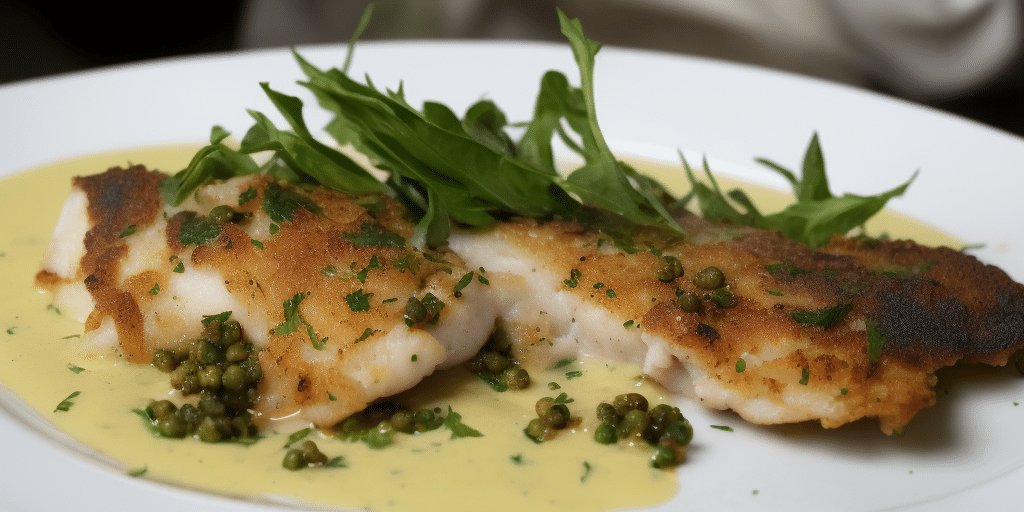 It's hard to beat the authentic aromas of this monkfish recipe.
It smells divine, and it tastes even better.
The monkfish is first poached in a flavorful broth infused with lemon and garlic for maximum flavor.
Then it's roasted until the meat is fork-tender and crispy on the outside.
Serve it with lemon wedges, parsley, and a simple roasted garlic sauce for an elegant meal.
This recipe is the perfect way to use up any leftovers from last night's dinner.
You can easily transform this dish into a winter classic with your own creative twist.
Just mix up some of your favorite veggies, season it with olive oil and garlic, and let it cook until tender.
There are no rules as to what you can add to this dish – just enjoy!
I'm not sure who came up with this dish, but whoever did was a genius.
The lobster meat is nice and tender, and you get a lot of flavor from the browned butter.
I usually serve it with creamed mash or mashed potatoes.
This is one of my favorite recipes for frying monkfish.
I find it so easy and super delicious.
It's a simple, five-ingredient recipe that you can start to cook in the morning and finish at dinner.
The fish is pan-fried with lemon caper butter sauce, and this dish is as tasty as it is beautiful!
If you're a fan of roasts and stews, you'll love this recipe for monkfish.
It's loaded with flavor and a bit of spice.
Plus, it looks amazing.
It really does look like something from a fancy restaurant.
This isn't just about looks!
This fish is so freaking good; it will blow your taste buds away.
The black olive sauce is phenomenal, but the lemon mash is even better.
It gives the fish a fantastic tangy flavor that doesn't overpower the other flavors in the dish.
It all works together to create one mouthwatering dish.
A quick bite of these grilled or roasted monkfish skewers gets you in mind-blowing harmony with pesto and chicken.
It's an interesting combo that knocks people off their feet.
When you think about how simple tandoori chicken can be, surprise: it also happens to be amazing.
Don't worry if you don't understand what I mean right now – it takes time to get there.
The reason why this dish is so delicious? The combination of spices and yogurt in the marinade makes this juicy bird ridiculously flavorful.
I love a relatively simple recipe that is still tasty and flavorful.
Monkfish with tomato, ginger, garlic, and vinegar is exactly that.
The sauce is made with the thickest paste of coconut milk you can find.
This is something to take note of because it's unripened!
This dish packs in a lot of flavor – be sure you have plenty of time to make this recipe.
I can't get enough of monkfish.
Maybe it's the deep, rich flavors or maybe it's the texture that I love.
Either way, this recipe is a must-try!
The best part of the whole thing is that they cook in olive oil and herbs before roasting in flame-roasted tomatoes.
It's a simple dish but with so much flavor!
This dish is a traditional Irish staple, but it's just as delicious in Spanish cuisine.
The monkfish itself is already the show-stopping ticket.
With its flaky, buttery skin and juicy meat, this fish would be at home on any restaurant's menu.
For the best flavor, though, you will want to serve it with a side of roasted potatoes and roasted cauliflower.
Monkfish is a tender, flaky fish that's perfect for any Asian dish.
This recipe gives you the ultimate flavor contrast with citrus and chile.
The best part about this dish?
It only takes 15 minutes to make!
Monkfish provincial is a seafood dish that's super fresh and light.
It's buttery, tasty, and an excellent choice for any meal.
Plus, it's an ideal way to add a little bit of color to your menu.
And thanks to the sherry vinegar, it really makes this dish pop!
It features filets of monkfish with a savory tomato sauce and loads of herbs.
Serve it with steamed rice or mashed potatoes for complete comfort food satisfaction.
I love this recipe because it's simple, yet full of flavor.
You can make it in just 15 minutes with minimal effort.
The monkfish is steamed to perfection, which I think gives the fish a delightful texture.
Then, the garlic and ginger add some wonderful spice.
It's a good thing you prep everything beforehand because you won't need anything but a pan on the stove!
Mediterranian monkfish looks like a cross between a salmon and an albacore tuna.
It's perfectly tender, juicy, and packed with flavor to boot.
This dish is simply delicious.
The combination of herbs and spices in the marinade infuse every bite of this fish with flavor.
Season it with lemon juice, salt, pepper, etc. before cooking it.
The result is a heavenly meal that will leave you feeling good about yourself.
The best thing about this classic monkfish curry is that it's insanely easy to make.
There's no need to worry about complicated ingredients.
You just need some fresh herbs and a few basic spices.
This dish is full of flavor, with the robustness of garlic, the sweetness of lemon, and the subtle hints of coconut milk.
This recipe is so effortless that you can even make it without any seafood!
This recipe is a perfect way to show off your love of seafood.
And since it's so simple, you can keep it for the weeknight meal that everyone will crave.
It's also a great dish to serve if you're hosting dinner parties or want to impress your date.
You can even make this with leftover chicken or tofu sliders!
I don't know who gets more excited about coriander and chili in this recipe: the chef or the diner.
This recipe is a fantastic way to inject some spice into your meal without having to soak your ingredients in oil.
The combination of these two spices creates one delicious dish, and it's sure to leave everyone wanting more!
Creamy, rich, and wonderfully meaty, monkfish is a classic Italian dish that's perfect for a big family dinner.
This recipe combines it with osso buco, making this dish so impressive and delicious.
The total time to make this dish is just over an hour.
It will be ready in time for your next big meal.
This leek and monkfish recipe is an easy side dish to bring to a potluck, BBQ, or just because.
It tastes so fresh and bright.
The leeks are crisp and tender while the monkfish is flaky and succulent.
It's a simple way to add some veggies into your meal without adding much in terms of carbs!
If you've never had monkfish before, prepare to be amazed by how good it is.
The fish cooks up wonderfully with a succulent bite that melts in your mouth.
Serve it with roasted vegetables and rice for a delicious meal.
This recipe for monkfish wrapped in bacon is one of the very best.
It's a tasty, easy meal that'll impress even the most discerning foodie.
All you need are two ingredients: Monkfish fillets and bacon.
I love how this recipe gives you a little something extra with each bite.
It's also inexpensive to make, so there's no excuse not to throw it together when you have some leftover fish on hand.
This piquant monkfish recipe is reminiscent of the classic "Spaghetti Carbonara" dish.
But instead of pasta, this one uses more fish than carbs and is made with just olive oil and herbs.
The sauce is caramelized onions, apple cider vinegar, garlic, mustard powder, salt and pepper.
It's tart and savory with a touch of sweetness.
It's both simple to make and full of rich flavors that will leave you wanting more.
Breathe in the scent of this fish satay recipe.
It's soooooo good.
And it's ready in just 15 minutes!
This delicious Malaysian stir-fry features crispy and tender monkfish, fresh veggies, and a sweeter sauce.
It's fantastic with rice or noodles, but I like to make it extra special by serving it with some fried shallots.
I've made this dish many times, even in the winter.
It has a nice mild flavor that tastes great on its own or with some other fresh ingredients.
It's also perfect for serving at a backyard cookout with friends and family.
Just make sure you have enough of whatever you like to eat alongside!
This recipe is a fantastic way to create a simple and flavorful meal.
It uses the same base of lime, white wine, garlic, and stock as the previous recipes.
However, it's spiced with coriander and cumin for added flavor.
The result is an entree that has just enough spice to tickle your tastebuds while leaving you full.
If you're looking for a great dinner recipe that takes only 10 minutes to make, then this dish is for you.
It features tender monkfish with a scrumptious lemon and rosemary sauce.
The breadcrumbs soak up the flavors and provide extra crunch.
Serve this dish with a side of roasted veggies or fries.
I know what you're thinking: how can monkfish and chips be good?
The answer is simple.
Monkfish is already delicious on its own.
It's firm, meaty, and flaky.
The remoulade sauce adds a wonderful savory tang that turns the fish into a treat!
This recipe is an excellent way to get more of the protein you need in your diet.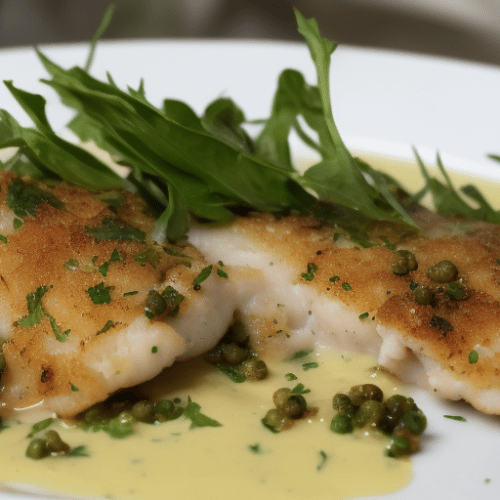 27 Best Monkfish Recipes
The fish is pan-fried with lemon caper butter sauce, and this dish is as tasty as it is beautiful!
Ingredients
1

head of cauliflower

1/4

tsp

salt & white pepper to taste

1

tbsp

butter

1

tbsp

whole milk or cream

4

tbsp

butter

1/2

lemon

juiced

1

lemon

zested

2

tbsp

parsley

finely chopped

1

tbsp

capers

rinsed and minced

1

Monkfish tail

1

tbsp

olive oil

1

tbsp

butter

3/4

cup

flour

1/2

tsp

paprika

1/4

tsp

salt and white pepper to taste

1

bunch of fresh baby spinach
Instructions
Break the cauliflower into florets and steam for 10 to 15 minutes, or until very soft. After cooking, add the cauliflower, butter, salt, and pepper to a Cuisineart blender and blend until extremely smooth. If necessary, add 1 tablespoon of milk or cream to soften the purée.

The mixture should be transferred to a saucepan and kept warm over low heat until needed. Melt butter in a small pot over medium heat for the sauce. Stir in the minced capers, parsley, and half a lemon's juice as well as one lemon's zest. Over low heat, cover and set aside. Cook the spinach in a big pot with a little water until it just wilts.

Allow the water to evaporate before adding 1 tablespoon of butter, some salt, and fresh white pepper, and allowing the spinach to heat through.

Monkfish should be rinsed and dried with paper towels. Cut each fillet crosswise into medallions that are 1/2 inch thick. Using a flour, paprika, salt, and pepper mixture, dredge the fish, coating all sides, and shake off the excess. The monkfish medallions should be fried and crisp for about 3 minutes on each side in a large nonstick frying pan that has been heated with the butter and olive oil over medium-high heat. Take out of the pan and set in a warm location to rest, or tent with foil until ready.

Spread 2 cups of cauliflower purée in the middle of each warmed dinner plate and shape it into a long mound to plate the dish. Put the monkfish medallions on top of the purée, then garnish with wilted spinach. Finish with a last flourish of sauce around the plate's edge after adding a small drizzle of lemon caper butter sauce as a garnish. Serve right away.
Video
Nutrition
Calories:
280
kcal
Carbohydrates:
22
g
Protein:
3
g
Fat:
21
g
Saturated Fat:
11
g
Polyunsaturated Fat:
1
g
Monounsaturated Fat:
7
g
Trans Fat:
1
g
Cholesterol:
45
mg
Sodium:
193
mg
Potassium:
99
mg
Fiber:
2
g
Sugar:
1
g
Vitamin A:
724
IU
Vitamin C:
25
mg
Calcium:
23
mg
Iron:
2
mg
---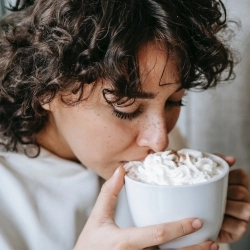 Latest posts by Grace Lambert
(see all)