These fantastic leftover pulled pork recipes are sure to delight your family and friends.
They're meaty, delicious, and a breeze to make.
It's like a win-win!
I love eating pulled pork because it's so versatile.
It can be used in everything from BBQ sides to casseroles and tacos.
If you have leftover pulled pork, then you'll have plenty of recipes to choose from.
You can stuff it into wonton wrappers or go all out and make enchiladas for dinner tomorrow.
Don't worry, I have you covered with these incredible leftover pulled pork recipes!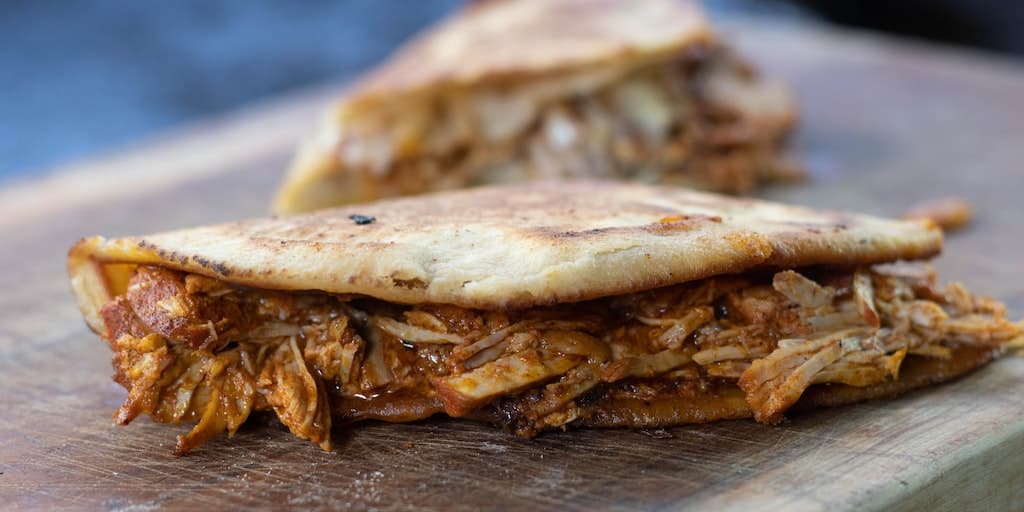 Smokey pork soup is the perfect winter warmer.
It's rich and creamy, with a smoky flavor from a blend of spices.
It's a hearty dish to warm your belly on cold days.
Serve it with noodles or rice for an extra boost of protein.
Serve it as a main course for lunch or dinner.
You can also make this soup into a side dish by serving it over cooked rice.
These Hawaiian pulled pork sliders are the perfect way to round out your barbecue menu.
They're perfectly tender, juicy, and loaded with flavor.
There's a little bit of everything inside each bite – pineapple, jalapenos, cheese, BBQ sauce, veggies… you name it!
If you love pulled pork but want something a little different this summer, these sliders will be your new go-to.
Make your next holiday feast the ultimate in comfort food.
Cozy up with a big bowl of this pork roast pot pie!
This dish is bursting with succulent chunks of ground pork and smothered in rich gravy.
It's sweet and savory, full of fall flavors, and packed to the brim with goodness.
You won't regret eating this comforting dish for dinner every night.
It's so good, you may even have leftover!
We've all been there.
It's time to head out the door, and you have a mouth full of BBQ pulled pork!
Every bite of this pizza will have you craving more.
This recipe is easy enough for anyone to follow.
But if you're feeling adventurous, why not try my version?
You can still enjoy that juicy pulled pork with a layer of cheese in the form of mozzarella sticks.
If you're in the mood for something downright sinful, this recipe is the perfect choice.
Caramelized onions and pulled pork are loaded onto tortillas.
Then, a quick spin in the skillet makes them into a delicious quesadilla that bursts with flavor.
This is definitely something you gotta try!
If you're looking for something new to try this summer, look no further than pulled pork bowls!
They're filling, easy to make, and will leave your taste buds craving more.
Feel free to use any meat you like in these recipes.
But if you want something with a little bit of a kick, I recommend using the carnitas recipe above.
This recipe is the perfect way to use up leftover pork.
It's a deconstructed casserole loaded with noodles, vegetables, and a rich and creamy sauce.
Assembling this dish is as easy as putting everything in the oven.
Just be sure you get your oven at the right temperature so it doesn't over-cook or burn.
Enjoy!
These BBQ pulled pork nachos are the perfect way to use up all those leftover chips.
They're crispy, smoky, and full of juicy bits of tender meat.
The hardest part is waiting for them to cook!
The moment you pull them out from the oven, they'll be ready for your party.
Serve them with your favorite sides or top them on a big plate for a little more flavor.
If you're looking for a new way to cook the family's favorite savory dish, try this slow cooker pulled pork recipe.
It takes just one hour and ten minutes to make delicious pulled pork.
It has a terrific smoky flavor that everyone will love – even kids!
Plus, it's incredibly easy to make.
Just add all of your ingredients except for the beer into the crockpot and let it do its thing.
After about 7 hours, you'll have juicy chunks of pork floating in your spicy barbecue sauce.
If you're looking for a unique yet scrumptious dinner to serve your family, look no further than this pulled pork cornbread casserole.
This heavenly dish combines your two favorite comfort foods in one bite: tender pulled pork and fluffy cornbread.
With juiced orange juice, honey, and brown sugar as the binder, this casserole has all the flavor of the recipes that are normally associated with the holidays.
It tastes like a cross between Christmas cookies and Thanksgiving rolls!
Mac and cheese is a classic comfort food for any occasion.
But when you add BBQ sauce to the mix, it's downright divine.
This recipe has all your favorite textures – tender noodles, gooey cheese, smoky bacon bits, and plenty of meaty goodness.
Serve it with some crusty bread for dipping!
This is a great recipe for when you want something light, but still want a hearty side. It also makes an excellent addition to any Christmas dinner.
The trick with risotto is to keep it warm on the stove until it's soft.
Once that's done, cook your pulled pork until it's tender and take off the heat.
Serve with some veggies and some rich gravy.
Stuffed peppers are a great way to use up leftover pulled pork.
This recipe takes the easiest method and makes it a versatile dish.
The sauce is made from onion, cheddar cheese, tomatoes, and spices.
It's super rich and creamy but slightly tangy with a hint of sweetness.
Serve these with some coleslaw for an elegant dinner or enjoy them as a delicious appetizer.
Whether you're a fan of pulled pork or not, no doubt you'll be smitten by this chili.
It has all the flavors and textures of a really good chili.
There are big chunks of succulent pork in there, too, and the spices do their thing to make it so addictive.
Oh, and it's loaded with plenty of vegetables – both green and red!
This creamy BBQ pulled pork pasta dish is a delight to the senses.
The sauce is rich, sweet, and savory.
The meat is juicy and tender with a bit of tanginess from the spices.
And then there's the noodles.
They're so good that you can practically eat them by themselves!
Serve up this delicious meal for your next summer BBQ.
Your friends will be asking for more!
If you want a quick and easy dinner, look no further than Posole Verde.
This recipe is so hearty, it can easily be used as an entree or side dish.
It's not too spicy and packs the flavor of Mexican pork.
Serve with tortilla chips for dipping or enjoy alongside a simple salad for a complete meal.
These tacos are to die for.
A trio of carnitas (Mexican pork) is marinated in spices, then grilled.
Once cooked, the meat is shredded and placed on a bed of seasoned rice.
It's topped with pickled jalapeños, salsa verde, guacamole, and queso fresco.
It's so good you won't believe it came from your kitchen!
I'm a huge fan of enchiladas, but they can be pretty labor-intensive to make.
They are also bulky and messy.
I was so psyched when I found this recipe to be half the effort.
If you love pulled pork and enchiladas, then you'll go gaga for these.
It uses the same pan as the chicken version, so everything goes together in one dish.
So, I know what you're thinking.
Shepherds pie?
Really?
Well, yes, it is!
In fact, you could use this recipe and make a vegan version of the same dish.
You'll start with a basic shepherd & mutton pie filling that lends itself to a dairy-free, meat substitute.
Next up is the pulled pork.
This recipe uses 1 pound of lean ground beef for maximum flavor.
As for texture?
Well, look out!
It really does taste like pulled pork so trust your senses.
(Be sure to save some fat for later in the oven.)
Cook away the heat and serve with mashed potatoes or rice.
I think soup would be pretty good too!
Pork and potatoes go together like peanut butter and jelly, so why not make pulled pork hash?
It's easy to pull apart, cook in the slow cooker, then shred it up when it's done.
The best part is that this recipe uses fresh pineapple for a tropical flavor.
Serve with tons of fried eggs, crispy bacon, or any other favorite breakfast meats!
Pulled pork burritos are the perfect meal for a lazy Sunday.
These savory treats are packed with mouthwatering pulled pork, cheese, and veggies.
They're also super delicious!
The combination of savory meat, melty cheese, and fresh veggies is simply screaming "delicious!"
Pork and potatoes is a classic combination, and this scalloped potatoes recipe proves it.
These potatoes are topped with a crispy chunky white sauce that's cheesy, salty, and savory.
I promise you won't be able to resist!
Now, these smoked pulled pork wontons are a lot more than just tacos.
You'll get all the traditional flavors of pulled pork in this easy-to-make dish.
You'll make them with pork shoulder and seasonings for the best flavor.
Of course, you can add other meat to make it a full meal or pick up some extra ingredients that your family might want.
Like, say, cheese!
These taquitos are a must-make for the holiday season.
They're crunchy, meaty, and packed with flavor.
Plus, they're freezer friendly!
Finally, they come together in just 30 minutes, making them great for busy weeknights and last-minute lunches.
If you're in the mood for something a little different, then you have to try this enchilada recipe!
This recipe is loaded with juicy chunks of BBQ pork and gooey cheese.
It's a winning combination that will make your tastebuds jump up and down.
The tangy sour cream sauce pairs perfectly with the rich meat and spice of these enchiladas.
Serve them up for dinner, or watch your weekly grocery bill disappear!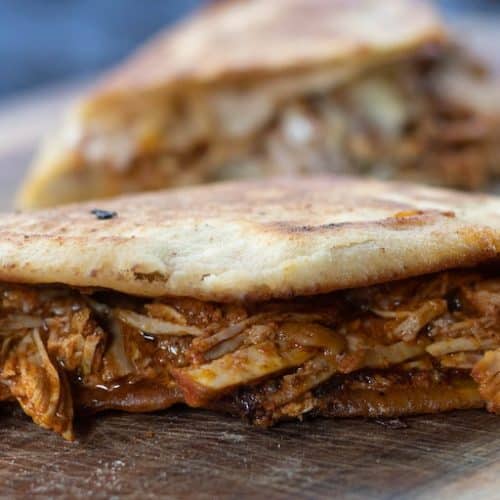 26 Yummy Leftover Pulled Pork Recipes
These fantastic leftover pulled pork recipes are sure to delight your family and friends
---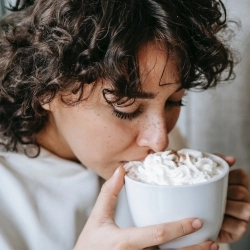 Latest posts by Grace Lambert
(see all)