Turkey is a popular thanksgiving centerpiece dish.
Can there be a Thanksgiving without turkey?
You're hosting this thanksgiving, so you bought the largest turkey you could get, a 20 lb.
Since it's the first time you're cooking such a huge bird, you start to panic and wonder how long to cook a 20 lb turkey?
Cooking a 20 lbs. stuffed turkey takes about 20 minutes per pound at 325F to reach 165F final temperature.
An unstuffed turkey would cook for approximately 13 minutes to pound at 350F.
Regardless of the weight, stuffing, and cooking heat, the final internal temperature for a well-done turkey, should be at least 165F.
It's easy to overcook the turkey, especially since most come cured.
We highlight the cooking temperatures, timelines, and tips for tender and juicy results to prevent that from happening.
What's the recommended temperature for turkey?
The USDA recommends cooking turkey to a minimum internal temperature of 165F—with at least 5 minutes of rest time.
This is a reduction from the previous 180F as of 2011. At 165F, your turkey is microbiologically safe for consumption, and further cooking is overkill.
Regardless of the turkey cut, recipe, thickness, or weight, ensure it reaches a final thermometer reading of 165F.
For leaner turkey cuts, use high heat to attain the tender and juicy result; otherwise, cooking them on low for a long will dry them before reaching 165F.
Alternatively, you can bake your turkey at 150F and let it overcook while it rests at 165F.
This allows your meat to redistribute the liquids resulting in extra juicy turkey.
Is it better to bake turkey at 325F or 350F?
Different recipes suggest cooking a turkey at varying temperatures from 325F to 400F.
According to the USDA guidelines, 325F is the recommended temperature for poultry, stuffed or not.
Although low and slow is the rule when baking poultry, it doesn't necessarily mean you can't bake at a little warmer for almost the same time.
Baking turkey at higher temperatures hastens the cooking process but risks overcooking, burning, or worse, a dry, tough outcome.
However, you can briefly bake on high heat to help lock in the moisture and give tender, juicy turkey.
How long to bake 15lb turkey at 325F?
Baking a 15 lbs. turkey takes about 15 to 17 minutes per pound at 325F oven heat to reach an internal temperature of 165F.
At this temperature, the turkey cooks evenly, resulting in tender meat with deepened flavors.
However, the time varies depending on turkey weight, stuffed or unstuffed, and the cooking method.
For instance, a 15 lbs. stuffed turkey would take about 25 minutes per pound at 325F to reach 165F internal temperature.
On the other hand, a 15-pound unstuffed turkey will be ready in about 12 to 18 minutes to pound at 325F.
How long to bake 20 lbs. turkey at 350F?
At 350F, a 20 lbs. turkey would cook at 13 minutes a pound to reach 165F final temperature—that's for an unstuffed turkey.
That's approximately three hours total cook time.
Stuffed turkey weighing 12 to 20 lbs. cooks at 15 to 20 minutes a pound at 350F to reach 165F—with a 10 minutes rest time.
The baking time also depends on whether the turkey is whole or different cuts.
For example, bone-in, skin-on cuts like breasts will cook for about 30 minutes a pound at 350F to reach 165F.
The prolonged period is due to the fat, skin, and bone making it extra juicy and evenly cooked.
How do I tell a well-done turkey?
There are various ways to know when your turkey is cooked, an instant thermometer, a fork, or a metal cake tester.
Let's expound on each below;
Instant thermometer
The turkey is well cooked depending on your desired doneness, provided the minimum temperature is 165F.
Insert a digital thermometer at the thickest part of your turkey, avoiding bones, fat, and gristle.
This is the most effective and accurate way to measure a cooked turkey, especially a stuffed one.
Cake tester
Insert a metal cake tester at the center of the turkey and press it against the inner parts of your wrist. If hot, then your turkey is done.
A cold or slightly warm feel indicates your turkey needs to cook longer.
A metal skewer/fork
When slow cooking a 20 lb turkey, this is the best way to find its tenderness and doneness since it'll reach 165F early enough.
Insert a knife at the thickest part; if it penetrates without resistance, your turkey is well-done.
In case of resistance, let the meat cook a bit longer.
What is meat resting time?
Meat resting is when you allow cooked meat to stand for about three minutes before carving or serving.
For instance, turn off the oven when your turkey reaches 160F and let it stand for about 10 minutes to a final 165F.
Resting allows the liquids and juices to redistribute back to the meat fibers enhancing deeper flavors and extra tenderness.
Use a digital thermometer to measure the final temperature after resting.
The resting time depends on your desired doneness; whether medium rare, medium, or well-done, turkey ranges from 150F to 180F.
Tips for baking a tender and juicy turkey
Perfectly baked turkey requires some skills to come out tender, juicy, flavorful, and crispy. Here are a few hacks in steps;
Size matters
When cooking turkey, its size should correlate with the cooking pot—especially a slow cooker or an instant pot.
Correspondingly, if baking pieces instead, pick similar sizes for even cooking.
Brine
Whichever turkey you're cooking, heritage or wild, brining is essential to add some moisture.
However, most commercial turkeys are moist enough, but it helps, especially if your recipe calls for high-heat cooking.
Moreover, it significantly reduces the baking time providing extra juiciness.
Baste
Buttering your turkey beforehand with melted butter gives you a golden brown crispy exterior for a perfect turkey.
Brushing also prevents the chicken from sticking to a baking pan, eases seasoning, and reduces constant checking on your turkey.
Season
If opting for mild spicing, salt and pepper work best.
However, Italian, Mexican, and Asian species will be great for spicier options.
You can season with wet or dry spices, provided you let it marinate for a while to absorb them.
Bake
Bake your turkey on low heat (325F) for about 18 minutes, depending on whether stuffed or unstuffed.
Some prefer high heat, 350F, for a brief time.
However, if looking for crispy and juicy turkey, brine and aim high on the temperature, provided it reaches 165F.
Rest
Let your baked turkey rest for 10 minutes before carving or serving.
This locks in the moisture distributing it evenly and giving each bite a decadent taste.
How long to store and reheat leftover turkey
Leftover turkey can last for 3 to 5 days in an airtight or zipper bag in the refrigerator.
It can stay for up to 6 months in the freezer when wrapped correctly in freeze-safe bags.
However, when frozen, most can retain the quality for up to 3 months.
You can reheat turkey in a skillet, microwave, air fryer, or oven depending on the urgency, as explained below;
Microwave: Place your turkey in a microwave-safe dish, sprinkle with some gravy or water, and cover. Reheat on high heat for 3 minutes. Flip the pieces and microwave in 30 seconds intervals until cooked through.
Oven: Preheat the oven to 350 and reheat for about 15 minutes, flipping sides halfway through. Place the turkey on a wire rack over a baking pan and wrap in foil to allow even heat circulation.
Skillet: Thaw the leftover turkey and place on a large saucepan over low heat—cover to lock in the moisture. Reheat for about 10 minutes, flipping at 5 minutes intervals: avoid burning or overcooking. You can brush with some oil or butter to prevent sticking to the pan.
Frequently asked questions (FAQs)
How do you thaw frozen chicken?
The first step is to place frozen chicken in a fridge for 36 hours before reheating it in the microwave, oven, or skillet.
Alternatively, use a warm bath. Heat water in a large pot until it becomes warm, not boiling.
Place a container with frozen chicken bags in the warm water bath.
The frozen items will defrost in about 2 hours.
Is it advisable to stuff a turkey while cooking?
No, preferably bake the stuffing alongside the turkey.
This ensures your turkey cooks evenly in a short time.
Filling adds flavor but takes longer; it's unnecessary, provided you baste and marinate your turkey.
Conclusion
Turkey is a tricky dish to prepare, but it should be easy given the details above and the added tips.
The stuffing and turkey weight majorly affect the cooking, so adjust accordingly.
Provided the basics like 165F final temperature and oven heat are considered, feel free to try it out and let your family this delicacy.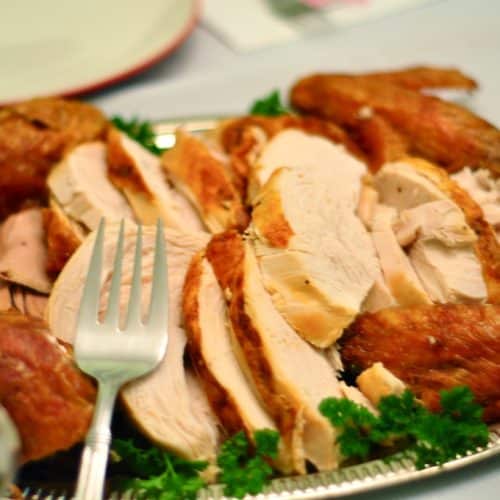 Oven-baked Turkey
It's on Thanksgiving eve and you've just finished preparing your turkey for baking.
Ingredients
1/4

pound unsalted

butter.

1

lemon

zested and juiced.

1

teaspoon chopped fresh

thyme leaves.

1

fresh

turkey

Kosher salt.

Freshly ground

black pepper.

1

large bunch

fresh thyme.
Instructions
Preheat the oven to 350 degrees F.

Melt the butter in a small saucepan.

Take the giblets out of the turkey and wash the turkey inside and out.

Roast the turkey about 2 1/2 hours, or until the juices run clear when you cut between the leg and the thigh.

Slice the turkey and serve.
Video
Nutrition
Calories:
107
kcal
Carbohydrates:
2
g
Protein:
0.4
g
Fat:
12
g
Saturated Fat:
7
g
Polyunsaturated Fat:
0.5
g
Monounsaturated Fat:
3
g
Trans Fat:
0.5
g
Cholesterol:
31
mg
Sodium:
92
mg
Potassium:
29
mg
Fiber:
1
g
Sugar:
0.3
g
Vitamin A:
410
IU
Vitamin C:
9
mg
Calcium:
11
mg
Iron:
0.3
mg
---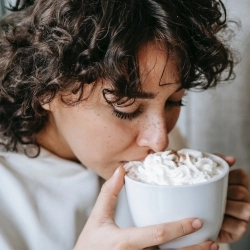 Latest posts by Grace Lambert
(see all)