Cheesy, meaty, and loaded with flavor, lasagna is the perfect comfort food that's a real crowd-pleaser.
While we all enjoy this classic entree, you can't help but wonder how long it takes to cook it for excellent results.
Well, we're about to find out.
Shall we?
So, how long should you cook lasagna?
Generally, lasagna should be baked at 375 degrees F for 45 minutes.
This cook time, however, is for when you use boiled noodles with the lasagna covered in foil.
Uncover in the last 10 minutes if you prefer a crusty surface or edges.
Let it rest for at least 15 minutes before serving to hold its shape.
This article will discuss the basic cooking instructions you should follow when cooking lasagna.
It will also provide a foolproof recipe that will turn you into a lasagna expert without experience.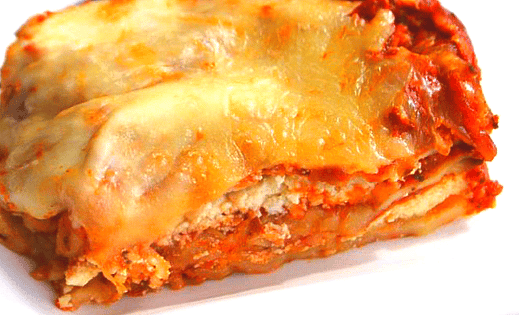 Lasagna cooking instructions
For basic procedure and assembly, you'll need to prepare the lasagna sheets, layer the ingredients, and bake.
However, if your lasagna is frozen, thaw it in the refrigerator for 36-48 hours before proceeding.
1. Conventional oven method
Preheat your oven to 350 degrees F
Place the lasagna in a small, ovenproof pan
Cover the lasagna pan with aluminum foil, tented slightly to avoid touching the noodles or sauce, and place it in the oven
Cook the lasagna for about 20 minutes until it reaches an internal temperature of 165 degrees (check the internal temperature with an instant-read thermometer)
Uncover the foil in the last 10 minutes if you'd like a crusty top or edges
Start heating the meat or marinara sauce in a small pan on the stovetop until it reaches 165 degrees F
Carefully remove the lasagna from the oven and pour the sauce over the lasagna and sprinkle cheese
Return the lasagna to the oven for about 5 minutes. Once ready, the lasagna will be hot and bubbly, with the cheese melted
Garnish with parmesan and parsley if desired, then serve.
2. Microwave method
With the microwave method, you'll need to thaw the lasagna first with the microwave defrost setting for 5 minutes if frozen.
Place a single serving of lasagna on a microwave-safe dish and sprinkle a little sauce or water on top to prevent drying while it cooks.
Set your microwave on high and cook for 4-6 minutes or until the cheese is melted through and the noodles are tender.
Ensure the lasagna reaches an internal temperature of 165 degrees F, as it'll guarantee a safe eating experience while preserving the quality of your dish.
Heat the meat or marinara sauce in a small pan on the stovetop until 165 degrees F.
Remove the lasagna from the microwave and carefully place it onto a serving dish
Pour the sauce over the lasagna and garnish it with parsley and parmesan cheese if desired.
Common lasagna mistakes to avoid
Preparing lasagna is undoubtedly a labor of love.
It involves a series of steps and a chunk of patience, especially if you're making it for the first time.
That said, there are little mishaps that happen but are entirely avoidable.
The most common mistakes include:
1. Overcooked noodles
If you decide to make the pasta from scratch, ensure you spread it thinly and boil it in water with a sprinkle of oil to avoid the sheets from sticking to each other.
Boil the sheets for four to five minutes to just under al dente.
If you go higher than this, you'll end up with overcooked noodles that will give a mushy outcome as you'll still be cooking them again in a hot oven.
Once boiled, drain and place the lasagna sheets in cold water.
2. Clumpy noodles
Avoid dumping your noodles in a strainer together, as they'll quickly become clumpy.
Instead, lay each pasta flat on an oiled baking sheet or stack them between layers of parchment paper.
This requires a lot of time, but the outcome is worth it.
3. Skipping on the Béchamel Sauce
A perfect lasagna requires a béchamel sauce and a tomato-based marinara sauce.
You can substitute it with a meat ragú with plenty of milk or cream.
A cream-based sauce helps keep the lasagna moist while countering the acidity of the tomatoes.
However, ensure you don't go overboard, as too much of this sauce can ruin your dish.
4. Starting the Layers with Noodles
Always start the first layer of your lasagna with sauce, as it helps keep everything moist and ensures that the noodles won't stick to the pan.
Cover the pasta sheets with generous filling without exposing a single corner.
However, you shouldn't put too much or too little.
You won't get that perfect slice if you go heavy on the filling between the layers.
Similarly, the pasta flavor will be overbearing if you put too little.
5. Using the Wrong Cheese
Most people get it wrong when it comes to the choice of cheese for their lasagna.
While most people prefer ricotta cheese in lasagna, it messes with end-result.
Your lasagna will become dry and cracked at the surface.
However, if you still prefer using ricotta cheese, you can counter the dryness by beating it with an egg, herbs, salt, and pepper before smearing it on your pasta sheets.
For best results, use parmesan cheese, which adds an extra kick to your lasagna with its salty and nutty flavor.
6. Leaving your lasagna uncovered while baking
Covering your lasagna while baking ensures it cooks evenly without drying out.
Just flaky and crispy on the top and edges and firm in the middle.
Cover with aluminum foil halfway through the baking process to prevent an overcooked surface and an undercooked interior.
Remove the foil in the last 10 minutes if you desire a delicious crispy crust.
If it still looks pale once it's fully cooked, you can turn on the broiler to speed up the browning while keeping an eye on your dish to prevent it from getting burned.
7. Eating it immediately
Baked pasta, including lasagna, should always be allowed to rest for at least 15 minutes once removed from the oven.
When resting, ensure your lasagna is uncovered to let it cool and breathe.
This will help prevent it from becoming watery and sloppy and maintain its shape when cut.
However, according to the USDA, lasagna shouldn't be left out for more than two hours to be completely safe for human consumption.
That's because bacteria multiply at room temperature, resulting in food poisoning.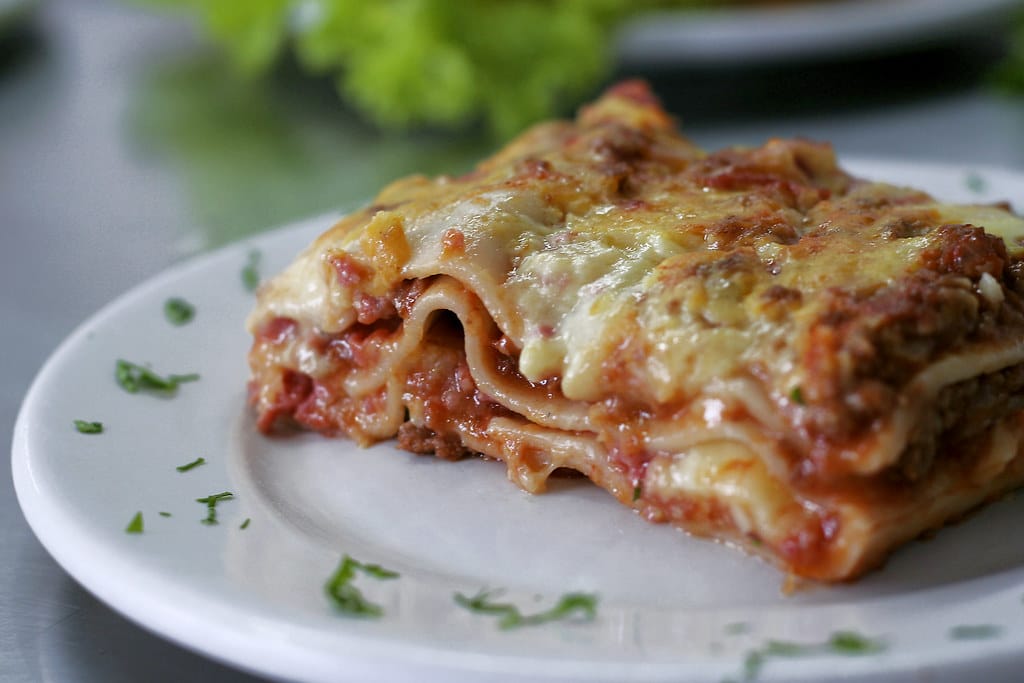 Easy homemade lasagna recipe
This simple recipe packs a punch on the flavor but can also be made ahead of time as it freezes well before and after baking.
You also don't need to be an expert to make this dish, as all these steps are easy for anyone to follow.
Ingredients
12 lasagna noodles uncooked
4 cups mozzarella cheese shredded and divided
½ cup parmesan cheese shredded and divided
Tomato sauce
½ pound lean ground beef
½ pound Italian sausage
One onion diced
36 ounces pasta sauce *see note
Two tablespoons of tomato paste
One teaspoon of Italian seasoning
Cheese mixture
2 cups ricotta cheese
¼ cup fresh parsley chopped
One egg beaten
Instructions
Heat oven to 350°F. Cook pasta al dente according to package directions. Rinse under cold water and set aside
Brown beef, sausage, onion, and garlic over medium-high heat until no pink remains. Drain any fat
Stir in pasta sauce, tomato paste, and Italian seasoning. Simmer for 5 minutes
Make Cheese Mixture by combining 1 ½ cups mozzarella, ¼ cup parmesan cheese, ricotta, parsley, and egg
Add 1 cup of meat sauce to a 9×13 pan
Top with three lasagna noodles. Layer with ⅓ of the Cheese Mixture and 1 cup of meat sauce
Repeat twice more
Finish with three noodles topped with the remaining sauce
Cover with foil and bake for 45 minutes
Uncover, sprinkle with remaining cheese (2 ½ cups mozzarella cheese and ¼ cup parmesan), and bake for 15 minutes or until browned and bubbly. Broil 2-3 minutes if desired
Rest 10-15 minutes before cutting and serving.
How to make ahead, freeze, and reheat lasagna
Make ahead
Not only can you make lasagna ahead of time and keep it in the fridge for up to 24 hours, but you can also make an extra batch and freeze it too.
The lasagna can stay in the refrigerator for three days.
To freeze
You should freeze lasagna after assembling but before baking it.
Cook double or triple the recipe and freeze it for a later date.
Allow lasagna to cool completely before storing it in the freezer.
Your lasagna will stay fresh for up to three months.
When you're ready to cook, defrost it in the refrigerator overnight and bake as suggested.
To reheat lasagna
Preheat the oven to 350 degrees F.
Drizzle a few tablespoons of water around the edges and on the surface of the pasta and heat for about 30 minutes.
Your lasagna should be piping hot, soft, and cheesy, ready to be served.
FAQs
Q: How long to cook lasagna at 350?
A: For cooked noodles, it will take about 30-45 minutes to bake at 350 degrees F.
However, it will take 45-60 minutes if you use no-boil noodles.
Wrap aluminum foil around the baking dish to prevent your lasagna from getting dry.
Q: How long to cook lasagna at 375?
A: Baking lasagna at 375 degrees F will take about 45 minutes to cook.
This cook time, however, is for when you use boiled noodles with the lasagna covered in foil.
Q: What happens if you don't cover lasagna?
A: If you leave your lasagna uncovered in the oven, it will become dry.
Ensure you cover your lasagna with aluminum foil for a portion of the cooking time and uncover it once it's halfway through.
This will help brown its surface and edges for a delicious crispy taste.
In conclusion
Following the recommended lasagna cooking time will ensure a safe eating experience while maintaining the quality of your dish for a soft, moist, delicious meal.
Ensure you measure the internal temperature of your lasagna with a food thermometer before removing it from the oven, with a 15 minutes rest before cutting and serving.
The outcome will be lasagna that's both safe and perfectly done.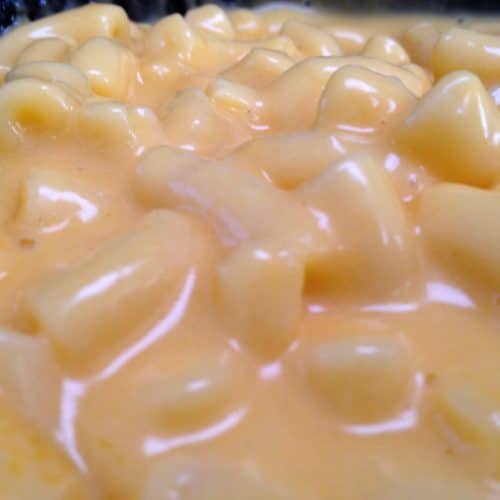 Stouffer's Vegetable Lasagna Recipe
It's a dish packed with fresh vegetables and cheesy goodness, making it perfect for any occasion.
Ingredients
½

pound

Lasagna noodles

⅓

cup

of flour

⅓

cup

of melted butter

¼

cup

of olive oil

3

cups

of milk

1

onion

chopped

Salt

1

egg

1

pinch

of nutmeg powder

3

cloves

garlic

minced

1

red pepper

chopped

3

cups

vegetable broth

½

cup

of finely ground broccoli

chopped carrots, onion, and spinach. Well-drained

2

cups

of Mozzarella Cheese

½

cup

of Parmesan Cheese

1

can diced tomatoes

undrained

1

cup

of buttered bread crumbs.
Instructions
When making the white sauce, melt the butter in a medium saucepan over low heat. Once melted, add the flour and whisk together until smooth. Raise the heat to medium and slowly pour in the milk, whisking continually until the mixture thickens. Be vigilant to avoid it sticking at the bottom of the pan and scorching. Once thick, add the salt, pepper, and nutmeg to taste. Set it aside to cool.

Cook the Lasagna noodles according to the package directions. Drain and rinse with cold water to stop the cooking process.

Using a big bowl mix all the vegetables together, mozzarella Cheese, parmesan cheese, egg, and garlic. Let it mix well.

Spread the white sauce on the bottom of the baking dish. Make layers of cooked Lasagna noodles, vegetables, and mozzarella cheese. End with noodles and white sauce. Garnish the layers with bread crumbs.

Bake at 350 degrees Fahrenheit for 25 minutes or until the cheese is melted. While baking, cover the pan with aluminum foil. When bubbly, uncover and allow it to brown at the top for an additional 5 minutes.

Allow the Stouffer's Vegetable Lasagna to cool for 5-10 minutes. Cut into squares and serve. Alternatively, refrigerate or freeze for later use.
Video
Nutrition
Calories:
844
kcal
Carbohydrates:
99
g
Protein:
24
g
Fat:
40
g
Saturated Fat:
16
g
Polyunsaturated Fat:
4
g
Monounsaturated Fat:
16
g
Trans Fat:
1
g
Cholesterol:
104
mg
Sodium:
1349
mg
Potassium:
857
mg
Fiber:
7
g
Sugar:
20
g
Vitamin A:
2329
IU
Vitamin C:
61
mg
Calcium:
373
mg
Iron:
5
mg
---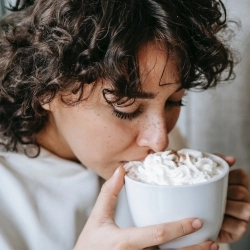 Latest posts by Grace Lambert
(see all)