If you are looking for an easy and delicious way to prepare sausage, this recipe is perfect.
The Italian Sausage in Air Fryer takes just minutes to cook and is sure to be a hit with your family and friends.
The sausage was initially made of pure pork.
Still, because we live in a society of fatties (overweight people), the sausages were adulterated with things like soy to make them leaner.
Italian Sausage is usually made in two different ways.
One way is to pack all the ingredients together in a sausage netting and hang it in the oven for smoking.
The other way is to simply grind up all the spices and meats together and then stuff it into sausage casings.
I prefer the first way of doing it because I like the taste of smoking and sausage hanging in the oven, but both methods are acceptable if you know what you're doing.
I have to admit that sausage, especially Italian sausage is one of my favorite meats. It's tasty, and it's low-fat meat.
And even better if you can get a version that has flavor without all the added crap in it, like high fructose corn syrup or other preservatives.
There is nothing wrong with adding flavor to meat, but there are ways to add flavor without all the junk.
For this recipe, I chose to use sausages from Trader Joe's.
They don't add any junk, and they taste pretty good too.
The only downside is that they're already cooked when you buy them and contain soy protein concentrate (a filler).
This air fryer was more than just an appliance.
It's a new food adventure that will change how we cook our low-fat meats at home!
No more frying or baking anything in oil! You can now cook anything in your Air Fryer without added oils!
Is Oil needed for cooking?
Well, my answer is No.
You can cook anything without the oil, but there might be a difference in taste depending on the food you're cooking.
For example, when I made French fries in this air fryer without any oil, they came out soggy and not crispy like when it's deep-fried with oil.
However, when I used just a little bit of Olive Oil spray on them before putting them into the Air Fryer, they turned out to be crispy outside and tender inside, just like how it was in the Deep Fat frying process!
In most cases, you only need to spray the food with a minimum amount of oil for it to come out tasting great.
Also, if you're using fatty meats like beef or pork, I don't even use any oil at all!
What are the benefits of not frying your foods?
Of course, you would be saving so much time and energy by not doing the frying process.
Frying food takes a lot of time;
15 minutes can go by fast when deep-frying foods!
Also, the fats in fried oils are never good for your heart (that's what I've heard at least) because too much of it can raise your cholesterol level.
By using olive oil spray, you're making a healthy choice because the fats in this oil are good for your heart and help fight cancerous cells!
These positive points add up to saving time and energy while cooking, so what's not to like about it?
What are some storage tips?
If you're going to use the air fryer daily and store your foods in the freezer, I suggest you buy extra vacuum bags/zip lock bags.
Even though it's safe to reheat frozen cooked foods in the air fryer at 180C for 10 minutes, there might be some changes to the food taste and texture because it's been frozen twice and thawed once.
I think you should only freeze and re-heat cooked foods three times maximum.
After that, I suggest you cook it fresh and enjoy the taste!
Also, make sure to store all your leftover air fryer food in an airtight container or zip lock bag to keep all the flavors intact.
Does Air Fryer cook any differently compared to other cooking techniques?
Yes! After transforming my deep-fryer into an air fryer, I noticed that the heat circulates the food faster, cooking it more quickly.
The result is that this machine cooks everything evenly on all sides of the food!
Even though I had to change my usual cooking techniques to get the desired results, I never felt like it was a big hassle.
I've always wanted to get an Air Fryer for cooking meat but never needed to get one since I already own a Deep Fat Fryer.
With this new "Air" technology, I can finally use it for cooking my favorite foods without worrying about the health risks that come with deep-frying!
I've always loved fried foods, but now I can make them in a way that's healthier for me.
How long do you cook sausage in an Air Fryer?
I cooked the sausages for about 10 minutes and kept shaking them every few minutes to get them well-cooked.
I could have cooked the links for a little longer if it weren't for my kids, who ate up all the Italian Sausage before it was done cooking!
What kind of meat is best cooked using an Air Fryer?
I think all meats are good in the Air Fryer if you know how to cook them.
Using this kitchen appliance, sausages, chicken wings, and even ribs are well cooked.
However, I would say fatty meats don't come out tasting super awesome when cooked in an air fryer since they tend to get dry and lack the deep-frying flavor they offer.
But if you put a little oil on them before putting them in, they taste just as good!
I've even cooked salmon with a tiny bit of olive oil spray, and it turned out great too.
Since I've been using my air fryer almost every day, I feel like it's the best kitchen appliance ever!
I can cook so many things in half the time and preserve all the healthy benefits of cooking without oil.
Overall, I think the air fryer is a great appliance to have in your kitchen.
It's saved me time and energy when cooking, and the food comes out tasting just as good as if it were deep-fried.
I hope you've enjoyed this post about cooking Italian sausage in an air fryer.
If you have any questions or comments, please feel free to leave them below, and I'll get back to you as soon as I can.
Thanks for reading!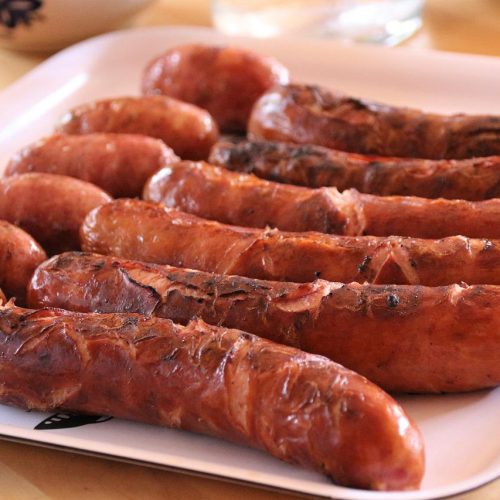 Italian Sausage in Air Fryer
The Italian Sausage in Air Fryer takes just minutes to cook and is sure to be a hit with your family and friends.
Instructions
Spray the food with a minimum amount of oil for it to come out tasting great.

cook the sausages for about 10 minutes and kept shaking them every few minutes to get them well-cooked.
Video
Nutrition
Calories:
973
kcal
Carbohydrates:
2
g
Protein:
40
g
Fat:
88
g
Saturated Fat:
32
g
Polyunsaturated Fat:
11
g
Monounsaturated Fat:
41
g
Cholesterol:
213
mg
Sodium:
2047
mg
Potassium:
708
mg
Vitamin C:
6
mg
Calcium:
50
mg
Iron:
3
mg
---