Salmon is the best meat option when looking for something that requires little preparation and is easy to cook regardless of the size.
However, this fish easily overcooks, which may make you wonder how long it takes to bake it perfectly.
So, how long to bake salmon?
Salmon bakes for twelve to fifteen minutes under 400F.
However, this duration may vary depending on the fish's thickness.
Moreover, frozen salmon takes about fifty percent more of this time to cook through.
That said, salmon should cook till it reaches an internal temperature of 145F.
Here is a description of the suitable period for baking salmon.
Additionally, there are guidelines on telling if your salmon has cooked through and tips for baking this fish to perfection.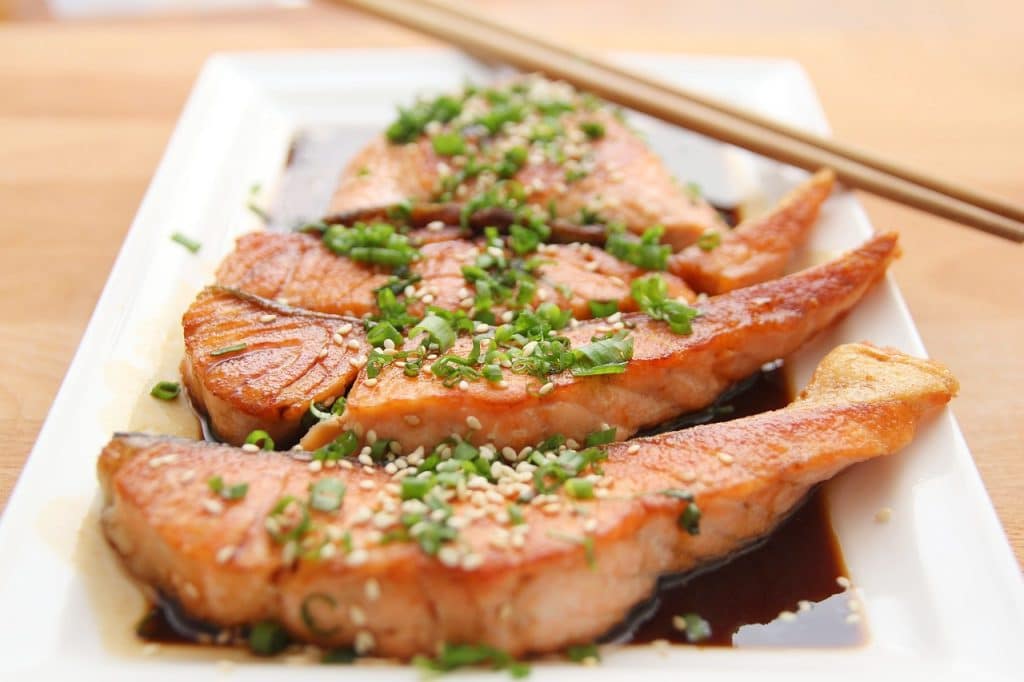 How long should I bake salmon?
The duration of baking salmon varies due to their thickness, size, and oven temperatures.
A pound of salmon takes longer than a few ounces of fillets to cook.
On the other hand, cooking at 350F will take longer than 400F to bake salmon.
That said, a portion of salmon takes eighteen minutes to bake while a whole fillet requires twenty-four minutes to cook through at 350F.
At 400F, a small salmon portion bakes for fourteen minutes, while a fillet needs seventeen minutes to be ready.
Lastly, you must bake a piece of salmon for ten minutes while a fillet cooks for twelve minutes.
This means that, when following a recipe, it's vital to follow the stated guidelines to get the perfect piece of salmon.
The appropriate temperature for baking salmon
The safe temperatures for baking salmon are between 350F and 450F.
You can bake salmon at different temperatures for different outcomes.
For a crispy salmon, bake at 450F, but if you want a flavorful and moist fillet, let it cook at 350F.
It's also advisable to bake your salmon at 350F if it's marinated to avoid burning the soup.
However, when dealing with a dry seasoned salmon, bake the fish at high temperatures to get a moist salmon with crispy skin.
If your oven works perfectly, you could start baking at 425F and then increase it to 450F.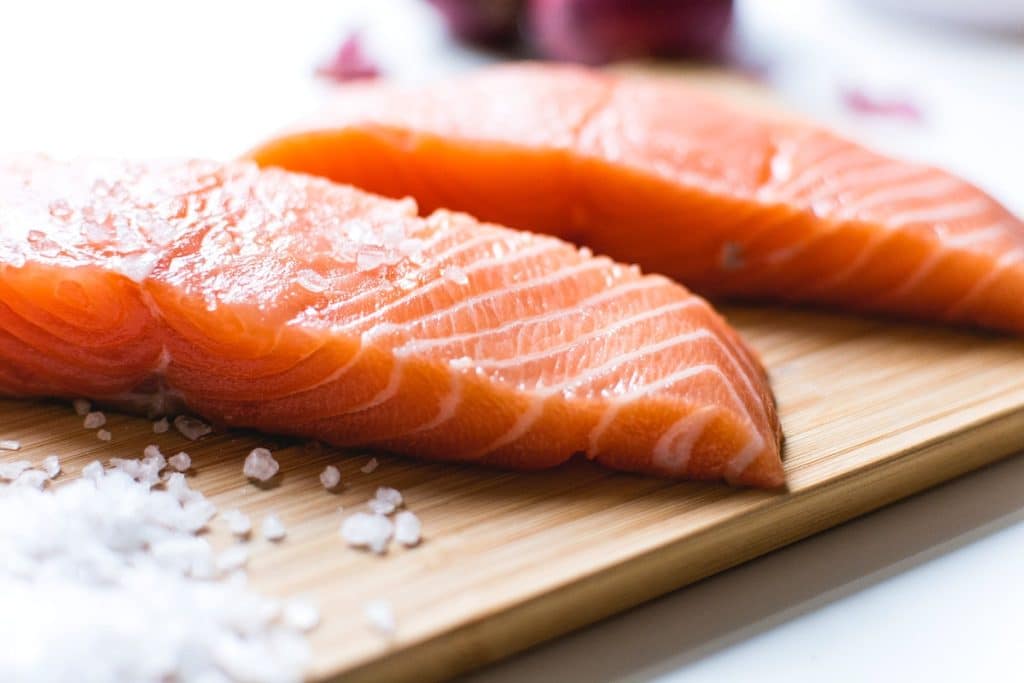 Safe internal temperature for salmon
Salmon should cook till its internal temperatures reach 145F.
However, since this fish continues to cook even after taking it off the fire, you could bake salmon till 130F and then let it sit for a few minutes before serving.
You must always check if salmon has cooked through using a meat thermometer.
This is because undercooked salmon may contain bacteria like salmonella, which cause food poisoning.
This condition can be fatal; visit the hospital immediately if you show the symptoms below after ingesting half-baked salmon.
Diarrhea
Stomach pains
Vomiting
Nausea
Fever
Chills
Headache
Blood in stool
Baking salmon
Baking salmon is quick and easy.
It involves the following steps.
Heat up the oven to 350F.
Line a baking dish with aluminum or parchment paper
Spray some cooking oil on the baking dish
Place the salmon on the dish, skin side down. Ensure that fillets don't touch each other, so they cook through evenly.
Season your salmon. It's advisable to use simple seasonings like salt, lemon juice, and pepper to avoid overpowering salmon's flavor. However, you can add other preferable spices and herbs.
Place the baking sheet in the oven and let the fish cook for twenty-five minutes uncovered. This time may vary depending on the salmon's thickness hence use a thermometer to confirm if it's done.
Once cooked, remove the salmon from the oven and let it rest for three minutes before serving. This step is vital to allow the juices to spread evenly through the salmon.
Tips for baking salmon to perfection
Below are guidelines you should follow when baking salmon to get excellent results.
Always rinse the salmon before baking to remove dirt
Dry the salmon by patting it with paper towels. This is because moisture prevents fish from getting crispy.
Never forget to preheat the oven before baking. A heated oven allows the fish to start cooking immediately and bake evenly.
Ensure the baking sheet is lined with aluminum foil or parchment paper before cooking. This prevents the fish from sticking hence making the cleaning process more manageable.
Season salmon with salt, pepper, and any other spices you enjoy to enhance the fish's taste.
Try and use fresh salmon at all times. Frozen fish tends to dry out quickly during baking.
Flip the salmon when it's halfway done to allow both sides to cook uniformly.
Remove salmon from the oven immediately after it's cooked to prevent overcooking and drying.
Use refined olive oil or granola when baking salmon. These two are high-heat oils and won't cause smoking.
How to tell when salmon is done
The best way to tell if your salmon has cooked through is by using a meat thermometer.
If the internal temperature of the fish gets to 145F, then it's ready.
That said, you can also check if salmon is done using the following methods.
Slipping a fork or knife into the salmon and twisting gently – If the salmon flesh is opaque and breaks easily, it has cooked through.
Checking the juices – Unlike other meats that produce clear juices, cooked salmon produces white juices when porked.
Pressing the top of the salmon. A weel done fish is springy and has a firm texture.
Baking frozen salmon
In case all you have is frozen salmon, and there's no time to run to the grocery store and back, below are tips on how to bake it perfectly.
Defrost the salmon to reduce the baking time. You could either use a fridge to thaw this fish overnight or keep it in a bowl of cold tap water for some hours.
Cook the salmon within twenty-four hours after defrosting and avoid refreezing after baking. This is because the fish could lose most of its flavor.
Let it cook for fifty percent more time than the regular salmon. This is because the fish must thaw before it begins to cook.
Use a thermometer to confirm if it has cooked through. The outer meat can appear coked while the middle part is still frozen.
Frequent mistakes when baking salmon
Although cooking salmon is simple and fast, it's easy to end up with a dry or overcooked piece of fish.
In this regard, below are some common mistakes to avoid when baking salmon.
Using little oil – Salmon quickly dries out and sticks to pans. In this regard, it's essential to use enough oil when baking this fish to prevent such instances.
Serving immediately – Let salmon sit for two to three minutes before serving to allow the flavors to spread evenly through the fish.
Seasoning with salt too early – This will draw most of the moisture from your fish, making it dry. Add salt right before baking to prevent this from happening.
Overcooking – Leaving salmon for longer than needed will result in a dry and tough fish that isn't fun to chew.
Buying salmon
There is a wide selection of salmon in the grocery store.
Below is a guide on choosing a suitable variety for your dish.
Skin on or skin off
When pan frying' you might need to use skin-on salmon to prevent it from drying out or burning.
However, boiling and poaching require skin-off salmon as it won't burn.
That said, you can use both varieties when baking.
Wild caught or farm-raised salmon
Although wild-caught salmon has fewer contaminants than farm-raised salmon, it's also quite pricy.
That said, they are both excellent sources of omega-3 fatty acids that are vital in enhancing brain and heart health.
In this regard, buy the variety that suits your preference.
Fresh or frozen
Always buy frozen fish at the store.
Unless you live by the sea or a freshwater body, most fish is frozen and then defrosted at the grocery store.
You may never know how the salmon was defrosted; buy fish that is still frozen and let it thaw at home.
How to store baked salmon
You can safely store baked salmon in the fridge for two or three days.
Place it in an airtight container before placing it in the refrigerator to prevent getting the smell of other foods.
To store your baked salmon for two to three months, wrap it in plastic wrap and aluminum foil, then place it in the freezer.
It's advisable to name it with the storage date, so it doesn't go past the safe period.
Frequently asked questions(FAQs)
How long to bake salmon per pound?
A pound of salmon bakes for about twenty minutes.
However, this may vary depending on the thickness of your salmon.
What's the white stuff that salmon produces?
The white stuff that salmon produces during cooking is a protein known as albumin.
This compound keeps the fish moist during cooking and isn't toxic.
How do I make my salmon crispy?
You can make your salmon crispy by broiling it after cooking.
Put it on a baking sheet and place it under the broiler until the top turns brown.
Should I bake salmon at 350F or 400F?
You can bake salmon at either 350F or 409F, depending on your preference.
Bake your fish at 350F if you like it cooked through.
However, if you prefer a pink center, bake salmon at 400F.
How long to bake salmon in the air fryer?
Salmon cook for six to eleven minutes in an air fryer.
Preheat the oven to 400F and cut the salmon into fillets before baking.
To conclude
Salmon bakes for fifteen minutes at most when cooked under 400F.
However, use a meat thermometer to ensure the internal temperature reaches 145F before taking it out of the oven.
That said, always line the baking sheet with parchment paper before baking for easy cleaning, and season your fish to enhance its flavor.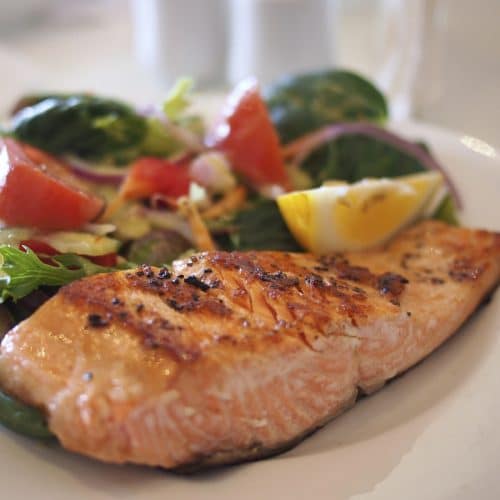 Baking Salmon Recipe
Baking salmon isn't complicated; with a few simple tips, you can have perfectly cooked salmon on the table in no time.
Equipment
1 oven

1 Parchment paper

1 fork
Ingredients
1-3

pound

salmon fillets

Salt

Pepper

Lemon wedges
Instructions
Preheat your oven to 350 degrees F.

Line a baking sheet with parchment paper and set it aside.

Rinse your salmon fillets under cold water and pat them dry with a paper towel.

Season the fillets generously with salt and pepper on both sides.

Place the salmon skin-side up on the prepared baking sheet.

Bake for 18-22 minutes, or until the salmon is cooked.

The cooking time will vary depending on the thickness of your fillets.

To check if the salmon is ready, insert a fork into the thickest part of the fish.

If it flakes easily, it's ready to eat.

Remove the salmon from the oven and squeeze fresh lemon juice over each fillet.

Serve immediately with your favorite sides.
Video
Nutrition
Calories:
129
kcal
Protein:
18
g
Fat:
6
g
Saturated Fat:
1
g
Polyunsaturated Fat:
2
g
Monounsaturated Fat:
2
g
Cholesterol:
50
mg
Sodium:
40
mg
Potassium:
445
mg
Vitamin A:
36
IU
Calcium:
11
mg
Iron:
1
mg
---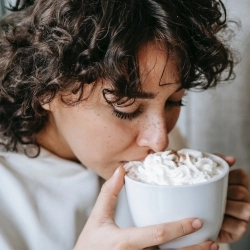 Latest posts by Grace Lambert
(see all)