Incredible meatloaves are a delicious staple in many families.
They're tangy, soft, and desirable.
However, if you don't cook them for the recommended time, they can surely ruin your moment.
Hence, understanding how long to cook meatloaf at different degrees is significant.
So, how long am I supposed to cook meatloaf at different degrees?
Banking on the temperature, loaf size, stuffing and whether you cover it or not, cooking times will differ.
The standard meatloaf cooking temperature at 350°F is 35 – 45 minutes per meatloaf pound.
While at 375°F is 25 – 30 minutes per meatloaf pound.
The recommended meatloaf internal temperature is160°F.
Undercooking or overcooking a meatloaf can be embarrassing, and also presents a risk of diseases caused by bacteria.
The knowledge of how long to cook meatloaf will enable you to attain your tasty meatloaf.
This article will cover how long to cook meatloaf and other related matters.
How long to cook meatloaf at 350°F?
At 350°F a meatloaf weighing 1 lb will take almost 35 – 45 minutes for its internal temperature to get to 160°F.
A 2 lb meatloaf will take almost 1 – 1 hour and 20 minutes for its internal temperature to get to 160°F.
While a meatloaf weighing 3 lb will take almost 1 and a half an hour – 2 hours for its internal temperature to get to 160°F.
How long to cook meatloaf at 375°F?
At 375°F a meatloaf weighing 1 lb will take almost 25 – 30 minutes for its internal temperature to get to 160°F.
A 2 lb meatloaf will take almost 40 – 50 minutes for its temperature to get to 160°F.
While a meatloaf weighing 3 lb will take almost 1 – 1 hour and 15 minutes for its internal temperature to get to 160°F.
The best temperature to cook meatloaf
In case you're yearning for meatloaf and utilizing a family riffing with any ingredients at your disposal, you may wonder what temperature to cook it.
Normally, the oven temperature is set at 350°F for baking a meatloaf.
That's the temperature believed to be the best for baking the meatloaf.
Ensure it cooks as desired and does not dry out early.
Extremely high temperature makes the outer crust of a meatloaf burn before its interior is acceptably cooked.
Very low temperature means you won't get that tasty crust.
However, when you set your oven to 350° F and open its door to place the meatloaf In it, you'll be starting the meatloaf in an oven whose temperature is lower than 350° F.
There's a simple fix for that though.
You can begin the oven at 425° F and then lower it to 350° F as soon as the meatloaf is in the oven.
This trick ensures that the earlier drop temperature doesn't have a large effect on the baking time.
The ideal way to ensure you don't undercook or overcook your meatloaf is to utilize a meat thermometer to test its internal temperature.
What Is the Right Internal Temperature for Meatloaf?
In the process of baking meatloaf, the recipe will notify you of how long to cook it.
But it may not inform you about the meatloaf's internal temperature when cooked.
And therefore, safe to consume at 160° F.
Similarly, the recipe won't account for your pan, oven, and how to shape your loaf.
Use a trusty instant-read thermometer, 15 minutes before the recipe appears it will be ready.
Take the meatloaf from the oven and get its temperature.
By taking the loaf out of the oven and closing its door, you ensure its temperature is more reliable.
Meatloaf Main Ingredients
Preparing a meatloaf might seem a bit costly, but here's a simple meatloaf recipe with limited ingredients.
Which you most likely have in your kitchen cabinet.
All you need is 30 – 45 minutes of your time, to let your family enjoy a delicious meal.
That practically takes care of itself.
Lean ground beef – select 90% lean beef for better outcomes.
Bread crumbs – this enables you to bind the meat mixture together and adds some flavor.
Herbs and seasonings – are what offer you a stunning taste that renders your meatloaf among the best.
Meatloaf glaze recipe – this is the tangy and sweet sauce that brings all the flavors in meatloaf together. It's also the finishing touch.
How do I Bake Meatloaf from Scratch?
In case you've not made an amazing meatloaf before, it most likely did not taste good, or it was too dry to eat.
This section is here to let you change all that unpleasant experience.
There are a few main aspects to recall when executing this easy meatloaf recipe:
To avoid making the mixture dense, mix the ingredients until they're combined, in a large bowl.
Lean beef is highly recommended for meatloaf.
Often give your meatloaf some time after baking, to ensure it maintains its juiciness before serving it.
Should I Cover Meatloaf When Baking It?
Probably you're wondering if it is necessary to wrap your meatloaf while baking it.
Or which techniques are most powerful for conserving moisture in your meatloaf?
This section has the answers to your questions.
Baking your meatloaf while covered with aluminum foil is worthwhile.
It prevents the meatloaf from getting dry at a high oven temperature.
Similarly, covering the meatloaf guards the oven against the messes, and greasy splatters, that can burn and cause an unpleasant smell.
Meatloaf Covering Procedure Before Baking
Covering your meatloaf guarantees you a soft loaf that is evenly baked.
To acceptably cover your meatloaf:
Put your meatloaf in your baking pan.
Loosely cover the pan using a single aluminum foil sheet and crinkle the ends around the loaf pan edges to protect the foil.
Ensure the aluminum is loose, to give room for the best heat, and air circulation. across the loaf pan.
Make sure you peel off the aluminum foil and permit the meatloaf to bake for the last 15 minutes uncovered to crisp its top.
Moreover, there are several advantages to using a foil cover.
They include guarding your oven against splatters of grease coming from the meatloaf and enabling the loaf to bake evenly.
Proven Tips and Tricks for Amazing Meatloaf Baking
Set up early – you can prepare the meatloaf blend before time, wrap the loaf pan using aluminum foil then, preserve it in the refrigerator.
Taste the mixture – in case you aren't sure if the flavor is right, fry up a small amount of the mix to taste it.
Give it an allowance – utilize a slightly bigger meatloaf pan to allow the meatloaf some breathing space as well as caramelized edges.
Conclusion
The answer to how long to cook meatloaf squarely depends on the oven temperature you choose to use, and the desired meatloaf weight.
Make sure you have your meatloaf's weight in mind before cooking.
So you can stick to the advisable temperature and timing.
If you bake for the recommended time, you'll enjoy your loaf's juiciness, and taste.
So don't ruin your memorable moments by either serving an undercooked or overcooked meatloaf.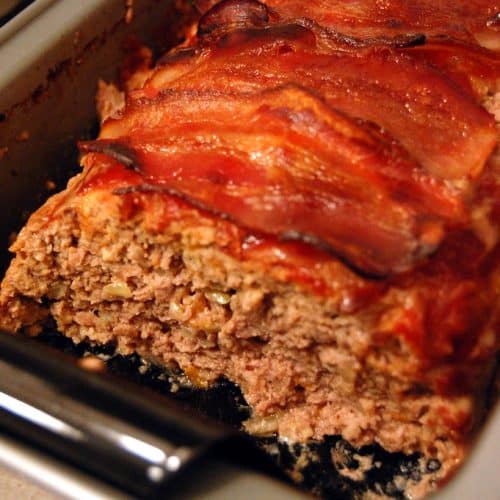 Meatloaf Recipe
Made the old-fashioned way, topped with a glaze of your liking, meatloaf can be one of the best ways to surprise your family.
Ingredients
1

tablespoon

butter

¼

cup minced

onion

2

cloves

garlic

minced

1 ½

teaspoons

salt

1 ½

teaspoon freshly ground

black pepper

2

pounds extra-lean

ground beef

3

slices

bread

toasted and crumbled

7

buttery round

crackers

crushed

1

egg

lightly beaten

3 ½

tablespoons

sour cream

1 ½

tablespoon Worcestershire

sauce

15

ounces

tomato sauce

divided

¼

cup

milk

3

tablespoons

ketchup
Instructions
Preheat the oven to 350 degrees F (175 degrees C).

Melt the butter in a skillet over medium heat, and cook onion and garlic until onion is soft and translucent about 5 minutes.

Remove from heat, and season with salt and pepper.

Combine onion and garlic, beef, crumbled bread, crushed crackers, egg, sour cream, Worcestershire sauce, and 1/2 a can of tomato sauce in a large bowl.

Mix until well combined.

Gradually stir in milk, one teaspoon at a time, until the mixture is moist but not soggy.

Transfer the mixture to a 5×9 inch loaf pan.

Bake uncovered in the preheated oven for 40 minutes.

Increase oven temperature to 400 degrees F (200 degrees C), and continue baking for 15 minutes to an internal temperature of 160 degrees F (70 degrees C).

Mix the remaining tomato sauce and ketchup in a small bowl.

Pour the meatloaf over the top, and continue baking for 10 minutes.
Video
Nutrition
Calories:
523
kcal
Carbohydrates:
19
g
Protein:
30
g
Fat:
36
g
Saturated Fat:
14
g
Polyunsaturated Fat:
2
g
Monounsaturated Fat:
15
g
Trans Fat:
2
g
Cholesterol:
145
mg
Sodium:
1196
mg
Potassium:
731
mg
Fiber:
2
g
Sugar:
6
g
Vitamin A:
511
IU
Vitamin C:
6
mg
Calcium:
92
mg
Iron:
5
mg
---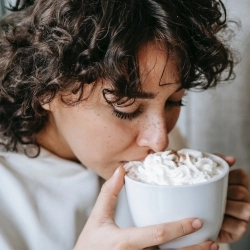 Latest posts by Grace Lambert
(see all)