Do you love fried shrimp and fries?
Then you will adore this recipe. You have frozen Breaded Shrimp in the Air Fryer!
When they think about fried food, a lot of people think about grease and fat.
However, today we present a fantastic way to enjoy deep-fried foods without oil and fat.
Not only that, but the Air Fryer is an easy way for you to get restaurant-quality deep-fried foods right in your own home.
Now, I do want to point out that any time you are cooking with oil, there is a risk of developing free radicals, and that's because when oil heats up, it breaks down into smaller molecules which then come in contact with the food.
As a result, you get that free radical exposure which increases your risk of cancer and other diseases and aging.
However, you can cook with antioxidant-rich oils such as coconut oil or avocado oil because these oils help fight off those free radicals caused by heating polyunsaturated fats in regular vegetable oils.
And avocado oil happens to be all the rage right now, so I will use some of that in my recipe.
What is AirFrying?
Air frying is the process of deep-frying your food using hot air, circulating it around instead of oil.
You can enjoy fried foods minus all that unwanted fat!
With the Philips AirFryer, you can cook up to 80% less fat.
Plus, with non-stick interiors and quick touch heating, your fried food will come out crispy on the outside and moist on the inside.
What can I make in my air fryer?
Anything! You can make from breakfast sandwiches to chicken wings and so much more!
This recipe is super simple: All you need is frozen breaded shrimp, avocado oil, seasoning of your choice, and an air fryer!
What are the benefits?
With this recipe, you get all that delicious seafood taste without having to go out for dinner or paying a ton of money at a price at the grocery store.
Air frying lets you cook your food fast and easy, without all that oil.
Plus, this recipe is a lot healthier than the traditional frying methods typically used to cook shrimp.
How long does it take?
It takes around 15 minutes to prep and 35-40 minutes to cook.
Shrimp doesn't take long at all, but make sure you keep an eye on it while it cooks!
How do I eat it?
You can eat your shrimp on its own or with a side of some healthier fries.
Remember, this is a healthier version of the traditional fried recipe, so go ahead and add all those delicious spices you want to give it that extra kick!
Why must you try?
With our Frozen Breaded Shrimp recipe in the air fryer, you get all that delicious fried taste but with less oil and more flavor.
Air frying lets you enjoy your favorite foods with less fat and more antioxidants!
So go ahead and try it out for yourself.
This is one recipe that's worth a shot!
How is it healthy?
The air fryer cooking method is a healthier alternative to deep-frying or pan-frying.
Instead of using a lot of oil, the air fryer uses only a small amount, most often butter or vegetable oil which you can use in moderation.
Plus, with this recipe for Frozen Breaded Shrimp, you get that delicious seafood flavor without all the fat!
What are the essential things to remember after finishing?
Be sure to allow the food to rest for a few minutes before eating.
This will help redistribute all of those yummy juices throughout your shrimp, steak, or whatever else you cooked up in your air fryer!
And another great tip is to keep your food moist by pouring some delicious marinade or sauce on it while it cools.
You can marinate for just a couple of minutes or up to overnight.
I recommend draining the excess oil by placing it on a sheet of paper towel, but only after the shrimp has cooled down.
What Should You Serve With Breaded Shrimp?
Breaded shrimp makes a great side dish to so many meals.
These are some of the other dipping sauces I like to add to the rotation:
Cocktail Sauce is perfect for dipping the shrimp in when you want a traditional take on this dish.
Horseradish Mayonnaise – if you love horseradish, this sauce is for you!
Wasabi Aioli -if you love wasabi, why not whip up some of this sauce next time? I bet it's delicious.
Tartar Sauce – if you've never had tartar sauce with shrimp, you're missing out! Give this a try.
Sweet & Spicy Sriracha Chili Sauce – if you like sweet and spicy together, this is the sauce for you!
Fresh Tomato Salsa – add some tomatoes and spice to your shrimp with some salsa. It doesn't get easier than that.
Tzatziki Sauce – A tasty combination of Greek yogurt with cucumber, garlic, and dill.
Pesto – Basil, pine nuts, and parmesan cheese blended to make this savory dipping sauce.
Hot Sauce – I always like to add a little heat when eating shrimp, so this is one of my favorites.
Cajun Spice – A spicy black pepper blend that adds a little zest to your shrimp.
Thai Sweet Chili Sauce – A delicious mixture of sweet chili sauce, garlic, sugar, and lime juice. Great for dipping!
Sweet Chili Sauce – Thai-style sweet chili sauce with ginger, garlic, sugar, and vinegar. If you enjoy the classic version, then this is for you.
Chartreuse Sauce – A delicious combination of shallots, mustard, and green peppercorns in red wine sauce.
Not only does shrimp taste delicious when breaded and fried, but it can be pretty healthy too!
I'm not saying we should eat shrimp every day or even every week, but it's a great source of protein, and the different breading recipes you can use on this seafood make it so much more enjoyable!
Breaded shrimp is something I love to eat from time to time as a treat.
Maybe your family will enjoy one of these recipes too!
I hope you've learned something new about breaded shrimp today!
Let me know if you have any questions or comments down below.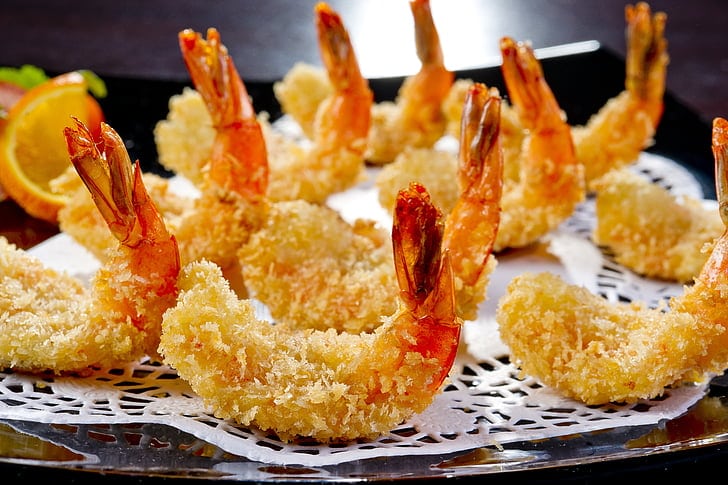 Frozen Breaded Shrimp in Air Fryer
With this recipe, you get all that delicious seafood taste without having to go out for dinner!
Instructions
Put in air fryer for 35-40 minutes
Video
Nutrition
Calories:
1
kcal
Protein:
1
g
Fat:
1
g
Cholesterol:
1
mg
Sodium:
1
mg
Potassium:
1
mg
Calcium:
1
mg
Iron:
1
mg
---