In this post, I list various kinds of food that begin with the letter O.
See the whole food dictionary!
Oat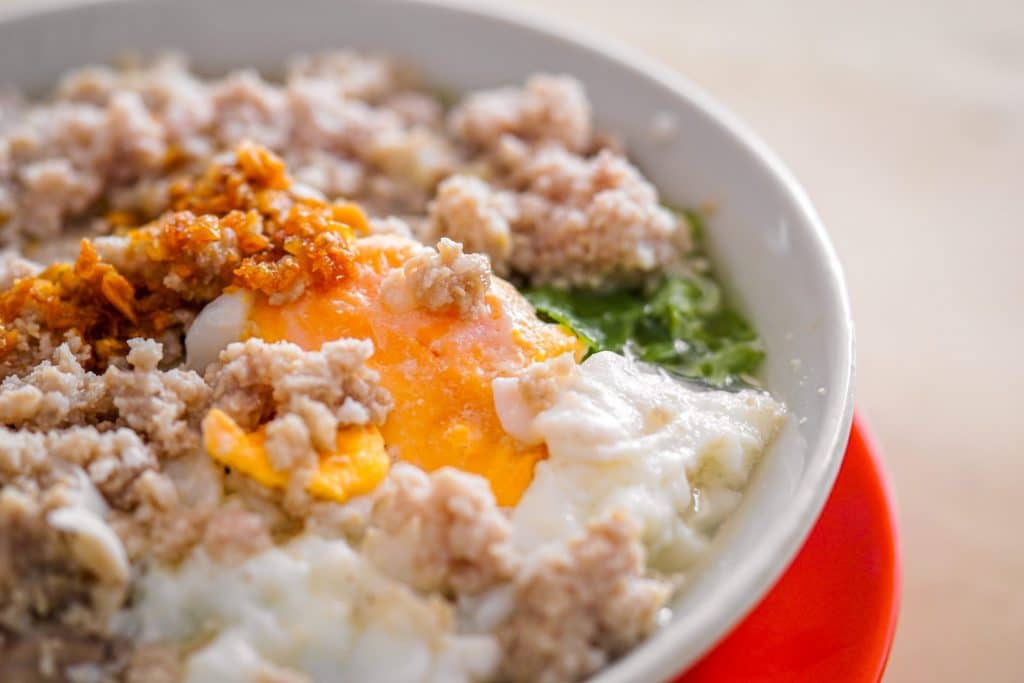 Cereal grain is known as the species Avena sativa of the family Poaceae.
It is grown for its seeds, used for making oatmeal flour and oat milk.
Being rich in fiber, iron, magnesium, phosphorus, manganese, and B vitamins, oats are considered incredibly nutritious.
It is often consumed as oatmeal.
Oatcake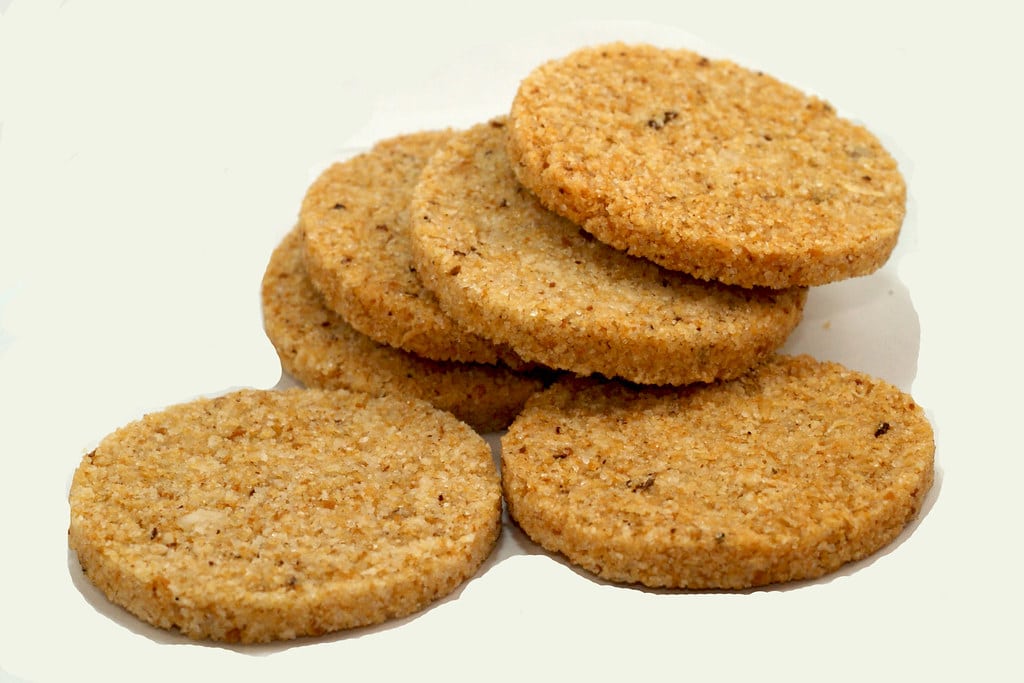 An oatcake is a type of flatbread similar to a cracker or biscuit, or in some versions takes the form of a pancake.
They are prepared with oatmeal as the primary ingredient and sometimes include plain or wholemeal flour as well.
Oatcakes are cooked on a griddle (girdle in Scots) or baked in an oven.
Savory oatcakes (or bannocks) are quintessentially Scottish.
Perfect with some hearty cheese, smoked salmon & dill, or chutney.
Oaxasa Cheese
Mexican cow's milk cheese.
Oaxaca is a round-shaped white cheese with a semi-firm consistency resembling mozzarella.
It was originally produced as a version of mozzarella cheese, but without the buffalo milk which was unavailable.
Therefore, cow's milk was used as a substitute, and a new type of cheese was created.
It is used in traditional Mexican recipes as a filling for pastries and in various tortilla dishes.
Octopus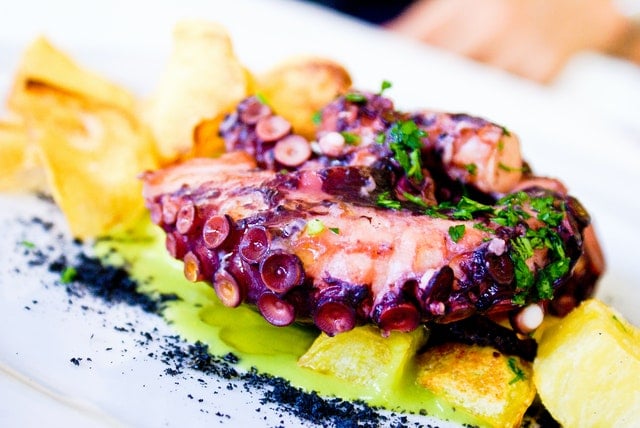 A group of mollusks in the class Cephalopodaalong with squads.
They can be found in deep areas of the oceans.
They are common in European, American, and Asian cuisine, eaten raw, boiled, pickled, and fried.
The octopus meat is flavorful, similar to lobster.
When cooked, it has a sweet, soft, and light flavor.
Oden
Japanese simmered one-pot dish, composed of hard-boiled eggs, daikon, fishcakes, and konjac.
It is similar to a stew but cooked in soy sauce broth, so it has a distinct flavor.
The ingredients can vary from region to region.
It can also include tofu and it is often seasoned with Karachi, a type of Japanese mustard.
Okra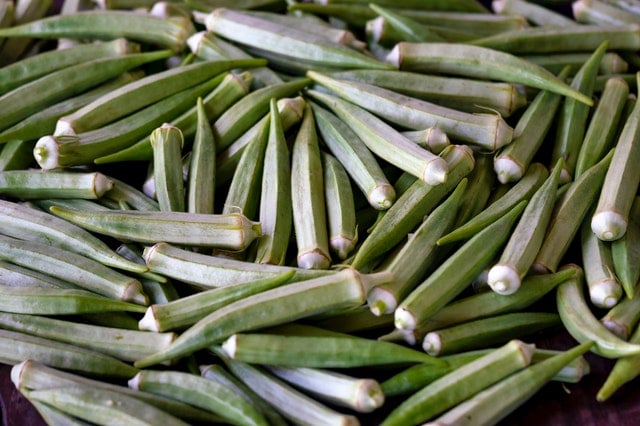 Okra, known also as ladies' fingers, is a green pod of Abelmoschus esculentus plant in the mallow family.
It is a small and firm pod, containing numerous edible seeds.
It is grown worldwide, mainly in hot climates, such as tropical, subtropical, and warm temperate regions.
It can be cooked in soups, stews, roasted, or added to salads.
It mostly consists of water with high values of vitamins B, C, and K.
Olive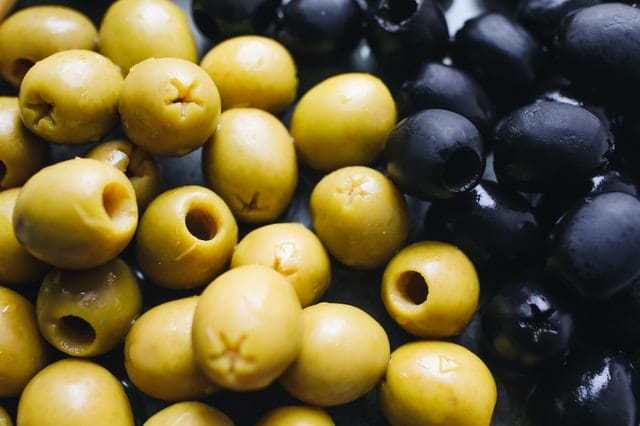 The edible fruit of the Olea europaea tree, native to the Mediterranean.
Olives are cultivated in hundreds of different varieties.
They can be harvested unripe when green or ripe when purple or black.
They are consumed fresh in salads, canned, and added to cooked and baked meals.
Olives are used in the production of olive oil, one of the most popular oils used in salads and in cooking.
Omellete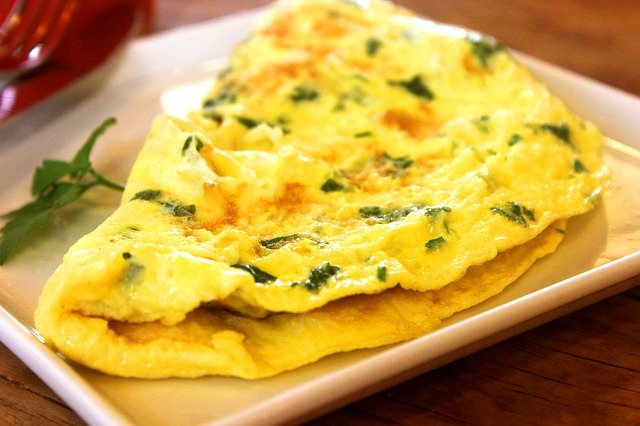 Omelet or omelet is a breakfast or brunch meal made of eggs as the main ingredient.
The eggs are beaten, seasoned, and fried in a pan without stirring until set.
The omelet can be filled with cheese, bacon, herbs, vegetables, or any other savory filling.
Typically, it is folded when done and served while still hot.
Onions
A vegetable in the family Amaryllidaceae, grown within the genus Allium along with garlic, scallion, shallot, leek, and chive.
Onions appear in the shape of white bulbs, covered with thin skin.
They are classified into three types based on their color: brown, red, and white onions.
They have a very juicy flesh, with a characteristic strong flavor and smell that bring tears to your eyes.
They are the basic ingredient for any cooked meal, along with garlic.
They can also be consumed raw in salads or pickled.
Onion cloute
An onion cloud is great for adding flavor to many different sauces and making a cloud is really easy to do.
Onion clout is typically used to the flavor bechamel sauce.
Clough is translated to 'studded' from French to English, which accurately describes the process of putting cloves into an onion to create studs.
Half an onion with a bay leaf studded by cloves is put into milk and heated.
This studded onion adds great taste and only takes a few minutes to prepare.
Onion Ring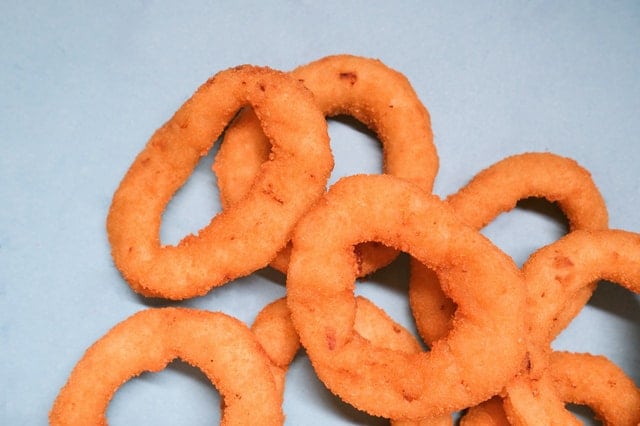 A dish made of sliced onions dipped in batter and deep-fried until golden.
This is a popular snack, appetizer, or side dish that originated in the United States but found in cuisines around the world.
It has a slightly crunchy texture on the outside, with soft, almost sweet, onion inside.
Opera Cake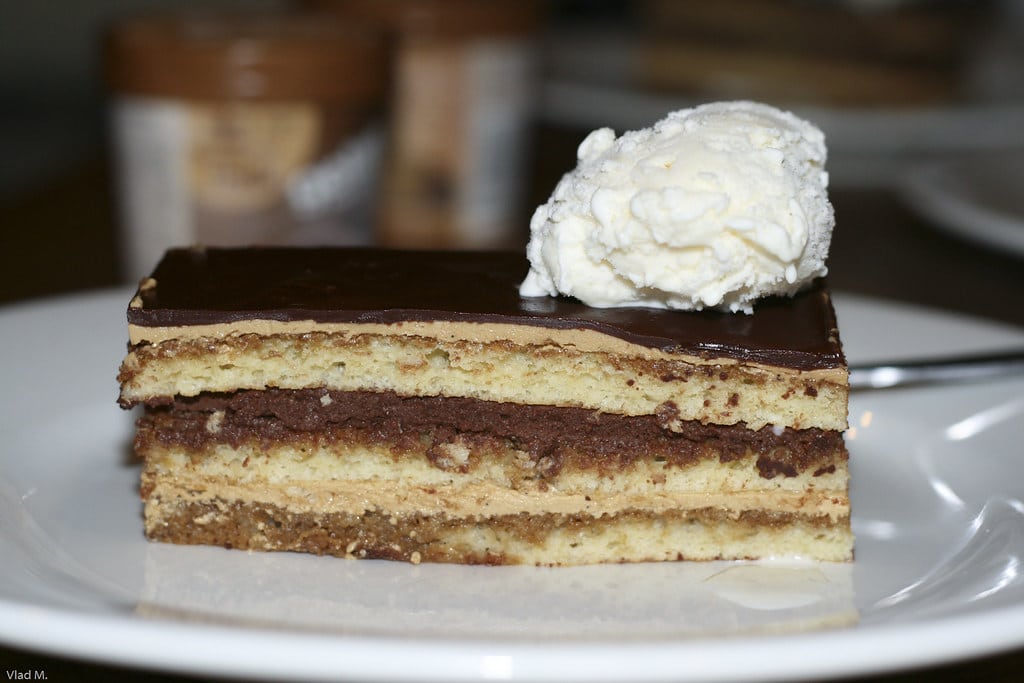 French dessert that consists of almond-flavored sponge cake soaked in coffee syrup and filled with layers of chocolate ganache and coffee buttercream.
It is topped with a glaze made of melted chocolate.
This cake has a rich, decadent taste, combining a sweet flavor of chocolate and a bitter coffee flavor.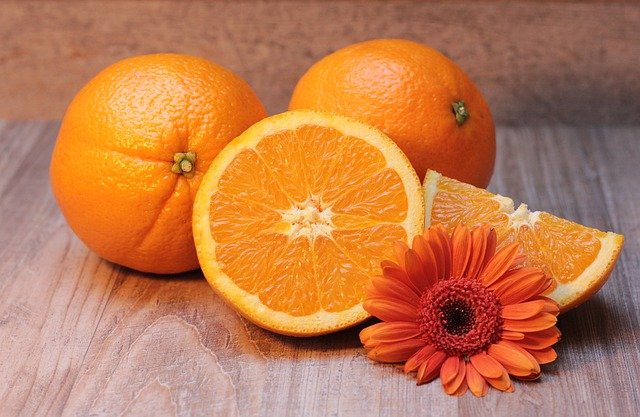 Round, orange-colored citrus fruit of the family Rutaceae.
This is a hybrid fruit, made using mandarin and pomelo.
It is native to Asia and cultivated in tropical and subtropical regions.
It has a juicy, sweet to sour flesh covered with thick skin that can be pealed.
Both pulp and peel are used to flavor desserts and add a fresh, citrus aroma.
Orange Flower Water
The aromatic alcoholic extract made from orange flowers, also known as orange blossom water.
It originated in the Mediterranean.
This fragrant extract is used as a flavoring for cakes, biscuits, sweet syrups, and cocktails.
Orata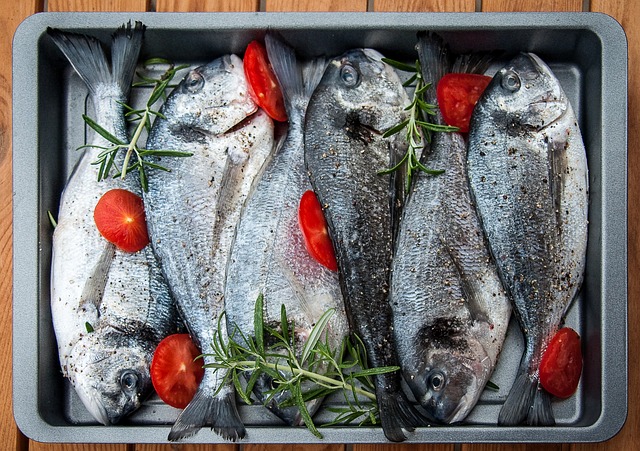 This is a simple poached fish dish typically found around the coastal areas of southern Italy.
Clean taste.
Firm texture.
Rich with omega-3s.
Orata (or sea bream) is sustainably farmed fish from Italy.
Its small size makes it ideal for a one-fish per plate dinner approach, letting guests take on a whole fish as their own culinary conquest.
Orata is exquisite brushed with a light, peppery olive oil, grilled whole, and finished with a touch of citrus or yuzu salt.
Oregano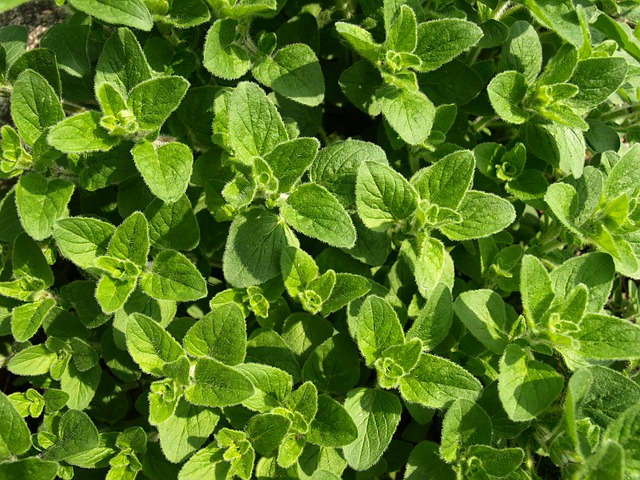 A peppery-flavored herb, native to the Western and Southwestern areas of Europe and Asia.
It is a member of the mint family and a close relative to marjoram, so it sometimes called wild marjoram.
It has dark green leaves that can be used fresh or dried to add an aromatic flavor.
It is especially used in Mediterranean cuisines to season Italian and Greek specialties.
Orzo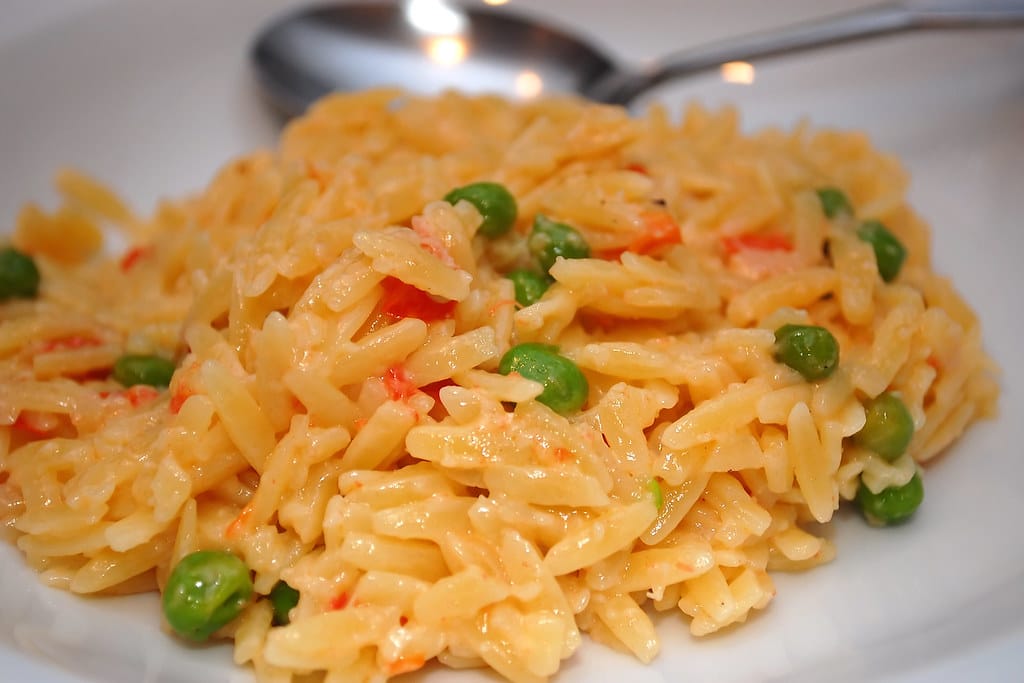 Italian rice-shaped pasta. It is made from white or whole grain flour.
This is a versatile type of pasta, that can be used in soups, salads, or baked dishes like a casserole.
Its name is translated as ''barley'' from Italian and it is also known as risoni (meaning ''large rice'').
Oscypek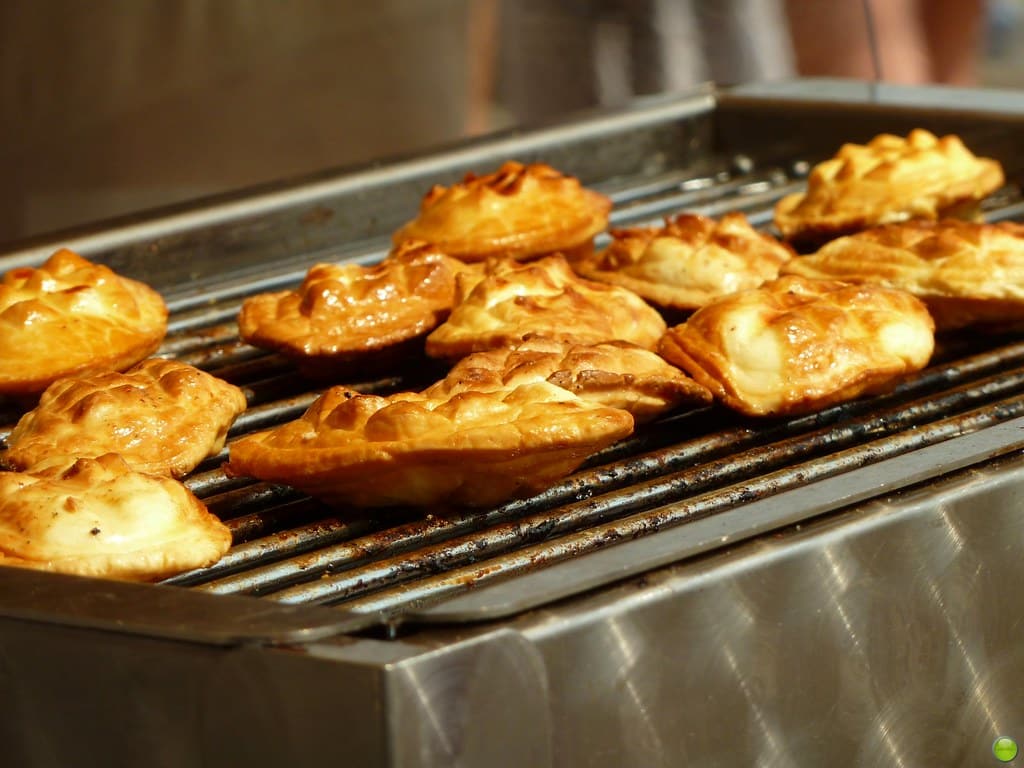 Traditional Polish smoked cheese.
It is produced from 60 % sheep's milk mixed with cow's milk.
It can be sold in many shapes and sizes.
Oscypek is especially popular in Poland during the holiday season.
Osso Buco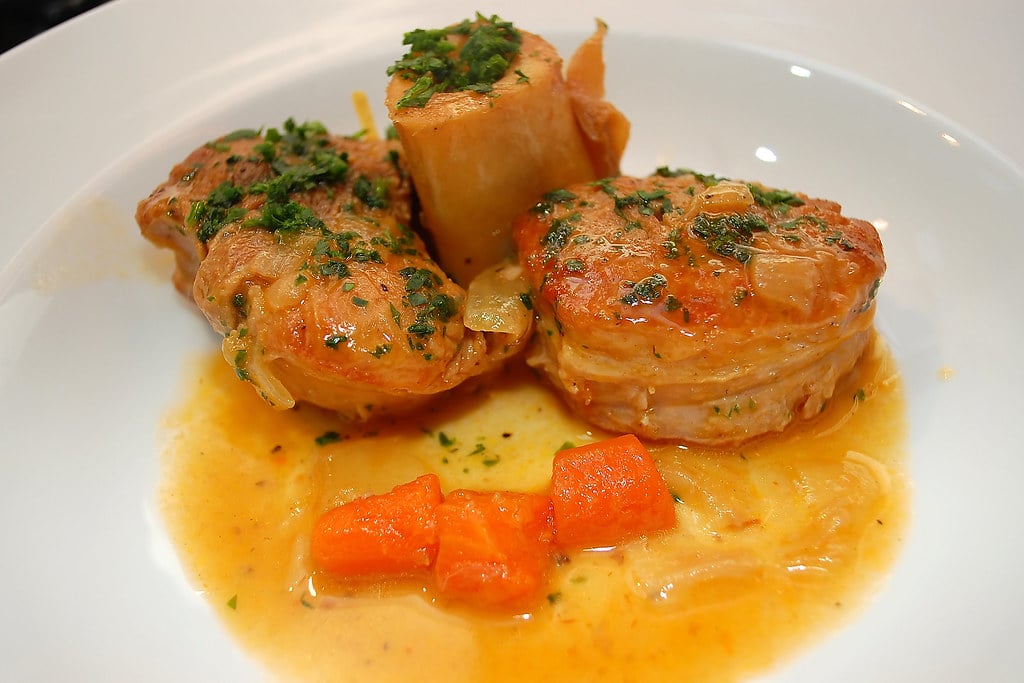 Italian dish made of crosscut sliced veal shanks cooked with vegetables in white wine and stock.
The most famous osso buco recipe is Milanese style osso buco, served with saffron risotto and polenta.
The term can also refer to the slices of beef shin on the bone.
Osso buco is Italian for "bone with a hole", a reference to the hole at the center of the meat.
Ox tongue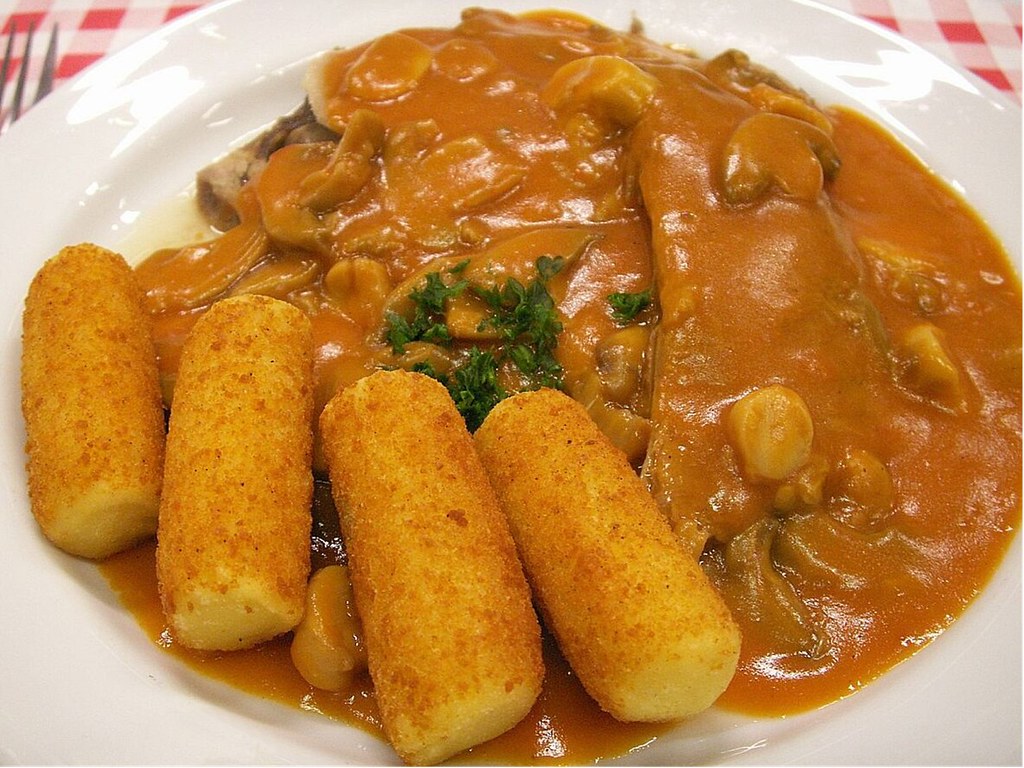 Oxtongue is a cut of beef made of the tongue of a cow.
It can be boiled, pickled, roasted, or braised in sauce.
It is found in many national cuisines, used for taco fillings in Mexico, and for open-faced sandwiches in the United States.
In France and Belgium, it is served with Madeira sauce, while chrain is the preferred accompaniment in Ashkenazi and Eastern European cuisines.
Germans make a white roux with vinegar and capers, or horseradish cream, also popular in Polish cuisine.
Oxtongue is very high in fat, contributing up to 72% of its caloric content.
Some countries, including Canada and specifically the province of Alberta, export large quantities of ox tongue.
Oyster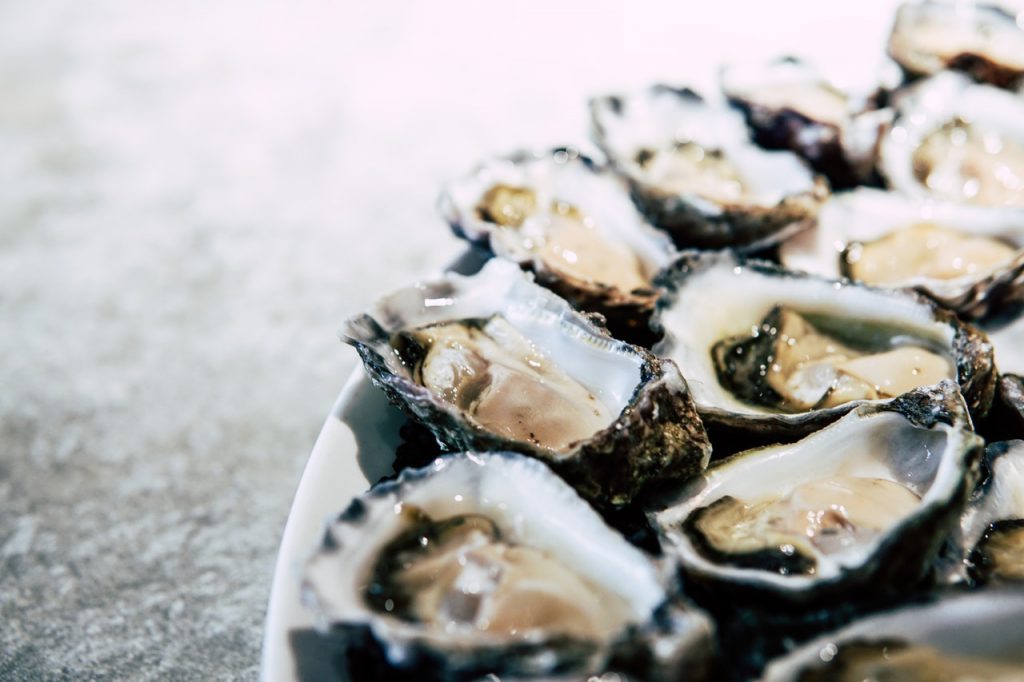 An edible mollusk of various families found in salt waters worldwide.
They have a cream or pale gray flesh inside a hard gray shell.
Oysters can be consumed in many ways from raw, boiled, and steamed to pickled and canned.
They are served with a dressing, butter, or sauce.
Oyster Crab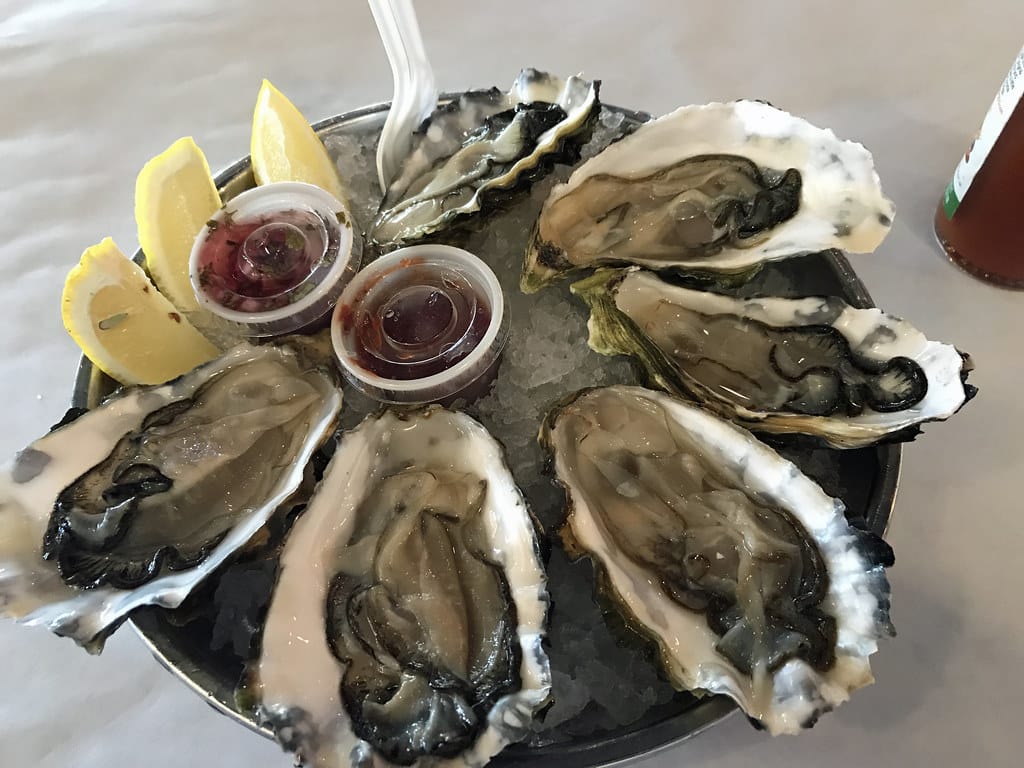 A small crustacean in the family Ostreoidea that grows and lives inside oysters or clams.
It is rare and only found in the North Atlantic Ocean.
Oyster crabs are considered a delicacy eaten raw, fried, or boiled.
Oysters Casino
A dish composed of oysters covered with a blended mixture of shallots, green peppers, lemon juice, butter, and seasoning.
Bacon strips and a drizzle of lemon juice are usually added on top.
The dish is then baked or cooked until crispy.
It is traditionally served as an appetizer.
Oyster Mushroom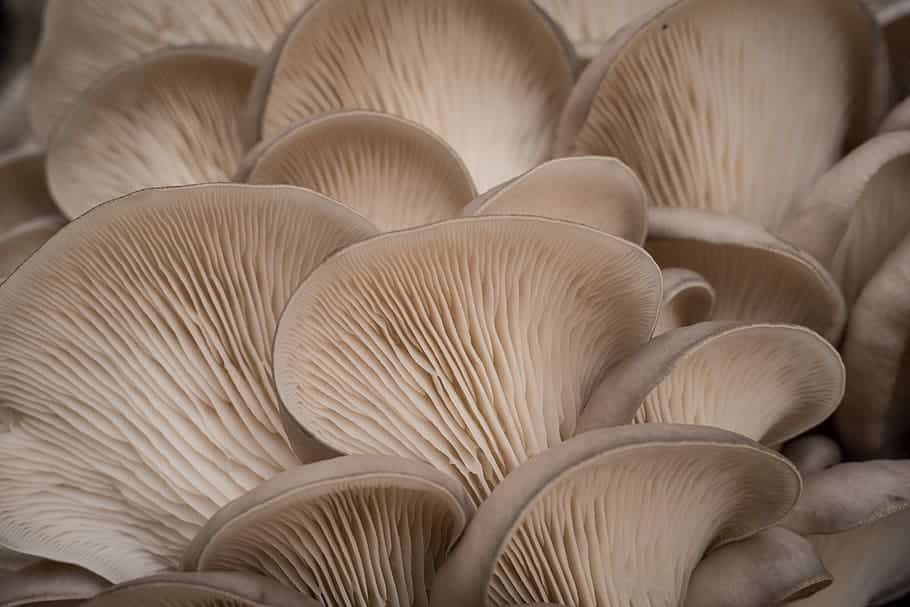 This mushroom got its name from its grey-brown color and shape resembling an oyster.
It is grown in temperate and subtropical regions, known also Pleurotus ostreatus.
This mushroom has white, firm flesh.
It is a specialty of Japanese, Chinese and Korean cuisine that can be fried with soy sauce or cooked in soups.
Oyster sauce
Oyster sauce is made from oysters.
It's a mixture of caramelized oyster juices (a byproduct of cooking oysters in water for a prolonged period of time), salt, sugar, and sometimes soy sauce that is thickened with cornstarch.
It's sweet and salty.
But the flavor goes further than that.
The sweetness isn't one-note; it's dark and developed, like caramel.
The saltiness is less like table salt and more like briny ocean water.
And those oysters lend tons of umami and rich savoriness to the sauce.
Despite being full of seafood, the flavor actually isn't as fishy and funky as fish sauce is, and it's surprisingly a little less salty than soy sauce.
And when you mix it with a few other pantry staples, it balances things out quite nicely.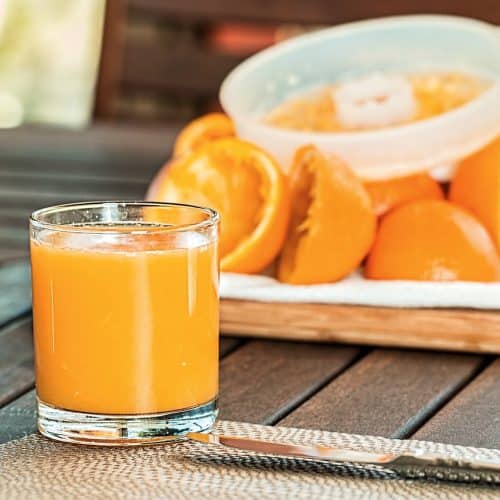 Orange Juice
Bright and sweet orange juice is delicious to enjoy on its own for a healthy beverage, or include in your favorite drink recipes.
Ingredients
850

grams

oranges

or 6 to 7 medium oranges

1

tablespoon

lemon juice

sugar

jaggery
Instructions
Peel the oranges and take the orange segments in a mixie jar or blender jar.

Run the mixie or blender on low to medium speed for some seconds till the mixture becomes pulpy and the oranges are crushed. Don't blending too much as we just need to crush the segments and not the seeds.

If the seeds gets crushed, the juice will become bitter. So don't blend at a stretch. You can also use the pulse option of the blender. If you prefer you can remove the orange seeds before juicing them.

Line a juice strainer over a bowl or pan. In the juice strainer, pour the orange juice.

Strain the juice with a help of a spoon. Keep on pressing and moving the spoon, so that the all the juice is strained well.

If you want you can add some sugar or honey or jaggery to the juice to sweeten it.

Pour immediately in glasses and serve orange juice.
Video
Nutrition
Calories:
201
kcal
Carbohydrates:
51
g
Protein:
4
g
Fat:
1
g
Saturated Fat:
0.1
g
Polyunsaturated Fat:
0.1
g
Monounsaturated Fat:
0.1
g
Sodium:
0.1
mg
Potassium:
777
mg
Fiber:
10
g
Sugar:
40
g
Vitamin A:
957
IU
Vitamin C:
229
mg
Calcium:
170
mg
Iron:
0.4
mg
---