The famous Italian green salad, Insalata verde, brings a healthy spirit to life.
It's the perfect side dish to make you feel fuller without adding pounds.
The tender lettuce, radish, and curly endive leaves dressed in olive oil vinaigrette make a divine flavor.
It's a French restaurant-quality salad that is surprisingly simple to make at home as an appetizer, side, or even main course salad.
Once your family and friends bite into this crunchy goodness, their taste buds will arouse a craving for more.
We've included a recipe to help you experience this amazing adventure.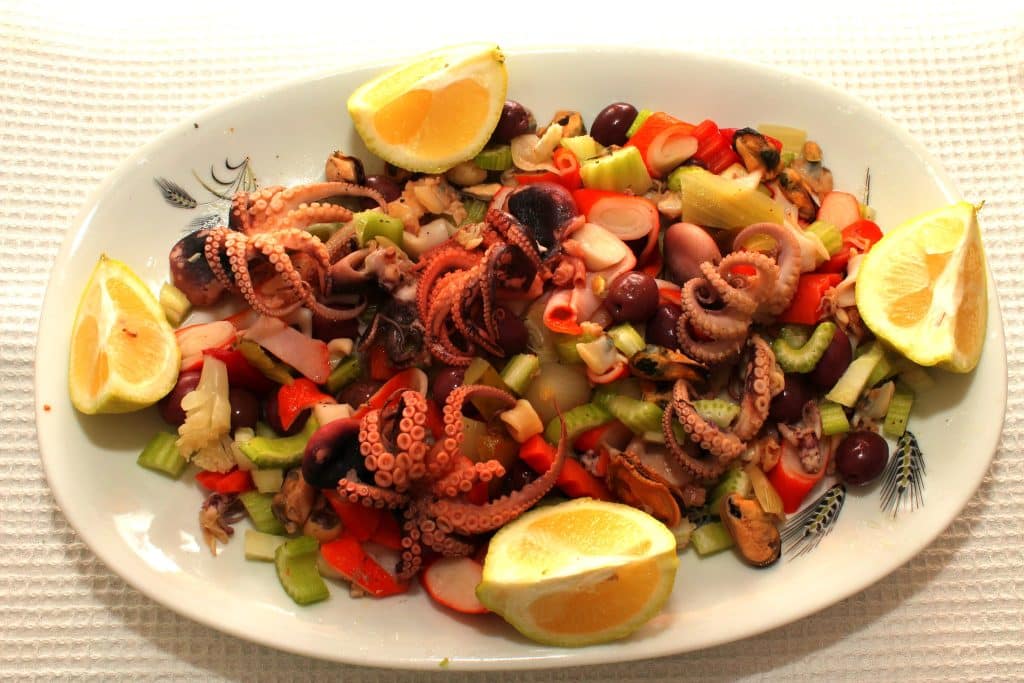 How to Make Insalata Verde
The good news is that it's easy to make this refreshing salad at home.
In only 20 minutes, you'll have an amazing dinner or lunch.
Using fresh, high-quality ingredients you can find at your local grocery store will result in a fresh and compelling dish.
There's no cooking involved, but you should prepare it ahead of time.
That will also allow flavors to mingle.
Finally, you will have a vibrant mix that complements main dishes and entrées but also works as a salad on its own.
Ingredients
●
Three tablespoons of red wine vinegar
●
Four freshly ground black pepper to taste
●
2 bunches of curly endive or escarole lettuce, cleaned and chopped
●
6 radishes, cleaned and sliced
●
1/4 lb (125 g) spinach, cleaned and chopped
●
4 oz (125 g) fresh green beans, cooked and cut into bite-sized pieces
●
1 small head of romaine lettuce, cleaned and chopped
●
2 ½ tablespoon mint powder
Instructions
How to make the dressing
●
Grate half a clove of garlic into a bowl and add salt or anchovy paste to taste (1/2 teaspoon will do). Mash together with a fork until it forms a paste.
●
Add warm water, honey, and dried thyme tablespoons of vinegar and mix thoroughly into the garlic paste.
●
Slowly whisk in 1/4 cup olive oil until an emulsion forms. Add ground black pepper and salt. Taste for salt or sourness (add more vinegar if necessary) and adjust seasoning.
Preparing the greens
●
Assemble the salad. Tear or slice any large pieces of lettuce into bite-size pieces, then place in a large bowl or serving platter along with the radicchio; toss gently to combine.
●
Drizzle with half of the dressing and season to taste with salt and pepper. Add more dressing, if desired (you may not need all of it). Garnish with chopped herbs and serve immediately
If the salad is served cold, blanch the greens in boiling water, then drain and rinse them in cold water.
When you want to eat them warm, add two tablespoons of vinegar to a pan of simmering water and toss the greens until they wilt.
Drain them and dress while they are still hot.
How to Clean the Greens
The first step to washing your greens is to rinse them.
Place the leaves in a large bowl and fill it with cold water.
Swish the greens around with your hands, then let them sit for about five minutes.
It'll cause any dirt and sand to sink to the bottom of the bowl.
Gently lift the greens out of the water and place them in a salad spinner or on a clean kitchen towel.
Give them a quick spin or pat dry; you want some moisture left on the leaves, so they don't brown as quickly.
Ways to Serve Insalata Verde
●
It's an excellent choice for an appetizer, especially when you want your guests to taste the tangy flavors of vinegar, lemon, and garlic. Since you can serve them hot or cold, they're a versatile choice for any event.
●
Insalata verde is a great choice when you want to serve the main dish that's filling but not heavy. In addition to the usual ingredients, they can include chicken, shrimp, or fish, and they can be tossed with pasta and served as the main course.
What to Serve Along Insalata Verde
●
Arrange the salad on a serving platter, top with the eggs, and sprinkle with salt, pepper, and shaved parmesan.
●
If you want to add some protein to the dish, a few anchovies would be perfect. Chop them up and mix them into the dressing. Otherwise, toss in some beans or grains.
●
Pair insalata verde with rich dishes like this baked salmon or this sausage stew because it adds a nice balance of color and flavor to the meal.
●Try pairing it with creamy polenta or roasted eggplant parmesan if you prefer vegetarian recipes.
●
Insalata verde is excellent when served with grilled lamb and plenty of red wine.
●
Pork tenderloin is good, too — use it whole and then slice it thinly. For beef, flank steak or skirt steak would be nice.
How to Use Insalata Verde Leftovers
The most obvious way to use the leftovers is, of course, to eat more salad.
However, there are several other ways you can repurpose this dish.​
●
Turn it into a wrap or sandwich.
The lettuce and herbs in insalata verde make it a great starting point for an open-faced sandwich or wrap.
Try spreading some leftover beans or hummus on a slice of toasted bread and topping it with the salad mixture.
Otherwise, fill a tortilla with some cheese and the salad greens, wrap it up, and heat it in a panini press or toaster oven until the cheese melts.​
●
Add it to a soup or stew.​
Leftover insalata verde can be chopped up and stirred into soups and stews to add a fresh herby flavor, color, and texture.
Try adding it near the end of cooking so as not to overcook the greens.​
●
Blend it into a pesto sauce.​
If you have a food processor or blender (and if your leftovers have enough oil), you could turn them into an insalata verde pesto sauce by adding walnuts and garlic and blending until smooth.
Take the leftover insalata verde, apply it to a piece of chicken, wrap in foil, and bake (or add some foil-wrapped potatoes) for 35-40 minutes at 350 degrees.
Voila! That's a yummy dinner.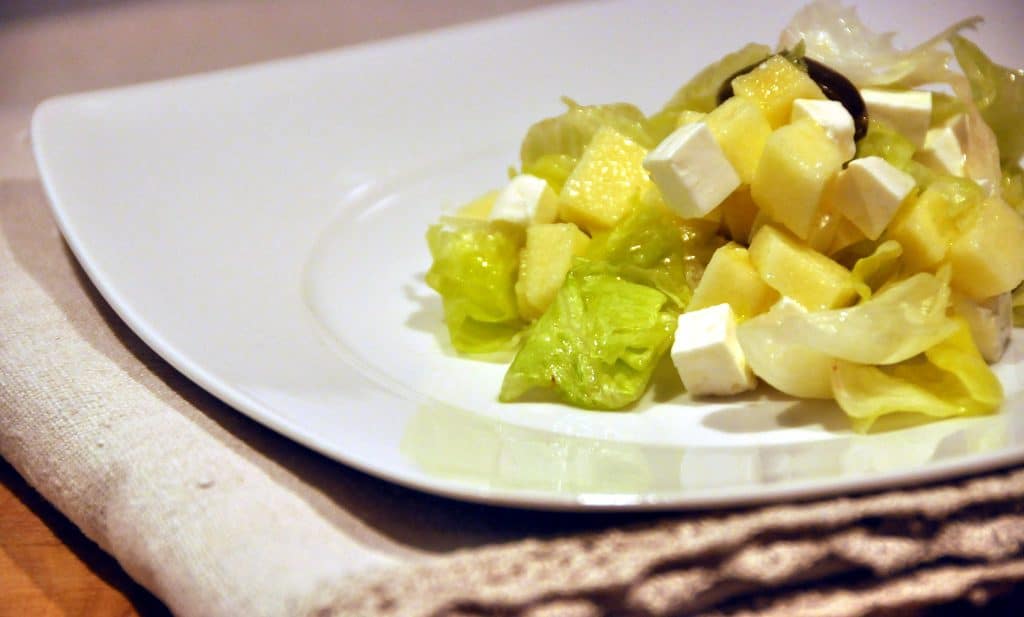 How to Store Insalata Verde
It's best to consume your leftovers within four hours of making them.
If that's not possible, store them in the fridge immediately.
Refrigerating
You can store the salad in the refrigerator in an airtight container for 3 to 5 days.
The salad will be very soggy after three days, so if you plan on using it past the 3-day mark, store the dressing and the herbs separately.
When ready to use, add both together and toss with the lettuce.
Freezing uncooked insalata verde
Wash and dry all greens and herbs and place them in a freezer bag.
Squeeze out as much air as possible and seal tightly.
Freeze for up to 6 months.
Thaw overnight in the refrigerator and prepare according to recipe instructions when ready to use.
Freezing cooked Insalata Verde
To freeze cooked insalata verde, put it in an airtight container or a freezer ziploc bag for up to two months and reheat whenever the craving hits.
Health Benefits
Insalata verde is a healthy hub.
The ingredients combine to make a heavenly yet nutritious delicacy.
●
Lettuce and spinach are also great sources of vitamin K, which helps protect your bones by improving calcium absorption.
●
Adding lettuce and radish leaves to your food provide antioxidants and anti-inflammatory nutrients that protect your body against free radicals and disease.
●
Lettuce is loaded with beneficial compounds like beta-carotene, lutein, and zeaxanthin, all of which can help protect your eyes from macular degeneration — a leading cause of age-related blindness.
●
Eating spinach gives folate (Vitamin B9) that helps the body form red blood cells, and it plays an important role in brain function. Furthermore, it prevents congenital disabilities in the baby's brain and spine.
●
Spinach contains iron that carries oxygen from one cell to another, making it important for energy production and metabolism. Moreover, it plays a role in immune function and body temperature regulation.
●
Radishes are rich in folate (folic acid), which helps aid red blood cell production, thereby providing relief from anemia.
Conclusion
So there you have it, everything about the insalata Verde.
We can confidently say that the insalata verde is an excellent food suitable for anyone looking forward to a new experience.
It's going to be a practical guide for making your insalata verde at home.
If you have the time and inclination to try it out—why not?
It might be more convenient, but it'll have that fresh taste of something you've made yourself.
You'll likely feel better knowing exactly what's gone into your salad.
Insalata Verde is a relatively clear method of preparing a salad in the interest of time and presentation.
If you are a chef or own a restaurant, this healthy dish is a spot-on hit.
People are on the lookout for healthy dishes due to increased lifestyle diseases; thus, including it in your menu means more sales.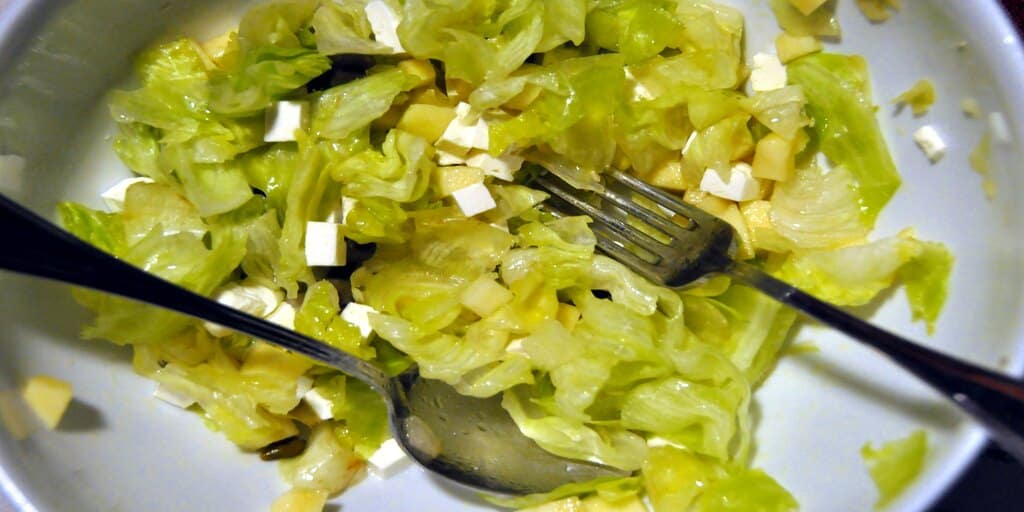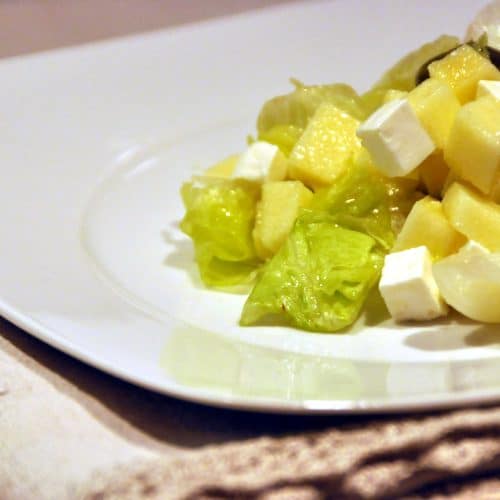 Crunchy Vegetarian Insalata Verde
It's a Italian restaurant-quality salad that is surprisingly simple to make at home as an appetizer, side, or even main course salad.
Ingredients
1

cup

olive oil

3

tablespoons

red wine vinegar

1

tablespoon

salt

4

black pepper

2

curly endive

cleaned and chopped

6

radishes

cleaned and sliced

1/4

lb

spinach

4

oz

green beans

1

tablespoon

honey

½

tablespoon

mint
Instructions
Grate half a clove of garlic into a bowl and add salt or anchovy paste to taste (1/2 teaspoon will do). Mash together with a fork until it forms a paste.

Add warm water, honey, and dried thyme tablespoons of vinegar and mix thoroughly into the garlic paste.

Slowly whisk in 1/4 cup olive oil until an emulsion forms. Add ground black pepper and salt. Taste for salt or sourness (add more vinegar if necessary) and adjust seasoning.

Assemble the salad. Tear or slice any large pieces of lettuce into bite-size pieces, then place in a large bowl or serving platter along with the radicchio; toss gently to combine.

Drizzle with half of the dressing and season to taste with salt and pepper. Add more dressing, if desired (you may not need all of it). Garnish with chopped herbs and serve immediately
Nutrition
Calories:
1081
kcal
Carbohydrates:
27
g
Protein:
7
g
Fat:
109
g
Saturated Fat:
15
g
Polyunsaturated Fat:
12
g
Monounsaturated Fat:
79
g
Sodium:
3648
mg
Potassium:
1463
mg
Fiber:
13
g
Sugar:
13
g
Vitamin A:
18693
IU
Vitamin C:
79
mg
Calcium:
323
mg
Iron:
5
mg
---