What's for dinner?
Tender pan-seared steak covered in wine-infused mushroom sauce and served with mashed potatoes and grilled onions.
This classic dish from the Cheesecake factory is tasty, and you won't believe how easy the recipe is.
If you're on a tight schedule, you'll enjoy this delicacy in just an hour; so don't be hesitant to try.
Before we get into the recipe, let's first take a look at its background.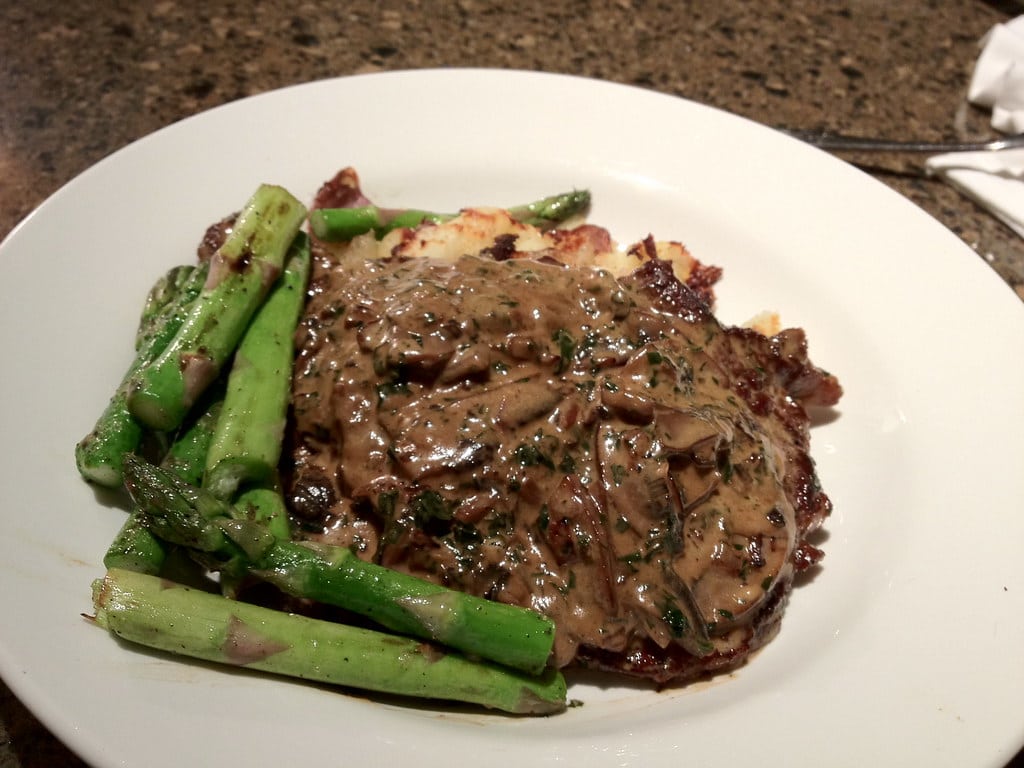 History of Steak Diane
Steak Diane is a famous wine-infused mushroom sauce with tender steak medallions.
The much-disputed origins can be traced back to the 1950s in Australia, London, and New York restaurants.
It was named Diane after Diana, the Roman goddess of the hunt, and "a la Diane" sauces were served explicitly with venison and game back then.
This dramatic flambéed effect is what popularized the sauce in New York hotels.
The original versions of the steak Diane recipe involved pounded steak seasoned with peppercorns, seared, and served with a rich wine-based sauce.
Modern recipes combine mushrooms, shallots, Worcestershire sauce, mustard, and chives to enrich and deepen the sauce flavors, which works perfectly.
How to make Steak Diane from the Cheesecake factory
Ingredients
●2 lb. Beef tenderloin, cut into 1-inch thick medallions
●8 oz. White or button mushrooms, diced
●1 tbsp. Black peppercorns, coarsely ground
●3 garlic cloves, minced
●½ cup yellow or white onions, finely chopped
●2 tbsp. Worcestershire sauce
●2 tbsp. Dijon mustard
●2 tbsp. Honey
●½ tbsp. Thyme leaves, dried
●2 tsp. Parsley, dried
●2 cups Madeira wine
●1/ cup chicken or beef broth
●2 tbsp. Butter, unsalted
●Olive oil
●Salt to taste
Instructions
●Step 1: Season and sear the steak
Set a large skillet over medium-high heat.
Add olive oil to the skillet.
Meanwhile, season the steak liberally with salt and pepper on both sides.
Once the oil is hot, seer the steak medallions for about 3 minutes on each side, depending on your desired level of doneness.
For medium-rare, 2 minutes per side, while for a medium steak, 3 minutes each side.
Remove the steak medallions, wrap in foil or let rest on a holding plate.
●Step 2: Sauté the veggies
Add unsalted butter to the skillet and reduce the heat.
Sautee the onions for about 2 minutes until it softens.
Then add the mushrooms and garlic and sauté for 5 minutes until fragrant and softened.
●Step 3: Season and deglaze
Whisk the Worcestershire sauce, honey, thyme, and Dijon mustard into the pan and stir.
Deglaze the pan with Madeira wine—you can opt to flambé by tipping the skillet towards the burner.
Be cautious.
Add the chicken broth and bring the sauce to simmer for 4 minutes to thicken.
●Step 4: Simmer and reduce
Slow simmer is the key to a perfect sauce.
Let the sauce simmer for 20 minutes until the wine and stock reduce by half-season with salt and black pepper to taste when the sauce reaches the desired consistency.
●Step 5: Garnish and serve
Garnish with chives or parsley as desired.
Place the steak back into the skillet for serving or plate the steaks and pour the mushroom wine sauce over the top.
Serve with mashed potatoes and grilled onions (Original Cheesecake Factory platting).
Steak Diane Ingredients Variations
This recipe aims to yield results with flavors closest to the Original Cheesecake Factory's mushroom wine sauce for steak Diane.
However, there are great substitute options if you don't have the exact ingredients mentioned.
These include,
●Alcohol preference– Although Madeira wine is preferred, cognac, sherry, Marsala, or brandy works well.
Add any semi-dry white wine, and the results will amaze you.
●Non-alcohol dish– You can swap the alcohol with high-quality chicken stock or thick cream.
The sauce will lose its richness, thickness, and depth but will still be enjoyable.
●Beefsteak– You can use boneless chicken breasts in place of the steak tenderloins.
●Mushrooms – Instead of cremini, use button mushrooms to reduce the solid earthy mushroom flavor in the sauce.
●Dry spices – Dried and ground spices deeply incorporate flavors into the steak as marinades.
●Seasonings – The enumerated seasonings are a copycat of the steak Diane from the Cheesecake factory; however, you can tweak them as per your liking.
The flavors will differ, but they will retain the deliciousness.
Tips for moist and tender steak Diane from Cheesecake factory
●Steak medallions size – Extra thick chunks will not cook well at the center, while extra thin ones will burn quickly on the outside.
Aim for medium-sized pieces of about ½ an inch thickness.
Try to cut the beef into uniform-sized pieces for that even cooking.
●High heat – Most moisture evaporates when you add meat to a cold pan or oven, thus, drying out your steak chunks.
You want your oven or skillet hot so that the steak medallions start to cook immediately and prevent evaporation.
●Heavy pan – use a thick cast iron skillet to achieve the best pan-seared steak Diane.
A thin skillet leads to uneven cooking and may burn the outer parts before the center cooks well.
●Room temperature beef/chicken – Rest frozen meat to reach room temperature before cooking.
If you cook frozen steak immediately, the heat dries out the outer parts of the steak before the inside is well done.
However, the steak cooks evenly at room temperature, retaining the juices.
●High fat – Higher fat means more flavors and tenderness.
When the fat melts during cooking, it moistens the steak.
●Do not overcook – Use a meat thermometer to measure the internal temperature of the beef.
Turn off the heat when the steak is at 1600F and let it reach 1650F during carry-over cooking.
What to serve with Steak Diane from Cheesecake factory
●Salads – Pasta salads, tomato, and lettuce salads are great options.
●Veggies – You can opt for: roasted veggies (carrots and broccoli), sautéed veggies (red peppers and cauliflowers), or steamed veggies (asparagus, carrots).
●Starchy foods – Mashed potatoes, regular rice, and zucchini noodles pair well.
●Pasta – Lemon or parmesan pasta would be a good combo, particularly for dinner.
●No-knead bread – Sourdough bread and bread rolls are excellent pairings for this Steak Diane dish when sopped in melted butter.
Storage tips
Store the cream sauce and steak in separate containers if possible.
This makes it easy to reheat without overcooking either component.
Refrigerating
Leftover steak Diane can last up to 4 days in the refrigerator if properly stored.
Let the steak Diane and mushroom sauce cool, wrap them with a plastic wrapper, and place them in the fridge, separately.
Freezing
Properly stored, uncooked steak Diane can last up to 3 months in the freezer.
Wrap the steak Diane in plastic bags and place it in a zip-freezer bag.
Check the smell and color of the steak Diane to determine if they're still in good condition.
Discard steak Diane with a foul odor, slimy texture, or dull stain.
How to reheat steak Diane from Cheesecake factory
In the microwave
Although not the best method because it dries out food, use the microwave if you're in a rush.
Put the steak Diane in a microwave dish and pour some gravy over the top to retain its moisture and flavors.
Cover the dish and microwave it on medium power for 30-seconds intervals as you flip sides.
High power will dry out the steak.
In the oven
Although this method takes time (30 minutes), it results in a flavorful and tender steak.
First, preheat the oven to 2500.
Elevate the meat with a wire rack inside a sheet pan and place the steak on top to allow even heat on both sides.
Put the steak inside once the oven is preheated and cook for 30 minutes.
On the stovetop
Place a skillet on medium heat and add beef stock.
Add the steak once the broth starts to bubble.
Flip the sides after 5 minutes and serve.
Nutritional facts: Serving: 1
●Calories: 712kcal
●Carbohydrates: 6g
●Protein: 33g
●Fat: 54g
●Saturated Fat: 24g
●Polyunsaturated Fat: 2g
●Monounsaturated Fat: 22g
●Trans Fat: 1g
●Cholesterol: 161mg
●Sodium: 271mg
●Potassium: 888mg
●Fiber: 1g
●Sugar: 2g
●Vitamin A: 599IU
●Vitamin C: 2mg
●Calcium: 51mg
●Iron: 5mg
Frequently asked questions (FAQs)
What are the best cuts of beef to use for steak Diane?
Leaner meat cuts like tenderloins medallions work best due to their soft outcome.
However, petite shoulder or flank steak or any part that can be cut into ¾ inch slices and seared in butter is fine.
For the Steak Diane Cheesecake factory, they use tenderloins.
What's the best way to reheat leftover steak Diane from the cheesecake factory recipe?
Whichever method you use (oven, stovetop, or microwave), thaw the steak on a kitchen table before reheating to allow for even cooking.
The secret is to add gravy over the top to maintain the moisture and flavors while reheating.
Otherwise, the method to use depends on your time and your desired doneness.
This classic dish made with thinly pounded meat, shallots, and butter tossed in Madeira wine will titillate your buds.
It's perfect for a date night or busy weeknight as it only takes about an hour to prepare and cook.
You can comfortably adjust it to fit a crowd or any occasion.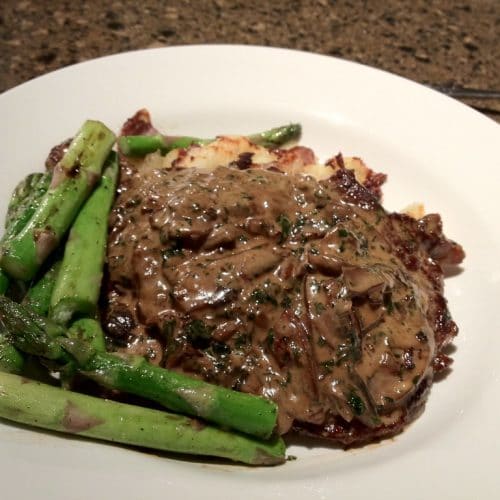 Pan-seared Steak Diane from The Cheesecake Factory
Steak Diane is a famous wine-infused mushroom sauce with tender steak medallions.
Ingredients
Instructions
Season and sear the steak

Set a large skillet over medium-high heat.

Add olive oil to the skillet.

Meanwhile, season the steak liberally with salt and pepper on both sides.

Once the oil is hot, seer the steak medallions for about 3 minutes on each side, depending on your desired level of doneness.

For medium-rare, 2 minutes per side, while for a medium steak, 3 minutes each side.

Remove the steak medallions, wrap in foil or let rest on a holding plate.

Sauté the veggies

Add unsalted butter to the skillet and reduce the heat.

Sautee the onions for about 2 minutes until it softens.

Then add the mushrooms and garlic and sauté for 5 minutes until fragrant and softened.

Season and deglaze

Whisk the Worcestershire sauce, honey, thyme, and Dijon mustard into the pan and stir.

Deglaze the pan with Madeira wine—you can opt to flambé by tipping the skillet towards the burner.

Be cautious.

Add the chicken broth and bring the sauce to simmer for 4 minutes to thicken.

Simmer and reduce

Slow simmer is the key to a perfect sauce.

Let the sauce simmer for 20 minutes until the wine and stock reduce by half-season with salt and black pepper to taste when the sauce reaches the desired consistency.

Garnish and serve
Video
Nutrition
Calories:
696
kcal
Carbohydrates:
20
g
Protein:
36
g
Fat:
45
g
Saturated Fat:
19
g
Polyunsaturated Fat:
2
g
Monounsaturated Fat:
18
g
Trans Fat:
1
g
Cholesterol:
140
mg
Sodium:
290
mg
Potassium:
883
mg
Fiber:
2
g
Sugar:
8
g
Vitamin A:
406
IU
Vitamin C:
8
mg
Calcium:
60
mg
Iron:
6
mg
---