If you're tired of the same old smoothies, then give one of these breakfast drinks a try!
They're refreshing, sweet, and perfect for any time of day.
There are so many different breakfast drinks out there, and they all have their pros and cons.
Some are fruity, others are sweet, and some are nutty.
But none of them are bad for you!
So if you're looking for new recipes to try out in your kitchen, you've come to the right place.
This list has everything from peanut butter banana smoothie recipes to orange and coconut water refreshers.
Whatever you're craving right now, this round-up has it all.
Enjoy!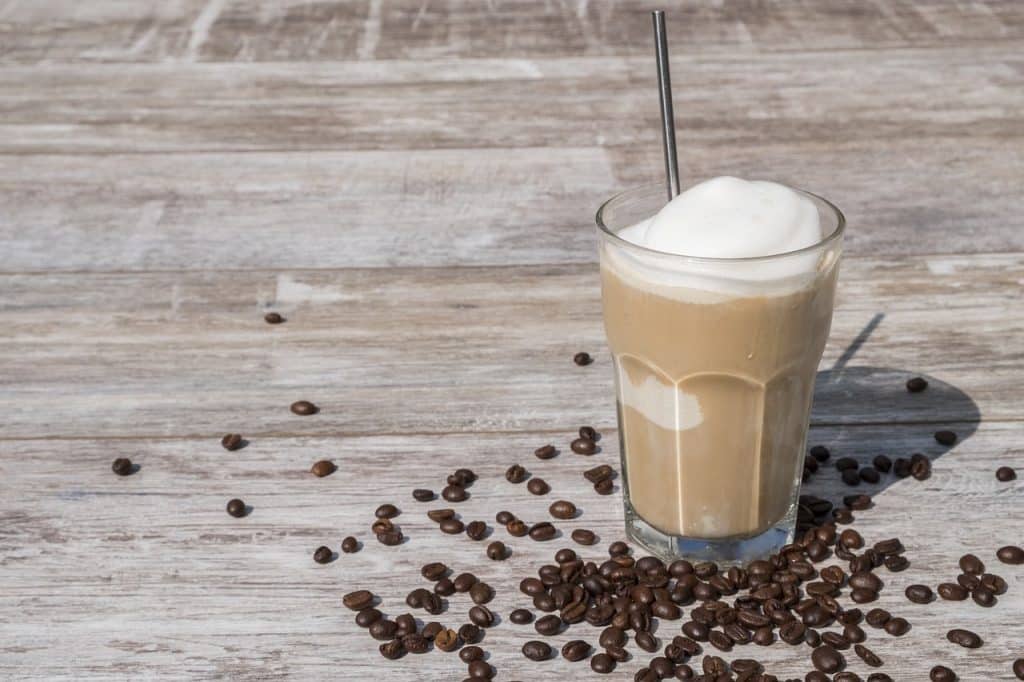 Peanut butter banana smoothie is creamy, sweet, and unbelievably yummy.
And it's gluten-free!
If you're looking for a delicious and nutritious breakfast recipe to start your day off right, this one fits the bill.
Nothing quite beats the decadence of a smoothie in the morning.
This pina colada breakfast smoothie is just what you need to get your day started off right.
It's a creamy, tropical treat that will keep you full until lunchtime!
The thick texture and sweet flavor of this smoothie really make it stand out from other recipes.
So, be sure to try it out!
Blended oatmeal is a great way to start your day.
It's thick, creamy, and packed with healthy ingredients.
And since it's already made up in the blender, you can get started on this recipe even if you're in a rush.
All you need are Oat Bran, milk, honey, cinnamon, dates, and vanilla extract.
Blend until smooth and pour over ice for an indulgent morning treat.
I just had a double order of Iced Coffee at McDonald's, and they had it right.
This is the best option for making your own.
You need cold sweet tea and limes for this.
And you only need four ingredients: condensed milk, ice cream, coffee, and whipped cream.
It tastes similar to Starbucks iced coffee but has a much more natural flavor.
It also has an added kick from extra sugar!
It's super simple to make and would be great for parties or special events.
It's so fun to play around with different flavors.
The key is to use heavy cream in the quantities listed above – enough to cover everything nicely without looking like watery milk.
Then you can add anything else you want in there – cookie or condiment toppings, nutella or additional whipped cream, etc.
This green smoothie is full of color and flavor, making it a great breakfast option.
It's also packed with vitamins and minerals, as well as antioxidants and other healthy ingredients.
Loaded with kale, chia seeds, spinach, lemon juice, and vanilla extract, this smoothie has a bright green hue.
It's sweetened with dates for depth of flavor that will keep you full until lunch.
Serve it for breakfast or as a snack.
It tastes fantastic either way!
This orange banana smoothie is my go-to for the last 30 minutes of a busy day.
It's packed with healthy goodness and makes a fantastic breakfast.
It's simple to make, but it tastes super indulgent! The sweet, tart oranges are the perfect contrast to the creamy smoothie.
And if you think this looks too complicated, don't panic.
It only takes 10 minutes to whip up!
This copycat Starbucks Chai latte is so yummy, it might just become a morning ritual.
Simply blend some sweetened condensed milk with vanilla, cinnamon, and nutmeg.
Pour the mixture in a glass and top it with black tea leaves.
Toss on the lid and wait for the magic to happen.
If you can't stomach the bitter taste of black tea (which I used to do), try using green tea instead!
Orange juice is a great addition to your morning routine.
It's less rich and loaded with citrusy goodness.
This recipe is perfect for those who enjoy a sweet orange flavor alongside their meal.
The best part? You can make this fresh in your kitchen in less than 10 minutes.
Warm, refreshing, and delish, it's the ideal drink for summer!
I would never tell you to go without a protein shake on the day of yoga, but I should be honest that this smoothie is a superhero in disguise!
It's packed with potassium, fiber, and antioxidants.
Plus, it's super sweet and tastes like blueberry pie!
If you can find blueberries that aren't too hard or bitter, they do wonders here.
This is the kind of drink that only happens on vacation.
(Or maybe with a little bit of alcohol in your system.)
That's because it's so refreshing, it will make you feel like you're on vacation all by itself.
The combination of cucumber and pineapple adds a tropical kick to this juice without any added calories or sweetness.
It's perfect for adding some pep to your day.
French vanilla is a classic and perfect for this French vanilla cupcake recipe.
It's got just the right amount of sweetness, with a touch of bitterness from the coffee.
You'll also get a little bit of chocolate as well!
If you're looking for more options to make your coffee extra special, try using flavored coffee.
This will help enhance the flavors even further.
This iced Mexican mocha coffee is sweet, dreamy, and absolutely delicious.
The combination of chocolate and coffee makes this beverage delightful.
It has a rich, dark flavor that's balanced by the sweetness from the chocolate chips in it.
You can use any type of chocolate you like for this drink, but I highly recommend using Ghirardelli quality.
If you make your own chocolate syrup at home, be sure to check out this DIY recipe where I show you how easy it is to make.
Forget about your boring old water and make yourself something refreshing with this recipe.
It's so easy to make, yet it does a better job of getting you fired up.
This drink is perfect for summer because the citrusy taste and creamy texture will put you at ease.
Plus, it contains coconut water, which is known to be good for you (and not just a fad).
Not only that, but it also has ginger and lemon in it to keep you hydrated.
If you like your drinks sweet, add some honey or maple syrup.
Take your Mimosas to a whole new level with these pineapple and strawberry mimosas!
The star of this show is the white wine.
That's all you'll need to make it taste like summer!
It pairs well with fresh strawberries, juicy pineapples, and bright citrus.
I love making my own mimosa recipe because I know exactly what's going into them.
You start with sparkling water and champagne for the base that helps set everything off.
Then, add orange juice and lemon juice for a little citrus kick.
The final touch is not just the fruit but also a splash of Champagne.
This smoothie just screams to be my favorite, and thanks to the mango, it's my favorite.
It has everything you want in a healthy punch of fruit – sweet, tart, and tangy.
Plus, it's made with only three ingredients: frozen mangoes, egg whites, and honey!
The recipe calls for bananas as well.
If you don't have them on hand or prefer something less sweet, feel free to use some berries instead.
This smoothie is like a cross between blueberry and raspberry.
You'll add some banana to the mix, too.
I like to use frozen berries for this because that makes things so much faster.
I also like to mix in some chia seeds if I can, but they aren't strictly necessary.
If you're making it with frozen berries, skip the banana and add some honey instead.
That will help reduce the tartness of the berry juices.
That said, this smoothie really tastes fantastic without any additions at all.
Coffee is a popular drink in the summer.
It's refreshing and flavorful, as well as filling.
This coffee smoothie combines both sweet and savory flavors for a yummy treat that can help you beat the heat.
Add some milk to your favorite Greek or vanilla yogurt, then blend with frozen fruits and bananas.
Top it off with frothy milk for an extra creamy breakfast!
Starbucks' caramel frappuccino is a rich, decadent treat.
It's so good that Starbucks eventually brought it to our homes and we all love it!
This copycat recipe takes that deliciously sweet drink and gives it a little more flavor.
By using brown sugar instead of cane, this recipe gets a deeper flavor.
And the addition of heavy cream adds a touch of richness.
The result is the most amazing caramel frappuccino ever!
If you don't have time to cook breakfast this morning, I highly recommend a smoothie.
It's a fantastic way to start your day and it keeps you full until lunch.
This recipe is so simple yet tastes like something out of a fancy restaurant.
The berries blend into the smoothie in just one sip, leaving you with a fruity treat that will keep you full all morning.
Looking for the perfect cup of coffee for those chilly mornings?
This iced mocha is ready in just 10 minutes, and it's pretty darn delicious.
It has a rich chocolatey taste that you can feel with every sip.
And when mixed with steamed milk and sweetened whipped cream, it's like a seriously decadent milkshake!
The best part? It's dairy-free, so everyone can enjoy it.
Plus, you don't have to worry about using actual dairy products.
So if you want to stay vegan or vegetarian, this recipe works great.
You'll start the morning right with this tropical fruit breakfast smoothie.
It's sweet, creamy, and loaded with fresh fruit.
The combination of mango, pineapple, and peaches makes the most amazing fruity taste at breakfast time.
It takes a bit longer to make than your typical smoothie – like 20 minutes – but it tastes so good that you won't mind.
All you have to do is add an ice bath and blend away!
Ghirardelli Luxe is the top-of-the-line chocolate brand and it's 100% pure cocoa.
The flavor is mild but well balanced with hints of caramel, brown sugar, vanilla, and a touch of cinnamon.
The best part about this recipe is that you can make it at home.
Just fill a large pot with water and add the chocolate chips on top.
If you have instant coffee (or tea) you can use instead of espresso beans.
Then pour over a cup or two of white wine to make it even more decadent!
This is a delicious, holiday-worthy brunch drink that's ideal for summer parties and backyard cookouts.
With a hint of orange zest, cranberry juice blends perfectly with sparkling wine.
It also features raspberry sauce for sweetness and tang.
You can easily make it in just 5 minutes by adding half a bottle of white wine and fresh cranberries to your cocktail shaker.
If you want a delectable breakfast to wake you up in the morning, then this strawberry sunrise smoothie is for you.
It has all the elements of a pink sunrise – strawberries, bananas, oats, nut butter and cinnamon.
The addition of berry juice gives it even more color.
It's sweetly tart and light with plenty of nutrients.
This smoothie makes your day bright and full of energy!
This recipe is the perfect way to start the day.
It's packed with nutrients, and you can make it in less than 5 minutes.
You'll only need three ingredients – beets, coconut milk, and lemon juice – and it will taste like heaven on a mug.
If you want a vegan version of this smoothie, try using almond milk instead.
Just remember that it will take longer to blend.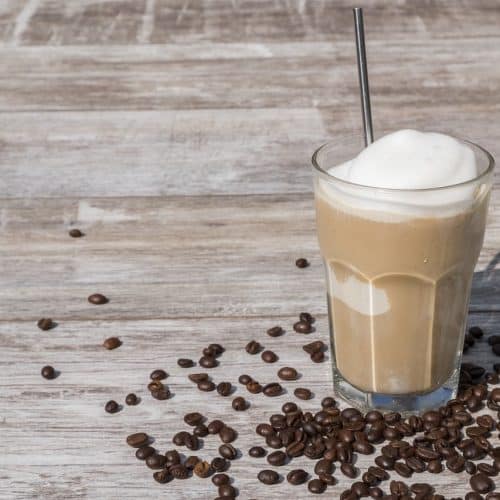 25 Best Breakfast Drinks
If you're tired of the same old smoothies, then give one of these breakfast drinks a try!
Instructions
Select your favorite recipe.

Organize all the required ingredients.

Prep a delicious shrimp dinner in 30 minutes.
---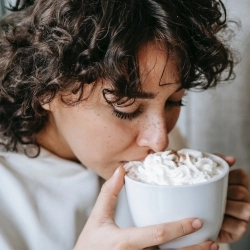 Latest posts by Grace Lambert
(see all)