You may be familiar with the term "atomic wings," which refers to the spicy level of some chicken wings served in restaurants rather than a nuclear event.
Wingstop's Atomic Wings are no joke.
They are hot, spicy; made for those who like to feel the burn.
It's hard not to feel intimidated while looking at them, yet the restaurant prepares them perfectly.
Don't let the Atomic name scare you too much because they're not actually "atomic," but supernatural spicy.
You should try this flavor if you want to spice things up.
Wingstop's hottest flavor comes with Atomic Sauce, an added kick that will send your taste buds into overdrive.
If you're up to the challenge, grab a bite and celebrate in your triumph of fiery flavors.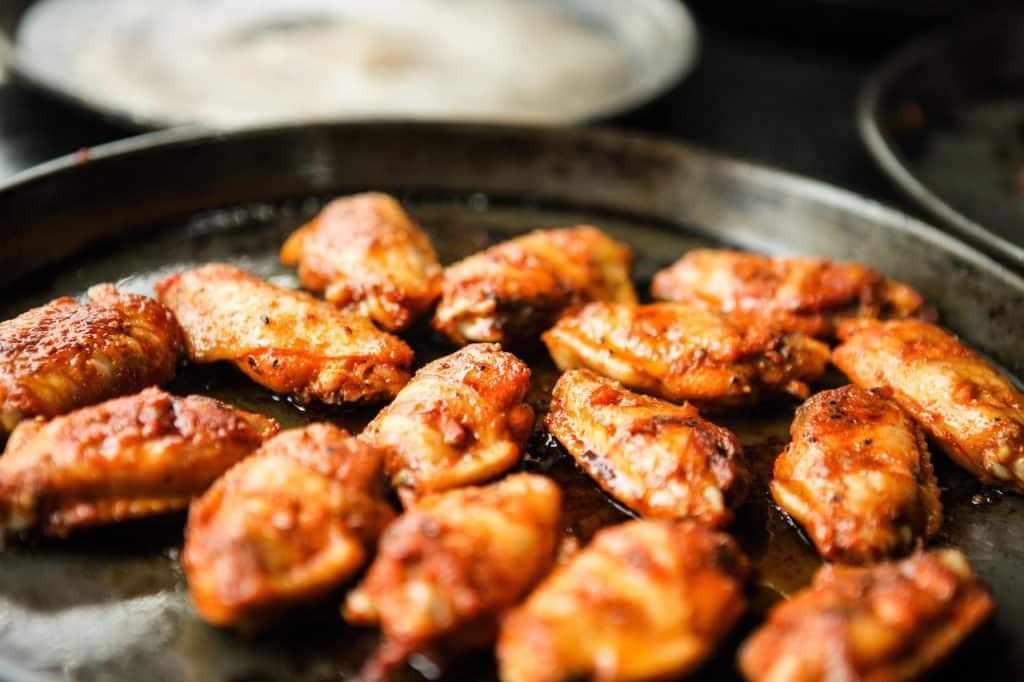 The History of Wingstop Atomic Flavor
Wingstop's rise to the top started 25 years ago when Antonio Swad launched Southwest Wings in Garland, Texas.
Just two months after opening, sales soared, and the concept began to expand.
Wingstop officially changed its name in 1994 to help communicate its services better.
To date, Wingstop has over 570+ restaurants worldwide, including many overseas locations such as the Philippines and Mexico.
It would be a pretty predictable company if it weren't for one thing: their tastiness.
This fast-food restaurant is one of the biggest names in the American chicken wing industry, and it's known for its excellent chicken wings and finger-licking good sauces.
Starting with the classic flavors (like an original buffalo), Wingstop has continued for over 25 years, adding new flavors to excite their customers' palates.
The atomic flavor is one of their recent flavors, which appeals to those who crave a certain heat level in their foods.
You can apply this flavor to their fresh wings, boneless wings, and tender strips.
A first of its kind for Wingstop, it is a valuable addition to Wingstop's arsenal.
The Atomic flavor comes from a special blend of herbs and spices, creating a unique and enticing taste.
The flavor is described as a "tongue scorching" medium heat that combines savory and spicy to make the perfect chicken wing.
Taste-wise, it's a mix of all the right flavors: sweet, spicy, tangy, and smoky all at once.
You can expect a nice kick to start things off from the first bite, then a slow burn as you work your way through the wings.
According to the brand, Wingstop atomic flavor features a unique blend of spicy cayenne and jalapeno peppers that give it a one-of-a-kind taste.
While Wingstop's hot wings will never be mistaken for its mild ones, the atomic flavor isn't nearly as scary as it sounds.
The heat is noticeable, but it's not overpowering like some other condiments on the market.
Wingstop's atomic sauce provides just enough heat to keep things interesting.
Navigating the Menu
Usually, there are two extremes in which people experience the Atomic flavor.
Those who cannot handle heat will find the first couple of wing bites a little too hot.
Others, however, transfer their love of spicy food to this Wingstop flavor as one of their favorites.
The overall taste of Wingstop Atomic flavor is unlike anything else on the Wingstop Hotline, standing alone as its entity.
It is sweet with a peppery kick and just enough garlic to give you that full-bodied flavor in each burst of flavor.
The restaurants prepare Wingstop Atomic flavor wings by frying and tossing them in a sweet Asian-inspired sauce.
It makes them crispy on the outside, moist on the inside, and have a sweet, sticky sauce that compliments the salty crispiness of the crunchy fried chicken.
Health Tip When Eating Wingstop Atomic Flavor
Wingstop Atomic flavor is gluten-free, and so are most wing flavors (except for some of their spicy ones).
If you have Celiac disease or you're just a gluten-conscious eater, you can ask the staff to cook your wings in nonstick fryers.
Pro tips to Help You Enjoy Wingstop Atomic Flavor
How do you build a tolerance to hot or spicy food?
Here are ideas on how to kick your spice game up a notch.
Take One Step at a Time
When eating Wingstop Atomic Flavor, start small and be patient.
Train yourself to enjoy slightly spicy foods by introducing new, milder peppers into your diet, which will over time make the capsaicin receptor less sensitive.
Slowly work your way up by trying first a jalapeno pepper and then one time to have a habanero pepper.
Always read the ingredients, so you can estimate the spiciness and avoid too much burning in your mouth.
Cayenne peppers are easily one of the spiciest chili peppers out there, and who doesn't love a good kick to their meal?
Just remember that anything can set your mouth on fire, so be careful when you're eating foods with these.
Avoid Water and Wine, Take Milk
It's a truth universally acknowledged that, while ingesting spicy food, all anyone can think of is wine.
The trouble with pairing Wingstop Atomic Flavor with alcohol is that the former triggers the nervous system and creates the sensation of feeling burning and pain, while the latter dulls those sensations.
It's best to eat the atomic flavor without drinking anything else to make sure you thoroughly enjoy the taste.
If you do have a drink, the general scientific consensus suggests that fat will be the most effective way to get rid of the heat, so you should opt for full-fat milk or soy milk.
Milk helps with the spiciness, but water does not have the same cooling effect.
The proteins in milk are better for cooling your mouth down because they bind to the capsaicin that makes hot food spicy.
On the other hand, water spreads the fire around and washes everything around.
Breathe Through the Mouth
Wingstop Atomic flavor is one of the hottest flavors, and it's paramount that you experience it in the best way possible.
A little bit of breathing control can help with the heat, and no one will blame you if you can't handle the heat.
Take a deep breath and exhale slowly while making guttural sounds.
Breathing sends cool air over the capsaicin receptors rapidly and with some theatrics, which will make the next bite a bit less painful.
Hot peppers contain more capsaicin, so you should breathe more.
Exhaling sends cooler air to those receptors in your mouth that detect spiciness.
Consume Butter Sticks
Try sopping up your overwhelming spice with a butter stick.
Don't substitute it with margarine or any imitation brand.
Butter from dairy cows contains saturated fat, which helps absorb the heat from spicy foods.
Experience and Enjoy the Endorphin Rush
How is it possible that something spicy feels so hot, yet there's no heat in a pepper?
The chemicals in your brain that cause this euphoric feeling helps block pain, which means eating something spicy is a pretty trippy experience.
Your first bite is like hitting the waves for the first time, and with each bite of Wingstop atomic flavor, you will feel your endorphin levels rise.
The natural ingredients in the Atomic flavor help produce endorphins, the body's natural pain reducers.
The red stuff that makes your favorite foods hot is capsaicin, and when it gets on your tongue, it tricks the brain into thinking you're in pain.
The brain responds by releasing endorphins, which lift your mood and give you a happy energy jolt.
FAQs on Wingstop Atomic Flavor
Is Wingstop Atomic flavor peppered?
Yes, it contains habanero peppers.
The habanero is a small, extremely spicy chili pepper.
You can find it in different colors, including red, orange, yellow, and white.
How many Scoville units does Wingstop atomic flavor have?
Atomic and mango habanero flavors come from habanero peppers with Scoville Heat Units between 200,000 and 350,000.
This makes them some of the spiciest flavors on the menu.
What is the difference between atomic and nuclear flavor?
Nuclear is a bit hotter than atomic, but both flavors are equally delicious.
If you can't handle the heat, we suggest going for the atomic flavor.
Final Word
Wingstop is famous not only for the wings but also the boldness of its flavors.
The brand relishes its flavor combinations, with many choices that range from mild to tangy to spiciness that could melt your face off.
Atomic is one of those flavors, and if you've never tried it, you might just be missing out on something that could take your next snack time to the next level.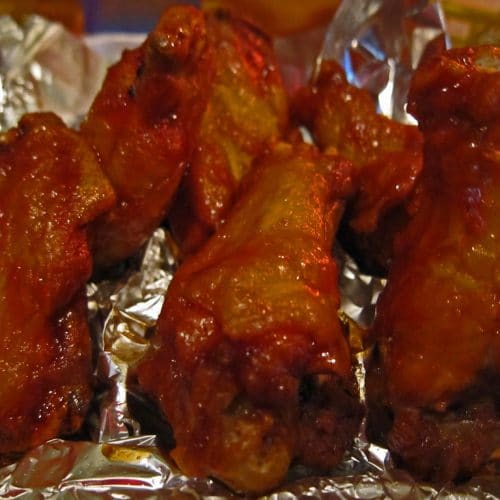 Wingstop Atomic Flavorː The Flavor You Must Try
Atomic is one of those flavors, and if you've never tried it, you might just be missing out on something that could take your next snack time to the next level.
Ingredients
4

pounds

chicken wings

2

Tablespoons

baking powder

3/4

teaspoon

salt

1/2

teaspoon

black pepper

1

teaspoon

paprika

1

teaspoon

garlic powder
Instructions
Set the middle rack of your oven to the higher position. Set oven to 425 degrees Fahrenheit.

A cooling rack is used as the top layer of a wire rack on top of an aluminum foil-lined baking sheet. Apply non-stick spray to the rack.

The wings should be dried with paper towels before being put in a big basin. It's crucial to dry them VERY well!

In a small bowl, mix the baking powder, paprika, garlic powder, salt, and pepper. Then, after evenly coating the wings, sprinkle the spice over them.

Place the wings on the prepared wire rack in a single layer, skin side up.

Turn the wings over every 20 minutes while baking on the upper center oven rack until they are crispy and golden. Depending on the size of the food, the total cooking
Nutrition
Calories:
440
kcal
Carbohydrates:
2
g
Protein:
36
g
Fat:
31
g
Saturated Fat:
9
g
Polyunsaturated Fat:
7
g
Monounsaturated Fat:
12
g
Trans Fat:
0.4
g
Cholesterol:
151
mg
Sodium:
1001
mg
Potassium:
319
mg
Fiber:
0.1
g
Sugar:
0.1
g
Vitamin A:
320
IU
Vitamin C:
3
mg
Calcium:
307
mg
Iron:
2
mg
---