Baking meatloaf takes patience and precision, making it challenging to perfect.
Many recipes that call for moist cooking methods, like mopping or moist heat, are never easy to master.
Ideally, your meatloaf should have excellent texture and flavor and finish cooking without drying out.
Baking your meatloaf the right way will result in a moist and delicious meal far superior to whatever your imagination can create.
Yet, a meatloaf's oven baking time can mean the difference between moist and dry.
This said, the right temperature will make all the difference.
So, how long does it take to bake a meatloaf?
It takes 55 minutes to cook a meatloaf in a 350° oven.
Ensure you take out the meatloaf from the oven when it reaches 160°F.
If you cut into the meatloaf too early, some of your most precious fillings might fall out.
So, to keep the meatloaf's shape, let it rest for 10 minutes before slicing.
This article provides a clear guide on how long you should bake your meatloaf at different temperatures.
In addition, it provides a recipe for making mouth-watering meatloaf that everyone will love.
What is the best temperature for a meatloaf?
When baking meatloaf, the optimal temperature is 350°F.
This is not too high that it will dry out the meatloaf, but it is high enough to cook it through without making it tough.
At this temperature, your meatloaf should take about 55 minutes to bake.
To check whether your meatloaf is done, use a meat thermometer.
The United States Department of Agriculture (USDA) recommends cooking ground beef to an internal temperature of 160°F.
At this temperature, any bacteria present in the meat will be destroyed and it will be safe to eat.
However, keep in mind that meatloaves made with lean ground beef or pork might not reach 160°F even after 55 minutes of baking.
In this case, it is best to err on the side of caution and take the meatloaf out of the oven at 155°F.
The residual heat will continue cooking the meatloaf and bring it up to the recommended 160°F.
What is the minimum temperature for a meatloaf?
The minimum safe temperature for cooked ground beef is 145°F, as recommended by the USDA.
However, cooking meatloaf to this temperature will result in a dry and crumbly texture.
If you are looking for a moist and delicious meatloaf, it is best to cook it to an internal temperature of 160°F.
What is the cooking time for meatloaf per pound?
The cooking time for meatloaf per pound is generally between 30 and 45 minutes, depending on how much heat you want to add.
However, cooking time varies based on the type of meat used (beef, chicken, or turkey), its thickness, and the oven temperature.
If you use ground beef (usually 80% lean beef), cook your meatloaf at 350°F for 45 minutes to an hour.
If you use ground chicken or turkey instead, cook it at 325°F for about 20 minutes, the same as using ground beef.
Use a meat thermometer to check the internal temperature of your meatloaf every five minutes until it reaches 165 degrees Fahrenheit.
The internal temperature should be reached in around 45 minutes.
What is the recommended cooking time for meatloaf at 400 degrees?
The safe internal temperature for meatloaf is around 160°F.
Your meatloaf should cook for around 40 minutes at 400°F to reach this temperature.
Keep the temperature the same throughout.
This way, your meatloaf will turn out beautifully browned and delicious.
Set your oven to 400°F and leave it there for the entire time the meatloaf cooks.
This will ensure your finished product will cook evenly.
Keep an eye on your meatloaf while cooking at these temperatures so that you don't overcook or undercook it.
What is the Ideal Temperature for Cooking a 2-pound Meatloaf?
The ideal temperature for cooking a 2-pound meatloaf is 350°F.
Your meatloaf is ready when the internal temperature reaches 160 degrees.
It'll take about one hour or a few minutes longer if the meatloaf has a large diameter and is of a more complex shape.
This will ensure that the meatloaf is ready without overcooking it.
Overcooking can cause it to be tough and chewy.
Check the internal temperature of your meatloaf regularly during cooking time with an instant-read thermometer or a probe thermometer.
What is the best temperature for cooking meatloaf?
When cooking meatloaf, you want to bake the center without overcooking it.
The ideal temperature for this is between 350 and 375 degrees Fahrenheit.
Meatloaf cooks at a low temperature, so it must be baked slowly, not in a high-temperature oven.
You will burn your meatloaf if you cook it at a higher temperature than that.
Additionally, cook your meatloaf until it's no longer pink in the center.
This can take anywhere between 45 minutes and an hour, depending on the size of your loaf.
Moreover, cook your meatloaf at an internal temperature of at least 160°F for it to be safe to eat.
Should meatloaf be covered while baking?
The general rule is that you cover the meatloaf while it's cooking.
However, it should remain uncovered for the final 15 minutes of baking.
Use aluminum foil instead of plastic wrap to cover the meatloaf.
As a result, the meatloaf will remain moist during the baking process.
A covered meatloaf traps in more juices and prevents them from evaporating as quickly as they would if uncovered.
Therefore, your finished product will be more moist when cooked than if you don't cover it.
When you're ready to serve your meatloaf (after 15 minutes), uncover it immediately.
This way, the meatloaf won't get soggy from steam as it waits for everyone else.
What is the recommended cooking time for meatloaf at 375 degrees?
The recommended cooking times for meatloaf vary depending on its size.
It should take 25 to 30 minutes at 375 degrees to bake a 1-pound meatloaf.
On the other hand, it should take 40 to 50 minutes at 375 degrees to bake a 2-pound meatloaf.
What is the recommended cooking time for meatloaf at 350 degrees?
Generally, you'll need to cook a one-pound meatloaf for 40-50 minutes.
On the other hand, a two-pound meatloaf takes one hour and 10 minutes, while a three-pound meatloaf needs 1.5 hours to get done.
How to Make a Classic Meatloaf Recipe
Meatloaf is one of the most popular holiday dishes, and it's easy to see why.
It's a hearty, delicious meal you can make from scratch in just a few minutes.
Meatloaf is also a great choice if you're trying to eat less meat and want something more filling than a salad.
Here's how you do it:
What You Need
90% lean ground beef, 1 lb.
One cup of breadcrumbs, dried
Diced yellow onion, half a cup
Half a cup of milk
One large egg, beaten
Two tablespoons of ketchup
A tablespoon of Worcestershire sauce
A tablespoon of dried parsley leaves
Salt, 3/4 teaspoon
1/2 teaspoon of garlic powder
Ground black pepper, 1/4 teaspoon
For the Topping:
Ketchup, 1/4 cup
Light brown sugar, packed, two tablespoons
Red wine vinegar, one tablespoon
Instructions
Preheat the oven to 350 degrees (overnight if possible) and place a non-stick pan on the stovetop over medium heat.
Combine all the ingredients in a large bowl. Mix with your hands until uniformed with no chunks remaining for about 5 minutes; do not overmix since this will make for tough meatloaf later.
Pour batter into a loaf pan. Create an even layer by patting the meat down.
Add all the topping ingredients to a small bowl and mix well to combine. Spread an even layer of sauce over the meatloaf.
Bake uncovered for 30 minutes. Then, use tongs to turn over the meatloaf and cook for another 20 minutes or so, until browned on top and cooked through. The internal temperatures should reach 165 degrees before removing the meatloaf from the oven.
Allow the meatloaf to rest for at least 8-10 minutes before serving; otherwise, it will crumble.
Best Side Dishes for Meatloaf
Meatloaf is classic comfort food but can be too hearty to serve as a side dish.
Luckily, there are many ways to customize it to make your meal even more delicious.
Here's how:
Garlic Bread: Garlic bread is always a hit with everyone; this version is no exception. You can also add some cheese and Parmesan if you like.
Mashed Potatoes: If you're craving mashed potatoes, try this variation that includes garlic and butter instead of milk or cream. It's guaranteed to be delicious.
Roasted Vegetables: They add an extra dimension of flavor to any meal, so why not use them in a simple meatloaf recipe? Try roasting peppers or carrots with garlic before adding them to the mix for a delicious twist on mashed potatoes.
Rice: This dish tends to be hearty enough that it can stand on its own without needing any other accompaniment besides buttery mashed potatoes on top. However, add some vegetables like broccoli if you want something more substantial than just rice and gravy.
Salad: Jazz up your meatloaf using different vegetables or add some herbs. A salad is light and flavorful, but it's also one of the few side dishes that can be prepared ahead of time and assembled at the last minute. This means less stress during dinner time. You can also add some cheese to make it more decadent.
Onion Rings: The classic combo of onion rings and meatloaf is excellent. You can add them in the same pan as your meatloaf or make them separately; either way works well.
Tips for Making the Best Meatloaf
Meatloaf is classic comfort food.
It's easy to make, and it tastes delicious.
Follow these tips to make the best meatloaf:
Use lean beef if you can. You don't want to see any fat in your meatloaf as it will leave the meatloaf dry and unappetizing.
Don't use too much bread or other ingredients. Instead, use less of one ingredient at a time until you get the right balance.
Use a good quality bread crumb mix. Besides having plenty of protein and low carbs, it should also contain lots of moisture and not too much salt or fat.
Use seasonings like garlic powder and onion powder instead of raw garlic and onion. This way, you'll get more flavor without having raw onions in your meatloaf.
Don't add too many spices to your meatloaf; just enough so that it tastes good.
Ensure your meat cooks well before adding it to the loaf pan. This way, the loaf will cook more quickly once it's in the oven.
If you don't have a loaf pan, use two 9×5 inch pans instead of just one.
Let the meatloaf cool completely before slicing and serving it up.
Omit the Italian seasoning if you have Italian-style breadcrumbs on hand.
Conclusion
Cooking meatloaf might sound intimidating, especially when you don't know how long to bake it, but it's easy to make.
We hope this article will guide you through the process of making a homemade meatloaf.
The best part about meatloaf is the juicy, soft interior and the crispy top.
Sticking to the recipe and guidelines above will ensure you get just that.
You can also customize your meatloaf to your taste with whatever meats and vegetables you have available.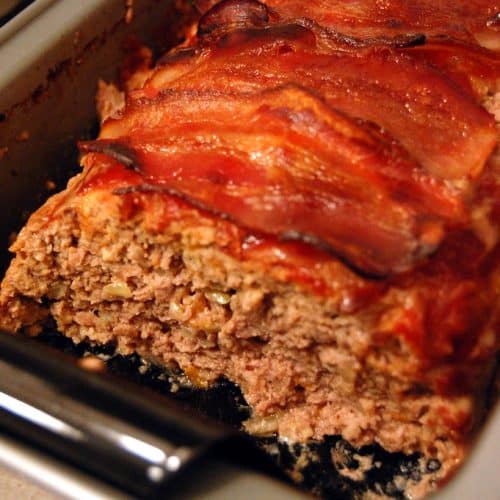 Meatloaf Recipe
Made the old-fashioned way, topped with a glaze of your liking, meatloaf can be one of the best ways to surprise your family.
Ingredients
1

tablespoon

butter

¼

cup minced

onion

2

cloves

garlic

minced

1 ½

teaspoons

salt

1 ½

teaspoon freshly ground

black pepper

2

pounds extra-lean

ground beef

3

slices

bread

toasted and crumbled

7

buttery round

crackers

crushed

1

egg

lightly beaten

3 ½

tablespoons

sour cream

1 ½

tablespoon Worcestershire

sauce

15

ounces

tomato sauce

divided

¼

cup

milk

3

tablespoons

ketchup
Instructions
Preheat the oven to 350 degrees F (175 degrees C).

Melt the butter in a skillet over medium heat, and cook onion and garlic until onion is soft and translucent about 5 minutes.

Remove from heat, and season with salt and pepper.

Combine onion and garlic, beef, crumbled bread, crushed crackers, egg, sour cream, Worcestershire sauce, and 1/2 a can of tomato sauce in a large bowl.

Mix until well combined.

Gradually stir in milk, one teaspoon at a time, until the mixture is moist but not soggy.

Transfer the mixture to a 5×9 inch loaf pan.

Bake uncovered in the preheated oven for 40 minutes.

Increase oven temperature to 400 degrees F (200 degrees C), and continue baking for 15 minutes to an internal temperature of 160 degrees F (70 degrees C).

Mix the remaining tomato sauce and ketchup in a small bowl.

Pour the meatloaf over the top, and continue baking for 10 minutes.
Video
Nutrition
Calories:
523
kcal
Carbohydrates:
19
g
Protein:
30
g
Fat:
36
g
Saturated Fat:
14
g
Polyunsaturated Fat:
2
g
Monounsaturated Fat:
15
g
Trans Fat:
2
g
Cholesterol:
145
mg
Sodium:
1196
mg
Potassium:
731
mg
Fiber:
2
g
Sugar:
6
g
Vitamin A:
511
IU
Vitamin C:
6
mg
Calcium:
92
mg
Iron:
5
mg
---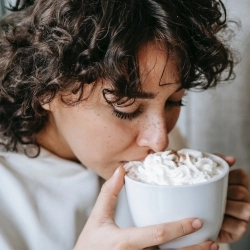 Latest posts by Grace Lambert
(see all)