These sweet and savory thai desserts will transport you straight to Thailand.
Sure, it's not the easiest place to travel to.
But if you're in the mood for flaky pastry, sticky rice, and tangy coconut milk, I know Thailand can do it!
Thailand is known as the "Kingdom of Coconut" – and this country has some of the best coconut-based desserts on earth!
From sweet to spicy, there's something for everyone here.
I just know you'll fall in love at first bite.
Don't be afraid to try new things!
Thai desserts are all about customization.
From the base to the topping, there are endless possibilities.
So, let your creativity run wild and these Thai desserts will be begging for more.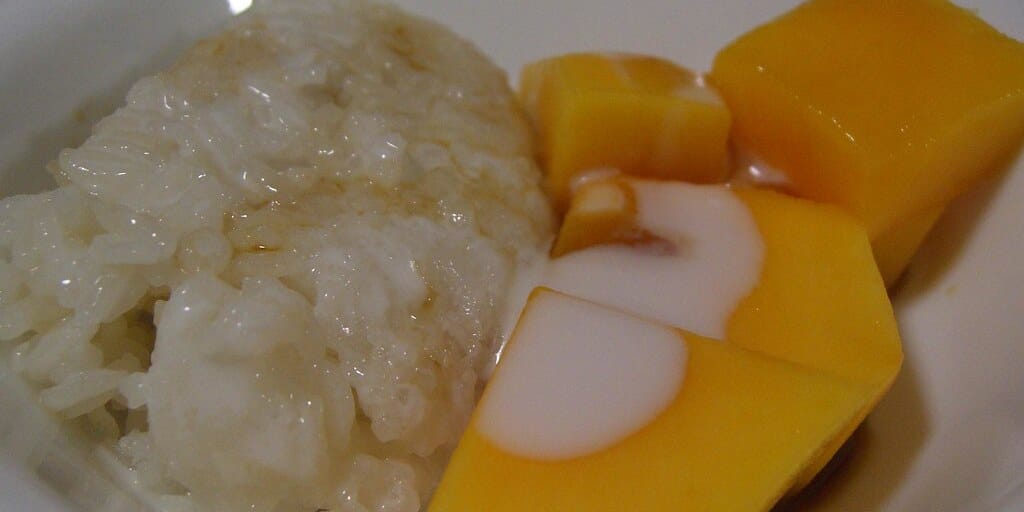 A classic Thai dessert, this coconut custard is a light and airy treat you'll crave over and over.
The silky smooth custard is filled with sweetened condensed milk, shredded coconut, and vanilla.
Then, it's covered in beautiful layers of red coloring to bring out the incredible flavor.
Thai coconut custard is an excellent choice for Valentine's Day or Christmas.
It's also traditionally served on New Year's Day as a symbol of fertility.
This is so good, you might not have time to eat it all.
Full of sweet and tangy Thai chili sauce, it's an ideal dessert for any occasion.
If you love the flavors of Thai cuisine but want them a little bit spicier, this recipe ticks all the boxes.
Between the pandan powder and red curry paste, there's not much sweetness here.
But that bright lime juice balances everything out perfectly.
I love how they go together!
Banana roti is another wonderful Indian snack that's easy to make and is definitely an excellent energy boost.
Serve it with chutney for dipping, or enjoy it on its own.
Either way, you won't be disappointed.
This is one of my favorite crème brûlées.
It's the perfect blend of sweet and salty, and it's super rich.
You'll make a sauce that includes sugar, water, honey, lime juice, cinnamon sticks, and soy sauce.
Then you'll coat the hot waffle iron with this syrup to get it nice and caramelized.
Just be sure to cover each one as soon as they come out so they don't burn.
Mango pudding is a classic dessert that most of us grew up with.
But did you know it's also ideal for weight loss?
The combination of coconut milk and mango puree comes together to make this dreamy pudding.
Pairing the two ingredients together is a magical blend, and it's the perfect meal-prep recipe that'll last through a whole week.
If you're a fan of pineapple upside-down cake, this will be your new favorite!
The layers are made with a dense sponge and pudding, which is topped off with marbled pineapple for a stunning contrast of flavors.
It's super simple to make and tastes even better when served warm.
Just be sure to let it cool completely before serving!
If you're looking for a refreshing dessert to serve on a hot day, this recipe is perfect.
The creamy panna cotta balanced with the sweet tea and crunchy Thai shortbread cookies will be the hit of your party.
With its bold flavors and beautiful colors, it's sure to impress.
Serve it with a side of mint or fresh berries for an extra yumminess.
Thai iced tea is so refreshing and has such a lovely light taste.
The recipe calls for teabags, but it can easily be modified to make your own.
If you don't have fresh mint leaves, try using frozen.
They add a nice crunch that pairs perfectly with the sweetness of this drink.
Sweet and creamy, this crème caramel is a delicious treat for any occasion.
It's made with cream, sugar, milk, and a dash of coconut oil.
The combination of the sweet creaminess with the rich flavor of coconut oil makes it irresistible.
You don't need to be a fan of desserts to enjoy this flavorful drink.
I'm a big fan of coconut and jelly, so when I saw this recipe for a dual-wax coconut jelly, I had to give it a try.
And I was not disappointed.
It's the perfect combination of sweet, tangy, and creamy.
I like mine served with hot chocolate, but it would also be delicious with ice cream or on its own.
Looking for a quick and tasty rice side dish? This mango sticky rice is just what you need.
Made with jasmine rice, fresh mangoes, mint leaves, ginger, garlic, and star anise, this dish has all the flavor of Indian cuisine but without the caloric intake.
You won't even have to boil the sticky rice before serving.
Just microwave it for 3 minutes on high power and serve it hot!
Thai coconut pancakes are a fantastic way to start your day.
They're packed with Thai flavors and healthy ingredients.
They have a lovely, fluffy texture that's perfect for dunking in your favorite treat or enjoying as is.
Serve them with a drizzle of honey, berries, or mango jam for the ultimate breakfast treat.
If you think mangoes taste like a chunky, syrupy pudding, you'll be surprised to know that they actually have a lot to do with tapioca.
In fact, when you boil the whole thing in water and sugar, it looks exactly like this tropical treat!
The trick is to gently cook the tapioca for a few minutes before adding the mango puree.
Once everything is nice and smooth, pour over some ice and enjoy!
Men don't usually keep mangoes in the house.
But when they do, this treat is a must-have.
This sweet and sticky snack is a simple combination of thin layers of homemade dough and sweetened mango chutney.
It's a fantastic summer treat!
This recipe is quick and easy to make, but it looks impressive enough to serve at an informal dinner party.
Thai black sticky rice is a staple in Thai cuisine and the perfect side dish for any meal.
This recipe has everything you want in a great bowl of stir-fry – sweet, savory, and buttery.
It's best served with grilled chicken or shrimp for a hearty protein boost.
If you want to make your kitchen look extra fancy, try sprinkling some chili flakes on top.
Serve this scrumptious dish at your next get-together and be prepared to enjoy yourself!
Tender and flavorful, this Thai pudding is a dish you'll want to eat again and again.
Coconut milk makes everything creamy and the cinnamon adds just a touch of spice.
You can make it ahead of time, so feel free to adjust the recipe as needed.
This Indonesian dessert is a classic, and it's usually served for special occasions.
It's an awesome combination of coconut milk, crunchy pandan leaves, and sweet condensed milk.
You can also eat this as a light dessert or a refreshing snack!
It's like eating the flavor of Asia in one dish.
These banana spring rolls are simply irresistible.
They're colorful, flaky, and bursting with fresh banana flavor.
The soft, pillowy rolls are filled with creamy peanut sauce and topped with a crunchy Thai chili onion salad.
If you're looking for a new way to enjoy your favorite spring roll at home this is the recipe for you!
You can use this recipe to make an entirely different dessert.
For instance, you can turn your panna cotta into a sweetly spiced rum drink.
I love the way this recipe has the crème panna cotta layers looking like a cross between creme brûlée and roulade.
It's not too big, but it's also not too small!
The rum-infused panna cotta is fruity and zesty with a splash of complexity.
The maraschino cherry topping is rich and creamy with just enough tartness from the juice they add.
This gives it that extra something special.
This grass jelly dessert is a fantastic way to celebrate the end of summer and the new beginning of fall.
It features chunks of honey-preserved strawberries, marshmallows, coconut, and crushed graham crackers.
It's sweet, light, and fun to enjoy.
The only thing that I don't love about it is the weird texture.
There are so many different textures in this recipe – crunchy, chewy, soft – that you can't always tell what one will be like.
Still, if you find that you want some more texture in your desserts this season, give this recipe a try.
Red rubies are a delicious appetizer.
They're made with sesame seeds, red chili flakes, and peanuts, giving them a little bit of heat.
When you bite into these jewels, you'll get a burst of nutty delights from the nuts, along with some spicy flavors from the chili and spices.
The red color is pretty striking and an eye-catching addition to any table.
If you love the sweetness of Thai iced tea, these cupcakes will be your new addiction.
The yellow cake is so light and fluffy that it's almost airy.
However, it has plenty of coconutty, buttery flavor thanks to the vanilla buttercream filling.
It also features coconut syrup for a tropical kick.
As for the drink itself, you can choose from several teas like green or black.
I would go with both!
Whip up these babies on a weekend when you want some fun but will still need to clean up after dinner.
The mango sago is a tropical treat made with the sweet, juicy fruits of the mangosteen tree.
Mangoes are covered with a sweet, coconut milk syrup and then stuffed with a crunchy fried batter.
Each bite bursts in your mouth with flavors of mangoes, sugar, and nuts.
Serve this fruit-filled dessert at your next celebration party or get-together.
It's sure to be a hit!
Fried bananas are a popular snack in Thailand, and it's not just because they taste amazing.
They're also packed with vitamins and minerals as well as plenty of flavor.
This recipe has Thai chili paste, garlic, ginger, lemongrass and shallot, fish sauce, and palm sugar for that sweet caramelized banana flavor.
I love the way this looks!
The banana slices look like they're floating on top of the coconut milk.
You can easily throw these in a blender and make them even more nutritious.
The whole thing is only five ingredients and 15 minutes.
Add some cinnamon to your bananas, which also infuses sweetness to each bite.
They're also amazingly soft and moist, not at all dry or crumbly.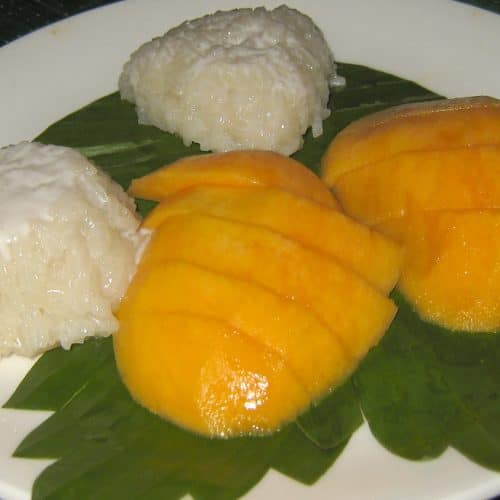 25 Simple Thai Desserts
Looking for a quick and tasty rice side dish? This mango sticky rice is just what you need.
Ingredients
1½

cups

glutinous rice

1⅓

cups

coconut milk

⅓

cup

plus 3 tablespoons sugar

¼

teaspoon

salt

1

tablespoon

sesame seeds

1

large mango
Instructions
Wash the rice thoroughly in a bowl using several changes of cold water until the water is clear. Overnight soak rice in cold water to cover.

In a sieve, thoroughly drain the rice. Set a sieve over a sizable deep saucepan of simmering water (the sieve shouldn't contact the water) and steam rice for 30 to 40 minutes, or until it is soft, while it is covered with a kitchen towel and a lid (check water level in pan occasionally, adding more water if necessary).

One cup of coconut milk, one-third cup of sugar, and salt should be brought to a boil in a small saucepan while the rice is cooking. Once the sugar has dissolved, remove the pan from the heat. Warm the mixture up.

Stir the coconut-milk mixture into the cooked rice before placing it in a bowl. 30 minutes should pass while the rice is covered and the coconut milk mixture is absorbed. Up to this point, rice can be prepared up to two hours ahead of time and kept covered at room temperature.

While the rice is standing, slowly bring the remaining 13 cup coconut milk and remaining 3 teaspoons of sugar to a boil in a small, clean skillet while stirring regularly for 1 minute. Sauce should be transferred to a small bowl and chilled until cool and slightly thickened.

Place 1/4 cup portions of sticky rice on dessert plates to serve. Desserts should be topped with sesame seeds and sauce. On plates, distribute the mango slices.
Video
Nutrition
Calories:
1024
kcal
Carbohydrates:
167
g
Protein:
14
g
Fat:
35
g
Saturated Fat:
29
g
Polyunsaturated Fat:
2
g
Monounsaturated Fat:
3
g
Sodium:
322
mg
Potassium:
632
mg
Fiber:
6
g
Sugar:
47
g
Vitamin A:
1120
IU
Vitamin C:
39
mg
Calcium:
93
mg
Iron:
8
mg
---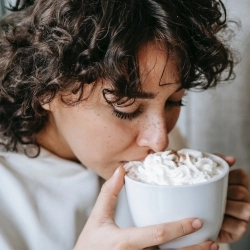 Latest posts by Grace Lambert
(see all)