Slow Cooker Potato Soup is the perfect comfort food and couldn't be easier to make.
It's a terrific meal for a cold day because it cooks all day in the slow cooker.
For a loaded baked potato soup, top with salty bacon, cheese, and green onions.
Recipe for Potato Soup using Slow Cooker
This Slow Cooker Potato Soup is rich and creamy (without the use of heavy cream), tasty, and easy to make in the slow cooker!
Ingredients
●
1/3 cup flour (all-purpose)
●
1 can of 2 per cent evaporated milk (12 oz.)
●
3–4 cups chicken or vegetable stock of good quality
●
2 pound Yukon gold potatoes** (peeled and chopped if desired)
●
1 medium peeled and diced white or yellow onion
●
4 tbsp. bacon fat* (or butter)
●
1/2 cup plain Greek yoghurt (low-fat) or sour cream (low-fat)
●
1 teaspoon salt (Kosher) or more to taste
●
1/2 teaspoon black pepper, freshly cracked
●
Thinly sliced green onions or chives, extra shredded cheese, extra bacon, and sour cream are all optional additions.
Instructions
1.
In the bowl of a large slow cooker, add the bacon, 3 cups of chicken stock, potatoes, and onion. Cook for 6-8 hours on low or 3-4 hours on high, or until the potatoes are soft and cooked through.
2.
Cook the butter in a small saucepan on the stove over medium-high heat until it has melted once the soup has been slow simmered and is almost ready to serve.
3.
Cook for 1 minute, stirring occasionally, after whisking in the flour until it is entirely incorporated. Whisk in the
evaporated milk
gradually while mixing the flour mixture, and continue whisking until the mixture is perfectly smooth. Allow the mixture to continue to cook, stirring regularly until it reaches a simmer, at which point it should thicken significantly.
4.
Pour the milk mixture into the slow cooker with the potatoes and stir until everything is well mixed. Stir in the cheddar, Greek yoghurt (or sour cream), salt, and pepper until everything is well blended.
5.
If you want the soup to be even thicker, mash about half of the potatoes with a potato masher or a large spoon (while the soup is still in the slow cooker) to thicken it up. Add an extra 1-2 cups of warmed chicken or vegetable stock if you want the soup to be thinner. Stir to incorporate, then season with salt & pepper to taste.
6.
Garnish with chosen toppings and serve warm. Alternatively, transfer to a sealed container and store in the refrigerator for up to 3 days. (This recipe will not keep well in the freezer.)
.
Recipe Variations:
1.
Cook 4 to 6 bacon strips at a time. Drain and crush the meat. When you add the milk to the soup, add the bacon.
2.
Approximately 6 ounces of smoked sausage, diced Add it to the soup after browning it in a small quantity of oil on a skillet.
3.
Along with the vegetables, add roughly 1/2 cup diced cooked ham to the soup mixture.
4.
Fresh chopped parsley, green onion tops, or chives can be sprinkled on top of each serving.
5.
Add 1 to 2 cups shredded cheddar cheese to the milk, or sprinkle shredded cheese on top of each serving.
6.
To make a vegetarian
potato soup
, replace the chicken broth with vegetable broth.
7.
To add colour and nutrients to the soup, add chopped spinach or kale.
How healthy is Potato Soup for you?
Check out all these nutrients that you get from Potato Soup:
1.
Vitamins and minerals abound.
Potato soup has become a staple since it is high in starch, vitamins, minerals, and fibre.
Potatoes have 70 calories per 100 grammes and are low in lipids and cholesterol.
Vitamin content will be advantageous to the body's wellness.
Soluble and insoluble fibre are abundant in potato soup.
Potatoes provide dietary fibre that can help avoid constipation, reduce dietary cholesterol absorption, and lower LDL bad cholesterol.
Fibre can also assist to prevent polyps and cancer in the intestine.
3.
Alpha-lipoic acid is abundant
One of the minerals contained in potato soup is alpha-lipoic acid.
It can assist in the conversion of glucose to energy.
Researchers have discovered that it can also reduce blood glucose levels, protect diabetics from retinopathy, preserve brain and nerve tissues, and promote vasodilation.
You can attempt various natural forms of diabetes therapy instead of eating potato soup if you have diabetes.
4.
Cancer Can Be Prevented
Potatoes include vitamin B6, which can help prevent tumours from forming inside the body, which can lead to cancer, particularly prostate cancer in men and cervical cancer in women.
Potato soup can help to prevent cancer cells from growing in the body.
Potassium mineral presence in potato soup contributes to its ability to lower cholesterol levels.
Potassium, as we can see, aids in the prevention of cholesterol build-up in the blood. Potatoes are low in calories and can be used as part of a reduced-cholesterol diet.
6.
Reduce Your Chances of Getting Kidney Stones
Potato soup has numerous health advantages.
The calcium in potato soup nutrition can cause kidney stones to form, but its high magnesium content can help the kidney tissues resist calcium.
Potato soup is good for bones because of the iron content; potatoes can aid in bone growth and health because of their iron content.
Potatoes are high in iron, calcium, phosphorus, magnesium, and zinc, all of which help to build and strengthen bone structure and strength.
8.
Reduce your blood pressure.
Some of the signs and symptoms of high blood pressure can be identified.
Potassium intake should be high to lower high blood pressure.
Potassium, magnesium, and calcium are some of the other substances that are thought to help people with high blood pressure.
Potato soup is a good way to receive a good dose of those nutrients.
9.
Encourage good heart health.
Potato soup contains a variety of minerals that can help maintain a healthy heart, including fibre, potassium, vitamin C, and vitamin B-6, among others.
Furthermore, potato soup is cholesterol-free, which is excellent for the heart.
10.
Promote brain and nerve health
Vitamin B6 is also beneficial to brain function and aids in the nerve transmission process.
11.
Inflammation should be treated.
Inflammation can be treated using the choline properties in potato soup.
It helps to preserve the architecture of cellular membranes, improve fat absorption, convey nerve impulses, and promote early brain development, among other things.
Final Words
This is the finest soup, and it's so adaptable – try it with broccoli or ham for a change of pace.
This simple dish will quickly become your family's favourite crockpot potato soup.
Frequently Asked Questions
Is it necessary to peel potatoes before making potato soup?
It's entirely up to you.
You can advocate peeling the potatoes before putting them in the slow cooker for the greatest texture.
The peels are rougher than the flesh of the potato and will not blend as well.
Which method is the safest for blending hot soup?
The soup is blended in this recipe to give it a smooth and pleasant texture.
But, before you toss the soup in the blender and press "puree," keep in mind that safety comes first.
The safest technique is to purée the soup immediately in the slow cooker with an immersion blender, which eliminates the need to wash your blender.
If you don't have an immersion blender, a standard countertop blender will suffice: Place the top on the blender and remove the insert after about two-thirds of the soup has been blended.
(This is critical because it allows steam to escape, which prevents catastrophic blender explosions!)
Now, cover the hole in the lid with a kitchen cloth to collect any spills, and blend away!
Is it necessary to combine the potato soup?
Nope!
If you prefer or don't mind a chunky, rustic texture, skip the blender and mash the potatoes into the soup with a potato masher or large fork to your desired consistency.
Even so, it'll be extremely delectable!
What is the process of cooking raw potatoes in a slow cooker?
In the slow cooker, potatoes cook quickly.
You may use them to make crockpot baked potatoes or these amazing garlic potatoes, or you can use them to make soups and stews on their own.
What can I use to thicken up potato soup?
Combine one cup of cold liquid and two teaspoons of corn starch in a mixing bowl and whisk until the corn starch is completely dissolved.
Slowly pour the ingredients into the simmering soup, stirring frequently.
After bringing the soup to a low boil, cook for one minute.
For thickness and flavour, thin potato soup might also benefit from the inclusion of cheese.
What's wrong with the texture of my potato soup?
The majority of creamy potato soup recipes call for some sort of dairy component.
If you're going to make a thicker version, start with thicker dairy.
If a recipe asks for whole milk, replace it with heavy cream at the end of the cooking process (set the burner no higher than medium heat).
Is it possible to cook raw potatoes in a slow cooker?
Is it possible to cook raw potatoes in the slow cooker?
In the slow cooker, potatoes cook quickly.
You may use them to make crockpot baked potatoes or these amazing garlic potatoes, or you can use them to make soups and stews on their own.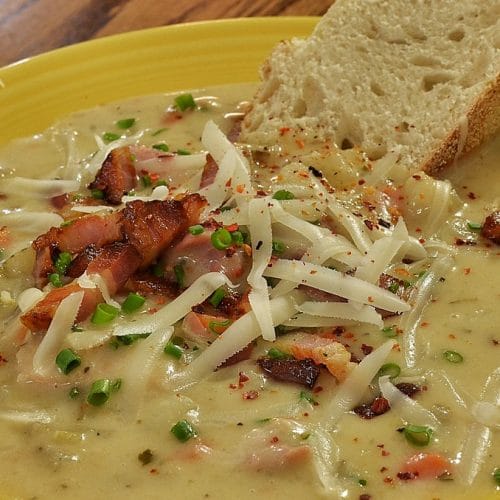 Slow Cooker Potato Soup
Slow Cooker Potato Soup is the perfect comfort food and couldn't be easier to make
Ingredients
1/3

cup

flour

1

evaporated milk

12 oz.

1

cup

sharp cheddar cheese

shredded

6

bacon pieces

chopped

3

cups

vegetable stock

2

pound

Yukon gold potatoes

peeled and chopped if desired

1

peeled

4

tbsp.

bacon fat

or butter

1/2

cup

Greek yoghurt

low-fat or sour cream (low-fat)

1

teaspoon

salt

Kosher or more to taste

1/2

teaspoon

black pepper

freshly cracked
Instructions
1.In the bowl of a large slow cooker, add the bacon, 3 cups of chicken stock, potatoes, and onion. Cook for 6-8 hours on low or 3-4 hours on high, or until the potatoes are soft and cooked through.

2.Cook the butter in a small saucepan on the stove over medium-high heat until it has melted once the soup has been slow simmered and is almost ready to serve.

3.Cook for 1 minute, stirring occasionally, after whisking in the flour until it is entirely incorporated. Whisk in the evaporated milk gradually while mixing the flour mixture, and continue whisking until the mixture is perfectly smooth. Allow the mixture to continue to cook, stirring regularly until it reaches a simmer, at which point it should thicken significantly.

4.Pour the milk mixture into the slow cooker with the potatoes and stir until everything is well mixed. Stir in the cheddar, Greek yoghurt (or sour cream), salt, and pepper until everything is well blended.

5.If you want the soup to be even thicker, mash about half of the potatoes with a potato masher or a large spoon (while the soup is still in the slow cooker) to thicken it up. Add an extra 1-2 cups of warmed chicken or vegetable stock if you want the soup to be thinner. Stir to incorporate, then season with salt & pepper to taste.

6.Garnish with chosen toppings and serve warm. Alternatively, transfer to a sealed container and store in the refrigerator for up to 3 days. (This recipe will not keep well in the freezer.)
Video
Nutrition
Calories:
1016
kcal
Carbohydrates:
111
g
Protein:
33
g
Fat:
50
g
Saturated Fat:
23
g
Polyunsaturated Fat:
4
g
Monounsaturated Fat:
18
g
Trans Fat:
1
g
Cholesterol:
92
mg
Sodium:
3417
mg
Potassium:
2441
mg
Fiber:
13
g
Sugar:
13
g
Vitamin A:
1572
IU
Vitamin C:
108
mg
Calcium:
580
mg
Iron:
7
mg
---