These simple rice noodle recipes are the perfect way to get your family into Asian cuisine.
From stir-fry to pho, rice noodles are an ideal alternative to wheat and gluten-free options.
They're a quick and easy way to add some flavor to any dish.
And they're a terrific source of fiber, protein, and vitamins.
This list of rice noodle recipe will take you on a whirlwind tour of Southeast Asia.
From spicy curries and savory noodle salads to hearty stews and hearty bowls, there's something for everyone.
So grab a bowl of water and get ready for an adventure!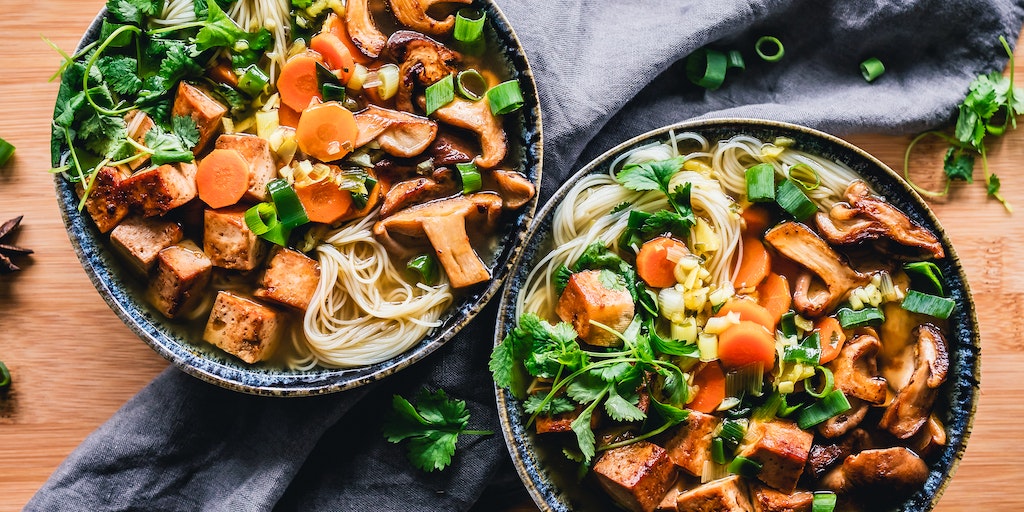 This is a recipe for the true fan of Asian cuisine.
Not only does it feature crunchy, bean-filled glass noodles, but there's also a layer of crispy pan-fried tofu to boot.
There's also a sweet and spicy sauce on top that will make your tastebuds dance.
It's more than just delicious; it's also health-conscious, too!
This recipe is just like the classic stir-fry, only I've added in a few extra ingredients!
It has ground beef, mushrooms, bell peppers, and noodles.
I love how it adds some texture to the dish, but you can leave it out if you want a lighter meal.
This is perfect for work or school chow down nights.
The best thing about chicken pho is that you can add whatever you like to it.
There are no restrictions on ingredients, and your customization provides endless possibilities.
The broth is made by stirring ground beef with a few spices, then letting it simmer for around 30 minutes.
As far as the veggies go, there's plenty of rice noodles and bean sprouts to get going.
While this isn't a traditional pho recipe, that doesn't mean it isn't delicious!
Thai chicken noodle soup is a comforting dish that'll keep you warm and satisfied.
This recipe uses chicken broth to enhance the flavors of the veggies, which is such a great option for those on low-carb diets.
The secret to this recipe's success is using organic meaty chicken thighs instead of chicken breast.
They have a richer flavor and make this dish far more filling!
Gochujang noodles are a Korean classic that's a must-try if you're looking for new Asian eats.
The recipe is super simple, and all you need is gochujang paste, soy sauce, and rice vinegar.
The sauce is the star here, so be sure to keep it bubbly.
These noodles have a slightly sweet, savory taste that's hard not to love.
It's easy enough for beginners but can also throw seasoned cooks for a loop.
Serve this with an array of meats and veggies to make it one heck of a meal.
If you're looking for a quick and easy dinner idea, this garlic fried noodles is the perfect recipe!
With just 10 minutes of prep time and one pot of boiling water, your noodle will be ready to eat!
This simple dish packs flavor from the garlicky sauce, the ground chicken and egg, and fresh herbs.
It's ready in under 20 minutes.
Serve with steamed veggies or a side salad for an appetizer or main meal.
This Vietnamese salad is a unique way to enjoy a tasty bowl of noodles.
The tangy, sweet-savory dressing complements the flavors of the noodles perfectly.
It has all the best components of simple but delicious Vietnamese cuisine, such as fresh herbs, crunchy peanuts, and crisp lettuce.
This dish is an excellent choice for those who love savory dishes with a bit of sweetness.
I love this recipe for Thai curry rice noodles.
The flavors are so well balanced, the rice is tender and flavorful, and the zucchini provides a healthy dose of color.
It's a simple dish you can make in minutes, perfect for busy weeknights.
And it's always super yummy even if you don't have any meat.
This soup is comfort food at its finest.
It's creamy, cheesy, and insanely tasty.
The broth is the secret to this soup's success.
It's made with stock from Hitachi chicken stocks and miso paste, making it super flavorful.
You need to make a big batch of this miso noodle soup because you'll want to eat it all for dinner on a regular basis.
Pad See Ew is a popular Thai dish that's so simple to make and full of flavor.
The noodles are coated in a sweet, sticky sauce with peanuts, garlic, and chili.
This recipe is the perfect way to use up those leftover noodles.
And you can even add some crispy pork belly or chicken to make it extra yummy.
You'll love how easy these stir-fried noodles are to cook! They take less than an hour from start to finish.
It's a total win-win.
These Thai ginger and garlic noodle bowls are the perfect way to start a meal of Asian flavors.
They're made with tender noodles, fresh veggies, and a zingy sauce infused with ginger and garlic.
It's a simple but satisfying dish that will keep you coming back for more.
It'll also warm your heart and fill you up when you're craving something light and indulgent.
I've been eating this recipe since I was a kid and it still tastes good today!
This simple recipe uses soy sauce to add umami flavor, which is perfect for making anything meaty taste great.
It works wonderfully with tofu, too.
If you need a crunchy side dish for your favorite noodles, this recipe will do the trick.
These rice noodle rolls are the perfect comfort food.
They're easy to make, but they taste like you put a lot of time and effort into them.
The combination of tender noodles bathed in a sweet soy sauce is simply irresistible.
The added veggies give these rolls even more goodness.
Serve these rolls as part of your meal or enjoy them as leftovers on their own.
They're sure to satisfy any craving.
Shrimp and noodles are a classic pairing.
It's a recipe I use to whip up for many of my Sunday dinners.
This dish offers the perfect balance of rich, earthy flavors that really stick with you.
Plus, this recipe is super quick and easy to make!
One bowl is all it takes to pull together the perfect Asian meal.
And if you don't have time for an entire dinner, no worries.
You can easily save yourself some time and effort by whipping this up as a lunch or light dinner.
These peanut rice noodles are a delightful twist on classic Asian cuisine.
The nutty flavor pairs perfectly with the sweet and savory sauce for an addictive mix of flavors.
You'll love how the peanut butter sauce infuses all of the flavors in each bite.
This dish is sure to be a hit at your next dinner party!
Ramen is a popular Japanese dish that's so simple to make.
Packed with noodles, veggies, and protein-rich broth, it's easy enough to make at home.
This gluten-free recipe takes the traditional ramen flavors and adds in some healthy Asian ingredients like soy sauce and sesame oil.
While you could definitely make this at home, I highly recommend bringing a friend over for a fun night out.
You can even serve it up as an appetizer for your next party!
This chicken chow mein is the perfect comfort food.
It's packed with yummy ingredients that make you feel like you are traveling back in time.
It's also a quick and easy meal that can be made for dinner, lunch, or breakfast.
You can use whatever protein you have on hand to make this dish, but I highly recommend using chicken.
Once the sauce is ready, the noodles will sink to the bottom of the pan.
That way, they don't get soggy and wasted.
Have a busy schedule? No problem.
This chicken and rice vermicelli stir fry has you covered.
It's easy to make and is loaded with flavor!
This recipe calls for nine ingredients, but that doesn't mean it couldn't feed a crowd.
Each bite pairs tender chicken breast and fluffy vermicelli noodles with fresh veggies.
This dish is sure to satisfy any hunger pangs.
This is a dish that people have been making since the 1600s.
It's a classic Cantonese favorite, and it's delicious.
What makes this dish so yummy?
Well, first of all, it features noodles made of glutinous rice.
It has a cream sauce and lots of crunchy chopped peanuts to add extra flavor.
Okay, so the noodles are what make this dish so addictive but they're not the only things that make it taste amazing.
The rice noodles themselves are also loaded with flavour.
They're seasoned with chili oil and vinegar for added kick!
When you take all these elements together, you get one mouthwatering dish that'll surely leave your tastebuds on fire.
The name of this dish is extremely misleading.
These are actually not noodles, but vermicelli strands, which can be found in Asian grocery stores.
Although, you could use long-grain rice or any kind of starch for the "noodles."
If you're looking for a vegetarian dish to enjoy with your friends and family on a cold evening, this recipe is for you!
It has plenty of texture from the crunchy bell peppers and leafy greens as well as a delicious sauce that'll make your tastebuds dance.
The best thing about teriyaki noodles is that you can make them with whatever basic ingredients you already have on hand.
This recipe brings together a few of my favorite Asian ingredients.
And it's delicious!
You'll need to cook the noodles in sauce until they're tender and coated with marinade.
Then, pop them in the oven to finish cooking.
These mushroom cheung fun are crunchy, savory, and 100% plant-based.
You can make them with any type of rice noodles you like.
But I recommend brown rice for the most texture, which is what I used here (though white will work as well).
They're best served with some sweet chili sauce on the side.
But if you want to make them even more indulgent, try serving them with steamed veggies in a bowl.
If you're looking for a simple and delicious Thai-inspired dish, this is it.
This recipe uses rice vermicelli noodles made from sticky rice.
It's an excellent base for any number of curries or stir-fries.
The star of the show here is the peanut sauce.
It has a balance of sweet and salty that will delight your tastebuds.
Lo mein is a Chinese dish that's simmered in beef broth.
While it's mainly served with noodles and veggies, you can add whatever you like to make it even more flavorful.
I love to use gluten-free noodles for this because they hold up well to the sauce, which is what makes lo mein so addictive.
You can also stuff your lo mein with whatever you like.
I usually go for chicken or shrimp but anything will work.
Potsticker noodle bowls are one of my favorite takeout options.
They're simple yet delicious, and they're a great way to get your veggies in.
This recipe is ideal for busy weeknights.
That means you can make it ahead of time and freeze leftovers.
Just add them to the pot when you want some more vegan goodness!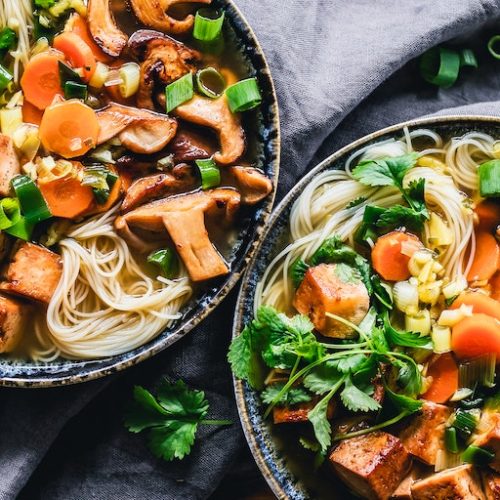 25 Healthy Rice Noodle Recipe
These simple rice noodle recipes are the perfect way to get your family into Asian cuisine.
From stir-fry to pho, rice noodles are an ideal alternative to wheat and gluten-free options.
Instructions
Select your favorite recipe.

Organize all the required ingredients.

Prep a Rice Noodle in 30 minutes
---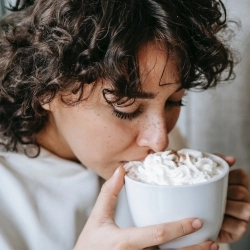 Latest posts by Grace Lambert
(see all)