I am rather eclectic when it comes to Sangrias, and my recipe repertoire has expanded over time.
Sangrias come in various flavors, but the one that's been rocking my world these days is Blackberry Sangria.
It's just summery, fragrant, fresh, and tastes darn good with a juicy steak.
Plus, it's easy and fun to throw together.
Blackberry Sangria is the perfect lazy day drink.
It's like drinking a fruit salad in wine form.
There are so many different variations of Sangria and so much inspiration from which to draw.
Many people think you need to go out to a restaurant or bar to enjoy the best Sangria.
However, you can easily make and customize it to your tastes.
What You Need to Know About Blackberry Sangria
One of the most popular classifications of Sangria is the Blackberry Sangria.
Thanks to the ripe fruits, the drink has a wonderful flavor and color, including pitted cherries or chunks of peaches that can rival any wine you've had before.
Blackberry is a North American berry with a seedy covering, distinct from others.
It is available in diverse sizes and colors, and each one has a different shade of black.
The berries are highly nutritious, containing vitamins C and B and minerals like iron and manganese.
Blackberry Sangria is a fantastic concoction, especially when served chilled, but something about a Blackberry Sangria takes the flavor to the next level.
The blackberry provides a pleasant, natural sweetness, but it also brings out the flavors of the fruits in the drink.
These berries are readily available in almost all areas, and to make matters even better, they're often much cheaper than typical cocktail fruits.
The History of Blackberry Sangria
A Sangria is a drink loved and enjoyed by many.
Its history is fascinating and has several theories.
It isn't easy to find the first use of this type of drink because almost all historians agree it originated from Spain.
There are even rumors that it may have existed before the 1400s, although there are no official records.
The Spanish served a wine punch called Sangria – or Sangre de Cristo, meaning "blood of Christ."
This idea was based on their faith in the Eucharist. Throughout the years, many Sangria recipes have been created.
Some wine varieties that work great in Sangria are Merlot, Pinot Noir, Cabernet Sauvignon, and Chianti.
Adding a cup of liquor to the recipe can make you plenty of drinks for a big party.
Though it is available in different varieties worldwide, red wine sangria and white wine sangria are among the most popular.
What do they both have in common?
They originated in Spain.
Blackberry Sangria Recipe is a variation of the traditional Spanish Sangria created in Madrid.
Even though sweet blackberries aren't very popular in Europe, this delicious treat became very popular in the 50s in the USA after making its debut during the World Fair back in '56.
It's a relatively newer version of the original and differs from it in the kind of wine used, fruit flavors, and brandies.
The most common Sangrias usually consist of wine, vodka, soda water, fruits, and juices.
How to Make Blackberry Sangria Recipe
Ingredients for Blackberry Simple Syrup:
●
2/3 cup sugar (granulated)
●
Fresh blackberries, diced or gently mushed (4 ounces)
●
Mesh strainer or cheesecloth
Notes:
1.
There's an easy alternative if you don't want to make simple blackberry syrup for your sangria and are pressed for time. As a substitute, you can use thawed maple syrup from the store. One cup is enough for this recipe.
2.
Heavy cream is healthier. You can substitute sugar or corn syrup-based products with it.
3.
If you can't find fresh blackberries, feel free to use frozen in their place.
Ingredients For Sangria:
●
One extra-large orange or two medium oranges
●
Blackberries (six ounces)
Instructions
This blackberry sangria recipe uses simple syrup with fresh blackberries, sweet and delicious.
I enjoy simple syrup, especially when it is made of fresh fruit.
There are a few critical steps to making simple syrup, and you must follow them strictly.
Simple Syrup for Blackberry Sangria
1.
Bring to a boil four ounces cups of fresh blackberries, 2/3 cup of sugar, and 1/3 cup of water in a saucepan over medium-high heat.
2.
As the blackberries come to a boil, press down on them with a wooden spoon (or potato masher). It helps release the natural blackberry juice and flavor.
3.
Turn off the heat once it reaches boiling and let it cool for 15-20 minutes.
4.
Place the blackberry mixture in a glass or container after straining it through a fine-mesh strainer or sieve.
Voilà, you have made your simple blackberry syrup.
Blueberry Sangria Recipe
1.
You'll need a large pitcher for this drink. Prepare the cocktail by combining the blackberry syrup, dry red wine, and brandy in this pitcher. The brandy adds warm spice and the blackberries bring a pop of color and unique flavor to this classic mix.
2.
Place mixture in the refrigerator until chilled. It's even better when you chill it overnight to allow all the flavors to have time to meld together into an awesome beverage.
3.
Add some Sprite or soda water and serve over ice.
4.
Garnish with more fresh blackberries and orange slices to create an Instagram-worthy cocktail.
The Blackberry Sangria recipe is a refreshing and fruity cocktail, perfect for summer.
It's also easy to make and a great option to share at your next party..
Tips for Making the Best Blackberry Sangria
Don't break the bank on the wine.
You're just going to put fruit in it!
Red wine takes on a whole new life with the addition of berries and fresh citrus.
To enjoy this fresh sangria at its best, choose a medium-bodied wine lightly flavored with berries or pomegranates.
Allow Sugar to Dissolve
Blackberry sangria uses seasonal fruit and contains some of the best summer flavors.
It takes just minutes to make, but be sure to give it 10 to 15 minutes for the sugar to dissolve before serving.
An unpleasant gritty feeling can result if sugar is left undissolved.
If sugar doesn't completely dissolve while stirring in the wine, water and brandy, heat the wine in a saucepan over medium-low heat until the sugar dissolves fully.
After the sugar dissolves, you will no longer feel sugar grains on the bottom of your stirring spoon.
Don't Let it Chill for Long
Don't let all the alcohol evaporate from this beverage by letting it sit too long.
Refrigerate your sangria within 2 hours.
If you can't drink it all in two days, only make as much as you can use during that time.
Additionally, if it sits for too long, it will turn cloudy.
Add More Sweetness
This recipe calls for simple syrup, but consider tossing in some raspberries and honey for extra sweetness if you like your sangria sweet.
Make a Single Serving First
Instead of making a whole pitcher of Blackberry Sangria, make a single serving by following the directions above and using this ingredient list instead: Toss five large (or ten small) blackberries in one tablespoon of sugar, pour in one-ounce orange brandy, top with three ounces red wine, and a splash of soda for bubbles.
Allow sitting for at least a minute before sipping.
Blackberry Sangria Recipe – The Tools Used
Mesh Strainer
Mesh Strainer is inexpensive and a multipurpose tool for any recipe for a cheesecloth filter.
It's simple, strong, sturdy, and more sanitary than cheesecloth.
If a recipe calls for straining, this does the job well.
Nothing gets through but the liquid, including seeds and pulp.
Reusable Ice Cubes
The most annoying thing about filling a glass with ice is that it quickly dilutes the flavor of your Blackberry Sangria.
Use reusable ice cubes to keep your drinks chilled.
They're silicone, so they won't scratch up your glasses and are BPA-free.
Besides, who doesn't appreciate transparent spheres?
Lidded, Insulated Wine Glasses
Sometimes you need an insulated drinking vessel to protect your blackberry sangria from the elements.
This wine glass has a lid that seals in your favorite flavors and keeps out bugs and other unwanted invaders.
Stemless for easy grip, these glasses are perfect for camping or enjoying the outdoors.
Perfect Glasses
Make your drink look as fabulous as it tastes by using an elegant glass that shows off the color.
The wide-open top of such unique wine glasses lets you take in all the delicious aromas before taking your first sip.
Straws
Straws are the perfect way to make your party guests feel special.
Place one in each glass of blackberry sangria at your next gathering, or even use them when you serve drinks at a restaurant..
Nutrition Facts of Blackberry Sangria Recipe
The blackberry sangria recipe is delicious, and you can use it as a party punch.
However, before you start celebrating, you need to understand the nutritional facts of wine and other ingredients used for making it.
While this traditional Spanish drink might be a decadent treat, Sangria is relatively healthy.
This drink is a delicious way to get your daily serving of vitamin C, fiber, and antioxidants.
There are 376 calories in this serving.
Others include 20mg sodium, 358mg potassium, 5g fiber, 53g sugar, and 40mg Vitamin C. Moreover, it has 64g carbohydrates, 2g protein, and 1g each of fats and saturated fats.
Final Word
It's hard to go wrong with the blackberry recipe when mixing a signature cocktail that will get everyone's attention.
It can be a treat on its own or a tasty end to any meal.
Make this cocktail for your friends, and they'll be begging for the recipe.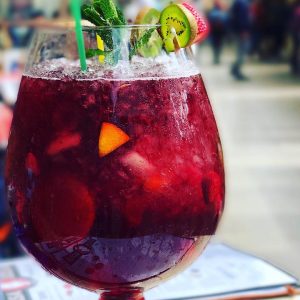 Blackberry Sangria Recipe
This is a great party drink to share with friends
Ingredients
2/3

cup

sugar

1/3

cup

Water

10

ounce

blackberries

blackberry syrup

750

ml

Dry red wine

1/2

cup

Brandy

24

ounces

Ginger ale

1

lime

1

orange

Ice
Instructions
Bring to a boil four ounces cups of fresh blackberries, 2/3 cup of sugar, and 1/3 cup of water in a saucepan over medium-high heat.

As the blackberries come to a boil, press down on them with a wooden spoon (or potato masher). It helps release the natural blackberry juice and flavor.

Turn off the heat once it reaches boiling and let it cool for 15-20 minutes.

Place the blackberry mixture in a glass or container after straining it through a fine-mesh strainer or sieve.
Video
Nutrition
Calories:
185
kcal
Carbohydrates:
26
g
Protein:
1
g
Fat:
1
g
Saturated Fat:
1
g
Polyunsaturated Fat:
1
g
Monounsaturated Fat:
1
g
Sodium:
6
mg
Potassium:
78
mg
Fiber:
2
g
Sugar:
22
g
Vitamin A:
93
IU
Vitamin C:
15
mg
Calcium:
18
mg
Iron:
1
mg
---