Bored with regular pancakes?
There is a new twist in town!
Delicious, fluffy and soft pancakes made with fresh potatoes and topped with applesauce.
Perkins potato pancakes served alongside smoked salmon make a fantastic dinner.
Perkins potato pancakes are delicious and will take a few minutes to prepare.
With just a few steps, whip up tasty pancakes for breakfast or serve them alongside other meals for lunch or dinner.
Read on, follow this recipe and learn more about pancakes.
What are Perkins potato pancakes?
Perkins potato pancakes are warm, fluffy, and soft, made with regular potatoes instead of sweet potatoes.
They are popularly served at Perkins restaurant, thus the name.
Perkins potato pancakes recipe
Ingredients
●Fresh eggs
●Flour
●Whole milk
●Melted butter
●Sugar
●Salt
●Potatoes (fresh peeled and shredded)
●Onions
●Baking powder
●Chopped parsley (fresh)
●Onions (minced)
Instructions
1.Put all ingredients in a bowl, leaving out the potatoes
2.Thoroughly whisk the mixture manually or use a mixer until soft and smooth
3.Add potatoes and continue to mix until evenly combined
4.Let the mixture rest while you preheat a pan
5.Put a little butter on your skillet
6.Add a few drops of your mixture into the pan
7.Cook for about two minutes until they brown
8.Repeat this step until all your batter is finished
9.Add a little butter on top and serve
10.Serve with applesauce or syrup as you desire
Storage tips for your pancakes
If you need to make enough pancakes to last you a week, follow these steps to store them.
1.Put your pancakes in a container and place parchment paper between each pancake to separate them.
2.Keep in the freezer until frozen.
3.Remove from the freezer.
4.Close the container tightly. You can store it in the freezer for upto three months.
Preheating Perkins pancakes
Whenever you want to serve your pancakes;
1.Remove from your freezer and thaw overnight in the fridge
2.Warm in a microwave for about thirty seconds
3.Serve with toppings as you desire.
Topping suggestions for Perkins pancakes
You can serve your potato pancakes with various toppings; here are a few suggestions.
●Yogurt: Yogurt is a healthier choice with fruits instead of whipped cream.
●Cream cheese: For cheese lovers, adding it on top of pancakes makes them tastier
●Chopped nuts with ice cream: Add ice cream and nuts on top of your pancakes. Sweet and crunchy!
●Apples: Fry apples and serve with your pancakes
●Ice cream and fruit: Serve your Perkins pancakes along with bananas, peaches, and blueberry, or any fruit of your choice
●Butter maple syrup: Pour some maple syrup over your pancakes
●Eggs with bacon: serve Perkins pancakes along with crisp fried bacon and eggs; what a filling meal!
●Peanut butter: Smear peanut butter on your Perkins pancakes; you may end up eating the whole stack
●Buttermilk syrup: Pour some thick buttermilk syrup on the pancakes
●Eggs: Scramble eggs with mushrooms or tomatoes and serve them with your Perkins pancakes
Tips for making tasty pancakes
Pancakes are best made fluffy and soft to start your day with a great meal.
If you're looking to make the best pancakes, here are some tricks and ideas.
●Avoid over mixing batter for thick, fluffy pancakes; just ensure the mixture is well combined
●Let your batter rest for a while before cooking; this gives the baking powder time to work and makes the pancakes fluffy and soft
●If you want equal size pancakes, measure the mixture you use per pancake
●Flip your pancakes once cooked; check for the golden brown color
●Avoid making big pancakes for easier flipping
●Use a non-stick pan for cooking your pancakes
●For extra flavor, add almond extract or vanilla to your batter
How and when to flip pancakes
You can flip your pancakes by using a spatula or the pan when making pancakes.
How to flip using a spatula
It's easier to use a spatula for flipping if the skillet you are using is heavy.
Once the edges turn brown with bubbles on top, your pancake is ready for a flip.
Reduce the heat to continue cooking your pancakes; too much heat will leave the middle part uncooked.
Lift the pancake to check if the bottom is cooked before flipping; alternatively, shake the pan to see if the pancake moves around and flip if it does.
You can then slide a spatula under the pancake before flipping.
Don't flip too high or hold for too long to avoid breakage.
Once cooked, flip only once with a quick motion.
How to flip using a pan
For this method, use a light pan to make it easier to flip the pancakes.
After pouring the batter, wait a few minutes, then shake your pan to see if the pancake moves around; that's an indication that the pancake is ready to flip.
You can also use a spoon or a fork and lightly lift to see if the pancakes are ready to flip.
Flip the pancake by quickly lifting your pan upwards.
Each side of the pancake should cook once.
Flipping several times will make tough pancakes, and you do not want to go that route.
Fun facts about pancakes
● Two pancakes with syrup and butter is a 520 calorie meal. You have to walk for two hours steadily to burn 520 calories.
●Dominic Cuzzacrea holds the world's record for the highest pancake toss.
● A small town in England celebrates pancake day every year
●The most expensive pancake is worth $ 200
●The Romans first discovered pancakes
Frequently asked questions on Perkins potato pancakes?
How many calories are in one Perkins potato calorie?
Three pancakes served without toppings contain 610 calories.
The calorie breakdown is 30% carbohydrates, 9.8% protein, and 60.2 % fat.
Why are my potato pancakes falling apart?
They are falling apart because they need more flour or your batter is too wet.
Give it a little more mix and let it rest for a while before cooking it.
How do you serve Perkins potato pancakes?
Try serving your Perkins potato pancakes with stew, roast chicken, or smoked salmon, and top with sour cream or applesauce.
The Bottom Line
You can eat potato pancakes any time of the day, switch up the toppings and the sides to match the time of day you want to eat them.
Make a bunch and store them in the freezer to last you a whole week.
Make some Perkins Potato Pancakes for a family brunch, and don't forget to share this recipe.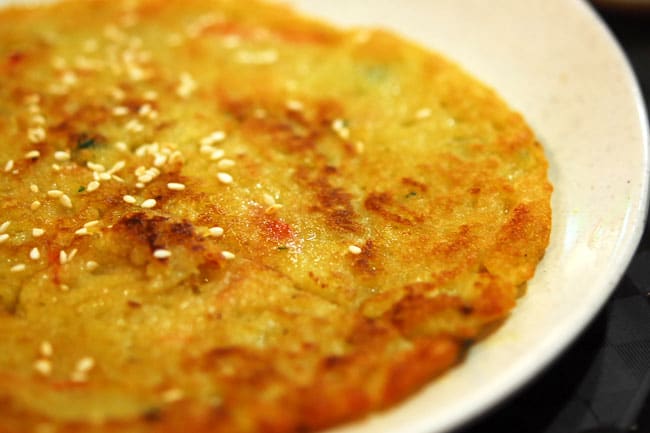 Have you Tried Perkins Potato Pancakes
Perkins potato pancakes served alongside smoked salmon make a fantastic dinner
Ingredients
1

eggs

1

Flour

1

Whole milk

1

Melted butter

1

Sugar

1

Salt

1

Potatoes

fresh peeled and shredded

1

Onions

1

Baking powder

1

Chopped parsley

fresh
Instructions
Put all ingredients in a bowl, leaving out the potatoes

Thoroughly whisk the mixture manually or use a mixer until soft and smooth

Add potatoes and continue to mix until evenly combined

Let the mixture rest while you preheat a pan

Put a little butter on your skillet

Add a few drops of your mixture into the pan

Cook for about two minutes until they brown

Repeat this step until all your batter is finished

Add a little butter on top and serve

Serve with applesauce or syrup as you desire
Video
Nutrition
Calories:
144
kcal
Carbohydrates:
25
g
Protein:
6
g
Fat:
3
g
Saturated Fat:
1
g
Polyunsaturated Fat:
1
g
Monounsaturated Fat:
1
g
Trans Fat:
1
g
Cholesterol:
83
mg
Sodium:
97
mg
Potassium:
563
mg
Fiber:
3
g
Sugar:
4
g
Vitamin A:
177
IU
Vitamin C:
26
mg
Calcium:
69
mg
Iron:
1
mg
---