Is the Makita DCM501Z the best portable battery-powered coffee maker for you to brew ground coffee on-site?
Many product reviews rave about it.
In my review, I'll tell you the best, the worst, and the most important features of the Makita Coffee Machine, who this product is for, and if you should purchase one.
Makita DCM501Z 18V LXT® / 12V max CXT® Lithium-Ion Cordless Coffee Maker, Tool Only
Brews one 5 oz. cup of coffee in 5 minutes when powered by a 18V LXT battery (battery not included)
Brews up to (3) 5 oz. cups of coffee on a single 5.0Ah LXT battery charge (battery not included)
No paper filters needed; permanent drip filter allows grounds to be poured directly into coffee maker
Uses single-serve packs or ground coffee
Compact design at only 8-9/16" tall with a 3-1/2" cup clearance
By the end of the article, you'll know exactly if the Makita DCM501Z cordless coffee maker tool should be your top pick, or if you should look for another coffee maker to brew your ground coffee.
Let's get started.
Is the Makita Cordless Coffee Maker Tool Good?
Here are my top features from the Makita DCM501Z 18V LXT/ 12V max CXT Lithium-Ion Teal Cordless Coffee Maker:
Easy To Use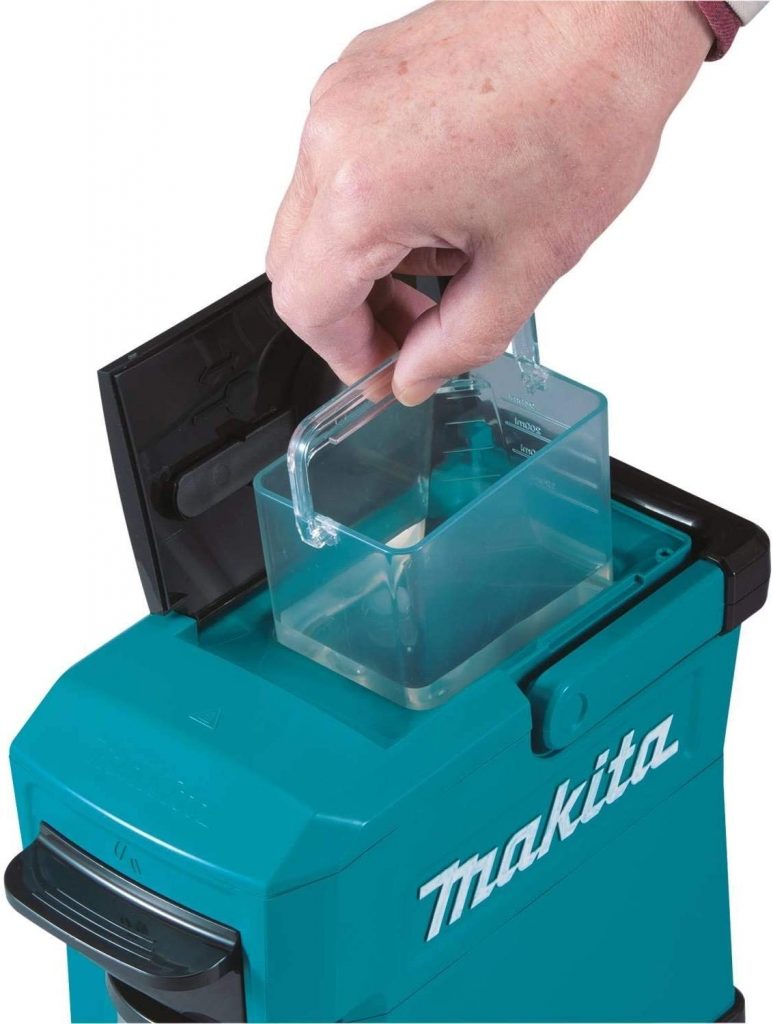 This compact battery-powered coffee maker is probably easier to use than your regular home coffee brewer or related products.
And its price is just as easy on your pocket.
It's a simple two-step process to make coffee: one, fill up the water tank; two, add your favorite ground coffee and then wait five minutes.
Do you often forget to add water to your coffee maker?
You won't with this product!
Unlike many cheap coffee makers, this model features boil-dry protection, which automatically turns off the power if it senses there isn't enough water.
This prevents your machine from burning out and prevents you from wasting valuable electricity on nothing.
You can make up to 3 cups of coffee with the 18V LXT or 12V Max CXT battery.
This may not seem like a lot if your crew is used to downing 5 oz cups regularly.
But you'll realize just how much power it takes to make hot water for coffee.
Plus, with the fast charging capabilities of the 18-volt LXT and 12-volt CXT lithium-ion batteries, you don't need to wait too long until this product is ready for the next round.
If you don't like waiting, you might want to consider the purchase of a power charger to make sure you always have fully charged batteries on standby.
Great Product Design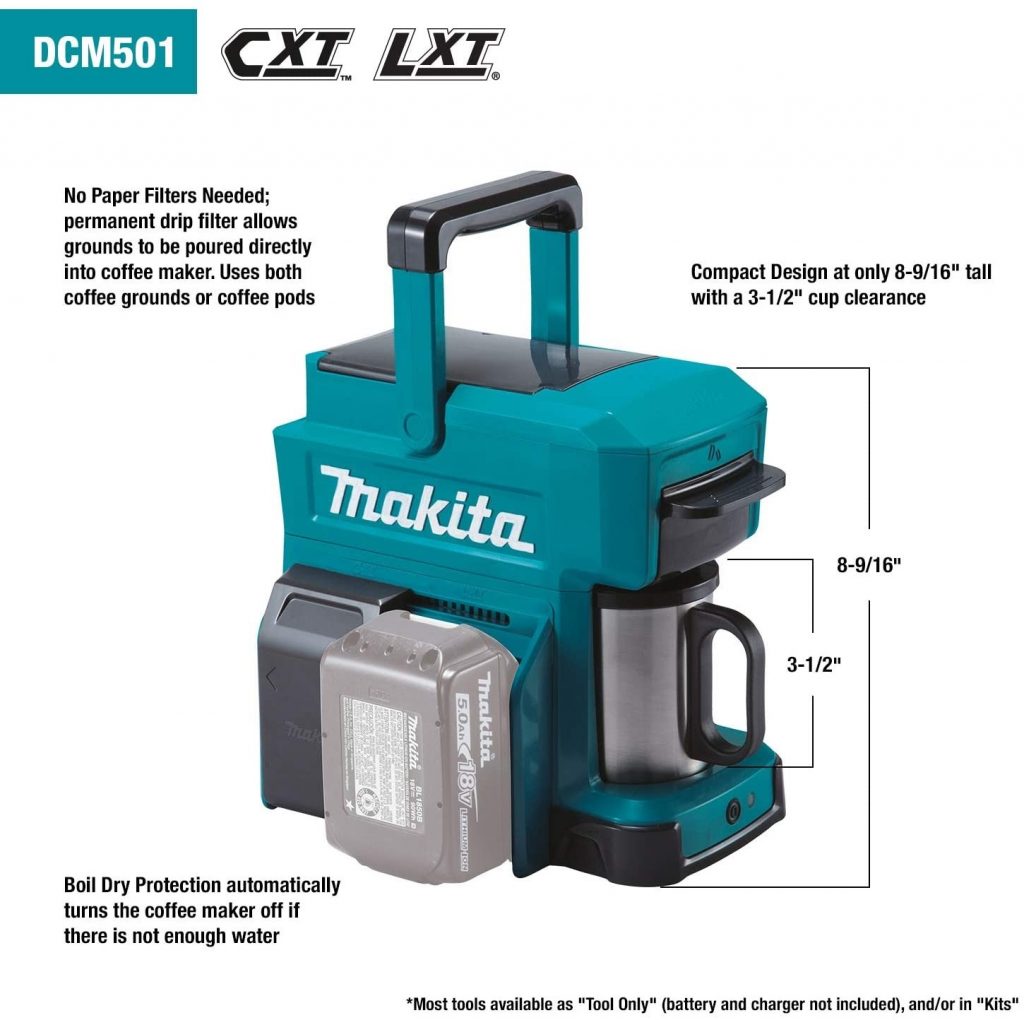 Looking like anything else you'd pull out of your toolbox, the Makita DCM501Z 18V LXT/ 12V max CXT Lithium-Ion Cordless Coffee Machine doesn't just look like a rugged tool, this product is a rugged tool.
The included stainless steel mug is made to fit snugly inside the coffee maker, so you can easily take this product anywhere and you don't get splashed by hot water.
You don't need any paper filter or any other related disposable products to use with ground coffee, which you may forget on the way.
The DCM501Z 18V LXT/ 12V max CXT Lithium-Ion Cordless Coffee Machine is designed to avoid messy drips.
The built-in, permanent drip filter allows grounds to be poured directly into the machine, so you can use this product whenever, wherever.
The DCM501Z 18V LXT/ 12V max CXT Lithium-Ion Coffee Maker features a removable water tank, making it easy to refill it anywhere.
The product also has terminal protection covers to protect the battery terminal when you're not using it, which is perfect when you're in the middle of a dirty, dusty job site.
The Coffee Maker also has a carry handle for easy transport, so you can take this compact coffee beast anywhere you want. It isn't heavy or bulky.
Perfect For The Outdoors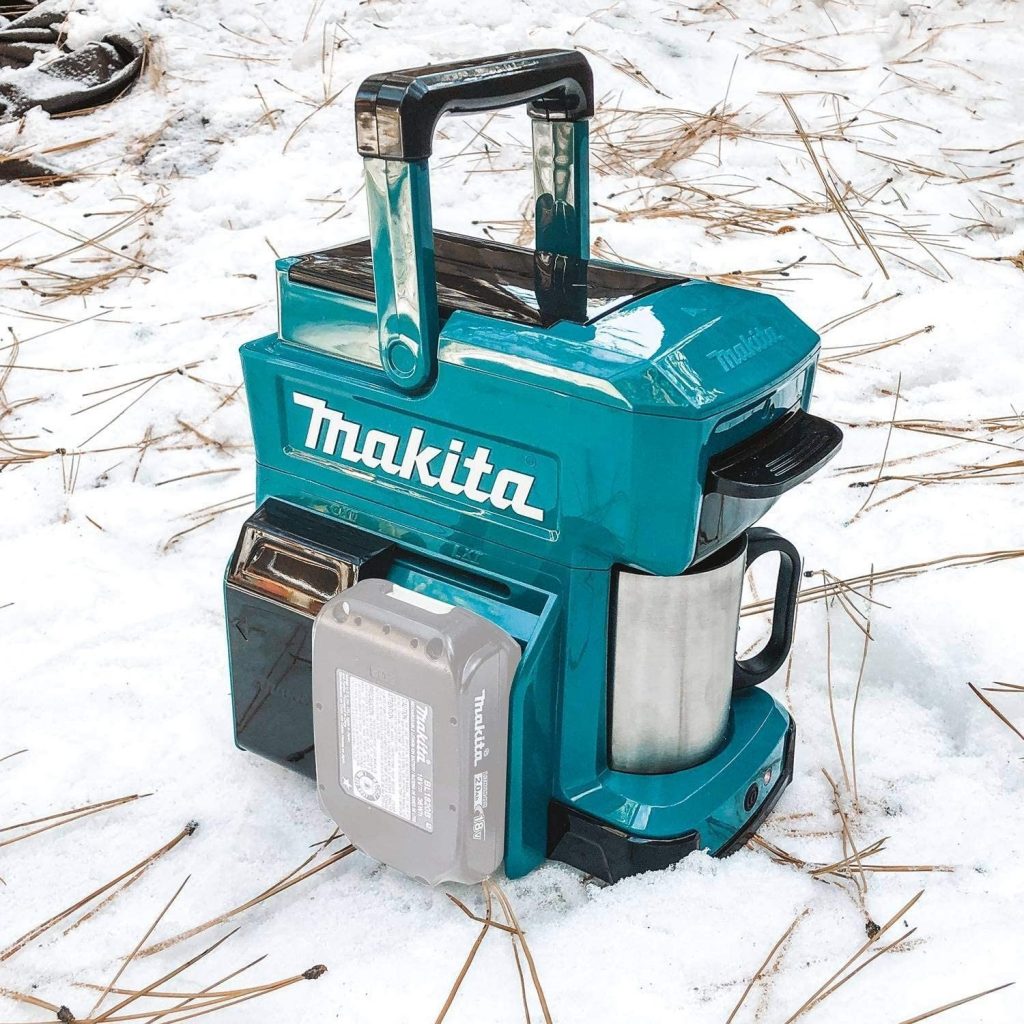 Coffee is one of the most important tools you can pack.
It keeps you and your people energized, and keeps morale high.
There's no better way to start a hard day of work in the middle of nowhere than with the luxury of a hot cup of coffee.
That alone could make the purchase of this battery power coffee machine worth it!
The Makita DCM501Z 18V LXT/ 12V max CXT Lithium-Ion Cordless Coffee Maker allows you to do just that.
It doesn't matter where you are or how far away the nearest power outlet is.
It's made to perform well, reliably, and with the lithium-ion battery pods, there's no need for it to be connected to electricity.
Whether you're camping in the woods, setting up construction in the middle of nowhere, or simply not wanting to miss the sunrise in your garden, it's one of those must-have products you don't know you've been missing, yet.
This small and rugged coffee maker is a smart purchase, as it can make a cup of hot freshly brewed coffee for you, anywhere, anytime.
Makita DCM501Z 18V LXT/ 12V max CXT Lithium-Ion Cordless Coffee Maker: Main Specs
Here are the main features of the Makita DCM501Z:
Size and Capacity
The Makita DCM501Z 18V LXT/ 12V max CXT Lithium-Ion Cordless Coffee Maker has a small and compact design.
It's perfect as a personal-sized coffee maker.
With such a slim and small profile, it's one of the easiest products to pack and take anywhere, with the Makita stainless steel cup.
Measurements
9-9/16 inches by 7-⅜ inches by 8-9/16 inches.
The water tank has a capacity of just 240 ml or a single cup.
With the battery (separate purchase) it weighs barely more than 2 kg, or a bit less than 5 pounds.
Lithium-Ion Battery Capacity
As I mentioned before, the CXT battery capacity isn't great.
This is because it takes a ton of energy to boil water, even if there's not a lot of it, which is why this machine also takes 5 minutes to prepare coffee.
It's best to purchase and use the 18V LXT lithium-ion option if you can.
The great part is that this coffee maker has swappable batteries, and the batteries are compatible with both of Makita's 12V CXT and 18V LXT lithium-ion platforms.
That means that as long as you make sure you have fully charged batteries, you can keep using your coffee machine to make great coffee for as long as you want.
This is also great because batteries are usually the first thing to wear out.
But the 12V max CXT and 18V LXT batteries are removable and fairly standard, so you can extend your coffee maker's life span quite a lot.
Accessories/Extra Items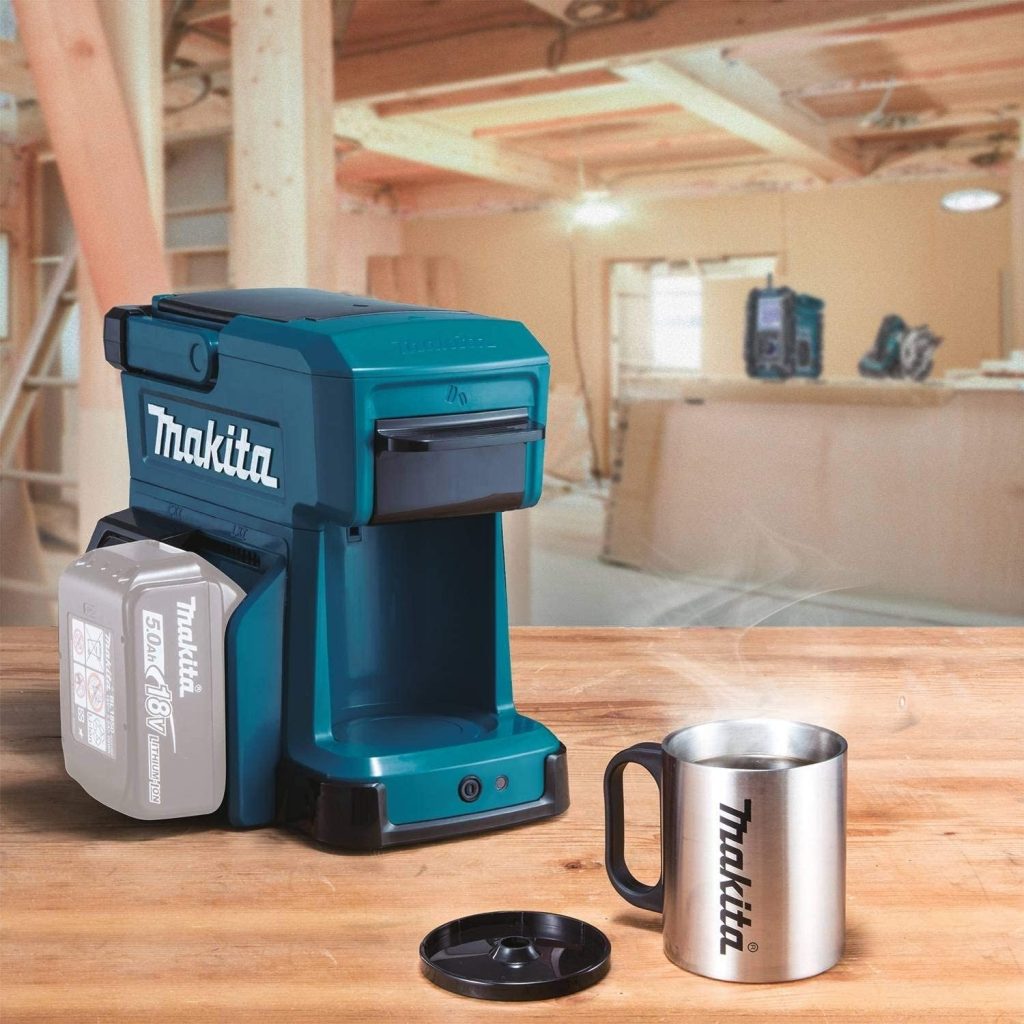 One of the items I liked about the Makita DCM501Z is that it comes with a beautiful, Makita-branded stainless steel mug.
It's designed to perfectly fit inside the coffee maker.
Other items that come with the machine include a measuring spoon and a reusable filter.
The battery isn't included, so you'll have to purchase a separate Makita 12V CXT or 12V LXT battery.
Warranty
The Makita DCM501Z comes with a 3-year limited warranty included.
This is above the standard for multiple coffee makers, and it shows how much Makita trusts this machine.
Should You Buy It?
The Makita DCM501Z is a powerful little cordless coffee maker that's perfect to take anywhere you go.
Here's where the battery-powered Makita DCM501Z shines, and where it doesn't:
What I like:
Swappable batteries: Expands your battery-powered coffee maker's life expectancy and makes it easy to prepare more a cup of coffee in 5 minutes without an electrical outlet.
Rugged construction: With terminal protection covers, and a very solid body, you can take your coffee maker anywhere without worrying too much about being careful with it.
No paper filters required: It has a built-in coffee filter, so you don't need to run to the store for more paper filters every time you want to make a cup of coffee.
Easy to clean: Nobody wants to spend lots of time cleaning up, and this coffee maker makes it easy.
Smartly designed: Fully compatible with Makita's batteries, compact design and easy to carry, and includes a coffee cup that protects you from spills.
Boil-dry protection: To make sure you never burn out the machine.
What I didn't like:
Too small for the crew: It's ideal for 1-2 people, but you'll only get a maximum of three cups of coffee out of it. Forget about multiple 5 oz cups of coffee if that's what you're used to drinking.
Quickly runs out of battery: After two cups of coffee from the 12V battery, or three from the 18V, your battery will be dry.
Batteries not included: The battery is sold separately.
Before I round things up, here are the answers to some other related questions about the Makita Coffee Maker:
How much is a Makita coffee maker?
As with buying any products, it pays to shop around and read a few reviews to find the best deal.
The price may vary from one sales outlet to another.
But you can expect to purchase the Makita Coffee Maker for around $100, although that price doesn't include the battery.
The battery is sold separately, and you'll probably want to buy a couple of batteries. It
What coffee pods does the Makita coffee machine use?
You can use Senseo 60-mm single-serve coffee pods with the Makita Coffee Machine.
You'll get a single cup of coffee per pod.
Some reviews have reported that it also works well with Douwe Egberts coffee pods too, giving 1-2 cups of coffee per pod/bag. Y
You might also find other standard 60-mm single-serve coffee pods that work with it.
So experiment with a few options to find the best depending on your taste in coffee.
What does Makita LXT stand for?
The LXT stands for Lithium-ion Xtreme Technology.
LXT Lithium-Ion is a battery technology developed by Makita that features anytime charging, long storage, and shock absorption characteristics.
The LXT lithium-ion range is the newest from Makita.
What is the difference between Makita LXT and CXT?
The tools in the Makita CXT range are slimmer and shorter than the pod-style tools (LXT).
Because the CXT battery is designed as a slide pack, the tools feature slimmer handles.
You should buy whichever meets our tool needs best.
How long does the battery last?
Using the 18V battery, you get 2-3 cups depending on how strong you like your coffee.
One of the items you'll want to have handy if you plan to use the machine throughout the day is a battery charger.
What about an extra cup?
Makita doesn't sell extra coffee cups as separate items, so you'll need to experiment to find one that fits well.
Try some of the popular stainless steel camping cups.
How does the battery plug into it?
There are two slots located on the side of the coffee maker.
One for a 12V battery and the other for an 18V battery.
Simply slide the battery in – and you're ready to go!
Conclusion – Is It For You?
The Makita DCM501Z is a wonderful personal coffee maker made like a power tool.
And the price is affordable!
Overall, I like it a lot, as do many other people according to popular reviews.
If you're tired of luke-warm coffee or need to brew coffee anywhere without an electrical outlet, this portable coffee maker might be the best buy.
Although the battery life isn't the best, and the battery isn't even included in the purchase price, I'm betting you'll like using this portable coffee maker more often than you'd imagine.
And, if you already have battery-powered tools that use Makita's battery pods, this will be the best choice to purchase.
If you're a coffee-lover, there's no more worrying about where to get a coffee pick-me-up any time of day with this Makita Coffee Machine!
Hope this helps!
Love,
G.
---