If you've ever been to Korea, chances are you've had some form of fried rice.
The dish is so ubiquitous there that it's almost become synonymous with the country itself.
But what exactly is fried rice?
And where did it come from?
It turns out fried rice has its roots in Chinese cuisine – but Korean cooks have taken the idea and run with it.
It's now one of the most popular dishes in the country, and if you're lucky enough to find kimchi fried rice on your travels, you'll know why.
What is kimchi fried rice?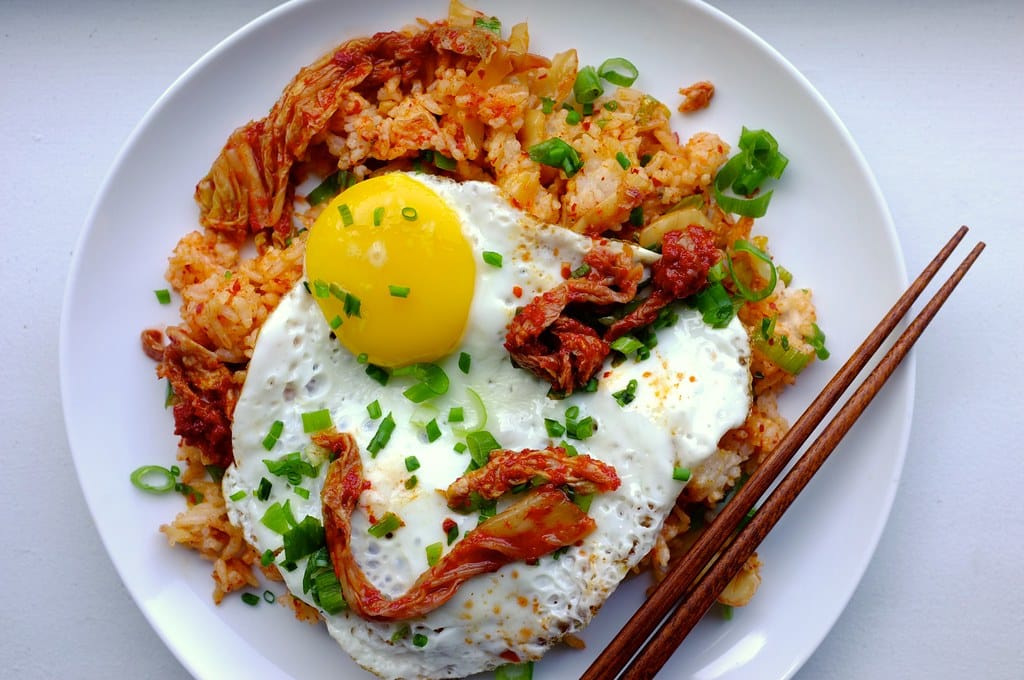 Fried rice isn't just about rice. It's about combining different ingredients together, and adding a bit of spice and seasoning to make the whole thing taste great.
In this case, it's fried rice made with kimchi (a type of fermented cabbage) and other veggies like carrots, cucumber, and mushrooms.
The original version was created by chefs at Hapjeong Market in Seoul in 1975, as part of a campaign to promote local produce.
They wanted to combine two popular Korean foods into one meal, and thus kimchi fried rice was born.
Where does kimchi come from?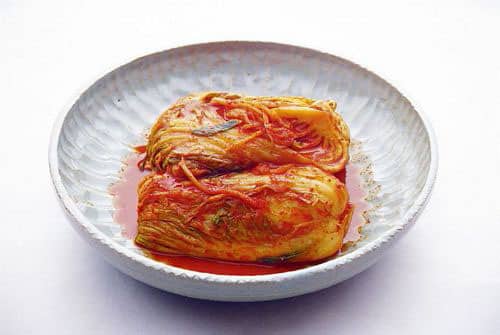 Korean kimchi is a unique kind of pickle, which is made from raw napa cabbage, salt, garlic, ginger, red pepper flakes, and occasionally fish sauce.
This combination of ingredients gives it a distinctive flavor and aroma, making it very versatile.
You can eat it alone, or add it to soups, stews, salads, stir-fries, and more.
Some people even use it in place of mayonnaise when they want to dip bread in something savory.
Kimchi is also used in Korean cuisine for many purposes, including cooking and seasoning.
You can fry it up as kimchi jjigae (also known as kimchi stew), and mix it with other ingredients to create kimchi fried rice.
Kimchi fried rice is usually served with a side of pickled radish
Kimchi fried rice is a popular street food in Korea.
Here is the easy-to-make kimchi fried rice recipe:
Ingredients
3 cups steamed rice
1 cup chopped kimchi
¼ cup kimchi juice
¼ cup water
2-3 tablespoons gochujang
3 teaspoons toasted sesame oil
1 teaspoon vegetable oil
1 green onion, chopped
1 tablespoon roasted sesame seeds
1 sheet of gim, roasted and shredded
Instructions
Heat up a pan.
Add the vegetable oil.
Add the kimchi and stir fry for 1 minute.
Add rice, kimchi juice, water, and gochujang.
Stir all the ingredients together for about 7 minutes with a wooden spoon.
Add sesame oil and remove from the heat.
Sprinkle with chopped green onion, roasted gim, and sesame seeds.
Serve right away
Great For Leftovers?
As a home cook, you might be tempted to make a big batch and freeze it for later.
While it's perfectly fine to do that, you should take care not to overdo it.
If you're planning on freezing it, you need to prepare everything ahead of time.
This includes chopping all of your veggies, marinating them, and fermenting the kimchi.
Then, once you've cooked everything, let it cool down completely before putting it in the fridge.
Once it's cooled, you can either freeze it in individual portions or pack it all up into one large container.
How To Store Kimchi Fried Rice
Once you've prepared the kimchi fried rice, it's best to keep it in the fridge until you're ready to eat it again.
That way, you won't have any leftovers sitting around.
This is because the flavors will start to change after being stored for a while.
It's important to consume kimchi fried rice within a few days of preparation.
If you don't, it could turn sour or moldy.
In addition to storing it in the fridge, you can store it in an airtight container in the freezer.
Again, this will help to prevent any changes in flavor.
FAQs About Kimchi Fried Rice
Is kimchi fried rice vegan?
While kimchi fried rice contains some meat, it's not necessarily considered to be a vegetarian dish.
Because kimchi fried rice is often served alongside another dish like ssamjang (spicy soybean paste), you might end up eating bits of chicken or beef.
However, if you choose to avoid these ingredients, then you can definitely opt for a vegan alternative.
Can I use frozen kimchi instead of fresh?
Yes!
Frozen kimchi works just fine in this recipe.
Just thaw it first before using it.
Can I use canned kimchi instead of fresh?
Yes!
Most canned kimchi will work just fine here.
As long as you drain off the liquid beforehand, you shouldn't have any problems.
Can I substitute other types of kimchi for the kimchi fried rice?
Sure!
You can swap regular kimchi for spicy kimchi, green kimchi, and even white kimchi.
Just be sure to adjust the amount of spices accordingly.
Can I use kimchi juice instead of kimchi?
Yes!
You can replace half of the water with kimchi juice, and still get a tasty result.
Just remember to reduce the amount of chili peppers and garlic, since the juices are much spicier than the actual kimchi.
Can I use leftover kimchi?
Yes!
You can toss whatever leftover kimchi remains into this recipe.
Just make sure you remove the hard outer leaves first, otherwise you might end up with mushy kimchi.
Do you think I can make my own kimchi fried rice?
Absolutely!
It's super easy to make your own homemade kimchi.
You can follow our guide here to learn how to make kimchi from scratch.
Are there any other kimchi recipes you'd recommend?
I've tried a lot of different kimchi recipes, and I've found that the easiest ones to make are those that involve shredded cabbage. Here are a few more delicious recipes to try: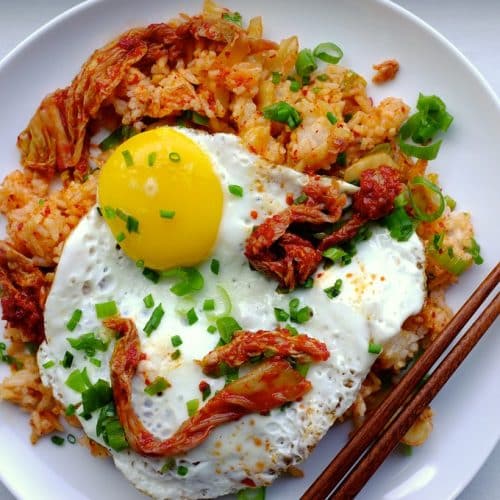 Kimchi Fried Rice Recipe
The dish is so ubiquitous there that it's almost become synonymous with the country itself.
Ingredients
3

cups

steamed rice

1

cup

kimchi

chopped

¼

cup

juice

kimchi

¼

cup

water

2-3

tablespoons

gochujang

3

teaspoons

sesame oil

toasted

1

teaspoon

vegetable oil

1

cup

green onion

chopped

1

tablespoon

sesame seeds

roasted

1

sheet

seaweed

roasted and shredded gim
Instructions
Heat up a pan.

Add the vegetable oil.

Add the kimchi and stir fry for 1 minute.

Add rice, kimchi juice, water, and gochujang.

Stir all the ingredients together for about 7 minutes with a wooden spoon.

Add sesame oil and remove from the heat.

Sprinkle with chopped green onion, roasted gim, and sesame seeds.

Serve right away
Video
Nutrition
Calories:
432
kcal
Carbohydrates:
80
g
Protein:
8
g
Fat:
9
g
Saturated Fat:
1
g
Polyunsaturated Fat:
4
g
Monounsaturated Fat:
3
g
Sodium:
20
mg
Potassium:
331
mg
Fiber:
3
g
Sugar:
6
g
Vitamin A:
532
IU
Vitamin C:
12
mg
Calcium:
107
mg
Iron:
2
mg
---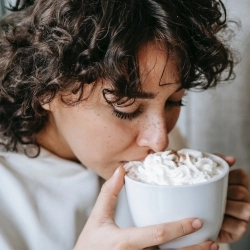 Latest posts by Grace Lambert
(see all)