Ribs are hands down a family favorite as they're tender, juicy, with a rich crusty bark, or under a blanket of your favorite barbeque sauce.
Cooking ribs gives you room to be creative as they can be grilled, roasted, and smoked on the BBQ.
Understanding how long to cook ribs is an essential step to perfectly done ribs.
So, let's get into it.
Shall we?
How long should you cook ribs in the oven at 350 degrees?
Typically, the standard guideline for cooking ribs, particularly pork ribs, in the oven at 350 degrees is around 2 hours for baby ribs, 2.5 hours for spare ribs, and 20-30 minutes for bone-in, country-style ribs until they're nice and tender, and also safe for consumption.
This article will discuss everything you need to know about cooking ribs to ensure a safe eating experience while preserving the quality of your meat.
It will also explain the different pork ribs available to help you narrow your search when buying ribs.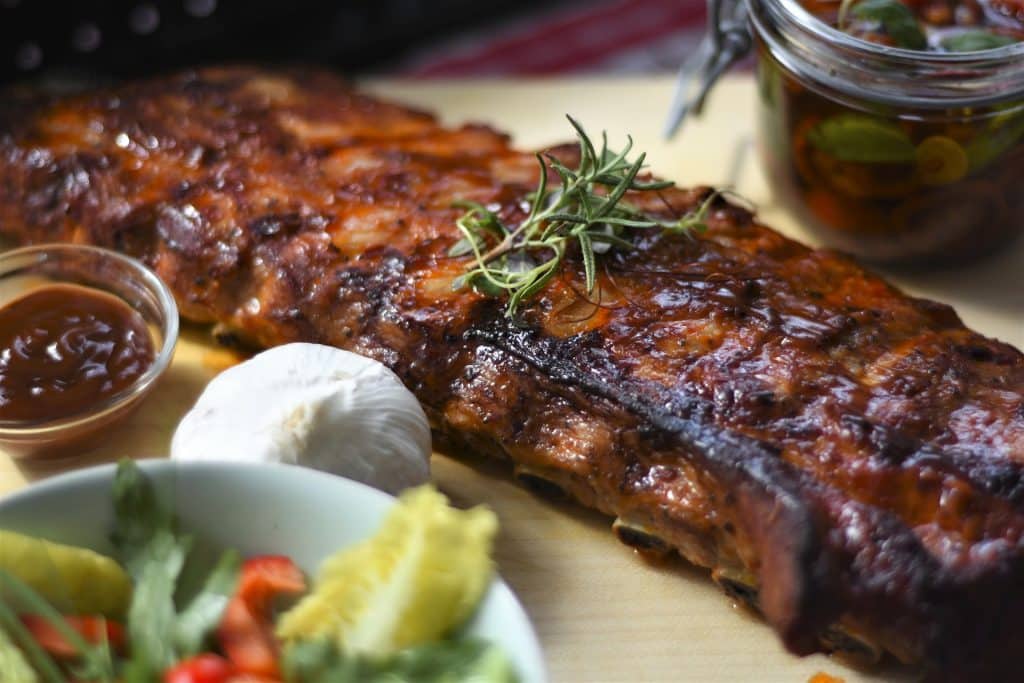 What are pork ribs, and how many types are there?
Pork ribs are the cut of pork from a hog's spine to its belly, including meat and bone.
Generally, pork ribs come in three basic cuts; baby back ribs, spare ribs, and country-style ribs depending on the origin of the hog.
However, here are the five common types of pork ribs that you can find at almost any butcher or supermarket.
All these ribs have distinct appearances and characteristics, so let's see how they deviate from each other.
Baby back ribs
Baby back ribs; also called back ribs or loin ribs, come from high on the back of the hog, where the loin muscle meets the backbone.
While these ribs are smaller, they're more tender and leaner, thus pricier.
The standard baby back ribs take about three hours and 15 minutes to cook with each rack, about 2 pounds, typically feeding one hungry adult.
Baby back ribs also cook faster in the oven than spare ribs because they are tender and thinner.
Spare ribs
Spare ribs are cut from the ends of baby back ribs and run along to the pig's breast bone.
They're also longer, flatter, and meatier and contain more bone but extra fat, making the ribs more tender than baby back ribs.
Spare ribs are also considered more flavorsome as they tend to have more marbling (fat within the lean red meat) than most cuts.
St. Louis-style ribs
St. Louis-style rib originated from the meat-packing places in St.
Louis in the 20th century.
They're cut in a particular way with the sternum bone, cartilage, and rib tips removed to achieve a well-formed, rectangular shape rack.
St Louis-style ribs are fatty and flavorful, making them an easier choice for grilling.
They're also flatter than baby back ribs, thus easier to brown.
Country-style ribs
Country-style ribs aren't ribs at all but are cuts of pork shoulder, the same cut of pork you would use for pulled pork.
Compared to regular ribs, there'll be a lot of meat and fewer bones as the cut usually comes with one or two bones in the flesh, making it perfect for brining and then slow cooked or reverse seared.
They also have a lot of connective tissue and fat, giving them a richer flavor and juiciness, which makes them ideal for barbeque, unlike regular ribs.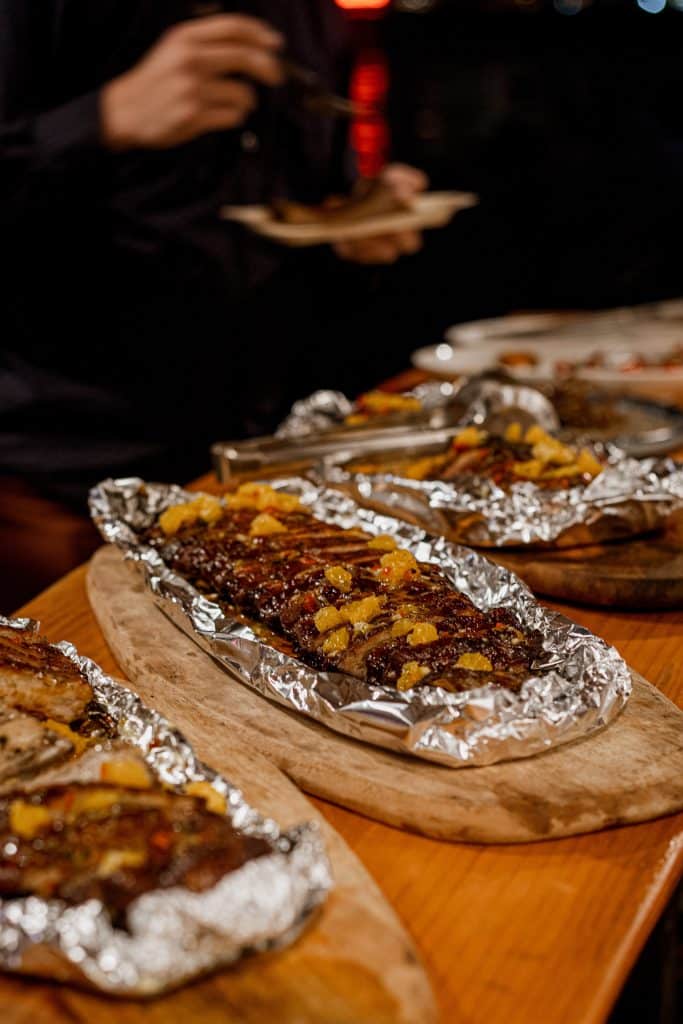 What's the ideal temperature to cook pork ribs
While there may be no definitive answer to perfect temperatures to cook pork ribs, setting a low temperature and cooking them for a more extended period is preferable to cooking them faster at a high temperature.
Using the range from 300 to 350 F degrees for back and spare ribs with 2 hours to 3.5 hours is ideal.
Similarly, cuts like bone-in country-style ribs will require a much shorter time, about 20 minutes to 1 hour.
The best method to check if pork ribs are cooked is to insert an instant-read thermometer into the thickest section without touching the bone.
Back ribs and spare ribs should be cooked to an internal temperature of 185-200 degrees F for the collagen to break down into gelatin fully.
Similarly, country-style ribs should be ready at a lower temperature of 145-160 degrees F, depending on your preference for pork doneness.
According to the USDA's safe temperature guidelines, pork ribs should be safe to eat at 145 degrees F.
However, to get the collagen and connective tissues to start breaking down, you need to keep cooking them longer, until 165 degrees F, for a tender, juicy outcome.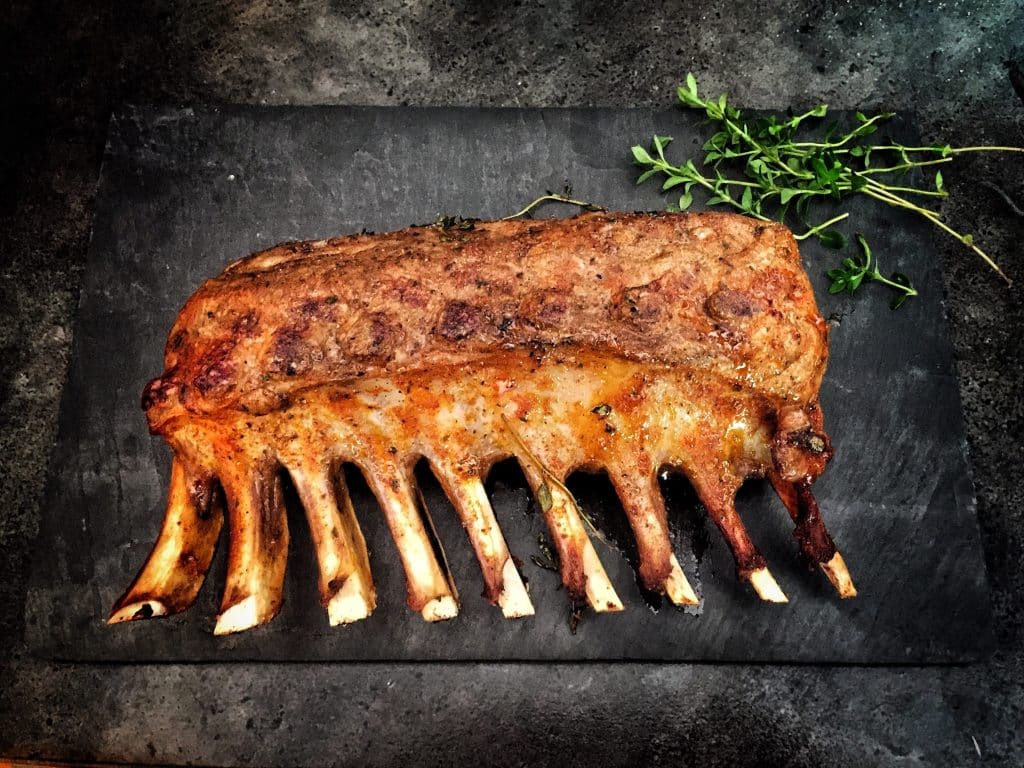 How to turn your ribs into a delectable dish
The key to having perfectly baked ribs is to strike a balance of low temperature, lots of patience, and cover them for moisture retention.
The result will be ribs that are both safe and well-done.
1. Clean the ribs
Briefly rinse the pork ribs in cold water to wash away bone grindings that may occur when the ribs are cut apart.
When cleaning, ensure you remove the membrane (the white and tough layer that spreads over the top of the bones) by following these easy steps:
Use a butter knife or a metal chopstick and slide the tip under the membrane to loosen it at one edge.
Once the membrane is loosened, pull it away with one hand while using the other hand to keep the ribs.
If the membrane is slippery, use a paper towel to grasp and remove it quickly.
Discard the membrane.
2. Brine the pork ribs
Exposing your ribs to a salt solution before cooking is a process meant to promote tenderness and moisture.
To make a basic wet brine for your ribs, combine cold water, salt, brown sugar, and seasonings of your choice in a large resealable bag or nonreactive container.
Cover the container with a lid or plastic wrapper, then place the meat into brine for at least 2 hours or overnight.
However, since ribs are naturally juicy when cooked, brining them may be a helpful step, especially for imparting flavor, but not necessary.
3. Season the ribs
Once you take the ribs out of the fridge, pat them dry with a paper towel to prepare for seasoning.
Then, you can season your ribs with your favorite spices.
It could be salt, sugar, pepper, or even a dry rub.
You can add seasoning rub to your ribs the night before you cook them, as it will contribute to a thicker bark and a zestier flavor.
Similarly, adding the rub right before cooking will provide a perfect setting for barbecue sauce.
Ensure you rub all the sides of the ribs with the dry rub for even coating.
4. Pre-Cook the pork ribs
Start with preparing some braising liquid and boiling it on your stovetop that will keep your ribs from drying out.
Preheat the oven to 350 degrees F to start, and place the oven pan with the ribs inside.
Drop the temperature down to 225 degrees F after 15 minutes and let the ribs pre-cook for an hour.
Place the ribs on a baking tray and cover them with foil to lock in moisture.
Pour the braising liquid into the ribs and seal the foil to prevent the liquid from running out.
However, if your ribs are still in foil, leave them on a tray and pour the braising liquid.
5. Cook the pork ribs
The best way to cook pork ribs is if you cook them at a low temperature and for a more extended period.
Place the ribs in a preheated oven and bake them at 300 degrees F for 2.5-3.5 hours until tender.
However, feel free to add more time depending on the ribs you're baking.
If you want to coat the ribs with BBQ sauce, remove them 30 minutes before they're done cooking and brush them with the sauce.
Put them back in the oven until they're done cooking.
Once the ribs are done, allow them to rest for at least 5-10 minutes before serving while still covered with foil.
This allows the juices to retreat into the meat while intensifying the flavor and preventing it from drying.
The result will be a perfect caramelized coat on the outside and a juicy, tender interior.
FAQs
Q: How long to cook ribs in oven at 350?
A: Generally, the cooking time for pork ribs in the oven at 350 degrees F is about 2 hours for baby ribs, 2.5 hours for spare ribs, and 20-30 minutes for bone-in, country-style ribs until they are cooked through.
Q: How long to cook spare ribs in oven at 350 degrees?
A: It will take about 2.5 hours in a 350 degrees F oven for spare ribs before they're cooked through.
Ensure they reach an internal temperature of 185-200 degrees F for the collagen to break down into gelatin fully.
How long to cook short ribs in oven at 350?
You should bake short ribs in a 350 degrees F oven for 45 minutes or until the meat pulls apart quickly with a fork and reaches a minimum internal temperature of 160 degrees F.
In conclusion
There you have it.
There's no secret to having perfectly done ribs.
If you want juicy, tender, delicious meat on the inside, with crispy, caramelized edges, avoid taking shortcuts when cooking them.
That said, always remember that the best ribs are cooked to the point where the meat is actually falling off the bone.
It takes a while to cook ribs, but the outcome is worth it.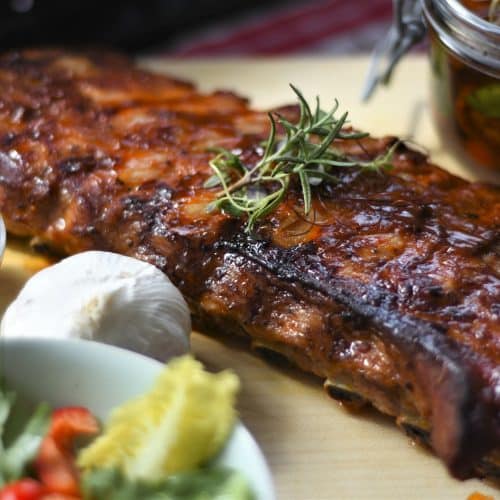 Easy Fall Off the Bone Oven-Baked Ribs
This recipe is what you need for a family gathering!
Ingredients
RIBS
2 1/2

pounds

baby back pork ribs

Salt

Black pepper
SWEET AND SPICY BARBECUE SAUCE
1

tablespoon

olive oil

1/4

cup

onion

finely diced

1/2

teaspoon

ground cumin

1/2

cup

ketchup

1

tablespoon

chili sauce

suggestion Sriracha

2

tablespoons

light brown sugar

1

tablespoon

apple cider vinegar

Salt

to taste

Ground pepper

to taste
Instructions
PREPARE THE RIBS
Preheat the oven to 275°F (135C).

Remove the thin membrane covering the back of the rack if it is still present on the ribs. See the notes section for more information.

Season both sides of the ribs liberally with salt and pepper. If you're using a spice rub, use it now to season the ribs. Place the ribs in a large roasting pan or rimmed baking sheet, meat side up. (If the ribs are too long to fit in the pan, cut them in half.)

Cover the pan or baking sheet tightly with aluminum foil and bake for 2 12 to 3 12 hours, or until the meat easily falls from the bones.
MAKE BARBECUE SAUCE
Make the barbecue sauce while the ribs are baking. In a saucepan over medium heat, heat the olive oil.

Cook until the onions are soft and translucent, 5 to 8 minutes. Cook for 30 seconds more after adding the cumin.

Combine the ketchup, hot chili sauce, brown sugar, and apple cider vinegar in a mixing bowl. Stir everything together, season with salt, and cook for 2 minutes. Set aside to allow the ribs to finish roasting.
TO COMPLETE
Remove the ribs from the oven, discard the aluminum foil, and brush both sides liberally with barbecue sauce.

Optional: Position an oven rack near the oven's top. Turn the broiler to high and broil the ribs for 3-4 minutes, or until the barbecue sauce caramelizes. (Keep an eye on the ribs while they broil to prevent the sauce from burning.)
Video
Nutrition
Calories:
493
kcal
Carbohydrates:
16
g
Protein:
35
g
Fat:
33
g
Saturated Fat:
11
g
Polyunsaturated Fat:
5
g
Monounsaturated Fat:
15
g
Trans Fat:
0.3
g
Cholesterol:
123
mg
Sodium:
480
mg
Potassium:
569
mg
Fiber:
0.4
g
Sugar:
13
g
Vitamin A:
222
IU
Vitamin C:
3
mg
Calcium:
71
mg
Iron:
2
mg
---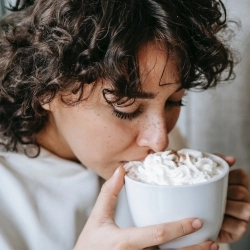 Latest posts by Grace Lambert
(see all)