If you love Greek food, then this list of greek side dishes is for you.
As the name suggests, these are dishes that are traditionally served with Greek meals.
They're hearty, filling, and super tasty!
Whether you're in the mood for a low-carb dish or something decadent, these side dishes will definitely hit the spot.
From crispy baked potatoes and baked okra to tomato fritters, spanakorizo, and fasolakia, there's an authentic Greek dish here that will delight your senses and fill your belly!
Ready?
Let's get cooking!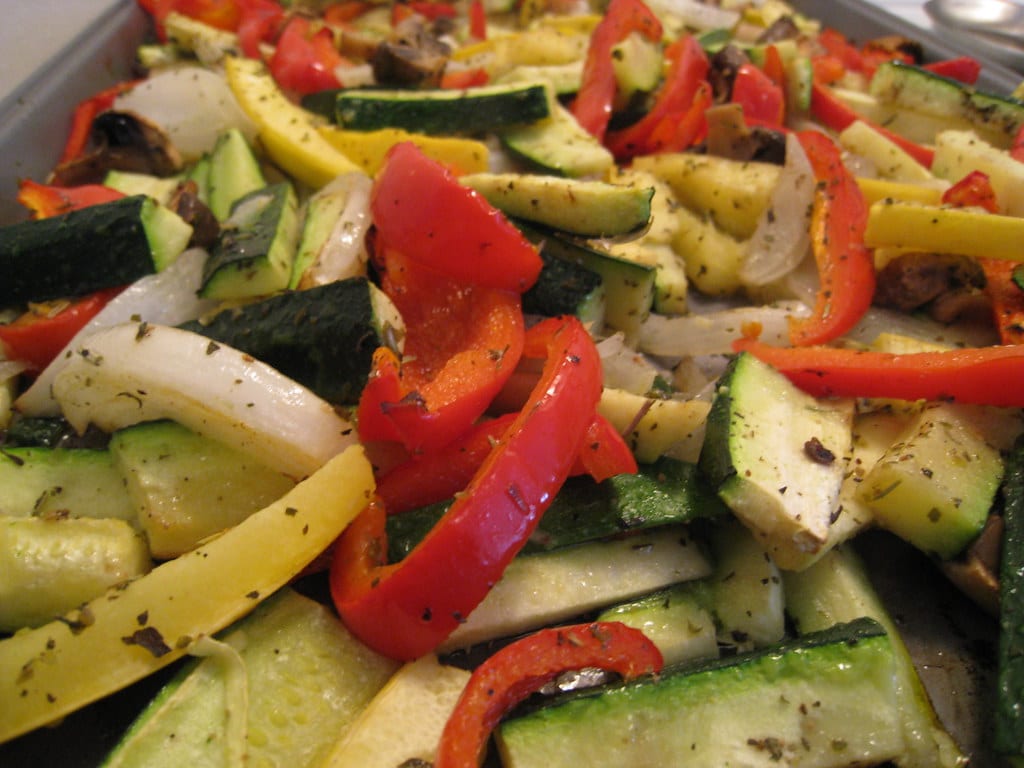 The Greek version of a turkey burger, plaki is a Greek sandwich that's much bigger than its American counterpart.
It has more filling and holds more meat.
It also has toppings including tomatoes, onions, olives, feta cheese, and tzatziki sauce.
The whole thing is wrapped in a soft and pillowy kaiser roll.
It doesn't take long to make either; just about 15 minutes!
If you enjoy potatoes and cheese, this Greek potato hash recipe is just what you're looking for.
It combines a thick potato cake with shredded cheese that's smothered with tomato jam.
This dish will keep you warm, hearty, and satisfied.
It's a family favorite in my household!
This classic Greek soup is made with orzo, which is a type of wheat.
It's an incredibly versatile grain that can be used to make pasta, couscous, and rice.
We love this dish with garlic and lemon for a quick but filling dinner.
The orzo provides the perfect texture for the subtly sweet lemon mix.
Serve it over steamed veggies like zucchini or asparagus.
Yum!
If your tastes run to the typical roasted veggies, this recipe has you covered.
These are perfect for any holiday dinner celebration.
They're super easy to pull together and will be loved by everyone!
They're a great way to showcase all of the different colors that come from roasting vegetables.
If you're looking for a new way to prepare potatoes, this is it!
Crispy roasted potatoes are the bomb.
The golden brown crust is offset by tender and fluffy potatoes.
They're perfect for serving up or using in a salad, but they can also be added to any dish that calls for potatoes.
This recipe takes just 30 minutes to make and serves 4-6 people.
The best part is that all it takes is one pan of oven-roasted spuds!
Bamies is a dish that's traditionally served for Easter.
The recipe uses okra which adds a great amount of texture to the otherwise creamy soup.
The tomatoes along with the onions and garlic create a perfect balance of flavors.
You can also add Greek yogurt or sour cream to make it even creamier.
If you're looking for something filling and delicious, this is your meal!
Fava is a creamy, buttery, and mildly sweet Greek yogurt made from cow's milk.
It's soft, smooth, and incredibly easy to whip up even if you don't have any experience whipping custards.
This recipe calls for gelatin, sugar, salt, water, and vanilla extract.
It also says it can be made ahead of time so you can enjoy it the next day.
The result is a luxurious treat with a nutty-sweet flavor that'll leave you licking your fingers clean!
It's probably the best way to make roasted cauliflower, at least in my opinion.
Like a white bean salad, it's simple and straightforward.
The only thing you need is to add some lemon juice for color (and flavor).
You can serve this as a side dish or top it with your favorite Greek feta cheese.
I can never get enough of Greek fries.
They're crispy and crunchy, with a thick and savory coating that's just wonderful.
You'll use garlic powder, onion powder, paprika, mustard, salt, pepper, and cayenne to give them their robust taste and heat.
They take about 15 minutes to make (including cooking), but they need the oven to do so.
Once you have them on the table and everyone's had a taste – be sure to leave plenty for later!
I'm always on the hunt for something new and different to try out.
That's why I love this recipe for Greek zucchini patties with feta and herbs.
The combination of salty feta, earthy herbs, and sweet zucchini is a perfect match.
You might think this would be too light but don't let that fool you – it's packed with flavor!
These patties are so delicious they can be eaten on their own or as an easy appetizer.
They pair perfectly with tzatziki (Greek yogurt) dip or hummus.
What's the perfect side dish to go with a big juicy steak?
How about Greek rice!
This hearty and filling side dish cooks in just 20 minutes.
It's one of those recipes that is easy to make but so satisfying.
The combination of rice, vegetables, and herbs makes for a flavorful main dish.
And it's healthy enough to serve as a side or main course.
Serve this Greek rice with grilled meats for a complete meal!
This is the perfect side for any grilled meat or fish.
The roasted vegetables add a bright, peppery flavor that's good for your digestion.
The best part about this recipe is that it takes only 20 minutes to whip up.
That means you can make a big batch and have leftovers for lunch the next day!
If you like hearty stews, this recipe is for you.
The beans are simmered in tomato broth, with vegetables like tomatoes and onions.
We often add garlic to the stew, but it's not required.
You can also use canned beans if you have them on hand.
If you're using dried, be sure they're well-drained as it cooks.
These are so tasty, and the combination of tomatoes and feta is fantastic.
The secret to getting those wonderful deep pockets in the fritter is to use egg whites.
Just beat them up again with some oil and mix them into the batter until they're not lumpy anymore.
You can also add a bit of milk or cream for extra creaminess if that doesn't appeal to you.
Spanakorizo is a simple rice dish with spinach.
It's a staple of Greek homes and has been enjoyed for decades.
This recipe is the exact same as the one you had before, only this version has more flavor.
This recipe calls for whole wheat spaghetti, which gives it an added boost of iron.
Oh, and it also adds some extra protein with each forkful.
Skordalia is a simple dip that's perfect as an appetizer or side dish.
It's rich, creamy, and easy to prepare.
It doesn't require any cooking, but you'll need to soak and boil the potatoes until they become tender.
Then, add garlic and onions into the pot along with salt and pepper.
Once everything is mixed together well, pour over your favorite cheese and enjoy!
I know it's usually made in a food processor, but I love how this recipe looks and tastes!
They look so authentic and so tasty, and the flavors are just spot on.
The chickpeas provide a great protein punch, while the garlic provides some wonderful earthy notes.
Serve them with tzatziki sauce or hummus for extra flavor.
Spinach, feta cheese, and eggs?
Yes, please!
The filling for this pie is a mix of spinach, feta, eggs, and breadcrumbs.
It's made even more delicious with the addition of walnuts and lemon zest
This crazy-good breakfast or brunch pie will make you want to keep coming back for more.
This dish has been known to give some people the munchies.
I mean, how can you not love a dish that combines sweet and savory flavors?
The feta cheese adds creaminess while the spinach helps balance out the tangy squash.
It's a recipe that's easy to make and makes for an elegant dinner or appetizer.
Crispy potatoes and tangy yogurt dressing are the perfect pairing.
If you want a little something extra, add some cucumbers and onions!
You'll love how this dish is packed with flavor without being too heavy or filling.
It's the kind of side dish that'll make you feel like a kid at Christmas time!
Fasolakia is a Greek dish of green beans.
You'll cook them in olive oil and lemon juice, then season with salt and pepper.
The fresh flavors balance out the rich color of the beans to create a dish that's both healthy and delicious.
This recipe is an excellent side to any meal or light lunch.
The flavor is light and bright, but it also has a bit of heat from the peppers.
You've probably heard of cucumber salad before, but have you ever tried Greek cucumber salad?
It's a tangy, fresh side dish that will delight your taste buds.
The tanginess comes from the addition of feta cheese and lemon juice.
The crunchiness is provided by chopped pistachios and toasted pine nuts.
This salad also has a beautiful presentation that I think is worth checking out.
If you want to jazz it up, try sprinkling some dried parsley on top instead.
If you're looking for a fresh and healthy way to kick off the day, this smothered Greek broccoli with roasted lemon is the answer.
It's a simple recipe that tastes great.
The roasted lemon brings bright acidity to the dish, which balances out all of the indulgent flavors.
With just a handful of ingredients, it's easy to whip up.
And while this is technically healthy, it doesn't taste like it!
Greek cauliflower rice is the perfect low-carb side dish.
This recipe makes a delightful and simple side dish for dinners and lunches.
Serve it over a bed of cooked cauliflower rice or eat it on its own.
It's healthy, tasty, and easy to prep!
Greek cauliflower rice is delicious in soup, casseroles, or as an easy side dish.
If you're a fan of Greek hospitality, this orzo with tomato sauce is right up your alley.
This is an appetizer-sized main course that's perfect for winter days and nights.
The combination of tomatoes and orzo complements the brightness of the lemon juice perfectly.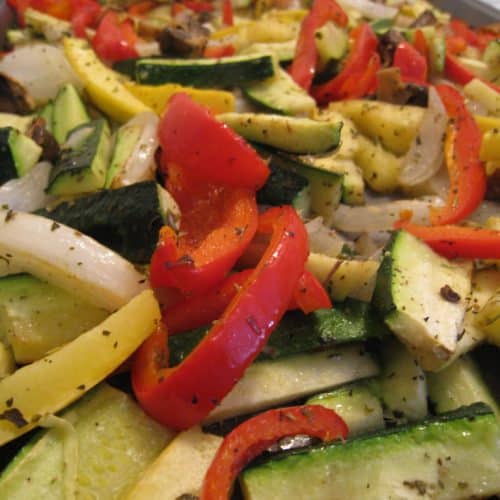 Roasted Greek Vegetables
The roasted vegetables add a bright, peppery flavor that's good for your digestion.
Ingredients
1

medium eggplant

1

red onion

2

cups

diced Yukon gold potatoes

1

red bell peppers

8

garlic cloves

¼

cup

extra virgin olive oil

1

teaspoon

salt

½

teaspoon

pepper

2

tablespoons

minced fresh oregano

1

teaspoon

chili flakes
Instructions
Place foil over a baking sheet and preheat the oven to 450 degrees. Use cooking spray to spritz.

Sprinkle the prepared baking pan with the vegetables and garlic cloves, then season with salt, pepper, olive oil, fresh herbs, and chili flakes. After thoroughly tossing, bake for 35 to 40 minutes, or until golden and caramelized. Before serving, you can add more fresh herbs as a garnish.
Video
Nutrition
Calories:
539
kcal
Carbohydrates:
69
g
Protein:
9
g
Fat:
28
g
Saturated Fat:
4
g
Polyunsaturated Fat:
3
g
Monounsaturated Fat:
20
g
Sodium:
1457
mg
Potassium:
1766
mg
Fiber:
16
g
Sugar:
13
g
Vitamin A:
540
IU
Vitamin C:
68
mg
Calcium:
177
mg
Iron:
5
mg
---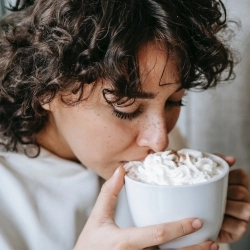 Latest posts by Grace Lambert
(see all)