These blue curacao drinks are the perfect way to cool off on a hot day.
They're refreshing, sweet, and just the thing to end a stressful day.
Curacao is a dark Caribbean rum with a complex flavor and spicy notes.
It's also pretty versatile, being served as a drink or with food.
Shark Bite contains rum, vanilla, and coconut.
It's very similar to Bacardi's Homestead Rum, and this drink is absolutely delicious.
It's also a great option for someone who isn't too fond of rum.
It has hints of vanilla and strawberry syrup, but the spiciness is what makes it so appealing.
You can even add blue food coloring if you want to give it that extra color! (Note: This will stain everything it touches.)
If these blue curacao drinks don't do it for you, I don't know what will.
After all, this 'rum drink' is only $1.50!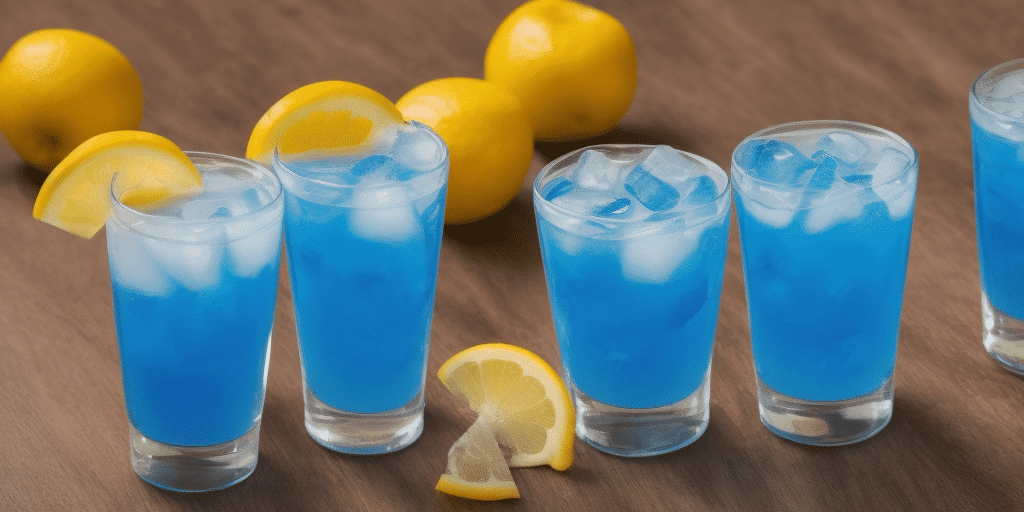 Shark bite is an interesting concoction.
It's a bit like a cross between a cheeseburger and a sno-ball.
It's basically just regular beef, fries, and some cheese on the burger bun.
But when you add in the pickles and jalapeños, it becomes something else entirely!
You may not be aware of how good this dish already is until I tell you that it comes with its own sauce – ketchup mustard sauce.
The pickles make it even more unique than regular hamburgers, but what can I say?
It's better that way!
Blue margaritas are a staple in many Mexican restaurants.
But did you know that they're also super simple to make?
All you'll need is three ingredients: blue agave nectar, triple sec, and lime juice.
With these four easy-to-find ingredients in your pantry, you can get ready for summer with this refreshing drink.
It's the kind of margarita that will get you into sipping without breaking a sweat!
If you really want to make your neighbors think about sex, give them this recipe for Sex in the Driveway.
Of course, it's a little bit more than just nachos.
It's loaded with cheese and pepperoni (and garlic), and there's also ketchup and jalapenos.
It looks like something out of a Mexican restaurant, but it tastes amazing.
This is the perfect recipe for making sure that your friends never want to eat at your house again.
This rainbow paradise cake is sweet, moist, and just a little bit tangy.
It's so good; you might even need a second slice!
It takes about an hour to make.
But the best part is that it's as effortless as can be.
You only need three ingredients: white cake mix, buttercream frosting, and sprinkles.
Then you pipe them onto individual sheets of wax paper or parchment paper to form your beautiful decorations.
Blue lagoon is a popular dish in the south of France, and it's super simple to make.
All you'll need is a couple of eggs, lemon juice, salt, pepper, and olive oil.
Cook them until they're nice and set – which takes about 15 minutes or so.
Then pour your eggs into a glass bowl with some white wine and serve.
Blue drinks are known for their complex flavors and bold, fruity flavors.
They also have a penchant for sweet-tasting liqueurs.
This blue daiquiri is no exception.
It's made with Bailey's Irish Cream, dry curacao, and fresh lime juice.
It's sweet, sour, and delicious all at once!
Here's another spin on the classic Smurf recipe.
This version of the Smurf looks more like an emoji.
It's a little different, but it uses the same ingredients as the original recipe.
The key difference is that you'll make red smurf paint and apply it to your face before baking.
Once the paint is dry, you can just go about your day normally.
However, if you want something a bit more dramatic, use glow-in-the-dark paint!
I'm always on the look-out for fun, creative ways to make my kids excited about food.
Mermaid water was just that!
It combines orange and watermelon juice, which is fantastic because it tastes awesome and looks great.
This drink is full of citrusy flavors, making it a super refreshing treat.
Plus, it's super kid-friendly.
The best part?
All you need are some mandarin oranges, bottled water (and maybe coconut milk if you want extra sweetness), ice cubes, lemon lime soda, and a spoon.
If you're looking for something sweet and tropical, this blue Hawaiian is the perfect dessert.
It's a cross between a smoothie and a milkshake.
The mixture of mango and pineapple juice is blended with coconut cream to create an ultra-milky treat that's perfect for breakfast, lunch, or dinner.
Whip it up in no time because you won't even need to go grocery shopping!
It's a little like the Ocean Breeze you already know and love, but with more flavor and less water.
You'll still get that delicious, boozy taste, but there are now added secret ingredients.
I highly recommend trying this one if you're looking for a new cocktail to try out.
It tastes like a refreshing drink, though I wouldn't say it was perfect.
It has just enough sweetness to balance it out nicely.
(If you want it sweeter, add an additional splash of booze.)
However, I think the kids absolutely loved it.
Some of them stayed up until midnight just because they wanted another shot!
Lemon drop mermaids are a traditional dessert that's surprisingly easy to make and is always a hit with everyone.
These cookies have a very delicate flavor, which makes them very refreshing.
They're sweet and zesty with just the right amount of spice.
Simply put, Virgin Blue is a blueberry-based beverage.
It's similar to the classic grapefruit juice recipe above with one main difference: it uses blueberries!
It has a high fructose syrup base, which means that you get sweetness from concentrate and not fruit puree.
You can leave it basic or use more sweetener if you like.
So while it's a great drink for summer, I prefer to keep this one chilled all year round.
Thinking about a float that's more grown-up than the ones you have at your local watering holes?
Then give this recipe a try!
This drink is reminiscent of the one from your favorite gin joint, but it has some added tropical flair.
The ingredients are simple, and most of them should be able to find their way into any bar.
So if you like fruity drinks but still want something with a little more kick, this recipe will definitely do the trick.
I know this sounds super basic, but it's a real thing.
Blue Curacao is a Caribbean-based liquor that has notes of vanilla, citrus and lime.
It makes for the perfect base for a low-cal cocktail, particularly with this blue mojito recipe.
Not only does it add flavor, but you get tons of vitamin C from the drink as well.
This drink is excellent for those looking to boost their Vitamin C intake.
If you're looking for a simple summer beverage to enjoy, look no further than electric lemonade.
Named after the iconic 1964 James Bond movie of the same name, this lemonade is sweet, frothy, and very refreshing.
It's also wonderfully citrusy with zero alcohol!
To make it, simply pour boiling water over a cup of frozen lemonade mix.
Once it cools off (which takes about an hour) strain the liquid through cheesecloth to remove any chunks.
This dessert is aptly called sweet poison, because it's so very tasty!
You won't need to worry about making a killer dessert with this recipe, though.
All you need are seven ingredients and 15 minutes.
It's a delightful mix of vanilla ice cream and chocolate sauce, which is topped with whipped cream and chopped hazelnuts.
This combination of flavors and textures creates one heck of a treat.
If you've ever seen the movie "Purple Rain," you know it's a classic.
This version is even better!
This purple powder is taken from the berries of the wild plum tree, and it gives it a beautiful pink color.
To make things even better, this recipe calls for powdered sugar!
I adore the texture of this powder mixed with creamy whipped cream.
Serve this purplish treat to your loved ones and watch them go crazy.
If you love gin but don't want to make a ton of cocktails, this recipe is perfect for you!
It has all the flavors that make gin so awesome, minus the alcohol.
Mix up a simple mixture of ginger ale, lime juice, and tonic water.
Simmer until it cools down and becomes thick.
Serve over ice for an elegant drink that tastes just like gin.
To be extra fancy, add a slice of lime into your glass for added flavor.
You won't regret it!
Jack frost is a classic winter dessert that's perfect for any occasion.
It's so sweet, creamy, and decadent!
This recipe calls for coconut milk and marshmallow creme to create this fantastic treat.
But if you don't have the time or energy to make it all the way from scratch, I highly recommend buying ready-made candy melts.
Once you bake your cake mix (or whatever you decide to use), add in the melted chocolate on top and cover it with whipped cream.
It takes about an hour in the oven but is completely worth the wait.
Trust me!
Blue coconut is one of those desserts that looks a little like blueberry pie.
But it tastes much more like blueberry pie!
It's also insanely easy to make and only takes 10 minutes to prepare.
To make it, you'll need just six ingredients: coconut, water, lemon juice, vanilla extract, sugar, and salt.
Simply mix everything in a bowl until the salt is completely dissolved.
Then refrigerate it for at least 3 hours before serving so that all the flavors can marry and blend into the creamy coconut filling.
If you're a fan of iced tea, this recipe will definitely change your mind.
You'll make one with real tea and an evaporated milk base.
It has everything you love about the refreshing drink – ice, lemon juice, sweetener, etc.
This is the first time I've ever seen anyone add two kinds of sugar to their iced tea.
It makes almost as much sense as adding vanilla to caramel!
Of course, if you want it sweetened, go for it.
Why not pop into the kitchen and make your very own Bluewater Breeze?
This high-protein recipe is great for a quick breakfast or meal prep.
Every ingredient is great for your body, making it perfect to start the day.
You can also customize this dish by adding different spices to give it more flavor.
Blue mule is a popular cocktail in the Southwest, and it's a great way to start your day.
The fruity sweetness of the cranberry-ginger soda pairs perfectly with the sugar and tartness of the lime.
It's a drink that you'll want to sip on all day long!
For this recipe, use fresh ginger root (think pickled) rather than powdered.
This will give you more delicious flavors, as well.
This blue island is like a meringue-like substance, with a lovely golden color and rich flavor that's best when used on an upside-down cake.
Best of all, it only requires two ingredients: rum and melted butter.
Just blend the two together until smooth, then pour them into a baking dish and chill for about half an hour.
You can also use rum extract if you have it around.
But even without it, this blue island is still pretty incredible.
Blue Devil is a pretty standard-looking peanut butter and jelly sandwich that's kind of like a grilled cheese.
While the bread can be pretty standard, it's what's under the sandwiches that makes them stand out.
The "butter" is just a layer of peanut butter with chocolate chips on top, but you could add jam if you wanted.
I think fruit preserves would make this one extra special!
25 Delicious Blue Curacao Drinks
These blue curacao drinks are the perfect way to cool off on a hot day.
Instructions
+ Select your favorite recipe.

+ Organize all the required ingredients.

Prep a delicious Blue Curacao Drinks in 15 minutes.
---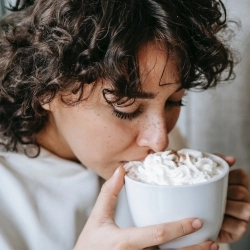 Latest posts by Grace Lambert
(see all)