In this post, I list various kinds of food that begin with the letter D.
See the whole food dictionary!
Éclair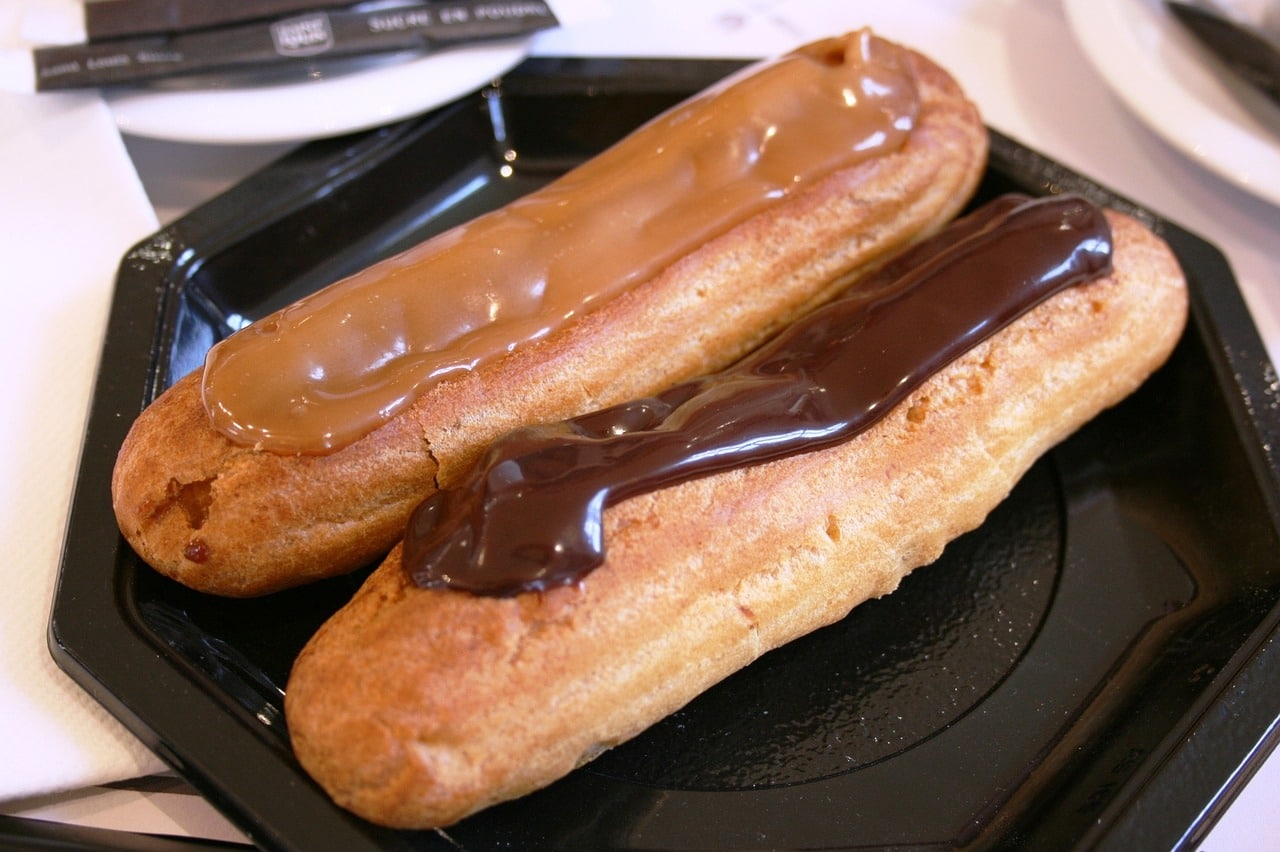 A decadent French dessert that consists of a pastry filled with a cream or custard and covered with icing.
It was invented by French Chef Antonin Carême who named it after the French word ''éclair'', meaning "flash of lightning", describing how fast this delicious treat will disappear from a plate.
It's made of crispy and airy choux dough, baked and filled with varieties of creams like chocolate, vanilla, pistachio, fruit, or coffee cream.
It is then topped with fondant icing, chocolate ganache, or melted chocolate.
Ecrevisse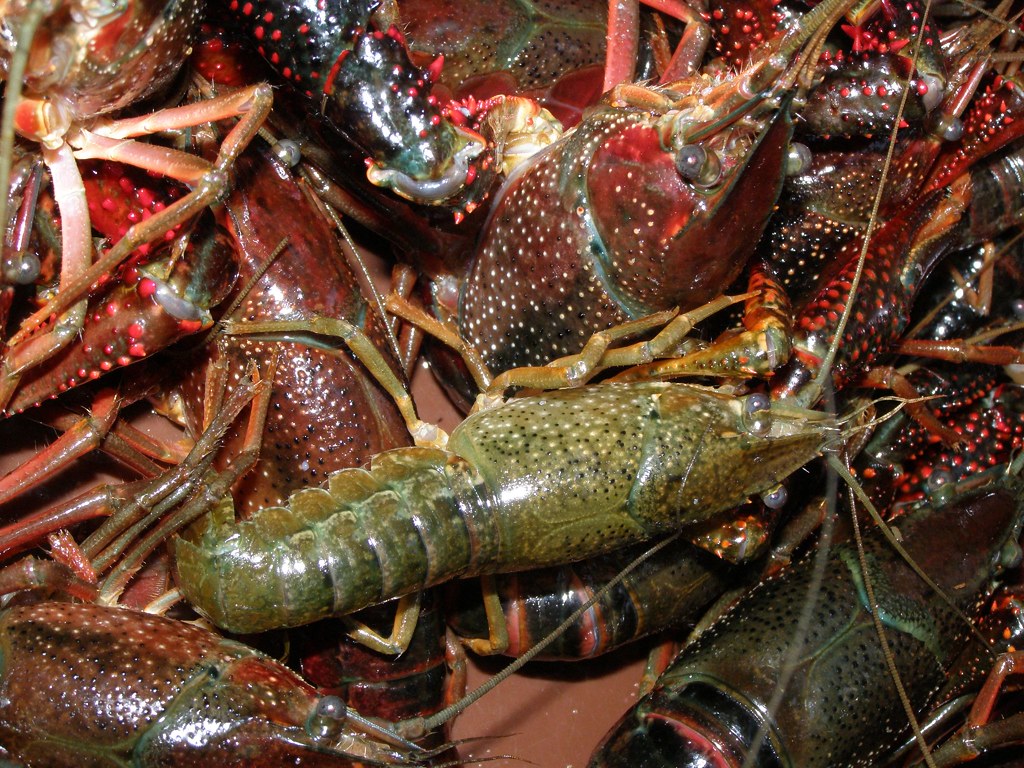 Ecrevisse or a crayfish is a tiny lobster-like crustacean usually boiled briefly.
Taxonomically, they are members of the superfamilies Astacoidea and Parastacoidea.
They breathe through feather-like gills.
Some species are found in brooks and streams, where freshwater is running, while others thrive in swamps, ditches, and paddy fields.
Most crayfish cannot tolerate polluted water, although some species, such as Procambarus clarkii, are harder.
Crayfish feed on animals and plants, either living or decomposing, and detritus.
Edam Cheese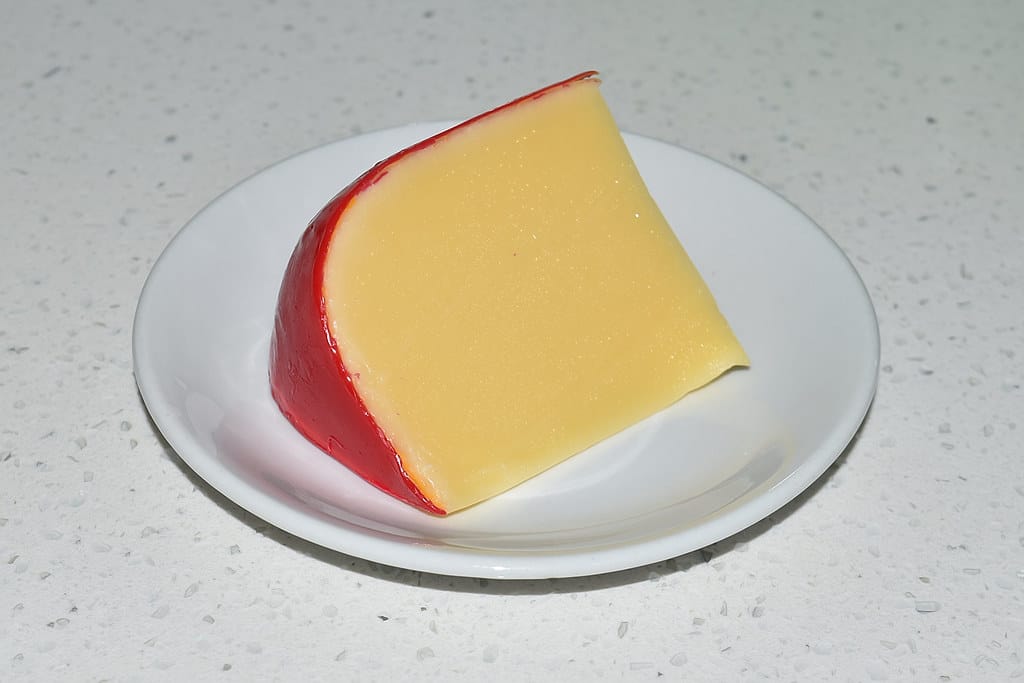 Dutch semi-firm cow's milk cheese.
It is named after the town of Edam in the Netherlands, where it is also known by the names manbollen, katzenkopf, and tete de maure.
It is sold ball-shaped, coated in a red or yellow rind with a creamy yellow mild-flavored interior, which melts quickly when heated.
It is also used grated in salads, sliced in sandwiches or served on a plate paired with fruits.
Edamame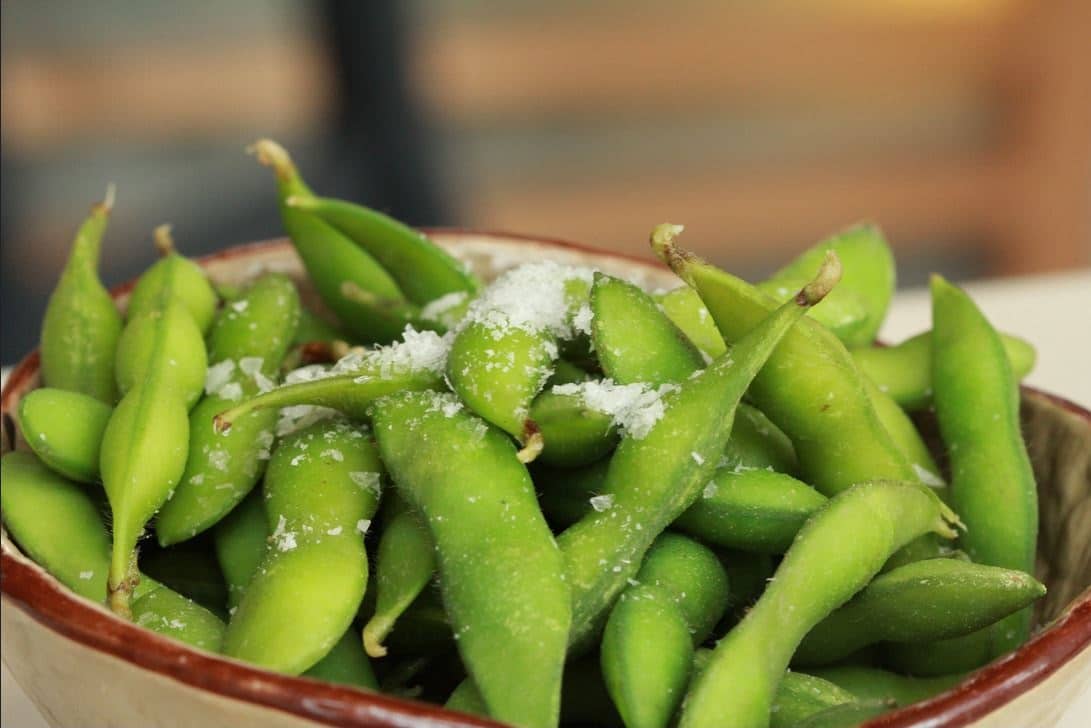 Edamame, translated from Japanese as "stem beans", are young green soybeans in a pod, harvested before fully ripen.
They are mainly consumed in Asian cuisines, served as an appetizer, a snack, or a side dish, simply boiled or steamed and seasoned with salt.
Edamame beans are rich in protein, dietary fiber, omega-3 fatty acids, folate, iron, manganese, zinc, and other healthy nutrients.
Eggs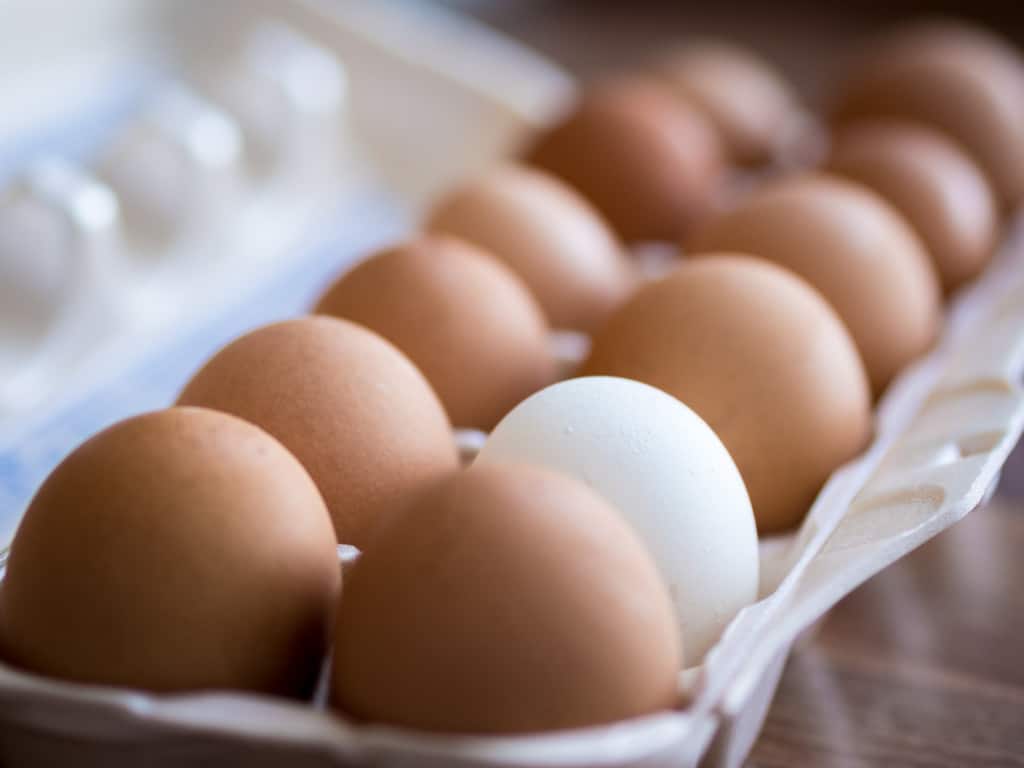 An oval or round-shaped biological structure produced by a female bird, used as food in cuisines around the world.
It consists of yellow yolk and a clear liquid called the white, which are surrounded by a protective eggshell.
Egg whites are mostly made of water and protein and are considered the healthier part of the egg.
On the other hand, yolks contain all the egg's fats and cholesterol, but they are a good source of vitamin D.
Eggs can be prepared in many ways – boiled, fried, poached, scrambled, in omelets, or pickled.
They are among the most important ingredients in many desserts and various savory meals.
Most commonly consumed eggs are chicken, duck, quail, and fish eggs known as caviar.
Egg Cream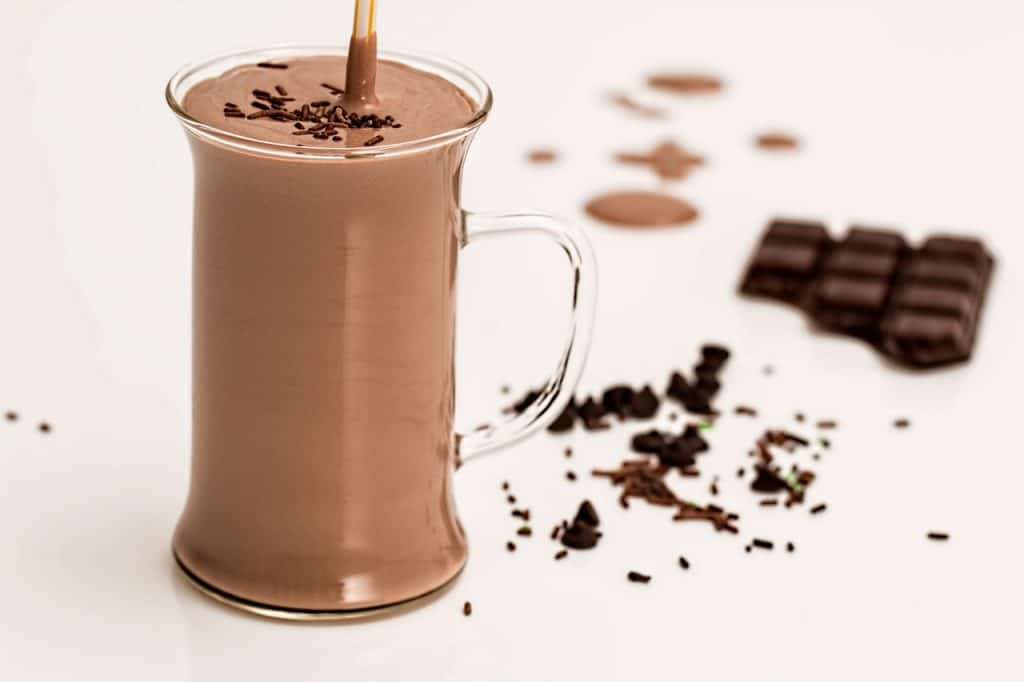 A sweet beverage originally created in New York in the late 19th or early 20th century.
Despite the name, egg cream doesn't contain eggs or cream.
It is made with only three ingredients: milk, seltzer, and chocolate-flavored syrup.
Syrup and milk are poured into a glass and combined.
Traditionally, a small Coke-style glass was used.
Soda is then slowly added and stirred until everything is combined.
It is served with a straw and consumed instantly, as the ingredients tend to quickly separate causing the drink to lose the original taste.
This is why egg cream remained a fountain drink, although a few smaller companies are selling a bottled version nowadays.
Egg Custard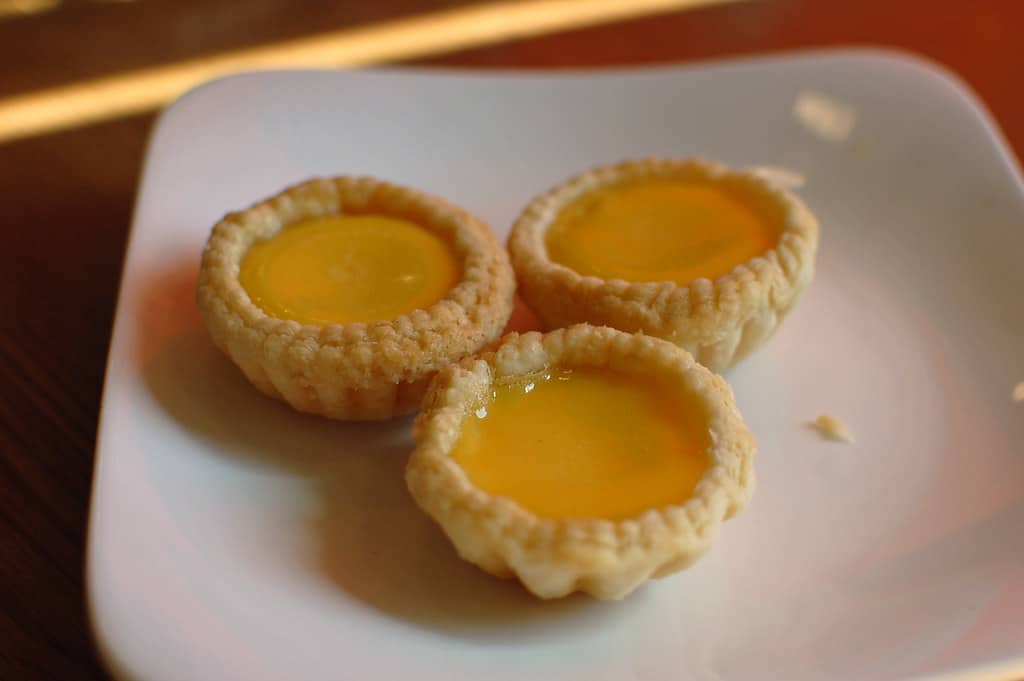 A creamy mixture of milk or cream, eggs, and sugar.
Eggs are used for thickening, similar to flour or corn starch.
Vanilla can be added for extra aroma.
Custard becomes thicker as it is cooked in a pan or a double-boiler.
It is cooked gently, over low heat, to avoid overcooking.
Then it gets transferred to the oven and baked with a water bath, which prevents a curdled texture.
Egg custard is used in desserts like egg custard tarts and crème brûlée.
Egg Fruit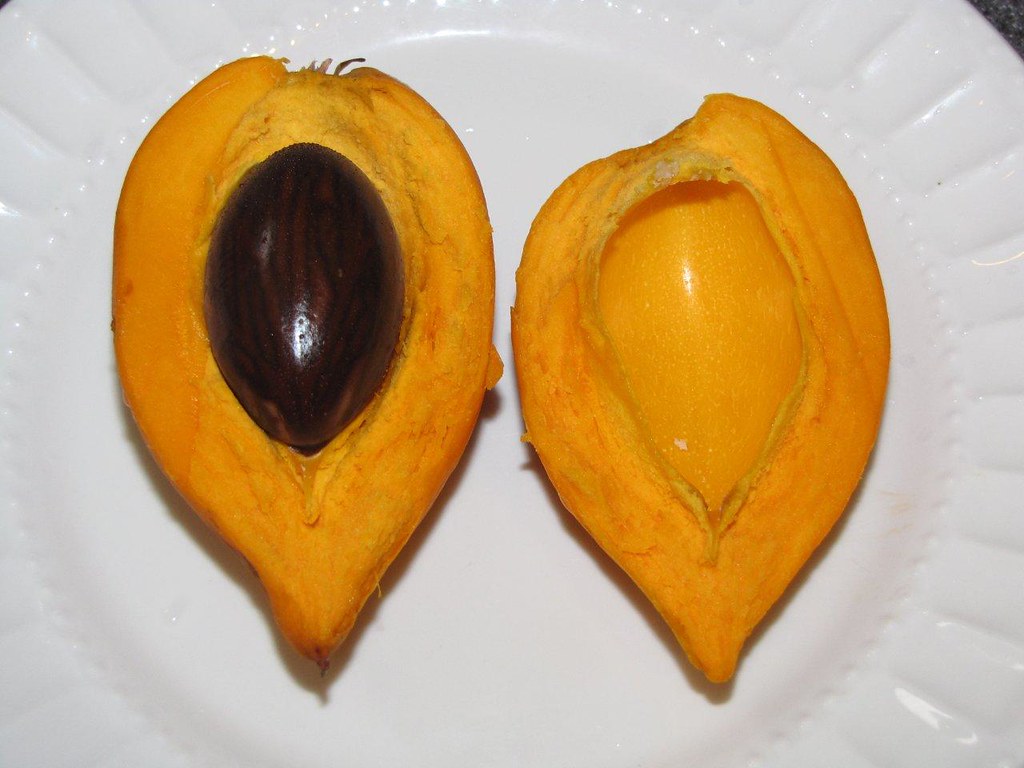 Eggfruit, orange-yellow bright fruit, is mostly recommended because of its smooth and definite surface, and the name is obtained from the likeness in texture to the hard-boiled egg yolk.
Canistel fruits are another name for egg fruits and are closely related to a popular fruit, Sapodilla or sapota, a tropical fruit.
Moreover, egg fruits are also designated as yellow sapote or various names in different world regions.
In today's world, egg fruits are mostly grown in Central America, Southern Mexico, and the Caribbean.
Also, to shield the skin of egg fruit as it is quite delicate, the fruit needs to be harvested using hands.
Eggnog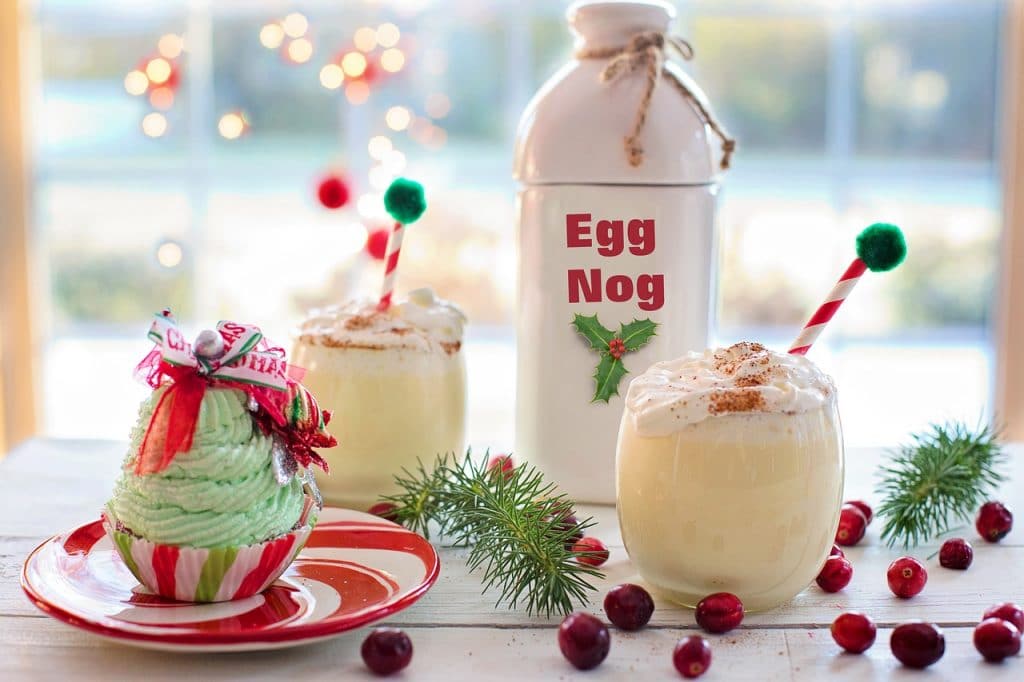 Eggnog is a dairy-based, cream-colored beverage, originated from the medieval British hot drink named posset.
It is made from milk, cream, sugar and eggs.
Eggs yolk and whites are whipped separately to provide a bubbling, creamy texture.
This traditional holiday drink, also known as the egg milk punch, is served chilled, sprinkled with ground cinnamon or nutmeg.
Eggplant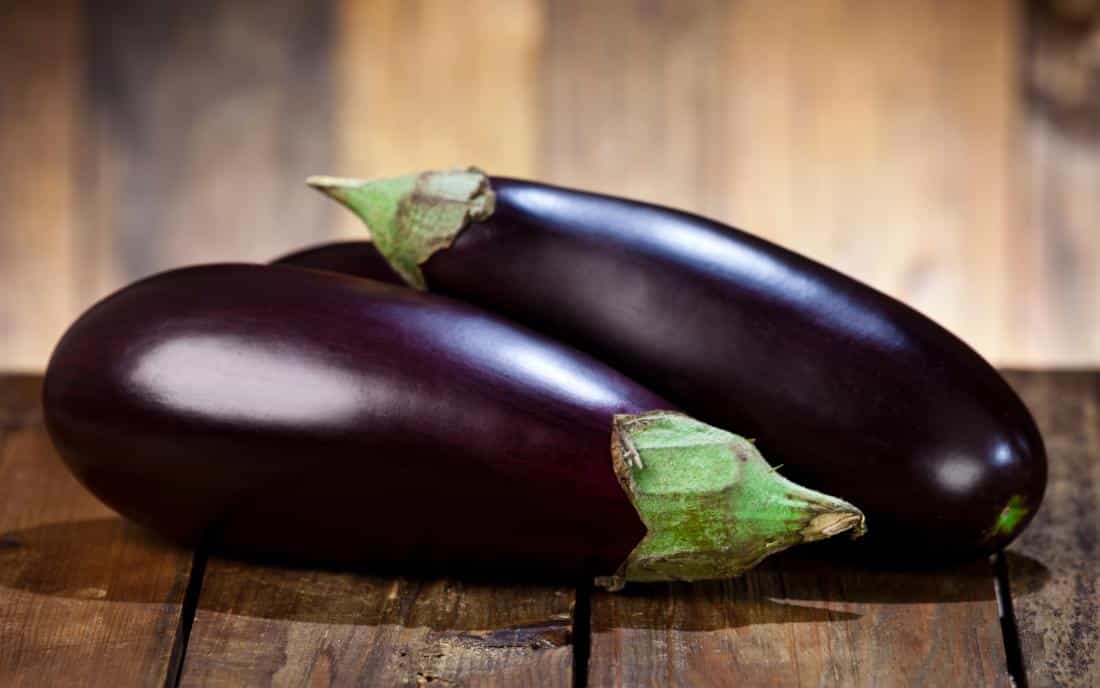 Purple or dark purple fruit of the family of flowering plants Solanaceae, used as a vegetable in cooking.
Its white, meaty flesh is covered with seeds and has a bitter taste that can be removed with salting prior to cooking.
Eggplant is native to India but used generously in Mediterranean cuisine.
Popular dishes made of this vegetable are Greek moussaka, Middle Eastern baba ghanoush, Philippine pinakbet, or French ratatouille.
Egg Rolls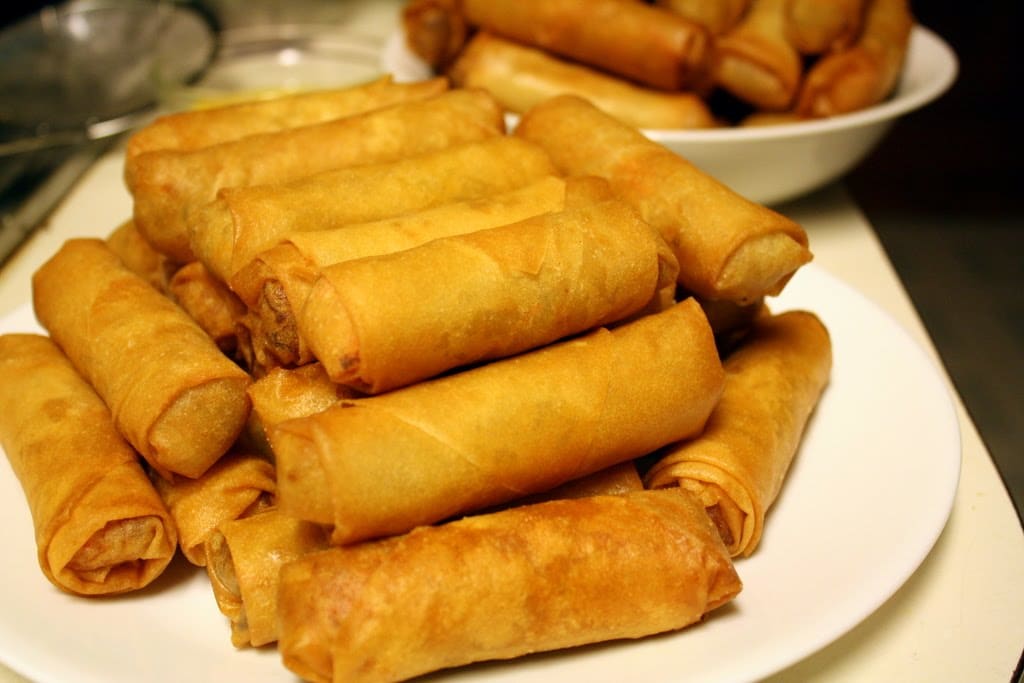 Chinese-American crispy rolls made from thick dough filled with meat and sliced cabbage, wrapped and deep-fried until golden brown.
Ground or chopped pork is originally used for the filling, but other meats can be used as well.
It can also include various vegetables such as carrots, onions, or garlic.
Egg rolls are served warm as an appetizer, with soy sauce, sweet chili, honey sesame, or other flavorful Asian dipping sauces.
Egg Salad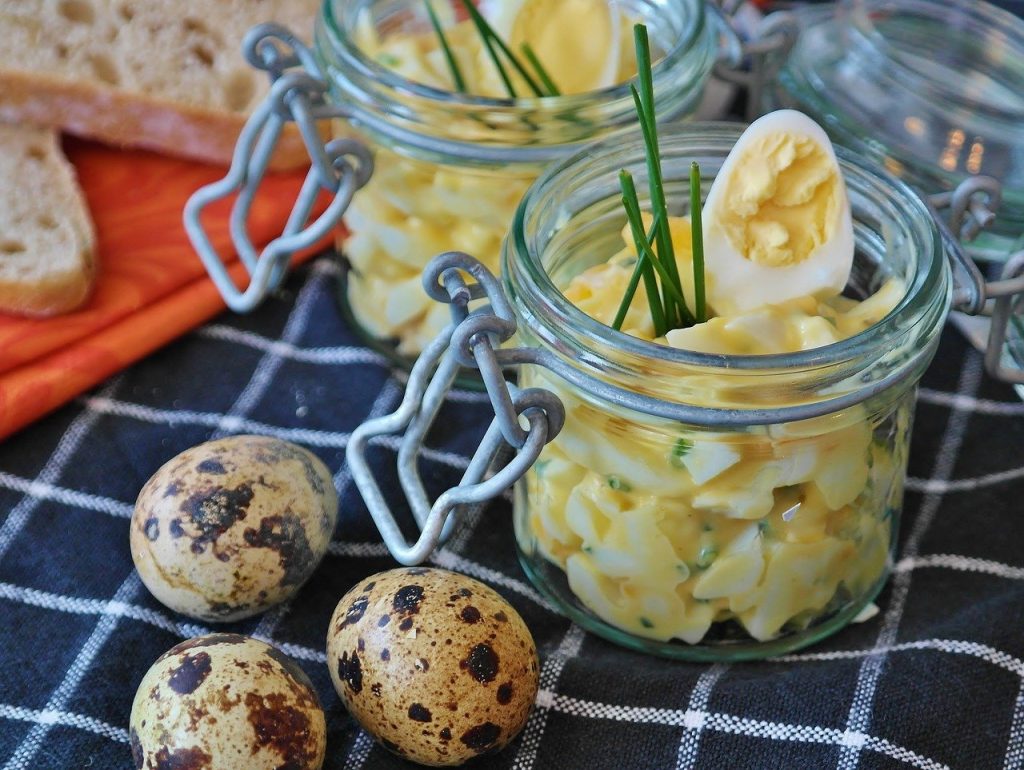 An egg-based dish, commonly used as a filling for sandwiches.
It is made from chopped boiled or scrambled eggs combined with mustard and mayonnaise.
Additionally, celery, pickle relish, spices and herbs (dill, parsley, salt, pepper) may be included.
A Russian variation of this salad is called Olivier salad, also known as Russian salad in the South Eastern Europe, Asia and Latin America.
Eggs Benedict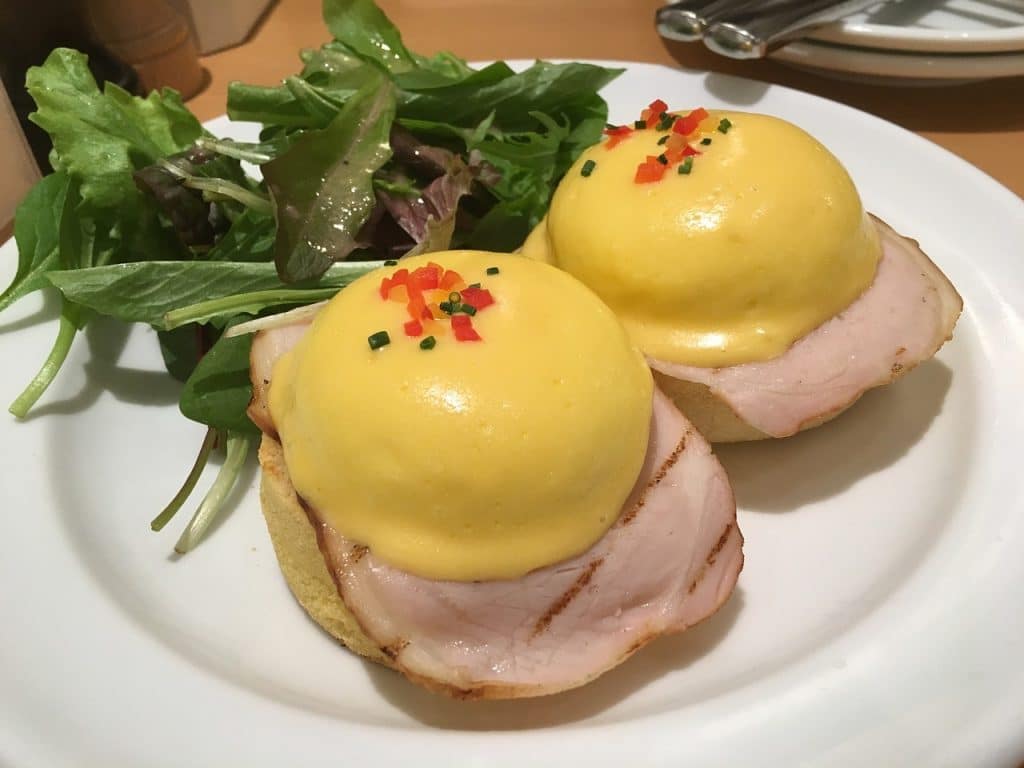 A meal invented in the 19th century in the United States, originally made of an English muffin sliced in half and topped with Canadian bacon, a poached egg and generously drizzled with Hollandaise sauce.
It is a classic American breakfast or brunch meal.
There are many variations of the original recipe, that include substituting Canadian bacon with ham, smoked salmon or spinach (popular Eggs Florentine) or Hollandaise sauce with Bechamel or other sauces.
Elbow Macaroni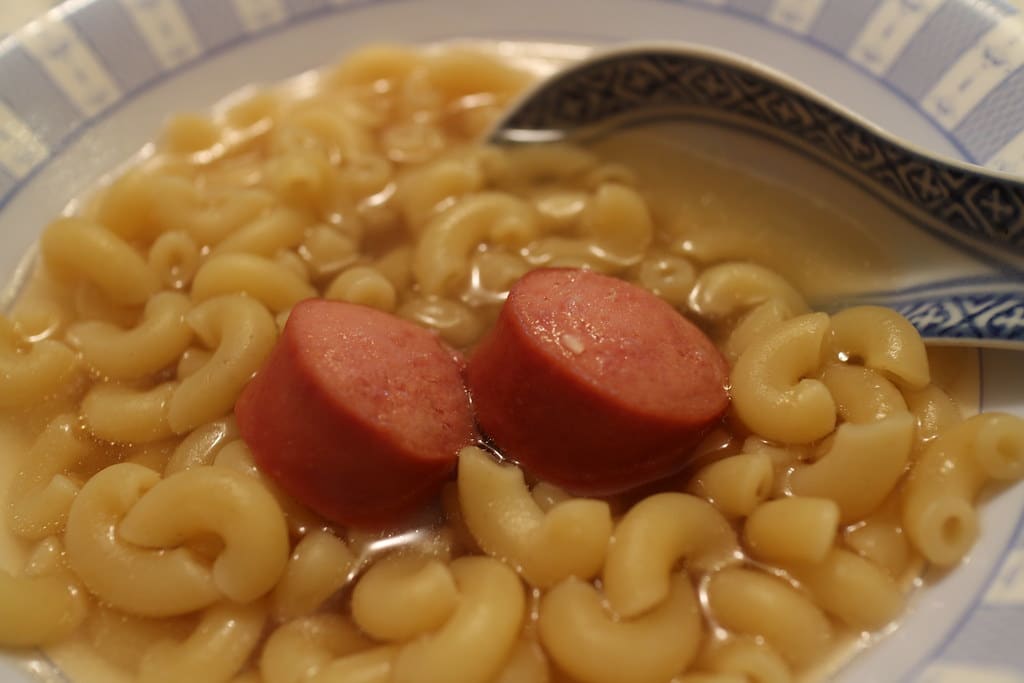 Elbow macaroni is one of the most common tube pasta shapes with its short, semicircular shape.
There are a few sizes of elbow macaroni for use in many different types of dishes including soups, salads, and casseroles, as this shape offers lots of options for recipes.
In the United States, macaroni is traditionally used in macaroni and cheese, a popular staple across generations.
Macaroni pairs well with practically any type of sauce, baked recipes, soups, salads, or stir-fry dishes.
Elbow macaroni is typically used in macaroni and cheese dishes but is also a popular choice for pasta salads.
Elderberries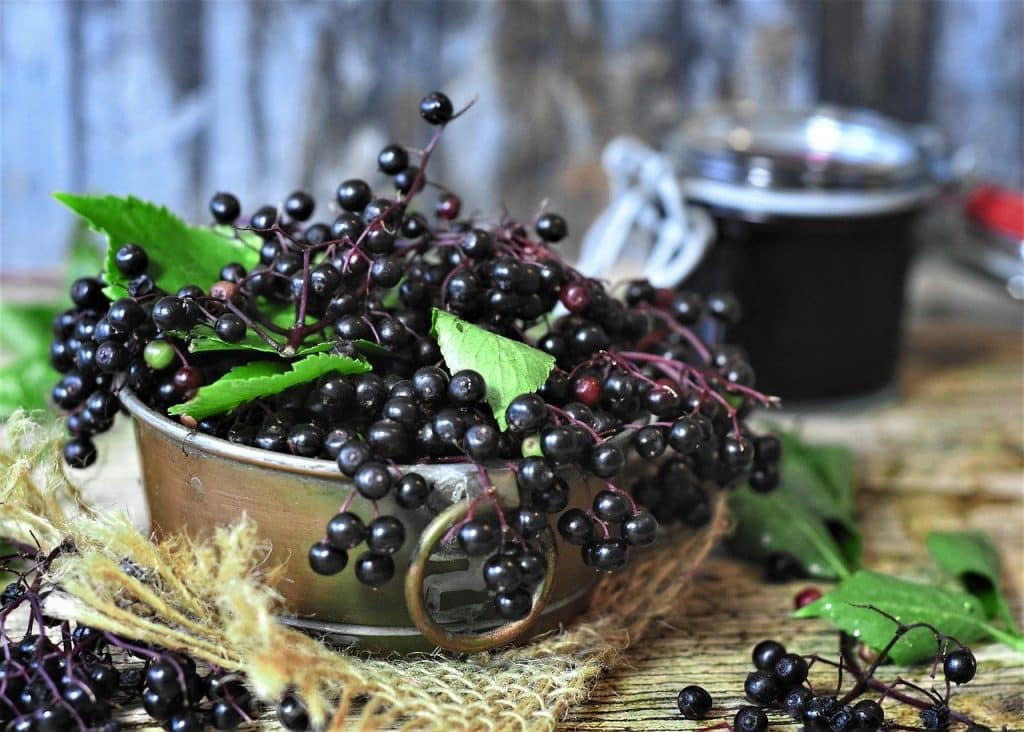 Elderberry is a dark blue or purple berry of the elder plant, native to Europe.
It belongs to the family Adoxaceae, a small family of flowering plants that grow as bushes.
The most common type is Sambucus nigra, also known as the European or black elderberry.
It has small white flowers known as elderflowers, which are also used in human consumption.
Just like berries, they are full of antioxidants and vitamins B6 and C.
Elderberry is used in jams, wines, juice, cocktails, syrups, and teas.
It is one of the most healing plants in the world, used to prevent and ease cold and flu symptoms, headache, muscle pain, and many other conditions.
Elephant Ears
Elephant ears are crispy circles of fried dough, also known as fry bread, coated with cinnamon and sugar.
They are sold at fairs, carnivals, food trucks, and theme parks.
Emmental Cheese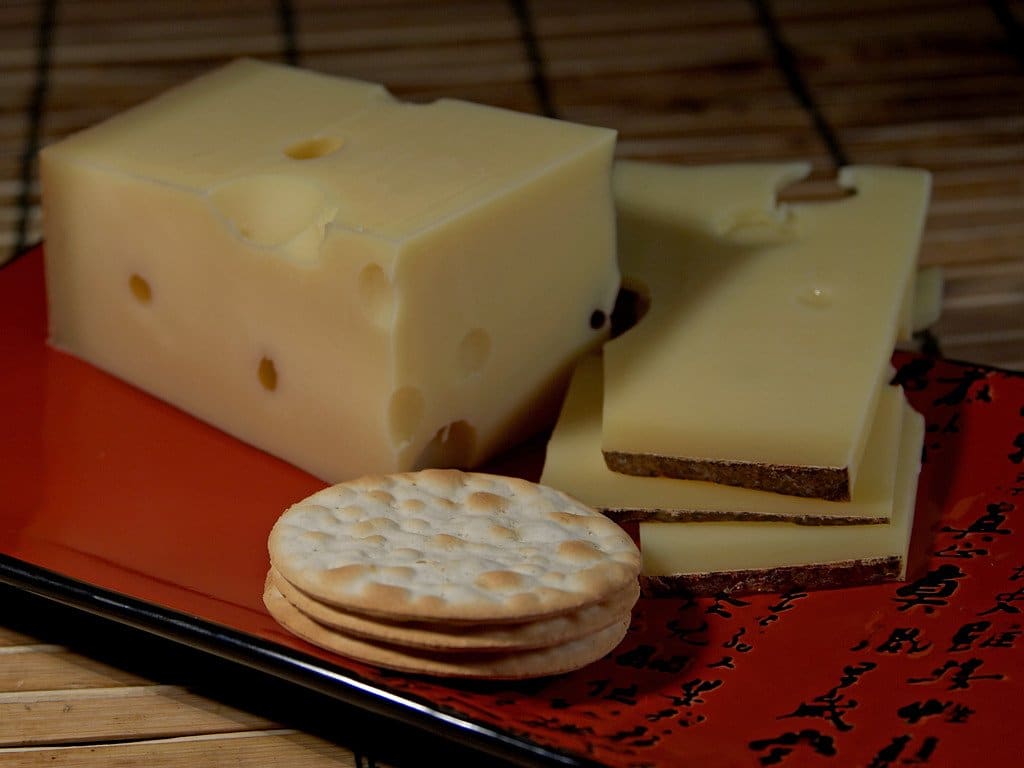 Emmental or Emmentaler is Swiss milk cheese.
It is produced from cow's milk and considered a semi-hard Swiss-type cheese.
It is recognizable for its yellow color, round shape, and large holes.
This Alpine cheese is produced in large wheels and comes in three types: classic – aged for four months, reserve – aged for at least eight months, and the third one, aged at least twelve to fourteen months.
Depending on its maturity, Emmental's flavor can range from mild and sweet to piquant and nutty.
It melts easily, so it is perfect for fondue, pasta, or grilled sandwiches.
Empanada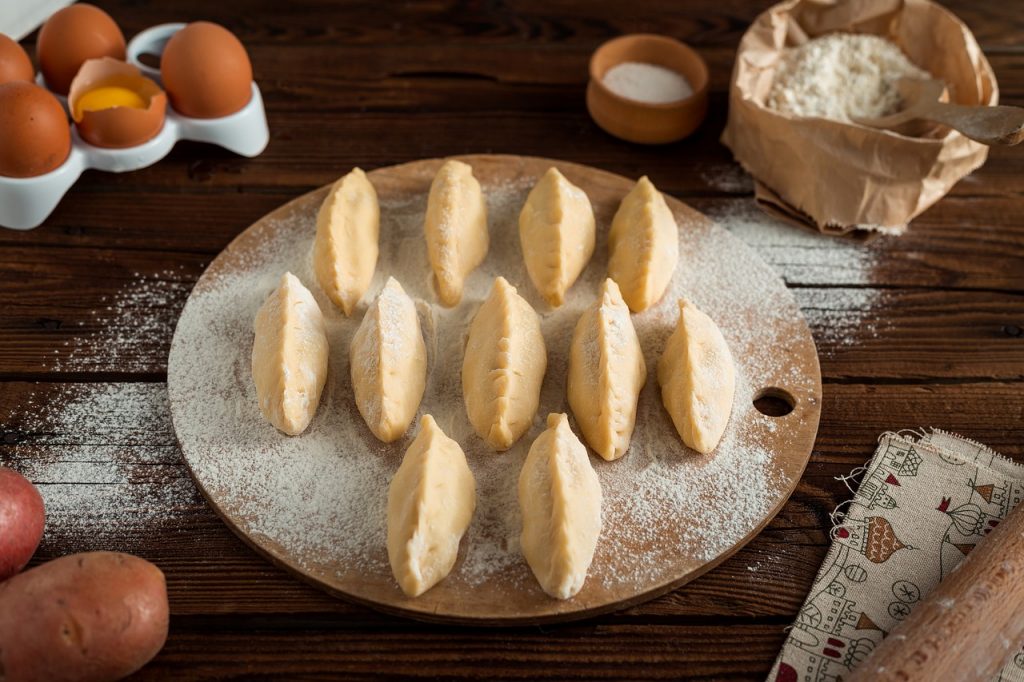 A small, savory pastry filled with meat or vegetables (tomatoes, peppers, onion, and corn are often used) and seasoned with spices.
The dough is wrapped around the filling and baked or fried.
This mini pie comes from Spain, named after the Galician word ''empanar'' meaning ''breaded''.
It is also presented in Latin American and Philippine cuisine, stuffed with sweet or savory fillings.
Enchiladas
Mexican baked dish made of corn tortillas stuffed with meat, cheese, beans and other vegetables, rolled and topped with spicy chili pepper sauce.
Its name translates as ''seasoned with chili'' in Spanish.
Besides Mexican, famous versions of the enchilada recipe are Costa Rican, Guatemalan, Nicaraguan and Honduran.
Endive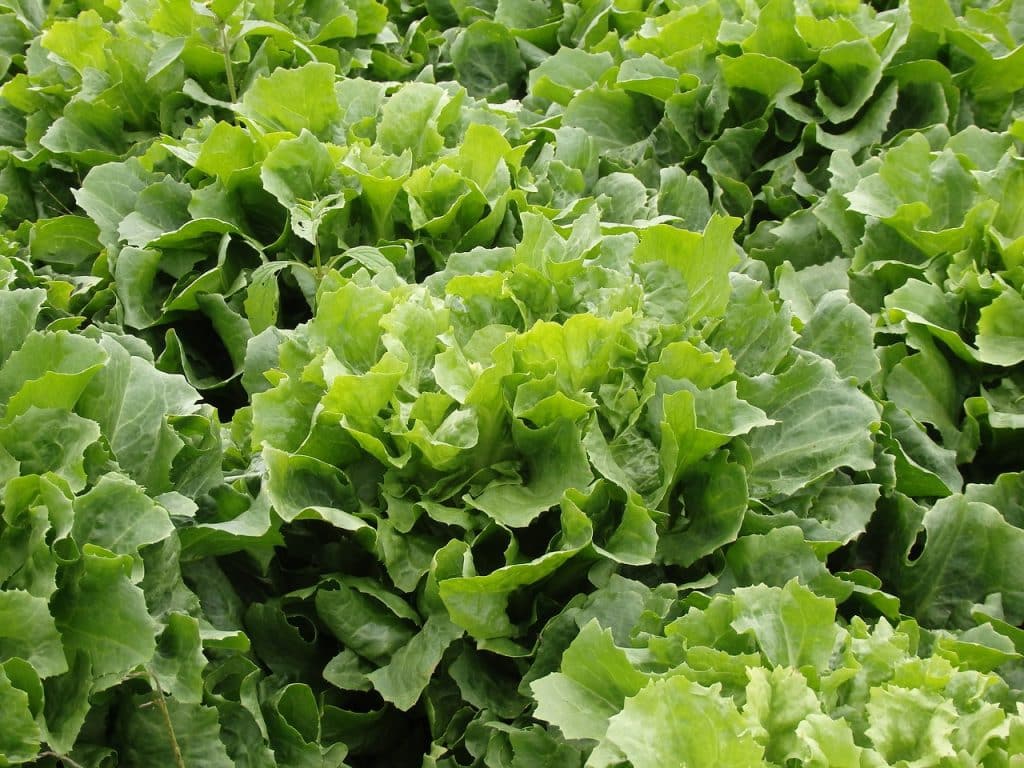 Leafy vegetable closely related to chicory, with typically dark or light green leaves and a bitter taste.
Common types of endive are curly endive, with green, curly leaves and escarole, known as Bavarian endive.
There is also the Belgian endive, with the tightly wrapped head of creamy white leaves, which is botanically grouped as chicory.
Endive leaves are a great addition to salads or meat, because they are low in calories, while high in vitamins and minerals.
English Muffin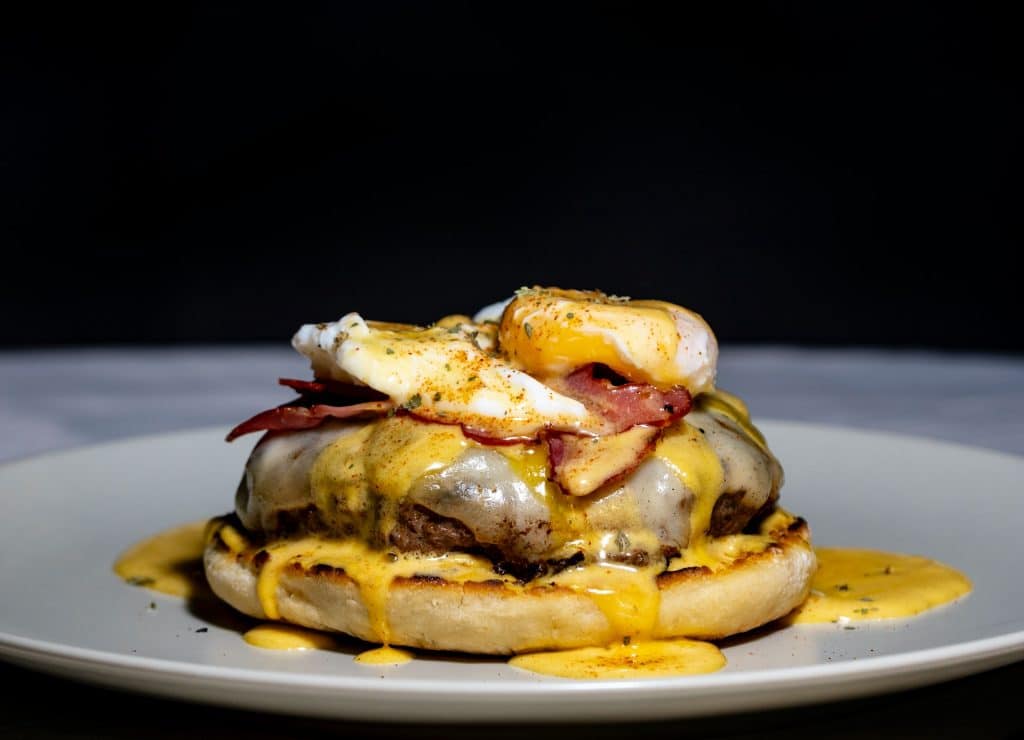 A flat, round-shaped bread, served as North American, Australian, or English breakfast or brunch pastry.
In England, they are just called ''muffins''.
This bread is made of wheat flour, yeast, butter, milk, and eggs combined into a soft dough that is rolled, cut into small rounds, and baked.
It is eaten sliced in half, toasted, and topped with sweet or savory spreads, eggs, cheese, or sausages.
A well-known Eggs Benedict is made of this fluffy, buttery bread.
English Sole
The English sole (Parophrys vetulus) is a flatfish of the family Pleuronectidae.
It is a demersal fish that lives on sandy and muddy bottoms in estuaries and nearshore areas, at depths of up to 550 meters (1,800 ft).
It reaches up to 57 centimeters (22 in) in length and can weigh up to 1.5 kilograms (3.3 lb).
Its native habitat is the Eastern Pacific, stretching from the coast of Baja California in the south to the Bering Sea in the north.
English sole is an important commercial fish, primarily caught off Washington, Oregon, and California.
Though biomass is increasing, catches have been declining since the 1960s and are currently almost at an all-time low.
The English sole is known in Spanish as platija limón, or lemon sole, a name by which it is also known in English, though the true lemon sole is a separate species, Microstomus kitt.
English Walnut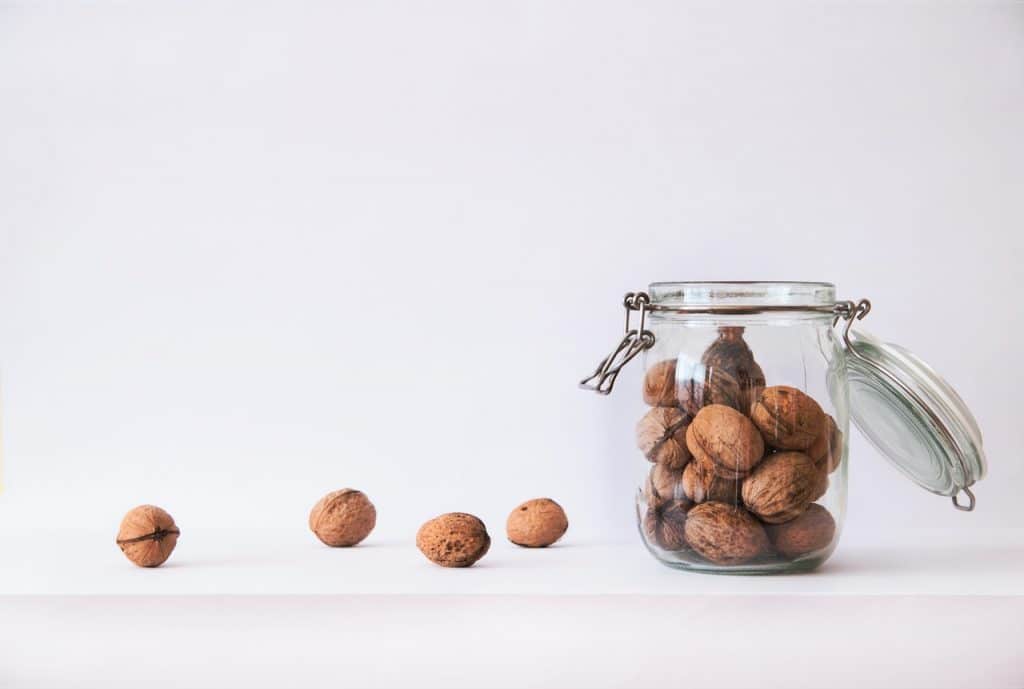 English walnut is commonly eaten as a snack, in baking, and in salads.
Enoki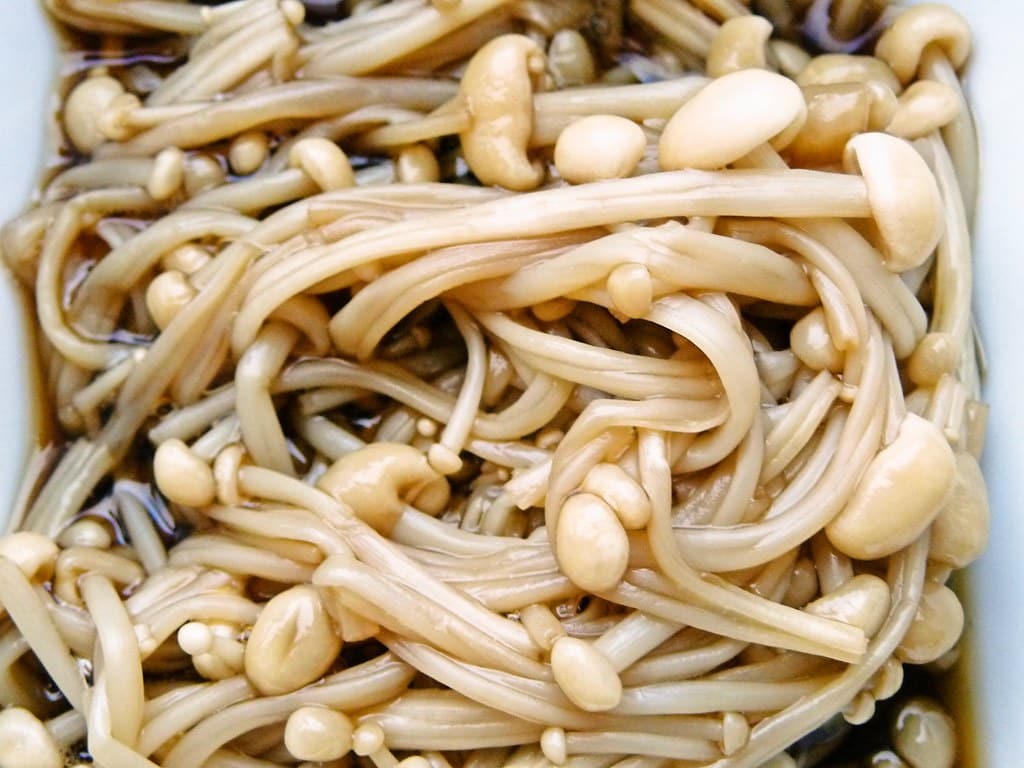 Japanese mushroom known by many different names – as enokitake, winter fungus, seafood mushrooms or velvet foot.
It is a mushroom of the family Physalacriaceae, grown with very thin and long stems topped with tiny white-colored caps.
Their texture is crunchy eaten raw and slightly tough when cooked.
This type of mashroom is used fresh in salads or cooked in soups.
Ekmek Kadayıfı
A Turkish specialty, in a form of a bread pudding, made of slices of bread or handmade dough dipped in the sugar syrup called şerbet.
Serbet is used in various Turkish desserts to keep the dough soft and moist, while at the same time adds flavor to the dessert.
Once bread or dough is soaked with sweet syrup, it is topped with a Turkish cream spread called kaymak or a scoop of ice cream and served.
Escarole
Escarole is leafier than kale, and is usually sold in bunches that look a lot like a head of lettuce, with short, wide, wavy-edged leaves.
The color and texture of the leaves varies—those on the outside are darker-green and a bit tougher, while the interior leaves are pale-yellow and more tender.
Flavor-wise, escarole is part of the chicory family, which means it's related to stuff like endive, radicchio, and other bitter greens.
And yes, as the family name "bitter greens" suggests, escarole is a tad bitter.
There's a sharpness that comes with escarole's wide leaves, not quite as much as radicchio, but definitely more than a piece of romaine.
Esterházy Torte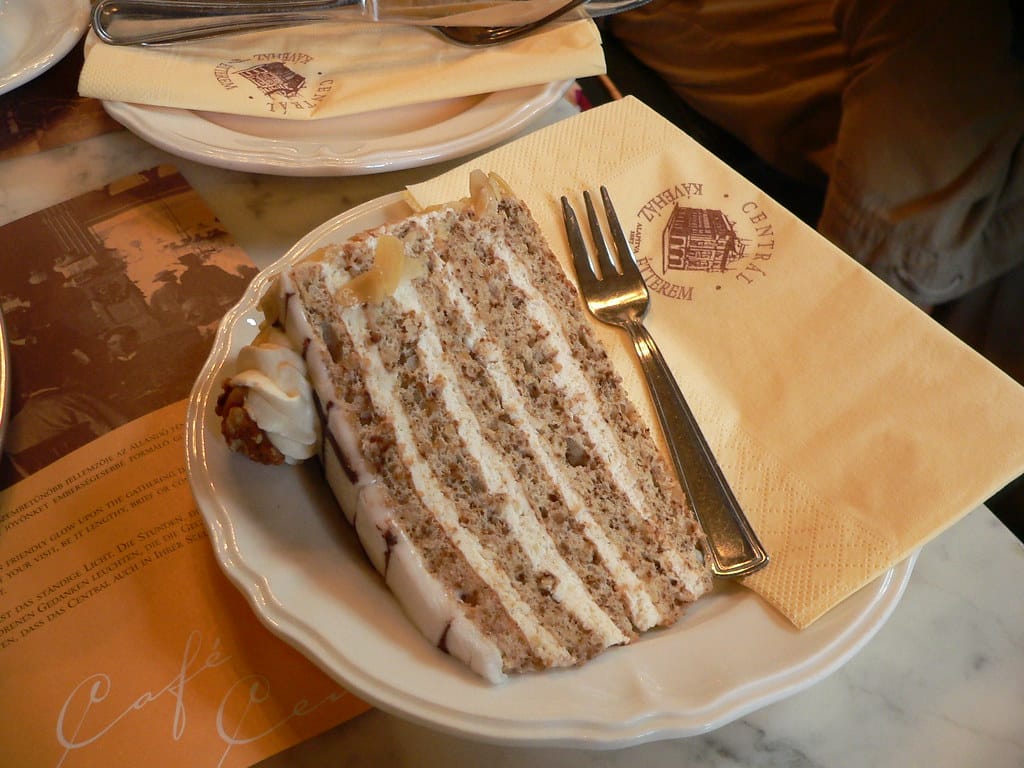 A classic Hungarian cake, originally made of five thin layers of almond (or walnuts) meringue, filled with buttercream spiced with cognac.
It is topped with a striped marble glaze that is the trademark of this dessert.
This rich and fragrant cake was made for the first time in Budapest, Hungary (then Austro-Hungarian Monarchy) in the 19th century.
It got its name after a member of the famous Hungarian noble family Esterházy, Prince Paul III Anton Esterházy de Galántha.
The cake is covered by spreading the sugar icing over it, drawing thin circles using melted chocolate on top, and dragging lines from the center of the cake to the edges using a skewer to create the characteristic marbled pattern.
Espresso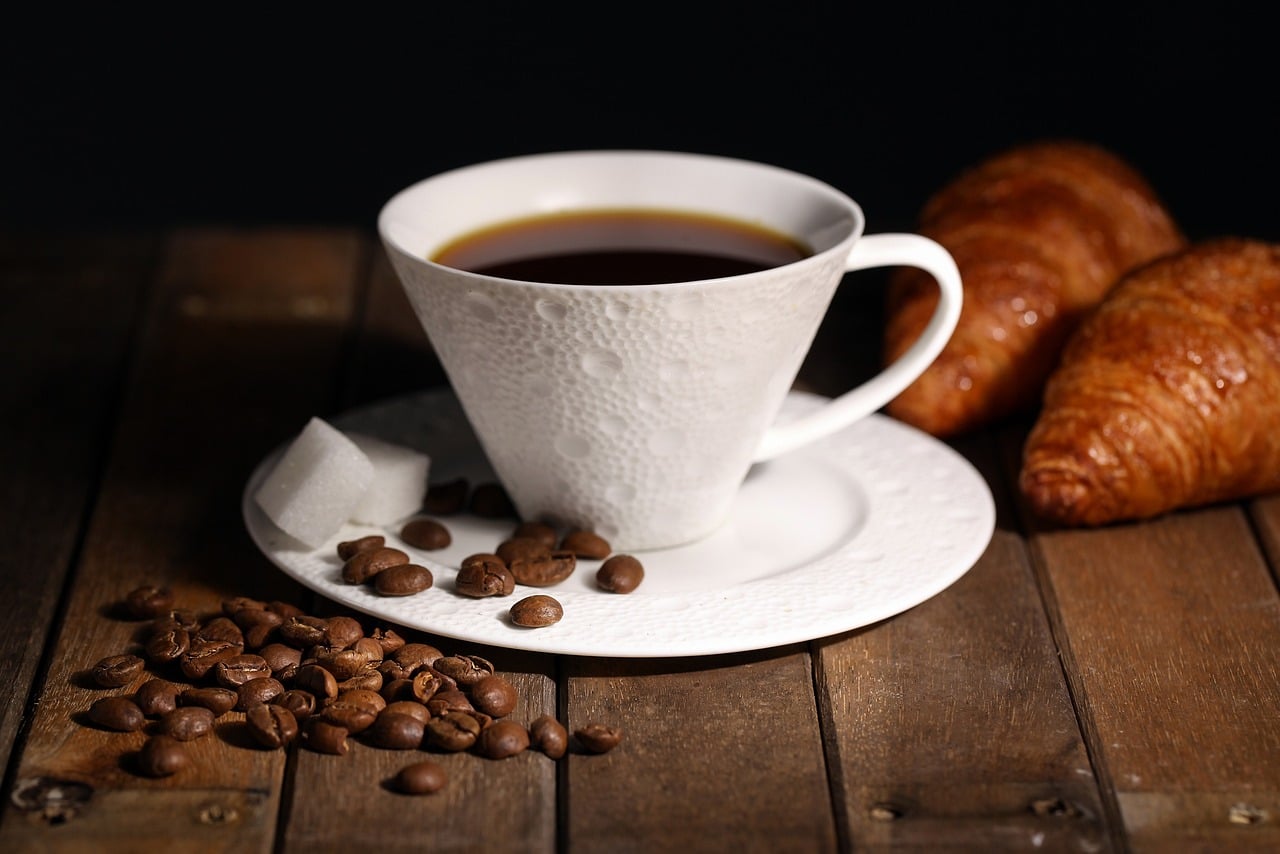 Thick, strong Italian coffee with golden cream (crema) on top, with an intense and deep coffee aroma.
It is made in an espresso machine, by pushing hot water under high pressure through finely ground coffee.
This process makes a thick 'shot' of espresso, that can be later used to create cappuccino, macchiato, latte and other espresso drinks.
Espresso coffee is served poured in a very small cup because it has a highly concentrated flavor.
Extrawurst
Extrawurst is a type of Austrian scalded cold cut.
It is moist, light-colored, fine-textured, and made from a well-spiced mixture of beef, pork, and bacon fat.
In Austria, it is the most popular type of cold cut.
It is similar to the American Bologna sausage, the Dutch Boterhamworst, the German Lyoner or Fleischwurst, and the Swedish Falukorv.
It is cooked or served cold, often in a Wurstsalat, or as a cold cut.
One variety is the Pikantwurst, which has finely chopped red or green peppers added to it.
Another type of Extrawurst called Gurkerlextra containing small chunks of pickled cucumber is also available.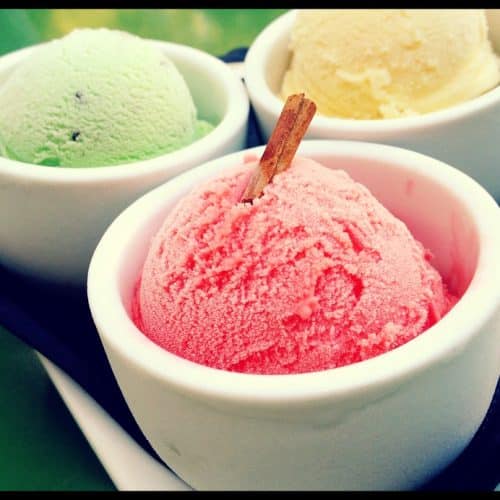 Eggnog Ice Cream Recipe
Eggnog is a traditional holiday drink with milk, cream, sugar, and eggs.
Ingredients
1

cup

whole milk

1

cup

heavy cream

1/2

cup

sugar

6

egg yolks

1

teaspoon

vanilla extract

1/4

teaspoon

ground nutmeg

1/4

cup

rum

optional
Instructions
In a large saucepan, heat the milk and cream over medium heat until just simmering.

Whisk together the sugar and egg yolks in a medium bowl until pale yellow.

Slowly pour the hot milk mixture into the egg yolk mixture, whisking constantly.

Pour the mixture into the saucepan and cook over low heat, constantly stirring, until thickened.

Remove from heat and stir in the vanilla, nutmeg, and rum (if using).

Pour into a container and freeze for at least 6 hours or overnight.

Let thaw for about 15 minutes before serving. Enjoy!
Video
Nutrition
Calories:
893
kcal
Carbohydrates:
61
g
Protein:
23
g
Fat:
63
g
Saturated Fat:
35
g
Polyunsaturated Fat:
4
g
Monounsaturated Fat:
19
g
Cholesterol:
751
mg
Sodium:
122
mg
Potassium:
461
mg
Fiber:
0.1
g
Sugar:
60
g
Vitamin A:
2726
IU
Vitamin C:
1
mg
Calcium:
305
mg
Iron:
2
mg
---