These tasty cucumber appetizers are a great way to spice up your party menu.
In my opinion, nothing is more refreshing than a slice of cucumber.
It's such a wonderful and subtle flavor that can add so much to an entree, appetizer, side dish, or main course.
If you're looking for some new ideas for how to use cucumbers, this list of cucumber appetizers is the perfect place to start.
From simple bites to creative wraps and delicious sandwiches, there's so much to love about these recipes.
So read on and give one of these cucumber appetizers a try!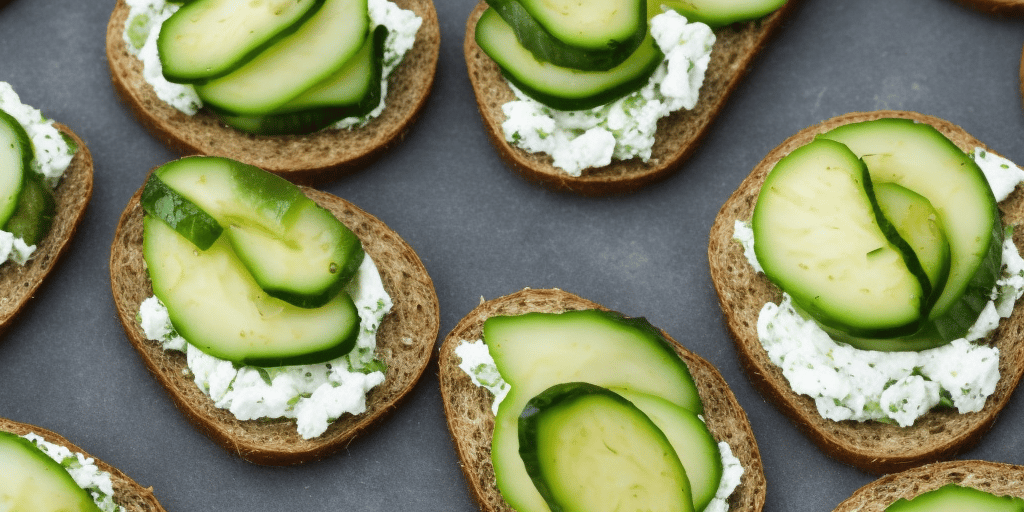 I already said that I'm not a big fan of cucumber salads.
But this avocado, goat cheese, and cucumber appetizer is something else.
It's fresh, creamy, and has an amazing texture that makes it my favorite veggie side dish.
It doesn't have any mayo or sour cream either!
But it does have goat cheese and four other ingredients that are sure to please your taste buds.
These spicy Korean beef and cucumber appetizers are perfect for a quick and easy appetizer, or a fun game night snack.
They're perfect for your next party, but you can also whip them up on a lazy Sunday afternoon.
The bright red sauce is sweet and lemony, while the spicy red pepper flakes add so much flavor to the dish.
If you love Asian flavors, this recipe is definitely one to try!
These aren't your ordinary cucumber sandwiches.
They feature a sweet and zesty blend of mayonnaise, cheese, and cucumbers.
The dressing is perhaps the most interesting part – it's a mix of lemon juice, honey, balsamic vinegar, red onion powder, and garlic salt.
It gives the sandwich its wonderful tanginess, zestiness, and earthy kick that make it taste so great alone or as an appetizer.
Are you looking for a way to try something new?
These ranch cucumber bites are so refreshing and perfect for those hot days.
They're light, flavorful, and just the right size.
I love these as a side to enjoy with a juicy steak or chicken dish!
These seven-ingredient bites are gloriously simple to make and loaded with nutrients.
The cucumbers pair well with the buttery bagel and onions, while the parsley adds a lovely earthiness.
Don't let cucumber season pass you by!
Cucumber, dill, and lemon are a trio that's super refreshing.
I love how this recipe uses the savory flavors of the cucumber and dill to create a light yet flavorful appetizer that's perfect for any party!
It's so easy to make and is great for entertaining!
Creamy and refreshing, this cucumber and dill baguette is a good mid-morning snack.
While cucumbers have an extremely high water content, they're easy to digest.
That means you can eat them all day long with no problems.
Plus, you'll love the flavor of the dill in this recipe.
This stuff adds such great texture to these breads.
You'll also get some more greens by eating them, but it won't be too much.
Caprese is the Italian version of a salad, but it's also a fresh and flavorful dish.
This recipe incorporates freshness and flavor with sliced cucumber pairs beautifully with tomatoes.
We find juicy pepperonis and salty mozzarella in this delicious dish, to boot!
This keto-friendly appetizer is so good you won't even miss the carb content.
Cucumber bites are a wonderful appetizer or snack.
They're fresh and light, with just the right amount of crunch!
And since they're so refreshing, you can even make a big batch and keep them in the fridge for a quick and easy grab-and-go night.
Serve these with some olive oil and pepper on top for an extra flavor boost.
They taste so great that way!
The mint and cucumber flavors in these wraps are so fresh and zingy, you won't need a salad or dinner roll for lunch today.
If you can't find the parsley that goes with this recipe, though, I highly recommend adding some to the basil instead.
And don't forget the ghee!
These are not just tasty on salads or sandwiches; they also make lovely appetizers or entrees.
If you're looking for a new way to get your kids to eat their veggies, try these appetizers.
Between the avocado, cucumber, red pepper flakes, and cilantro, they're surprisingly addictive.
They're also super easy to make – just slice up shrimp and toss them in a mixture of mayo, garlic powder, salt and pepper.
That's it!
These cucumber sandwiches are the ideal appetizer for your next event.
The bread is a soft, fluffy ciabatta that pairs perfectly with the freshness of cucumbers.
The dressing is a simple mixture of olive oil and lemon juice.
Toss them together, and you'll have perfect summer recipes in minutes!
Here's another citrusy recipe that'll have you coming back for more.
Rather than making a tomato dip, why not try this tuna salad instead?
It's fresh, light, and refreshing.
The cucumber gives the dish an excellent crunch that pairs well with your tuna.
This is a great option if you want something different to get your tastebuds tingling!
If you're looking for a quick and easy appetizer to serve at your next party or wedding, look no further.
This sandwich is simple enough for a beginner but elegant enough for an experienced chef.
Serve the cucumber slices on a bed of arugula with sardines, capers, and red onion wedges.
For even more flavor, add a squeeze of lemon juice!
After a little too much wine last night, it's nice to have something light and sweet for breakfast.
This appetizer is creamy, tart, and extremely satisfying.
Plus, it's perfect for entertaining!
The cucumber cream cheese pairs wonderfully with the tenderest of honey balsamic glaze.
Oh yeah: these toasts are so easy to make.
Just spread some cream cheese on your sliced English muffins and toast.
Don't forget the butter!
These low-carb avocado shrimp cucumber appetizers are sure to impress your guests!
Each bite explodes with fresh flavors and textures.
The crisp and crunchy cucumbers contrast the creamy avocado, while the spicy and smokey chili peppers add just a touch of spice.
This is a great dish for parties or potlucks because everyone will love it.
These little bites are a healthy alternative to the usual cupcakes or cookies you see for dessert.
They're light and airy, with a bright burst of flavor from the fresh cucumbers.
And best of all, they're super easy to make! Just add some cake mix, spread it in a muffin tin, and top it with some fun fillings.
I like to use cream cheese frosting but you could also try honey butter or blueberry preserves.
These little morsels are so simple to make, but they're sure to impress.
They're a great appetizer or side dish.
Each one is made up of a soft cucumber wrapped in an egg-and-cheese mixture.
The filling is seasoned with Greek yogurt, salt, pepper, and olive oil.
Topped with fresh parsley, these bite-sized bites are served at your next dinner party.
Cucumber is one of those veggies that's just so good with a nice kick.
That's why this vegan bruschetta recipe is such a treat.
The cucumbers are tossed with salt, pepper, olive oil, and a handful of herbs and then topped with toasted breadcrumbs.
Then you drizzle them with lemon juice instead of balsamic vinegar.
It's fresh, crisp, bright, and delicious!
These mouthwatering avocado cucumber bites are the perfect way to kick off your big day.
The blackened shrimp pairs perfectly with the creamy avocado.
It's served in a crunchy crisp tortilla shell, giving this dish a really nice texture contrast.
Best of all, these are super easy to make.
Just prep the ingredients and throw everything into a pan!
I don't know what it is, but I love stuffed food.
And this recipe is no exception.
Filled with cucumber and topped with honey, lemon juice, and salt, these bites are out-of-this-world delicious.
Feel free to add more of the feta for a salty kick.
Or try adding some black olives for a little extra zip.
If you're looking for a light and refreshing appetizer to serve at your next party, these cucumber feta mint rolls are the perfect choice.
They're loaded with fresh herbs and creamy feta, making them a crowd-pleaser!
Serve these rolls as an appetizer or simply enjoy them as a summery snack.
They also make great lunches to take on the go.
You'll need only five ingredients to make this cold cucumber soup.
It's easy, fast, and doesn't require a lot of effort.
Plus, it tastes terrific, especially when served with a crusty piece of bread.
It has a refreshing taste that makes it an excellent choice for springtime.
Plus, you can keep it in the refrigerator for up to 4 days.
It takes just 5 minutes to prepare and another 20 minutes to cook.
That leaves you plenty of time to enjoy it!
These two bites are super light and flavorful, and they'll satisfy even the pickiest eaters.
You can serve them as a starter or a side to your main meal.
Either way, you'll love how fresh the cucumber is in this recipe.
That said, if you find cucumbers too salty for your taste, try adding some lemon juice to balance it out.
Also, feel free to use whatever smoked salmon you have on hand!
I like mine with dill weed for added flavor and crunchy texture.
This salad combines two of my favorite things: tomatoes and cucumbers.
It's brimming with flavor and texture.
The crunchy vegetables in this salad are the perfect balance to creamy avocado.
It's also packed with antioxidant-rich ingredients like kale, almonds, and feta.
It has a light, savory taste that'll leave you feeling satisfied.
However, if you like your salads more savory, feel free to add some bacon or extra cheese!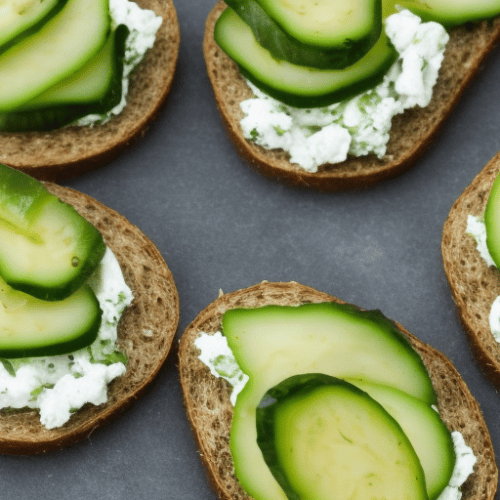 Avocado Goat Cheese Cucumber Appetizers
It's fresh, creamy, and has an amazing texture that makes it my favorite veggie side dish.
Ingredients
2

ounces

fresh goat cheese

1

ripe medium avocado

Dash of tabasco sauce

1

tbsp

lemon juice

Pinch

of salt

1 1/2

medium English cucumbers cut into 1 1/2 inch slices

1-2

sundried tomatoes or roasted red peppers chopped finely

Parsley for garnish
Instructions
Mash the avocado and goat cheese with a fork in a medium bowl until the mixture is well combined. Salt, lemon juice, and tabasco sauce can be added to taste. Combine thoroughly after mixing.

Cut the cucumber into 15 slices, each of which should be about 1 12 inches thick.

Sprinkle a small piece of roasted red pepper or sundried tomato and some parsley on top of the mixture before spooning or piping it onto cucumber slices.

Enjoy!
Video
Nutrition
Calories:
121
kcal
Carbohydrates:
0.3
g
Protein:
0.01
g
Fat:
0.01
g
Saturated Fat:
0.003
g
Sodium:
0.04
mg
Potassium:
4
mg
Fiber:
0.01
g
Sugar:
0.1
g
Vitamin A:
0.2
IU
Vitamin C:
1
mg
Calcium:
0.2
mg
Iron:
0.003
mg
---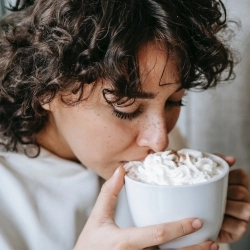 Latest posts by Grace Lambert
(see all)