These sensational cherry desserts are the perfect ending to any meal.
Sweet, tart, and creamy, cherries are a treat you'll never get tired of.
They're also one of the most versatile fruits around.
You can use them in cakes, pies, brownies, muffins, and more!
If you've ever tried biting into a fresh cherry, you'll know they're juicy and sweet but not overly tart.
They're just right in every way.
But if you think cherries are only good for pies and tarts, think again!
From chocolate cherry brownies to cherry pie bars and even a few desserts for the kids, I have plenty of ideas for you to try.
So what are you waiting for?
Let's get baking!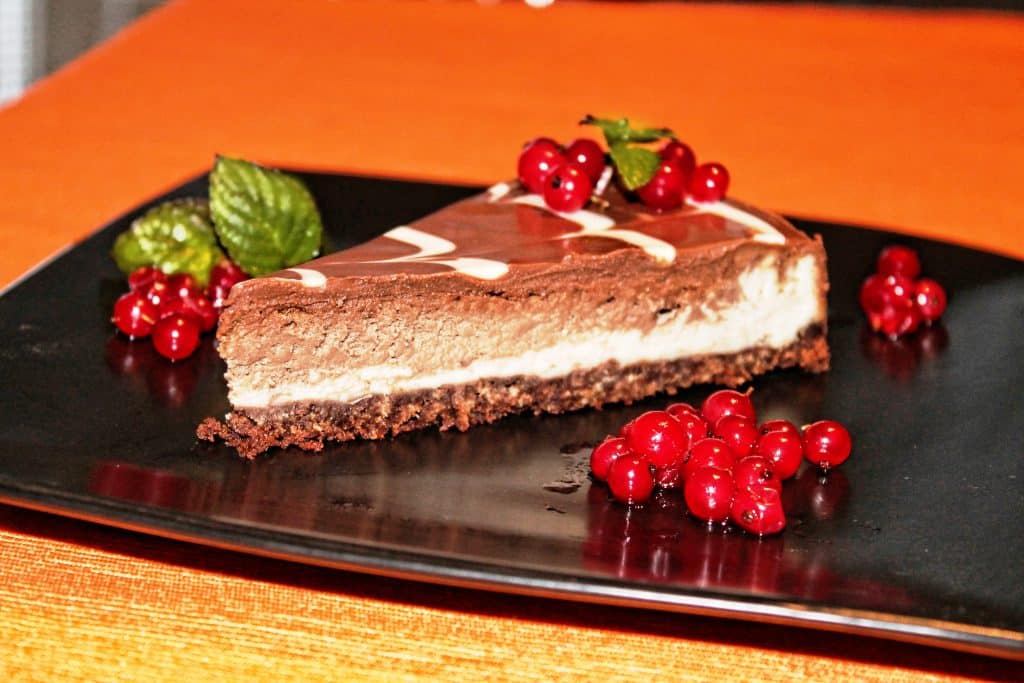 This trifle is gorgeous and decadent, but you wouldn't know it from looking at it.
I mean, look at that color! It's so pretty, I bet even your grandma would love to eat this one.
It's a rich, creamy chocolate pudding with fresh cherries tossed in whipped topping and topped with a ganache-drizzled top.
The whipped cream on top adds just the right amount of sweetness without being too much.
It's like eating pudding ice cream!
This recipe is a dream come true for chocolate lovers.
These brownies are fudgy, chocolatey, and bursting with cherries.
Plus, they're super easy to make.
You can make the brownies in just 15 minutes and have a piece of cheesecake waiting for you when you get home!
This cloud-like dessert is a classic cherry recipe that's easy to make and can be made at home.
It gets its name from the resemblance of the cherries to clouds.
The cherries are sweetened with sugar and flavored with lemon juice, vanilla, and almond extract. They're topped with whipped cream for added sweetness.
When made correctly, this recipe will yield a beautiful cloud-like dessert that looks just like cherries on top of a cake!
These brownies are rich, decadent, and insanely delicious – just like every other chocolate brownie you've ever had.
They're also packed with cherries.
I know this sounds weird, but if you ask me, cherries take the cake in terms of sweetness.
But because they're so unique and don't taste like anything else you can put on a dessert tray, I think they work better here than with regular chocolate chip cookies.
With a juicy cherry-filled brownie to start off your day?
They might be good enough for breakfast.
The aroma of this shortbread tart will take you straight to the candy store.
It's a heaven-sent recipe that is so easy, but it tastes like it took hours to make.
This recipe calls for rolling out your dough and adding in the cherries before baking.
I always recommend starting with a cold dough for this simple step because once you start to warm it up, it can get sticky.
Remember that you want those little cracks in between each piece for the juices to pass through.
For a more delicate flavor, try using crushed cookies instead of fresh berries.
It might not be as pretty, but you'll still get a fantastic flavor from them!
Here's another crumbly dessert that will make your favorite Christmas cake all the more special.
The crumb topping is sweet, sticky, and buttery.
The cherries in it are fresh and flavorful but not too sweet.
They're paired with a subtle alcohol flavor from Kirschwasser, a traditional German liquor.
If you want to spruce up an old standby, this recipe will give you the holiday flavors you know and love.
The cherry pie is already pretty sweet, but I think these bars take things to a whole new level of delicious goodness.
These are moist and tender cookies that you can cut into squares or use to make mini-doughnuts.
These cherry pie cookie cups are so good, you will want to make them for every holiday ever.
They're a breeze to prepare, and they look fantastic with their bright red and green colors.
The filling is buttery, sweet, and creamy – it's pure heaven!
Add some whipped cream on top if you want it extra decadent.
Or just eat the whole thing by itself.
Either way, I promise you won't be sorry.
I love that you can use a single dish for this cheesecake and still get the same impressive presentation.
Plus, it'll look beautiful with all those layers and frosting!
Of course, if you want to really impress your family and friends, why not double up on the layerings?
That way, they can tell exactly how many layers there are without having to count.
You can make this amazing cherry cobbler in just under 30 minutes using simple ingredients and store-bought or frozen sweet potatoes.
I like to use fresh cherries because they're tart, juicy, and have a lovely caramelized sweetness.
But you could just as easily use canned if you prefer them less sweet.
Once cooked and cooled completely, sprinkle it with cinnamon sugar before serving.
Serve with ice cream or whipped cream for dessert.
These black forest brownies are another classic treat that you can make at home.
They're rich, dense, and super chocolatey.
There's no need to buy the boxed stuff.
Instead, try making your own homemade recipe with a little more control.
Just mix your ingredients in a bowl, then press everything between two sheets of waxed paper.
Then bake it as instructed on the box until it's golden and chocolatey.
You can also top these babies with a drizzle of white chocolate for extra richness!
These cheesecake bars are insanely delicious.
They're like cheesecakes in a bar form.
They have a lovely crust, and you can add your favorite toppings to get the perfect bite.
That's where I like to add some cherries.
But you can use any fruit you prefer.
The recipe also has a few different filling options.
Go for chocolate if you want something decadent, or try the caramel glaze for something fizzy and fruity!
This trifle is just as colorful and decadent as the black forest cake, but it's a lot lighter.
You can enjoy it without feeling weighed down.
It combines layers of homemade pink lemonade-flavored cake, vanilla cream, whipped cream, and ice cream.
It all comes together in a sweet and creamy brownie crust.
Yum!
Chocolate and cherries go together very well.
And this tart is proof. It's rich, decadent, and totally irresistible.
Creamy brie cheese is mixed with sweet cherry pie filling and a bit of dark chocolate to make it extra special.
It's so good you won't want to share!
These moist, chewy muffins are perfect for fall and winter mornings.
They're fluffy, buttery, and covered in sugar and cherries.
They feature a hint of cinnamon that makes them even more irresistible.
And remember: it's okay to have a little guilt with these muffins!
If you do (or if you don't feel like eating), make them into muffin tins instead!
This chocolate cherry layer cake is pure bliss.
It's soft, moist, and deliciously sweet.
The layers are made of a rich chocolate cake with a cherry-inspired filling.
It's topped with whipped cream and garnished with fresh cherries for an extra flavor dose of sweetness.
I love the combination of red and white roses on top that cleverly add contrast to the bright yellow filling.
Serve this cake at your next holiday party!
This dessert is a must-try if you love chocolate and cherries.
It's got the delicious, fruity flavors of cherry cake with a hint of chocolate.
The top is made of layers of lemon-cherry pie filling, which is then topped with a creamy white chocolate ganache.
The combination of citrus flavor and dark chocolate gives this cake the perfect balance between sweet and tangy.
For those who want something more decadent, use either dark or milk chocolate.
Makes two servings!
If you love sweet treats with a bit of spice, these brownies are for you.
They're full of chocolatey goodness and just a touch of bitterness from the cherries.
Best of all, they only take 30 minutes to make!
The best part is that they're so easy to make. Just roast your cherries and combine them with melted butter and sugar.
Then, mix in cocoa powder, butter, vanilla extract, molasses, and salt.
Bake them until they're nice and golden.
Top them off with some chopped nuts if you like.
Have you ever had a cherry dump cake?
It's so good, it makes your mouth water before you even try to eat it.
Using cherry flavored whipped cream, this cake is so moist and sweet.
It features a simple biscuit base with cherry glaze on top for that perfect balance of crunchy and soft.
Whether you serve this at a baby shower or a family birthday party, everyone will love it!
These brownie cherry bombs will have you licking your fingers with glee.
Soaking the cherries in chocolate makes these irresistible and so easy to make!
Top them with some whipped cream for a special treat, or use them as awesome little gift baskets.
21. Heaven On Earth Cake
This is a rich, moist, and wonderfully crumbly cake that tastes like heaven on earth.
It's so good you'll want to eat it every day of the week.
It has a rich and decadent flavor thanks to the ingredients in this recipe.
The spices give it plenty of warmth and flavor, while the butteriness compliments it perfectly.
If you want your dessert to be fantastic all year long, this cake is for you!
Chocolate Swiss roll cake is my all-time favorite dessert.
The cake is moist and chocolatey, and the cream cheese frosting is sweet, salty, creamy – everything you want in a good frosting.
And the cherries make it even more delicious!
Every bite of this cake will remind you of summer.
Serve with ice cream for an even more memorable moment.
These sweet, tart cherry pies are to die for.
They're the perfect combination of crisp and chewy.
When you take those two elements and add a layer of white chocolate chips in the middle, these will be your new favorite dessert!
The filling is so creamy and velvety, it tastes like real cherries with a hint of vanilla.
Top that off with plenty of chocolate chunks (optional) and some nuts or dried cherries on top.
This cherry clafoutis is a classic French dish that's been around since the 1600s.
It features a thick and fluffy custard, which is made with eggs, milk, sugar and cinnamon.
As you can imagine, this recipe takes some time to make but is well worth it in the end.
The result is an insanely delectable dessert that tastes as good as it looks.
Serve it warm from the oven with a scoop of vanilla ice cream for an extra special treat!
If you're going to make a dessert with almonds, this one is a must-try.
It's sweet and buttery, but not too much so that it overpowers the flavor of the cherries.
The almond crust is also seriously delicious.
It's nutty and crunchy and has just enough sweetness to balance out all that wonderful nuttiness.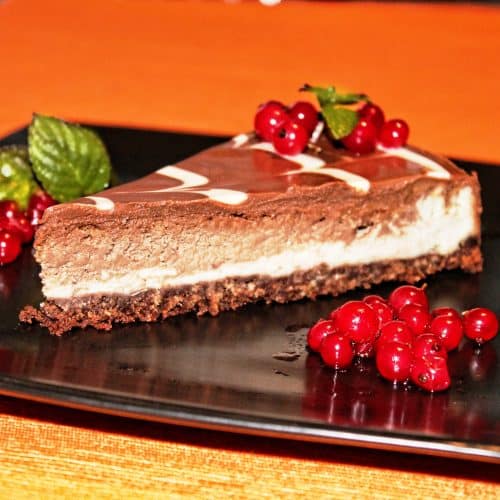 Yummy Chocolate Cherry Trifle Recipe
A Chocolate Cherry Trifle is a traditional dessert that can be easily prepared. It is comprised of several layers of rich chocolate cake, silky pudding, fluffy whipped cream, and juicy sweet cherries, making it a irresistible treat for loved ones and guests.
Ingredients
1

Cake

4

cups

of whole milk

2

Chocolate Instant Pudding

2

cups

of heavy whipping cream

⅓

cup

of sugar

1

teaspoon

of vanilla extract

1

cherry pie

Chocolate
Instructions
Bake the Devil's Food Cake according to the instructions on the package in a 9×13 inch pan. Once finished, let it cool completely and then crumble or cut it into 1-inch cubes.

While the cake is baking, prepare the whipped cream by adding the heavy whipping cream, ⅓ cup of sugar, and 1 teaspoon of vanilla extract to a large bowl. Beat the mixture with a mixer until it forms soft peaks.

Prepare the chocolate pudding according to the package instructions, using the whole milk.

If making individual servings, divide the cake into the desired number of portions (at least 6-8), and place half of each serving in the bottom of a cup, jar, or dish. If using a large trifle dish, place half of the cubed cake in the bottom.

Create the second layer by spreading the pudding over the cake, making sure to reach the edges to create a defined layer. Then, layer the cherries on top.

Add a layer of whipped cream (or Cool Whip), spreading it evenly to the edges.

Repeat the layering process (cake, chocolate pudding, cherries, and whipped cream) one more time. Top with additional cherries and shaved chocolate, if desired.

Refrigerate the trifle until ready to serve.
Video
Nutrition
Calories:
4382
kcal
Carbohydrates:
554
g
Protein:
65
g
Fat:
218
g
Saturated Fat:
136
g
Polyunsaturated Fat:
10
g
Monounsaturated Fat:
54
g
Trans Fat:
1
g
Cholesterol:
655
mg
Sodium:
4342
mg
Potassium:
2167
mg
Fiber:
6
g
Sugar:
352
g
Vitamin A:
8580
IU
Vitamin C:
3
mg
Calcium:
2607
mg
Iron:
11
mg
---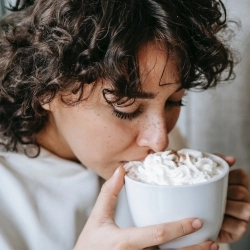 Latest posts by Grace Lambert
(see all)