Try one of these authentic japanese cake recipes if you're looking for something special to serve at your next party.
These cakes are wonderfully unique and absolutely delectable.
They look beautiful and are a real work of art!
From the basic sponge cake to some creative Japanese recipes, there's something for everyone on this list of Japanese recipes.
If you like your desserts light and fluffy, check out these easy recipes.
If you like your desserts dense and moist, then these recipes are right up your alley.
Whatever you prefer, I know you'll love the taste of these Japanese cakes!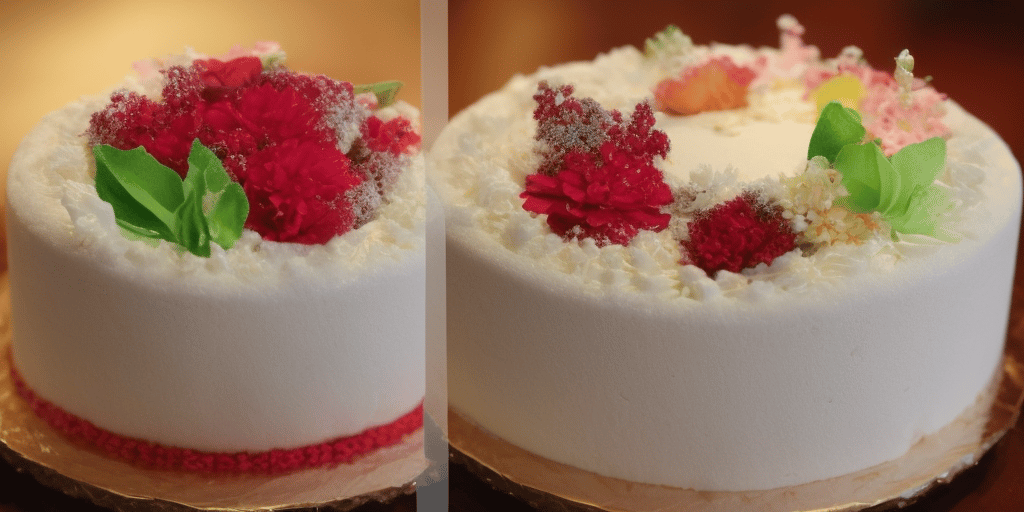 This is the kind of cake you'll want to make when you have guests over.
It has a light, fluffy texture and soft, moist centers.
Plus, it's jammy with some wonderful strawberry flavor.
The frosting on top adds another layer of flavor to this cake.
But don't worry; it doesn't make it too sweet.
Instead, it keeps things just right – not too tart but not overly sweet either.
If you have any leftover strawberries from last year, I highly recommend making them into a cream cheese filling!
Then, add that to the cake itself for an extra special taste surprise.
Japanese cheesecake is no cake mix concoction.
It's rich, layered, and delectable.
The filling is creamy, flavorful, and not at all boring.
A few drops of lemon juice brightens it up with a touch of tartness in the perfect balance.
Feel free to experiment with other ingredients like nuts or fruits if you want a little more flavor.
This strawberry cake roll is like a cross between a muffin and a tart.
The top of the roll contains two layers, one made with strawberry jam, vanilla pudding, and whipped cream.
The other layer is a sweet, buttery cake.
The cake is flavored with strawberries, which makes it bright and delicious!
It's also super moist and fluffy.
You can serve the entire thing over ice or use it as an egg breakfast treat.
Yum!
This cake is the perfect way to end a meal. It's light and fluffy, with a mild sweetness from the honey.
The texture is similar to a mousse; it's light but has a nice firmness in the corners that provides some structure.
If you want this to be extra special, I recommend adding some chopped almonds or sliced pomegranate seeds on top.
They add crunch and color while also providing additional flavor.
This cake roll is made with a chocolate cake mix and flavored with vanilla extract, almond extract, and cocoa powder.
It's super moist and tender; the cake mix adds moistness to the chocolate filling.
The vanilla flavor from the extract mixes perfectly with the buttery crust.
The result is an irresistible treat that'll have you coming back for more.
This cheesecake is a local favorite in Japan, and I think it's a must-try for any cheese lovers out there.
The zebra pattern on the top is sure to make you drool, and the soft and creamy cheesecake will have you reaching for seconds.
I love that this dessert comes together in just under 30 minutes.
If you like simple desserts with a little flair, this one is definitely worth checking out.
This would be the perfect dessert for your next wedding or baby shower.
It's super light and fluffy, with a moist crumb that doesn't overwhelm you.
Plus, you can use fresh fruit to add color and moisture to it.
I like using raspberry jam because the tartness of the jam adds such a wonderful texture contrast to the sweet filling.
But try out some other jams to make this just as tasty!
Here's another gorgeous cake to pair with your favorite berry compote.
This genoise cake is made with a light, airy sponge made with lemon zest and egg whites.
Then, the whole thing is topped with a creamy mascarpone frosting.
The flavor is so good that you'll want to make this again and again.
Luckily, it only takes 20 minutes of prep work!
The chiffon cake roll is a fun treat to make.
It's the perfect combination of cake and coffee without the mess.
Cake is light and sweet, while coffee brings a bit of warmth with its rich flavor.
This recipe gives you an opportunity to bake up some breakfast treats for your morning routine!
It'll be ready in just 20 minutes and is so simple to make.
Dorayaki is a Japanese fried cake.
It's made using light, fluffy puff pastry dough and filled with sweet or savory fillings such as cream cheese, sugar, fruits, and nuts.
The recipe typically calls for flour and water to be used to make the dough.
But if you want to use a butter-based dough, go ahead!
They're similar in texture anyway.
This is one of my favorite strawberry desserts to make during the summer.
The tangy strawberry filling with the light, fluffy mousse looks and tastes amazing.
But it's the combination of the two that really makes this cake special.
The mousse is made using whipped cream (which you can buy premade in store).
Soon after it comes out of the bowl, add a thick layer of cake batter and finish off with more whipped cream!
Oh, and don't forget to add some fresh strawberries on top!
Castella cake is a delicious, fluffy, and buttery treat you can whip up in just 15 minutes.
It's perfect for parties or family get-togethers where everyone wants to eat something more than the usual.
This recipe calls for castella cake mix, but you can easily use any store-bought cake mix.
And since it's so easy to make, you can always add your own filling if you want to!
You can also use different frosting recipes for this dessert.
It doesn't matter which one you use; people will love it.
If you love cheesecake and souffle, this recipe is right up your alley.
It combines an ultra-creamy custard with a crunchy sugar crust.
The bottom of the cheesecake is super soft and moist, while the top is dense, moist, and pillowy.
Together, they make one delicious bite!
Top it with some whipped cream to complete the picture.
Don't let the name fool you, these pancakes are sweet, fluffy, and just as decadent as they sound.
Japanese pancakes are made with a mixture of flour and milk.
Then, you mix in eggs, sugar, salt, and toppings like pineapples or strawberries.
They're sweet enough to satisfy any sweet tooth while being light enough to serve with tea.
This recipe is a cross between a custard and a pudding.
It's both creamy and light, with a hint of fruitiness.
The ingredients alone aren't on the list of most common things you would find in this dish.
There are currants, raisins, cinnamon, nutmeg, and lemon juice.
However, they're used to give it its unique flavor.
This dessert is not only delicious but also easy to make!
You can prepare it in just 15 minutes. Just be sure to allow it to cool completely before serving.
Cocoa powder is a staple in most Asian cuisines and adds a depth of flavor that can't be beaten.
With this recipe, you'll make a blend of cocoa powder, sugar, and vanilla extract.
You can use it in desserts or as an ingredient for your morning smoothie.
If you've never tried Japanese cheesecake, you're missing out.
It has a wonderfully smooth texture and a delicious, nutty flavor.
This recipe combines all the best parts of cheesecake — light, fluffy texture; rich, decadent chocolate flavor; and tangy cream cheese filling.
Add a little bit of cinnamon for added warmth and a touch of tartness that goes perfectly with the sweetness.
This fruit sandwich is a pretty traditional Japanese dessert.
It has all the classic ingredients of brownies, taro cookies, and chocolate and orange slices.
The only difference is that they're all served in a bowl.
It's basically an oversized brownie bowl!
The brownie-like dough is made using whole wheat flour, so it is light and flavorful.
Add your favorite fruit filling – I prefer the combination of cherries, strawberries, bananas, or coconut for a fiber-packed treat.
Tres leches cake is a sweet and creamy cake made with three kinds of milk.
It's not as much of a chocolate cake as you might think, but it's still pretty incredible.
The milk-based flavor gives the cake a delightful texture that's almost like eating pudding. It has such rich flavors, too!
Here's an easy way to make it dairy-free: use coconut milk instead of regular milk.
It doesn't taste the same, but it will help keep this dessert vegan.
I can't think of a more perfect way to celebrate spring than with these Rilakkuma Dango!
These rice cakes are terrific for serving for kids and adults alike.
They're simple to make, but they pack a punch in flavor.
The dumplings are rolled in sesame seeds, giving them a crunchy texture that's sure to delight the palate.
Best of all, you won't need any complicated cooking skills to pull this one off.
All it takes is some patience and love!
Japanese cheesecake cupcakes are a fun twist on the classic dessert.
They're light, airy, and full of flavor.
When mixing the batter for these cupcakes, be sure to add in some extra vanilla for that rich and buttery taste.
To make these more like a cake, try adding some chocolate chips or chopped nuts when baking.
But I love the contrast they give!
I'll admit it.
I love cherry blossom cakes, especially when they're filled with sweet and tart jam.
This recipe is a combination of the usual cake mix, white and yellow cake mix, cherry pie filling, and jam.
It has a delicious buttery texture that improves with every bite.
It's sweet but not overwhelmingly so.
The jam gives it just the right amount of tartness to balance out all of the other flavors.
You can have these ready in under an hour.
Then you just gotta wait for the raindrops to start falling…
There's a reason why matcha is so popular.
It's a superfood that makes things more tasty.
The ground green tea is mixed with cocoa powder and sugar, resulting in a sweet and creamy white chocolate roll.
It's the perfect way to end your meal or add some extra protein!
Plus, it's super easy to prepare when you want something quick and simple.
The only thing better than a piece of cheesecake is two!
This matcha Japanese cheesecake is the perfect treat to satisfy your sweet tooth.
It's rich, creamy, and so delicious.
It features a flaky crust that's topped with cream cheese frosting.
It has layers of matcha mochi pudding with crunchy matcha cookie pieces on top.
I love this recipe because it allows you to create a dessert that looks as good as it tastes!
Why settle for plain, uninspired baked goods when you can get so much more from a steamed cake?
It's more rustic and more fun to really dive into your kitchen and try something new.
All you'll need is flour, sugar, milk, butter (softened), eggs, vanilla extract, and zest.
Simple enough – but this recipe will wow you!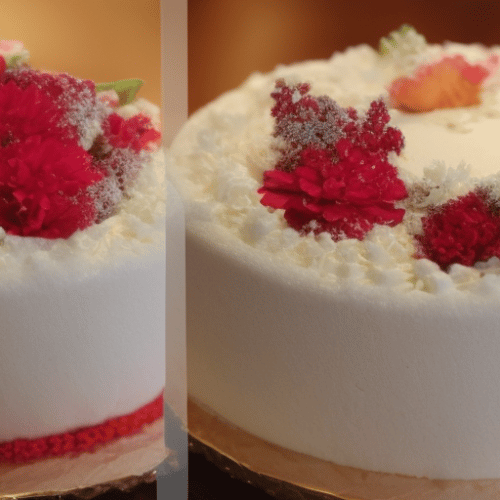 Zebra Stripe Japanese Cotton Cheesecake
This cheesecake is a local favorite in Japan, and I think it's a must-try for any cheese lovers out there.
Ingredients
30

grams

of cornstarch

125

grams

of cream cheese

60

milliliters

of cold milk

30

grams

of castor sugar

40

g

milliliters of oil

2

tsp

lemon juice

3

egg

yolks and whites separated

½

tsp

lemon juice

50

grams

of castor sugar

1

tbsp

matcha powder

1

tbsp

water
Instructions
Set the oven to 150°C.

Cream cheese, sugar, and oil should be melted in a double boiler.

Add the milk and stir with a wire whisk until well combined.

Get rid of the heat.

To avoid frying the egg, add each egg yolk one at a time while whisking.

Stir in 2 tablespoons of lemon juice and cornstarch to create a smooth batter.

Use a hand mixer to combine egg whites and 1/2 tsp lemon juice in a another bowl.

Add sugar gradually while beating at a high speed until soft peaks form.

Blend the egg mixture and 1/3 of the meringue mixture thoroughly while whisking.

Then, add the remaining third of the meringue mixture and incorporate thoroughly.

Finally, add the remaining meringue mixture and fold with a spatula just long enough to integrate everything.

Divide the batter in half.

In a small bowl, combine matcha powder and water.

Mix the matcha mixture thoroughly but not excessively into one part of the batter.

Butter a 7-inch round cake pan and lightly oil it.

Dust the pan with cornstarch after lining it with parchment paper.

In the center of the pan, alternately pour two to three spoonfuls of batter.

To remove any air bubbles in the batter, tap the pan on the counter two to three times.

90 minutes of hot water bath baking at 150°C in the oven is required. Before slicing and serving, let the cake cool on a wire rack.
Video
Nutrition
Calories:
169
kcal
Carbohydrates:
2
g
Protein:
8
g
Fat:
14
g
Saturated Fat:
7
g
Polyunsaturated Fat:
1
g
Monounsaturated Fat:
4
g
Trans Fat:
0.01
g
Cholesterol:
154
mg
Sodium:
145
mg
Potassium:
90
mg
Fiber:
0.01
g
Sugar:
1
g
Vitamin A:
786
IU
Vitamin C:
1
mg
Calcium:
49
mg
Iron:
1
mg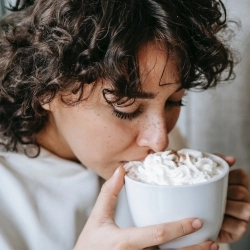 Latest posts by Grace Lambert
(see all)