Recently I had the opportunity to take a look at the venerable Black & Decker to1313sbd Toast-R-Oven and run it through several different cooking scenarios to evaluate its different cooking functions.
Read below to find out what I found over the past week.
Spoiler: no wonder people are keeping them for 20+ years.
Amazing toaster oven, for toasting and cooking!
EvenToast Technology for even toasting of 4 slices of bread

Fits 9" pizza and fits nicely on countertop

baking, broiling, toasting, and keeping food warm.

30-minute timer
What Comes With the TO1313SBD Toast-R-Oven
The Black & Decker Toast-R-Oven comes in minimal packaging and includes:
1 Black & Decker to1313sbd 4 slice toaster oven
1 oven/grill Rack
1 baking tray/broiler pan
1 removable crumb tray
1 owner's manual
How Does the Toaster Oven Look and Feel
The Black and Decker to1313sbd toaster oven feels well made and sturdy out of the box. It's not overly heavy or cumbersome to move being only 9.50 x 16.40 x 9.40 inches, but it feels like it's made of thicker more durable construction.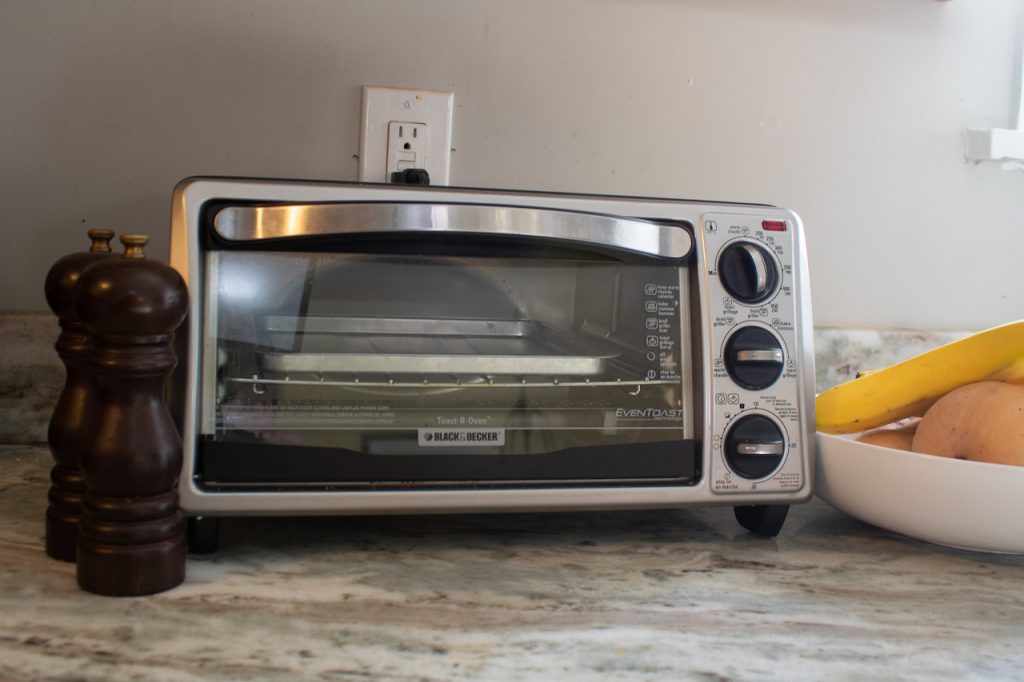 It comes equipped with 1 grill rack and 2 heating elements, one above and one below. The finish is mostly a muted black, while the faceplate is brushed aluminum with black and grey accents. The oven is front loading and the door swings down with a top-mounted door handle. It doesn't have an interior light oven light but it does have a small orang power light to the top right of the machine which allows a user to know if the oven is on or off at a glance.
The controls are analog and the faceplate has three knobs, 1 for cooking function, 1 for temperature, and 1 for timer/toast settings. The timer/toast settings knob only goes up to 30 minutes but it can be placed in "stay on" mode, allowing the oven to remain on indefinitely.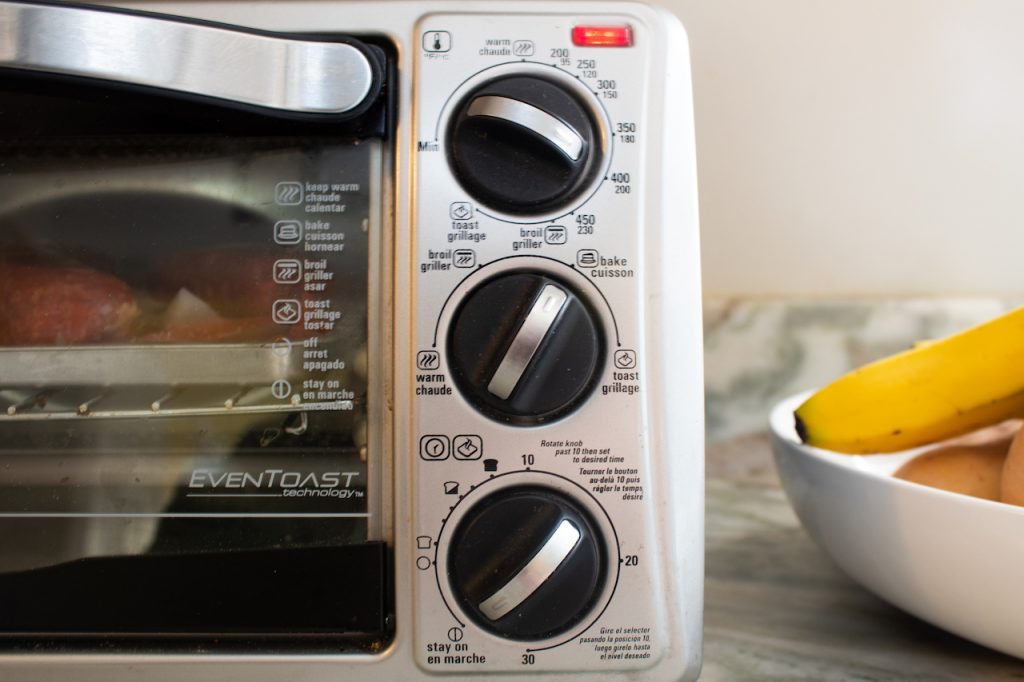 The oven rack only has one height setting which is appropriate as the oven is not very large. The oven rack can comfortably fit 2 bagels or 4 slices of bread, while the baking pan is even smaller, about the size of a 9″ personal pan pizza or 5 slices of bacon.
Toasting a Bagel in TO1313SBD
I rarely eat a large breakfast and will mostly choose something hand-held, that travels well as opposed to a sit-down meal. Often I start my day with a smoothie or overnight oats, but once in a while, I love to do up a crunchy everything bagel with a big shmear of cream cheese. It's easy to make in under 10 minutes, and it travels well, tasting almost as good cold as it does when it fresh and hot.
So, in the name of science, I popped a generic, grocery store, everything bagel into the Black and Decker toaster oven and set it to the toast setting. I set the temperature knob to toast and set the timer/toast settings knob to 5 minutes.
I decided to make a pot of coffee, to stay within eyeshot of the bagel while it was toasting. I don't always trust the presets on appliances like a toaster and like to monitor any new appliance pretty closely to make sure I don't ruin whatever I'm cooking.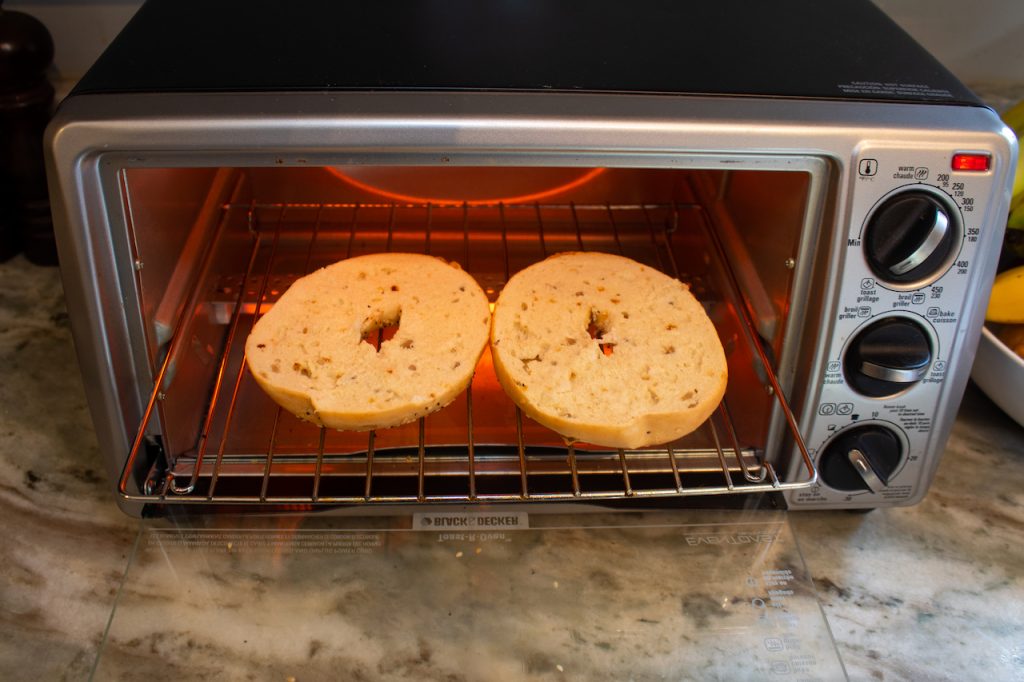 The results
As long as you pay attention to the toaster, it's pretty difficult to mess up a bagel or a slice of toast. Luckily for me, I could have walked away and forgotten about my bagel and it would have been just fine.
The "medium" shade setting I chose on the time/doneness knob was perfect for my tastes, but if you want a darker toast you'll need to go a bit longer. I did notice the heating element seemed to have a hot spot to the left side of my oven and one of the bagels was a bit more toasted than the other, but I haven't seen this as a common complaint in other reviews.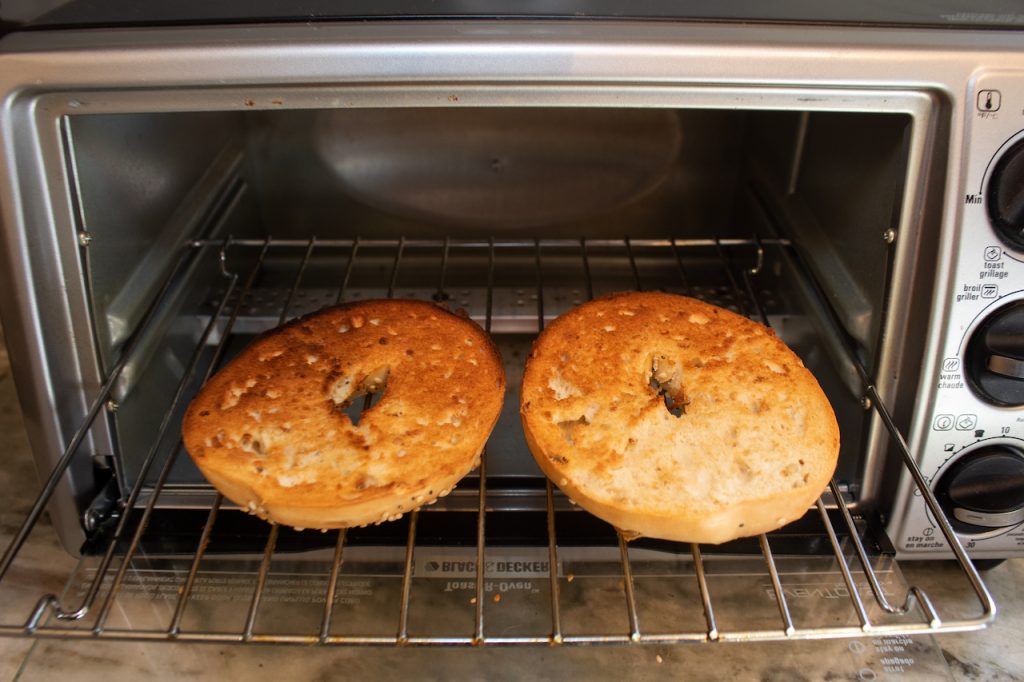 The oven easily accommodated 1 bagel, and could comfortably fit 4 slices or 2 bagels, maybe even 3 bagels if you were shuffling them around while cooking.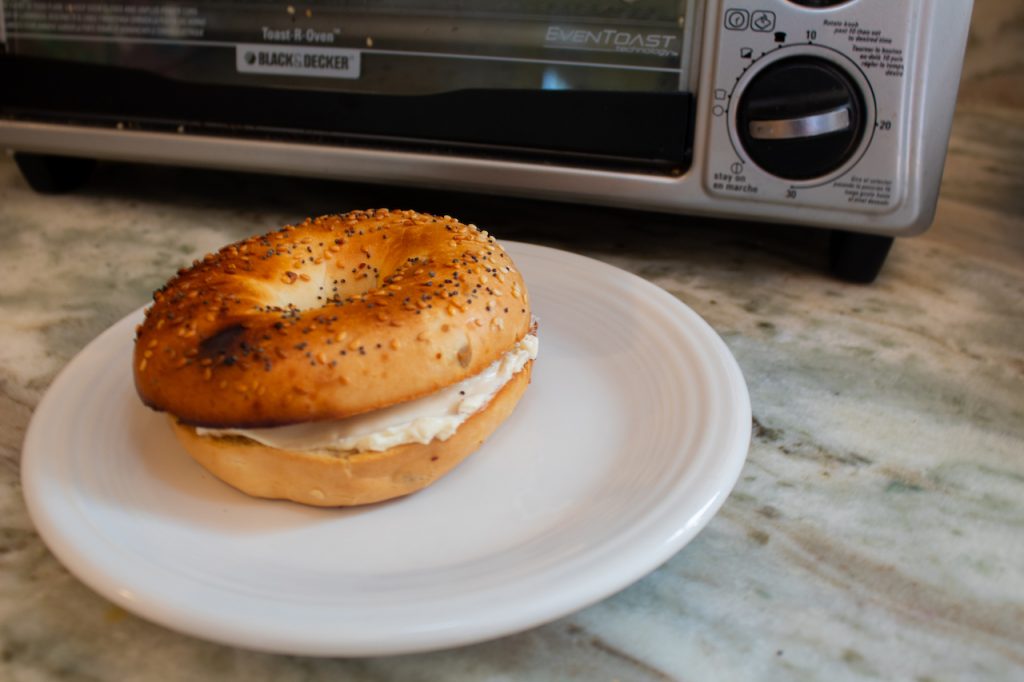 Cooking Sausage and Peppers in TO1313SBD
When it comes to small kitchen spaces a toaster oven can be a godsend. This is even truer in settings where you have no kitchen space at all. I vividly remember putting my toaster oven to all kinds of uses when I was a college student living in dorm rooms and other smaller apartments with limited counter space. From warm peanut butter sandwiches to breakfast sandwiches and pop-tarts I saved a ton of money on take-out by dining in with my hand-me-down toaster oven!
With more experience cooking, these days I still find myself turning to a toaster oven when I'm cooking for just myself, and I'm always looking for easy, 1 pan meals I can pop in the toaster and come back to in 30 minutes. With that in mind, I decided to see if I could put together a high protein, sausage, and peppers lunch, with nothing but the Black & Decker to1313sbd toaster oven!
I set the oven to the bake feature and dialed the temperature knob to 425°F. I set the time setting to "stay on" and got to prepping my lunch. First I cut half of a bell pepper into strips along with half of an onion and 4 cloves of garlic. I spread the veggies over the broiler tray and seasoned them with salt pepper and olive oil. Then I placed three hot Italian sausages on top of the veggies and loaded the tray into the oven. I set a timer on my phone for 30 minutes and did some work while my lunch cooked away.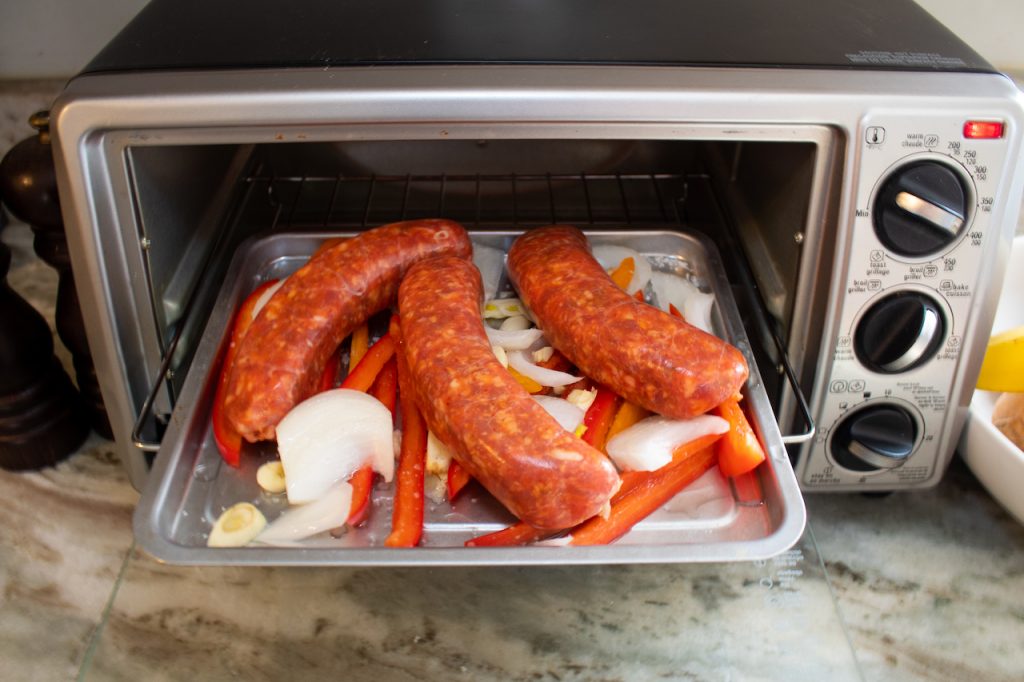 The results
After 30 minutes, I returned to the oven to find the sausages perfectly cooked. I wanted them to be slightly more caramelized on top, however, so I set the oven to the broil setting and allowed the sausages to cook for another 5 minutes.
After a quick broil, the sausages, pepper, and onions were perfect. Juicy, and spicy, with a ton of roasted flavor, this was an awesome high-protein lunch that didn't leave me heavy or weighed down. The best part was how little cleanup I had to worry about when it was all over. In the future, I might think about using a sheet of aluminum foil or cutting a silicon cooking sheet to fit the baking tray so I had even less cleanup!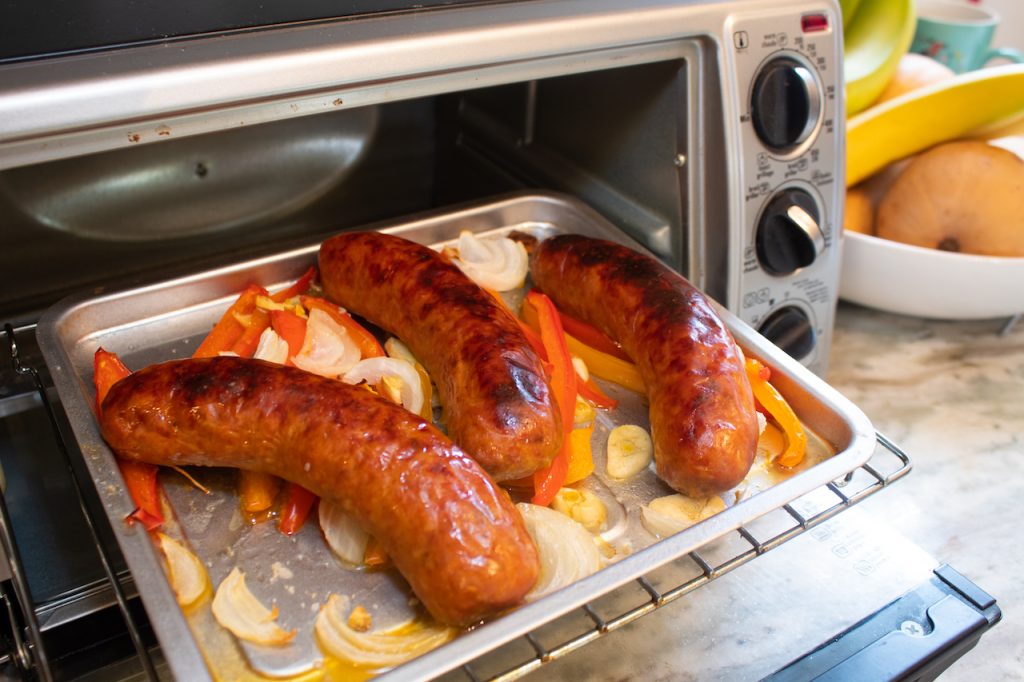 Cooking Bacon in TO1313SBD
I love a good club sandwich, and while I don't always enjoy a big breakfast I like to cook a fair amount of bacon. One of my favorite professional cooking hacks has always been pan-roasting bacon in the oven. By laying bacon flat and frying it int he oven as opposed to a saute pan on the stove, you can save precious stove space for other cooking tasks, and you can eliminate a ton of excess fat from your bacon by draining the bacon fat away from the pan during the cooking process to ensure crispier, lower fat bacon!
So, when I began to realize how versatile a toaster oven could really be, I was very excited to see how the Black & Decker to1313sbd toaster oven would handle a package of thick-cut, hickory-smoked bacon.
First I preheated the oven by setting it to the bake function and setting the temperature to 400°F, then I set the oven to the "stay on" timer setting and began to arrange my bacon. I carefully laid 5 pieces of bacon onto the baking pan with a little bit of overlap.
The bacon I bought hung over the edge a bit on both sides, to remedy this I lifted the bacon in the middle creating a small hill in the center of the tray. By doing this you allow the bacon to cook fully, while not hanging over the edge and dripping grease onto the heating element.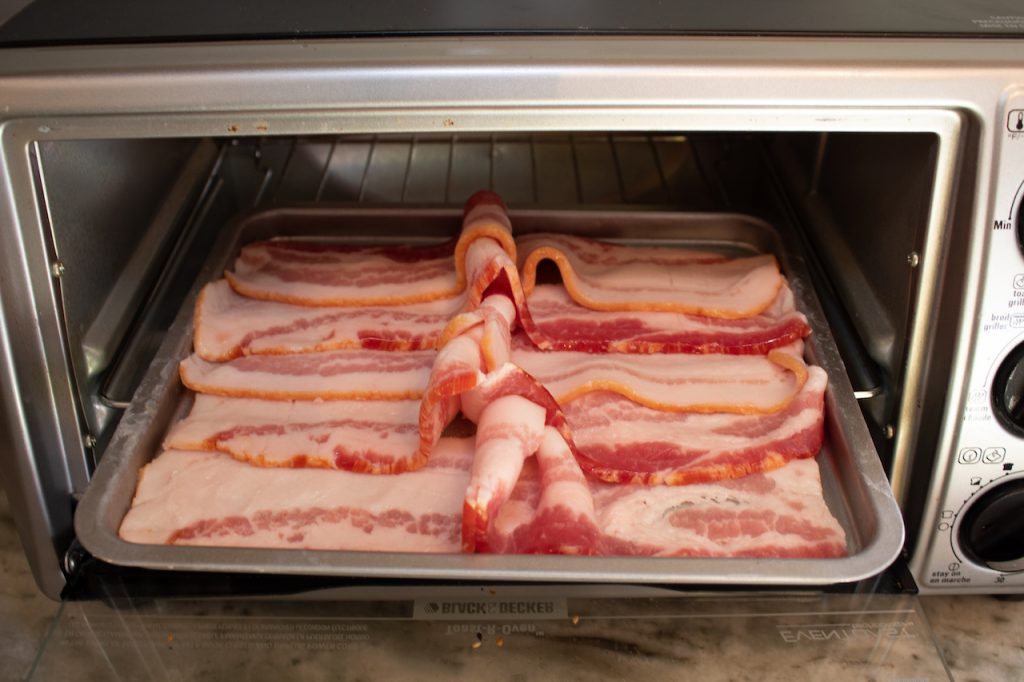 The results
After 10 minutes I carefully drained off the bacon grease and allowed the bacon to cook for another 10 minutes. At this point, the bacon was done, or it would be for some, but I like crispier bacon personally, so I allowed it to continue to cook for another 5 minutes before removing the pan from the oven and allowing it to cool.
The bacon was really tasty. Crispy and salty, with just the perfect amount of fat, it was a great accompaniment to the BLT I crafted minutes later. Though the capacity of the Black & Decker to1313sbd was a bit smaller than I would have liked I could definitely see using this toaster oven to prepare bacon for just myself or 1 other person and avoid making a bigger mess by using the full-sized oven.
Pros & Cons
Overall, the Black & Decker Toast-R Oven is a great little toaster oven, it handled a ton of different cooking functions with little issue and at its price point, it is a distinct value. There are things it does well and a few areas it could improve upon but overall, I really enjoyed using this toaster.
Pros
The small size makes it a great choice for even the smallest kitchens and counter space.
A range of different cooking functions makes this oven a great option for a ton of different recipes and dishes.
Cons
The Black & Decker to1313sbd's small size makes this oven only really suitable for 1-2 person households. If you are cooking for a crowd, look for a larger model.
The removable crumb tray is only accessible from the toaster oven interior. I personally like to be able to remove the crumb tray from the outside of the oven, I find this allows me to be better able to foil wrap the tray helping make cleanup a breeze.
If you're looking for accessories to go with your toaster oven, see my recent Toaster Oven Accessory Buying Guide.
Verdict
The point of this entire toaster oven review was to take a look at a value-priced kitchen appliance and determine who would be best served by purchasing it for their home kitchen. While the Black & Decker to1313sbd Toaster Oven is a great piece of equipment it's definitely not for everyone.
Because of its small size, this oven can really only handle cooking enough food for 1-2 people at a time. If you are looking for a toaster oven that can handle cooking for a larger family or a crowd then you're going to need to look elsewhere.
This oven is a pretty straightforward, bare-bones, toaster oven. It has analog controls, a simple design, and a few bells or whistles. If you are looking for a fancier oven with a convection fan or a digital control panel, again you'll need to keep shopping for a different model.
However, if you are looking for a reliable countertop toaster oven, to toast a few slices of bread, some bagels, or even crisp up some bacon, then the Black and Decker to1313sbd Toast-R Oven is the one for you. It is perfect for a dorm room or a kitchen with limited counter space, and despite its small size, it can make a wide variety of foods. From pizza or toast to roasted meats and even baked goods like muffins or cupcakes a toaster oven like this can really handle a lot!
With a retail price of around $45 this Black and Decker 4 slice toaster offers a distinct value, but it is definitely not the best choice for every situation.