PowerXL Air Fryer & Grill
PowerXL Air Fryer Oven 10 Qt
PowerXL Air Fryer Maxx Classic 7 Qt
PowerXL Air Fryer Maxx Classic 4 Qt
Cooking Functions
Grill, air fry, rotisserie, bake/pizza, broil, sear, toast, reheat
Air fry, bake, roast, toast, broil, rotisserie, dehydrate, make pizza, reheat
Air fry, broil, bake, roast, reheat
Air fry, broil, bake, roast, reheat
PowerXL Air Fryer & Grill
Cooking Functions
Grill, air fry, rotisserie, bake/pizza, broil, sear, toast, reheat
PowerXL Air Fryer Oven 10 Qt
Cooking Functions
Air fry, bake, roast, toast, broil, rotisserie, dehydrate, make pizza, reheat
PowerXL Air Fryer Maxx Classic 7 Qt
Cooking Functions
Air fry, broil, bake, roast, reheat
PowerXL Air Fryer Maxx Classic 4 Qt
Cooking Functions
Air fry, broil, bake, roast, reheat
In this article, I go over the most popular air fryers on the market today – made by PowerXL. I spent several days researching them so you don't have to.
Should you get one of these or not? Read on below.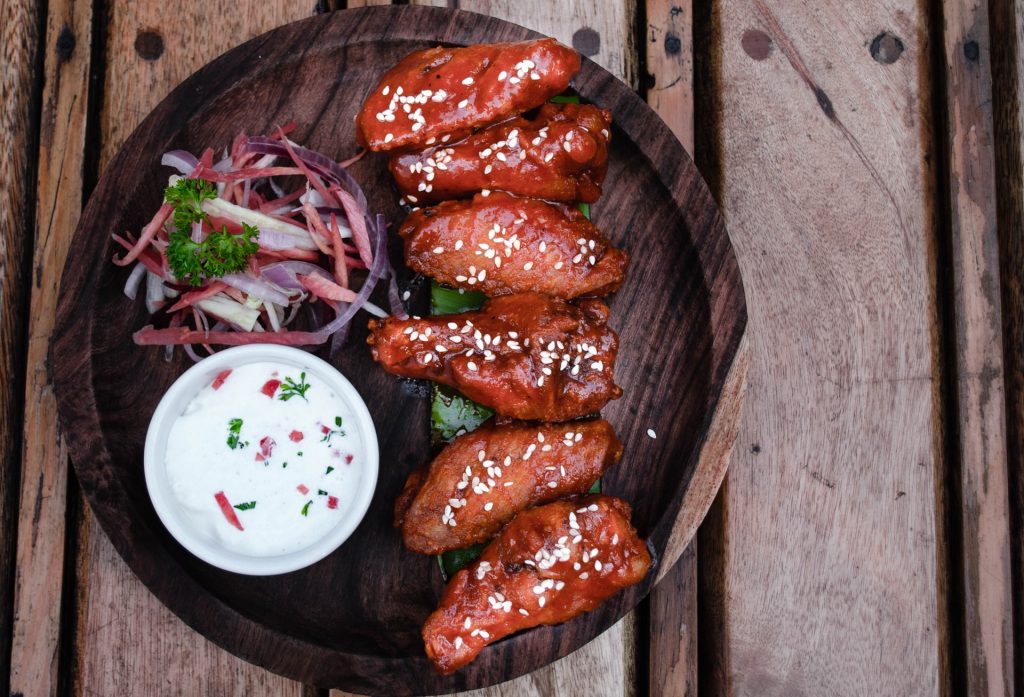 A Word About Air Fryers
Since you're here you probably know these things, but this is why I love air fryers:
They are healthy. Instead of simmering in the oil or fat, your food is heated up with hot air (higher speeds than convection ovens). It means less calories (up to 70% less), better for the heart and better taste. Plus, it's not just for fries or chicken nuggets, you will be surprised at how many different kinds of food.
Air fryers excel at reheating food. It's incredible. I know people who specifically freeze pizzas in order to air fry them later.
You can cook almost anything in an air fryer if you tweak the recipe a little bit. Check out my recipes for air fryers or this nifty air fryer conversion calculator.
The only thing you should be on the lookout for is the smoke, but it's the same as with conventional wall ovens. Just remember to use the drip tray that comes with the air fryer so the grease does not drip over the heating elements, and you'll be good to go.
Plus, most of them are loud because of the fans.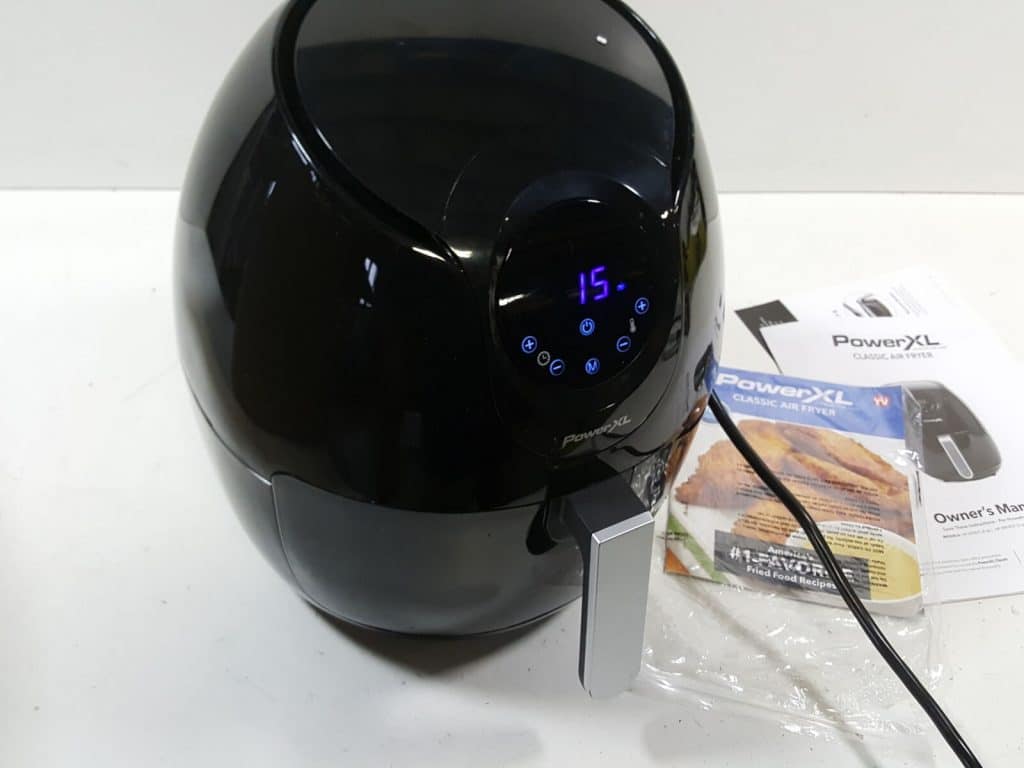 About the Manufacturer
PowerXL is a brand owned by Tristar Products Inc., founded in 1992 in the USA. Unlike GoWISE and other Chinese microbrands, it's a legitimate business that owns brands like Emeril Lagasse.
PowerXL Air Fryer Options
Tristar has three PowerXL air fryers for sale:
PowerXL Air Fryer & Grill
PowerXL Air Fryer Oven 10 Qt
PowerXL Air Fryer Maxx Classic 7 Qt
The main difference among these is their size and features.
PowerXL Air Fryer & Grill
PowerXL Air Fryer Grill 8 in 1 Roast, Bake, Rotisserie, Electric Indoor Grill (6 Piece Accessory Pack), Black
PowerXL Air Fryer Grill from the #1 best selling brand of air fryers in the United States*. Multi cooking indoor grill and air fryer with family size capacity for 6 huge burgers or a 10 lb. chicken. Includes nonstick grill pan, stainless steel mesh fry basket, baking Pan, stainless steel roasting rack, rotisserie spit, drip tray with recipe book.
Create delicious char grilled meals indoors with the same outdoor grill marks and juicy flavor - virtually smokeless. 450° high density grill pan with high speed superheated air circulation around all sides of your food for the most tender, fall-off-the-bone inside, and an extra crispy outside.
8-in-1 versatility with intuitive cooking presets eliminate guessing games: Grill, air fry, rotisserie, bake / pizza, broil, sear, toast, reheat, or use the grill / air fry function to grill steaks and air fry French fries at the same time for an entire meal or cook from frozen right out of the freezer without thawing.
Air fry extra golden crisp and 70% fewer calories from fat using less or no oil vs. traditional deep fryer meals. Air Fryer cooks 40% faster vs. a traditional oven.
Dishwasher safe parts. Easy to clean nonstick grill plate, stainless steel cooking rack, and mesh fry basket mean there's no soaking or scrubbing required.
You probably saw this one in the commercials. It is the biggest one on this list, and with the most features. As you can guess from the name, it's both an air fryer and a grill, and can double (or triple) as a toaster oven (although it heats up longer than a toaster oven).
The cooking is good, and it's very versatile. It can take whatever you throw at it:
air fry french fries, chicken wings, pork chops
bake pizzas, quesadillas, or muffins
grill, broil and toast (see the difference)
do most of the things I write about in the toaster oven recipes section
Size
Exterior: 19″ x 10.5″ x 11.5″
Interior: 12.5″ x 7.5″ x 11″
Pros
Consistently good air frying
Versatile: can air fry, grill, and toast
Many accessories (if you'll use them all): grill plate, crisper tray, baking pan, oven rack, rotisserie spit set, drip tray
Cons
Gets VERY hot to the touch
Loud when it works
PowerXL Air Fryer Oven 10 Qt
PowerXL Air Fryer Oven 10 QT with 8-in-1 Cooking Presets and LED Digital Touchscreen, Crisp, Bake, Roast, Broil, Reheat and More, 1700 Watts (Black)
PowerXL 10 QT Air Fryer Oven pro grade air fryer and full oven multi cooker combo is designed for crispier, delicious air frying with a wide variety of custom cooking options on your kitchen countertop
Led digital display panel with 10 presets to air fry, bake, roast, toast, broil, rotisserie, dehydrate, make pizza, or reheat in one touch with no additional appliances
1700-watt rapid air crisp technology combines superheated hot air and 360° circulation to give you extra crispy fried taste and texture evenly distributed on fried chicken and mozzarella sticks
XL air fryer capacity fits 6 rotisserie kebabs, 6-lb roast chicken or 8-lb pork loin, bakes a 9" pizza and crisps 1.5 lb French fries – 3 cooking levels cook protein and 2 sides at the same time Adjustable temperature range from 120° – 400° provides high heat for crisping or lower heat for dehydrating beef jerky and crispy zucchini chips – Auto shut-off
Rotating air fryer basket cooks and crisps evenly, no shaking or turning required – use less or no oil & up to 70% fewer calories vs. a traditional deep fryer Dishwasher safe parts – set includes premium air fryer accessories with 3-pc. crisper tray set, entire rotisserie set with spit, forks, 10 kebab skewers, rotating air fry basket with fetch tool, easy clean oil drip tray
The 10 Qt PowerXL is the most powerful on the list (1700 watts), and, unlike regular air fryers, it has racks instead of baskets. Because of this, it fits more food, and you can cook different kinds at the same time.
Pros
Very powerful
Cooking is good
Spacious racks
You don't need to turn the food when air frying
Cons
It trips the wiring if your outlets can't handle 1700 watts
The racks are somewhat hard to clean
PowerXL Air Fryer Maxx Classic 7 Qt
PowerXL Air Fryer7 QT Maxx Classic , Special Edition 2021, Extra Hot Air Fry, Cook, Crisp, Broil, Roast, Bake,, High Gloss Finish, Black (7 Quart)
Power Air Fryer XL Maxx by PowerXL, the #1 best selling brand of air fryers in America; special edition air fryer uses hotter, faster air flow than ever before to create the crispiest, piping hot golden-fried taste and texture on your fried food favorites with up to 70% fewer calories from fat vs. deep fryer oil
LED digital display panel with 7 one-touch presets - air fry / French fry, broil / fish, roast, bake, shrimp, chicken, steak
1700-watt rapid air technology from PowerXL Power Air Fryer XL Max provides up to 400° superheated hot air at rapid speed for hotter, crispier air frying results using less or no oil so you can keep enjoying your favorite fried meals without the guilt
7-qt nonstick fry basket with innovative air crisp vents provides optimal air flow for even crisping on all sides – fits 1.75 lb. French fries, 23 chicken wings, a 3 lb. chicken, or a 6" pizza in just one cooking cycle
Crisper tray insert catches crumbs and drips, helping to keep the cooking chamber clean, additional accessories – 7 quart fry basket, air fryer cook book with recipes created at PowerXL's in-house test kitchen, easy instruction manual – cord length, 3 ft. 11 inches PowerXL customer satisfaction brought to you by the PowerXL kitchen appliance collection, simplifying everyday life with innovative solutions for the kitchen and home
This is the one that you can get if you dislike the other two for any reason. The basket is big enough for several people, and it cleans easily.
There's also the 4-quart version, as well, although I would stick with the 7-quart one. The difference in money and space to be saved by getting the smaller one are really negligible.
Final Words
Air fryers are great, and I'm glad I finally found a couple that I can recommend. For the longest time, this space was dominated by low-quality no-name convection ovens.
Ask yourself this: will you really be using one? There are things we get and never use, like waffle irons for example. You think it's a great idea but you forget that you eat waffles only twice a year, so it sits there on the counter collecting dust.
If you really will be using an air fryer – which is great – then you can't go wrong with PowerXL.