Do you also crave that perfect chocolatey dessert or cake on winter nights or on rainy days?
Well, I do.
And an ideal solution to this delicious problem is mouth-watering microwave lava cakes.
It is filled with all the chocolatey warmth you will ever need.
It will just melt away all the stress of your days, along with the choco filling inside the fluffy cake.
So without waiting any longer, let's jump right into our delicious and mouth-watering yet straightforward recipe!.
Ingredients required for making this recipe:
.
For one serving, we can use the following ingredients that you can find in any kitchen:.
●
One teaspoon of baking powder
●
Two tablespoons of cocoa powder (unsweetened)
●
One scoop of ice cream (optional)
.
The step-by-step process for making this lava cake:
.
Following is the step by step preparation guide for this simple recipe:.
1.
Take a bowl and add 30 g of flour (you can use whole wheat flour as a healthy option), 1 tsp baking powder, 2 tbsp sugar, 2 tbsp cocoa powder, and ⅛ tsp salt. After adding all the ingredients, mix them well.
2.
After mixing the above ingredients, add 2 tbsp oil and 2 tbsp milk and mix it all to paste.
3.
Transfer this mix to a microwave-friendly bowl and add a chocolate truffle in the middle.
4.
Heat in the microwave for about 70 seconds or more, depending on how you like it, and then top it off with ice cream. (optional)
.
Special Cooking Tips:
.
Here are some of the most important cooking tips to make sure that your chocolate lava cake turns out amazing:.
1.
Keep the proportions of the ingredients intact. Do not dabble with the ratios given above, and your cake will turn out amazing!
2.
Preheating the oven is a must. If you have a conventional oven, it may take time to heat up properly.
3.
Put a significant amount of chocolate inside the cake; otherwise, it will not taste that good.
.Follow these tips every time and see the results!.
What health benefits does it have?
.
Here are the most popular benefits of eggless choco lava cake:.
1.
One serving of this cake gives us 425 calories. It provides for 21% of the calorie intake of the standard adult diet. Out of which 220 are carbohydrates. Twenty-three calories are in the form of proteins. And the rest of the 218 calories are in the form of fats.
2.
Chocolate is known to contain an ample amount of antioxidants which are helpful for everyone.
3.
It helps in preventing cognitive decline and lowering cholesterol levels, as well as being helpful in reducing the risk of cardiovascular problems.
4.
Dark chocolate is also believed to be helpful for pregnant women and athletes due to its nutritional benefits.
5.
It has a high value of good carbohydrates, which energize the human body, equipping it for all the daily tasks.
6.
Chocolate is a good source of Vitamin A and B. They are also a good source of magnesium.
.
Nutritional Value:
.
Following is the approximate nutritional value of chocolate lava cake made in a microwave.
This recipe is high in carbohydrates as it is made for dessert.
These values are based on a serving size of one serving..
●
90% Saturated Fat: 18 grams
●
77% Cholesterol: 230 mg milligrams
●
7% Sodium: 177 mg milligrams
●
5% Potassium: 190 mg milligrams
●
17% Total Carbohydrates: 50 grams
●
11% Dietary Fiber: 2.8 grams
.The above values may vary if the proportion of ingredients is changed..
How to serve this recipe?
.
This dish can be mainly used as a perfect dessert.
But it's not restricted to that itself; it is such a flexible dish we can literally have it whenever we feel like filling our tummy with fluffly cake and warm chocolate.
We can have it as a snack or even after a long day of work, in the evening.
You can serve it after a grand feast in your family or even at a children's party.
You can have it as an evening snack or even as an appetizer if you are feeling chocolaty.
If you are looking to build your body and buff up, you can use this dish too.
As you can, quite a flexible use, right?
That's the magic of chocolate; you don't need a perfect time and reason too much on it..
What are the benefits of making a lava cake in the microwave?
.
Using the microwave for baking cakes, pastries, cookies, and so many other things is the general practice.
This is because a microwave cooks the flour thoroughly and evenly.
If you set it for the right time, a microwaved cake will never be undercooked or overcooked.
Apart from this, baking a lava cake in the microwave also has other benefits such as avoidance of spillage, significantly less cooking time, no necessity of monitoring the microwave, etc.
For all of these benefits, people usually use a microwave for baking lava cakes instead of traditional gas stoves.
You should try it too!.
Frequently Asked Questions (FAQs):
.
Following are certain most asked questions about choco lava cakes and microwaving the lava cakes.
You can go through these if you have any further doubts about them..
Can I heat lava cake in a microwave?
.
You can definitely heat lava cake in a microwave.
It will prevent any hazards from an open flame and thus ensure that it is cooked safely.
Cooking a lava cake in a microwave will also save your time and effort as it cooks evenly in minutes and does not require you to monitor the device..
Is the molten lava cake undercooked?
.
The molten lava cake is not undercooked.
It is supposed to be that way.
You should taste a thoroughly cooked cake along with the gooey, deliciously indulgent chocolate center of the cake.
You can have this cake hot and fresh from the oven before it gets soggy..
How do you make a microwave choco lava cake in a mug?
.
You can use all the same ingredients and change the proportions to that of a mug cake, and then add the dark chocolate chunks in between the batter like you always do.
Lastly, you can heat the mug at the same temperature required for a choco lava cake, and it will taste the same.
People prefer a mug cake because it is easy to mix and doesn't require too many utensils to be used..
How do you cook frozen lava cake?
.
Frozen lava cake needs to be defrosted to room temperature first to drain all the water content.
After this, you can heat it up for 3-4 minutes until the interior of the choco lava cake turns gooey again.
At this point, you should stop heating it and serve it hot..
How do you store leftover lava cake?
.
Personally, I don't think you should store the lava cake.
It will toughen up the chocolate inside, and sure you can reheat the cake, but in my opinion, it just doesn't taste as good as the first time.
Even so, you can store the lava cake in the refrigerator in an airtight container for around a week.
It will dry up from the inside but reheating will help..
Can you eat chocolate lava cake cold?
.
Choco lava cake is such a popular dessert that it is consumed globally.
People love the lava cake for its moist and delicious dark chocolate interior.
If you chill the cake, it will almost taste like a brownie and not choco lava cake.
I think you shouldn't eat the cake cold.
But it doesn't have any harmful health issues like food poisoning, etc..
How do you heat up molten lava cakes?
.
Molten lava cakes can get a bit soggy, and the chocolate center will no longer remain molten if you let it sit for more than 1-2 hours.
In this case, you will need to heat up the cake for around 1-2 minutes to melt the chocolate again, and it will be as good as freshly baked!
You can use this trick multiple times if you have a habit of prepping your meals and desserts ahead of time..
I hope this answers all your questions regarding choco lava cakes made in a microwave..
Conclusion:
.
Here, I want to conclude that the microwave choco lava cake is a very indulgent recipe, and it is pretty easy to make as compared to an actual cake.
You can have it for dessert or when you feel like you're craving sugar.
Make sure that you monitor the quantity you intake, as this recipe is high in calories.
You can even make them for parties, and I'm sure your guests will love them!
They can also be made as a small gesture for your children to celebrate their achievements!
So enjoy with your family and friends!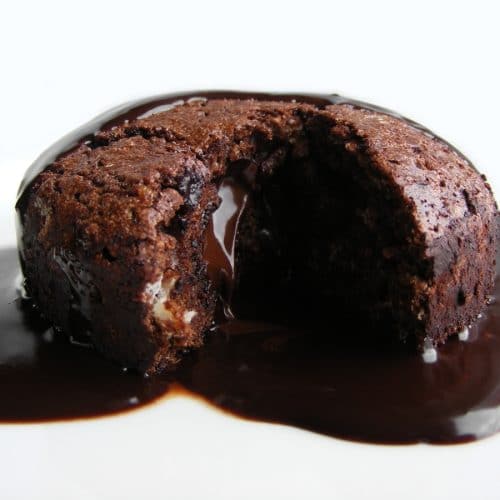 MICROWAVE LAVA CAKE
The microwave choco lava cake is a very indulgent recipe, and it is pretty easy to make. You can have it for dessert or when you feel like you're craving sugar.
Ingredients
¼

cup

flour

1

teaspoon

baking powder

2

tablespoons

sugar

2

tablespoons

cocoa powder

⅛

teaspoon

salt

2

tablespoons

oil

2

tablespoons

milk

1

truffle

chocolate

1

scoop

ice cream
Instructions
Take a bowl and add 30g of flour (you can use whole wheat flour as a healthy option), 1 tsp baking powder, 2 tbsp sugar, 2 tbsp cocoa powder, and ⅛ tsp salt.

After adding all the ingredients, mix them well.

After mixing the above ingredients, add 2 tbsp oil and 2 tbsp milk and mix it all to paste.

Transfer this mix to a microwave-friendly bowl and add a chocolate truffle in the middle.

Heat in the microwave for about 70 seconds or more, depending on how you like it, and then top it off with ice cream. (optional)
Video
Nutrition
Calories:
168
kcal
Carbohydrates:
19
g
Protein:
2
g
Fat:
10
g
Saturated Fat:
1
g
Polyunsaturated Fat:
3
g
Monounsaturated Fat:
6
g
Trans Fat:
1
g
Cholesterol:
1
mg
Sodium:
244
mg
Potassium:
79
mg
Fiber:
2
g
Sugar:
9
g
Vitamin A:
17
IU
Calcium:
97
mg
Iron:
1
mg
---