Since the beginning of the craft cocktail renaissance, cocktails have been a form of art and expression of human creativity.
Though their recipes have undergone enhancement and the ingredients redefined over the years, the enjoyment of sipping a tasty cocktail is the same.
One cocktail that has proved to get many people's taste buds racing is the liquid marijuana cocktail.
Contrary to what you may think, this cocktail doesn't contain natural marijuana or a tincture of cannabis.
So if you were expecting some THC action, you might be disappointed.
However, it has an attractive green color, from one of its ingredients; blue curacao.
What's more?
It's delicious and is effortless to make.
In this article, we dive into everything you need to know regarding this delicious drink.
We start from its definition, look at its history, recipe variations, its nutritional facts and finalize with the various frequently asked questions regarding this drink.
What is a Liquid Marijuana Cocktail?
Like any other cocktail, this cocktail entails alcoholic drinks combined with other ingredients such as fruit juice and different flavored syrups.
It gets its name from its marijuana-like features.
For example, it's green, which resembles a marijuana leaf color and the drink is garnished using a marijuana, leaf-shaped pineapple slice.
This delicious drink is perfect for party shots, St. Patrick's Day party and goes well with the 4/20 theme.
It allows you to hype up your themed parties without worrying about getting high since you can control its alcohol level.
You can choose to enjoy this delicious drink in a shot glass or double it and put it in a hurricane or rocks glass.
Serve it when cold to enjoy its refreshing effect.
The History of Liquid Marijuana Cocktail
Though the origin of this cocktail is not clear, it was invented as a way of celebrating the marijuana plant.
It was intended to get marijuana enthusiasts tipsy without getting drunk.
Therefore, though you might get high from the alcohol, its effects are not as strong as those of marijuana.
You may think that this cocktail is a new recipe.
However, it has been around for quite a while, especially in Canada and the USA.
It is common in Oklahoma, Alabama, North Carolina, Arkansas, and Mississippi.
If in Canada, you are likely to find it in Ontario.
Main Ingredients for Your Cocktail
●Splash Sprite or lemon-lime soda
●Malibu or coconut rum
●Blue Curacao liqueur
●Tequila
●Midori or watermelon liqueur (make sure it's green)
●Pineapple juice
●Jim Beam
●Captain Morgan or spiced rum
●Ice
●Sweet and sour
●Cherry or/and pineapple wedge for garnish(Optional)
Different Variations of Liquid Marijuana Cocktail
First Cocktail Variation
●½ oz. Midori
●½ oz. Blue curacao
●½ oz. Coconut rum
●½ oz. spiced rum
●½ oz. of pineapple juice
●A bit of sweet and sour
Mix all the ingredients except pineapple juice in a shaker, put in a cocktail glass, then add ice.
Use the remaining pineapple juice to top it off.
Second Cocktail Variation
●½ oz. Blue curacao
●½ oz. Tequila
●½ oz. Apple Schnapps
●½ oz. Whiskey
●½ oz. pineapple juice
●A bit of sweet and sour
Fill a Collins glass with ice. Put all the ingredients in a shaker.
Shake vigorously and pour the content in a Collins glass.
Third Cocktail Variation
●½ oz. of light rum
●½ oz. Apple Schnapps
●½ oz. Malibu rum
●½ oz. Pineapple juice
●½ oz. sweet and sour
Pour the ingredients into a Collins glass and stir.
Understanding Your Liquid Marijuana Cocktail Ingredients
Blue Curacao liqueur: Blue liquor that tastes like oranges and contributes to the drink's savory taste and bright color.
Midori: Melon-flavored liquor with low alcohol content.
Use it to temper the alcohol content in your cocktail mix.
Rum: It is liquor that adds character to your drinks.
Jim Beam: You can substitute this with your favorite whiskey or bourbon
Tequila: You can add the Tequila of your choice as an additional flavor.
For instance, for the recipe above, you can use white Tequila.
Pineapple Juice: Adds a fruity tropical punch to your drink.
Sweet and sour mix: This is a simple syrup flavored with lime and lemon
Alternatives When Preparing Your Cocktail
You could make various alterations when preparing your cocktail.
For example, you can use vodka instead of rum and orange juice instead of pineapple.
Moreover, you're free to use a variety of liqueurs, depending on your preference.
Don't hesitate to create your masterpiece when it comes to this drink but for it to be a derivative of liquid marijuana, keep it green in color.
Caution When Taking Your Cocktail
This drink typically causes different reactions in people with high alcohol sensitivity.
Therefore, depending on your tolerance for alcohol, be cautious if you do not have a reliable means of transportation back home and need to drive.
This drink contains a combination of several strong liquors, so please keep that in mind when consuming it.
Nutritional Facts
●Calories: 338kcal
●Iron: 0.7mg
●Carbohydrates: 19g
●Vitamin C: 7.1mg
●Protein: 1g
●Fat: 1g
●Sugar: 17g
●Saturated Fat: 1g
●Potassium: 92mg
●Sodium: 11mg
Frequently Asked Questions on Liquid Marijuana Cocktail
Can You Turn Liquid Marijuana Cocktail Into A Shot?
Yes.
You can turn this drink into a shot.
Combine equal parts of watermelon liqueur, coconut rum, blue curacao liqueur, and pineapple juice to make a shot.
Shake well and strain the mix into a shot glass
Does Liquid Marijuana Contain Marijuana?
No.
There is no cannabis or any illegal drugs in the beverage.
The drink is named marijuana cocktail due to its green color and the beachy feel of the cocktail.
Therefore you can enjoy this drink regardless of your region.
Bottom-Line
Although a liquid marijuana cocktail does not induce any 'feel-high' effects, it can still bring life to your parties.
Regardless of what you think about marijuana, this drink deserves your attention.
It is citrusy, sweet and relatively easy to make.
So, start whipping up the ingredients together and make something unique and special for your festive get-togethers.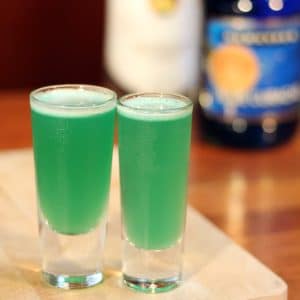 Liquid Marijuana Cocktailː The Best Cocktail You've Ever Tasted
Although a liquid marijuana cocktail does not induce any 'feel-high' effects, it can still bring life to your parties.
Ingredients
Splash

Sprite

Blue liqueur

Curacao

Tequila

liqueur

watermelon

Pineapple

juice

Ice

Pineapple

wedge
Instructions
Blue Curacao liqueur: Blue liquor that tastes like oranges and contributes to the drink's savory taste and bright color.

Midori: Melon-flavored liquor with low alcohol content.

Use it to temper the alcohol content in your cocktail mix.

Rum: It is liquor that adds character to your drinks.

Jim Beam: You can substitute this with your favorite whiskey or bourbon

Tequila: You can add the Tequila of your choice as an additional flavor.

For instance, for the recipe above, you can use white Tequila.

Pineapple Juice: Adds a fruity tropical punch to your drink.

Sweet and sour mix: This is a simple syrup flavored with lime and lemon
Video
---