Creamy, crunchy, and oh-so-savoury, these delicious jicama recipes are the best way to add jicama to your diet.
Plus, they're perfect for anyone on a gluten-free or Paleo diet.
Jicama is a root vegetable often found in Latin American cuisine.
It's crisp and slightly sweet, making it a great substitute for potato in many dishes.
Of course, it can be eaten raw too!
That's what makes it so versatile.
So get ready to try out all the jicama recipes below.
Speaking of delicious, you should totally make these fries in the air fryer!
The recipe uses frozen jicama slices to ensure they're crisp and tasty every time.
They'll take just 15 minutes to prep and cook, but that process doesn't involve a lot of work.
You can always use fresh jicamas if you have them lying around.
Adding the seasonings is really just a matter of tossing everything into the air fryer and hitting it with oil.
These are so easy, you can even do them on busy weeknights without needing an oven running all day.
You can make this jicama slaw as a side, or add some to a sandwich if you prefer.
It's super crunchy and delicious.
It's also vegan-friendly, so you won't have to worry about the taste of eggs in there.
I like it best with soft dark rye bread.
If you don't want it too sour, try using light whole wheat.
If you've never had jicama fries before, you need to check this recipe out.
They're crispy on the outside, but tender and soft on the inside.
The crispiness is a bit different from regular fries, as they're cooked in a cast-iron skillet instead.
That said, it doesn't take long for them to cook through and become golden brown with hints of garlicky flavor.
Serve them as an appetizer or side dish at your next keto party!
If you love the flavor of cucumbers but think they're too watery, you'll love this salad.
It's a fresh mix of crunchy and creamy jicama, tangy avocado, and refreshing cilantro.
It looks like a fancy salad with all those colorful ingredients arranged in a bowl.
But it tastes so much like cucumber that you won't even notice.
Serve it as an appetizer or side dish with your favorite grilled meats or fish.
Yum!
If you're looking for a new, healthier alternative to traditional guacamole, try this jicama pico de gallo recipe.
It's sweet and tangy with just enough spice.
The secret is in the jicama.
That tuber has an amazing texture that makes it perfect for this dish.
Not only does it take on the flavor of the salsa, but it also helps it stay firm.
Once you have your veggies and spices ready, simply toss them all together in a bowl and let it marinate while you prepare your tortillas.
You can't go wrong with these baked jicama fries!
They're crispy, savory, and bursting with flavor.
Plus, they come together in just 30 minutes.
Simply coat these potatoes in a seasoned oil to bake them.
Once they're ready, top them with a bit of cheese and enjoy!
If you're looking for a salad that looks and tastes like a million bucks, look no further than this jicama salad recipe.
It uses avocado oil, paprika, cilantro, lime juice, olive oil, salt, pepper, and red onion.
Oh! And it also has roasted jicama strips on top to give it a little crunch.
The salad is light and refreshing yet hearty enough to satisfy any hunger.
Oh yeah! It's also vegan-friendly.
This mango and jicama slaw has a unique flavor profile that mixes the sweet mango with crunchy jicama.
The result is a juicy and slightly tangy slaw full of bright flavors.
It's best served alongside grilled chicken or fish, but it tastes great on its own, too!
If you're looking for a side dish that's not just low in carbs but also delicious, give these crispy and low-carb baked jicama fries a try.
You'll be surprised at how much flavor they have.
It takes only 10 minutes to make this recipe, and it's so easy! You won't even need any oil.
Just coat the jicamas in mashed potatoes and seasonings and bake them until golden brown.
Serve these with some good beer or wine for an authentic experience.
Not only is this slaw insanely healthy, but it's also super colorful and flavorful.
To make it more colorful, you can add a few extra veggies.
I like to throw in some bell peppers to give the slaw a little zip.
Or, make this paleo or vegetarian-friendly by throwing in some cabbage.
The key to making carrot slaw is to mince your carrots pretty fine.
Otherwise, they turn bitter and tough.
Jicama tortillas are a tasty alternative to your usual tortilla.
You can make them with jicama, beans, and greens for a vegetarian meal or use them as wraps for meaty tacos.
Crispy on the outside and soft in the middle, these wraps are ideal if you're looking for something new to eat.
This salad is super simple to make, but it's not just for the kids.
It's also got a sweet, crunchy jicama topping that has flecks of cinnamon and brown sugar.
Yum!
Serve this at brunch or anytime you need something quick and easy.
Roasted jicama with green beans is a healthy and delectable side dish you'll crave again and again.
The crunchy veggies pair wonderfully with the creamy dressing to create a delightful dish that's gluten-free but still delicious.
If you love fajitas, then you're going to love this recipe for paleo fajita jicama hash.
This dish combines the flavors of fajitas and jicama with bell peppers, tomatoes, onions, and cilantro.
The result is a mouthwatering combination that creates a pleasantly crunchy texture.
You'll get to enjoy this hearty dish without sacrificing the health benefits of your diet.
This black bean salad is a must-have for your Thanksgiving dinner.
It's light, refreshing, and full of healthy ingredients.
Plus, it's easy to make and can be ready in just 10 minutes.
It's a great way to get all the different flavors in one dish.
Plus, it has a unique texture that will delight your taste buds!
Simply combine black beans, jicama, cabbage, carrots, red onion, cilantro leaves, lime juice (or vinegar), and olive oil until everything is well mixed.
Serve this beautiful salad immediately or store it in the refrigerator for up to 2 days.
(However long you prefer to keep it.)
This colorful jicama noodle salad is a fantastic way to get your greens.
Maple syrup and tahini lend a lovely sweetness and nuttiness.
Meanwhile, the zesty dressing adds just enough acidity for a little kick.
This salad is the perfect side dish to any entree you choose!
Jicama chips are a great alternative to potato chips.
They're crunchy, salty, and loaded with healthy ingredients.
The only thing they don't have is that tiny pit at the core.
So if you can get past the nasty little gap, you can enjoy these delicious little snacks all day long.
Plus, their sweet and spicy flavors will be sure to please even the pickiest of eaters.
This salad is a colorful and healthy meal that's perfect for your next backyard barbecue.
It features jícama, watercress, oranges, and cucumbers.
Dressed in a lime-flavored vinaigrette dressing, it's light yet filling.
This salad is a delicious way to get more fruit into your diet.
It's also full of bright and zesty flavors, making it perfect for enjoying any time of day.
The sweet and sour dressing adds a little sweetness that balances out the citrusy taste of the kale.
Plus, it's low in carbs (only 6g per serving) so you can indulge without feeling guilty!
This recipe is about as simple as it gets.
It's a good idea to prepare the salad ahead of time, so you can make it in just 20 minutes or less.
It may not be flashy, but this is an excellent way to use up your leftover strawberries.
You'll use jicama to create the crunchy texture and contrast against the juicy fruit.
The dressing features olive oil, honey, lemon juice, and balsamic vinegar for a lovely balance of sweet and zesty flavors.
Jicama is a Mexican vegetable that has an almost similar texture to potatoes.
However, it doesn't have the same cooking time and isn't as robust when cooked.
Still, I think jicama has a lovely crunch that goes well with tacos.
And this recipe uses black beans to add some more protein!
The chipotle cream is just pure cruelty.
It's so creamy and delicious you'll want to lick the bowl clean.
Jicama frites are a super popular side dish in Tex-Mex restaurants.
But I have to admit, they're not that great for someone like me who doesn't eat potatoes!
These oven-baked chips are gluten-free and vegan.
They take just 30 minutes from start to finish and can be made with any radishes.
Serve them with a side of sour cream or guacamole for the ultimate Mexican treat.
Red onion, Thai jicama, and ginger are the perfect trio to make this salad.
The sweet red onions help cut through the heat from the chilis.
They're also a great addition for adding a bit of crunch.
And what makes this salad extra special?
It doesn't use oil! (Folks with heart conditions should definitely skip it.)
It uses Thai chili paste! Butterflied jalapenos will do instead.
I love using Thai chili paste because it gives this salad a light sweetness that balances out the heat.
This recipe is a delicious way to enjoy all the wonderful flavors of ripe mangoes and avocados.
The freshness of the ingredients, combined with the salty sweetness of the bacon, makes this salad impossible to resist.
The avocado slices add another layer of creaminess that balances out all those flavors.
The honey-lime dressing brings everything together and adds a new flavor profile for you to try.
You'll love how this salad is easy to make but still tastes like it came right out of a restaurant!
If you're looking for a recipe to liven up your dinner, these jicama sticks are perfect.
They have the same light and refreshing taste you expect from lime infused jicama.
However, they're not as sweet.
The combination of chile powder, lime juice, and cilantro brings a bit of spice that pairs well with the sweetness of the jicama.
The recipe only calls for five ingredients, so you can make this dish in less than 30 minutes!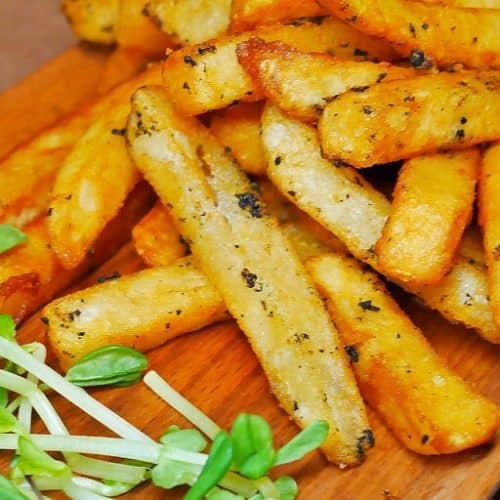 Baked Jicama Fries
You can't go wrong with these baked jicama fries! They're crispy, savory, and bursting with flavor. Plus, they come together in just 30 minutes.
Ingredients
1

medium jicama

1

tablespoon

olive oil

1/2

teaspoon

paprika

1/2

teaspoon

garlic powder

1/2

teaspoon

onion powder

Pinch

of Cayenne pepper

1/2

teaspoon

salt

or to taste
Instructions
Heat the oven to 425°F. Jicama should be peeled and sliced into 1/4″ matchsticks. Over medium heat, bring water in a medium saucepan to a boil. Jicama should become less crunchy after 10 minutes of cooking if added.

Jicama slices are placed in a big dish, drained of water using a strainer, and are then mixed with olive oil, paprika, garlic powder, onion powder, cayenne pepper, and sea salt.

Put on a baking sheet that has been prepped in a single layer. Bake until crispy for 30-45 minutes, rotating halfway through. Delicious when paired with guacamole or vegan ranch dip.
Video
Nutrition
Calories:
96
kcal
Carbohydrates:
15
g
Protein:
1
g
Fat:
4
g
Saturated Fat:
1
g
Polyunsaturated Fat:
0.4
g
Monounsaturated Fat:
3
g
Sodium:
298
mg
Potassium:
255
mg
Fiber:
8
g
Sugar:
3
g
Vitamin A:
54
IU
Vitamin C:
34
mg
Calcium:
21
mg
Iron:
1
mg
---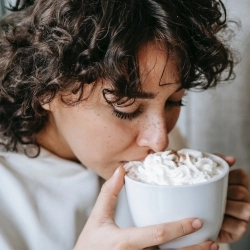 Latest posts by Grace Lambert
(see all)