Holidays like Easter or thanksgiving call for centerpiece meals; ham, turkey, or chicken.
These dishes can be hectic to prepare if you aim to wow a large audience.
The recipe will flow regardless of obstacles when you determine how long to cook a ham and get the right ingredients.
How long to cook a ham depends on size, thickness, weight, and the cooking method.
For instance, a 20lbs. ham takes between 10 and 30 minutes per pound, provided the final temperature is 145F (lean cuts) and 180F (tough cuts).
It takes 2 to 3 hours in the oven and up to 8 hours in a slow cooker for a 12 lbs. ham; thus, adjust accordingly based on what you're preparing.
Cooking ham is tasking but can be a fun kitchen activity with the correct information.
We share the cooking temperature and time for different ham cuts and tips for juicy results.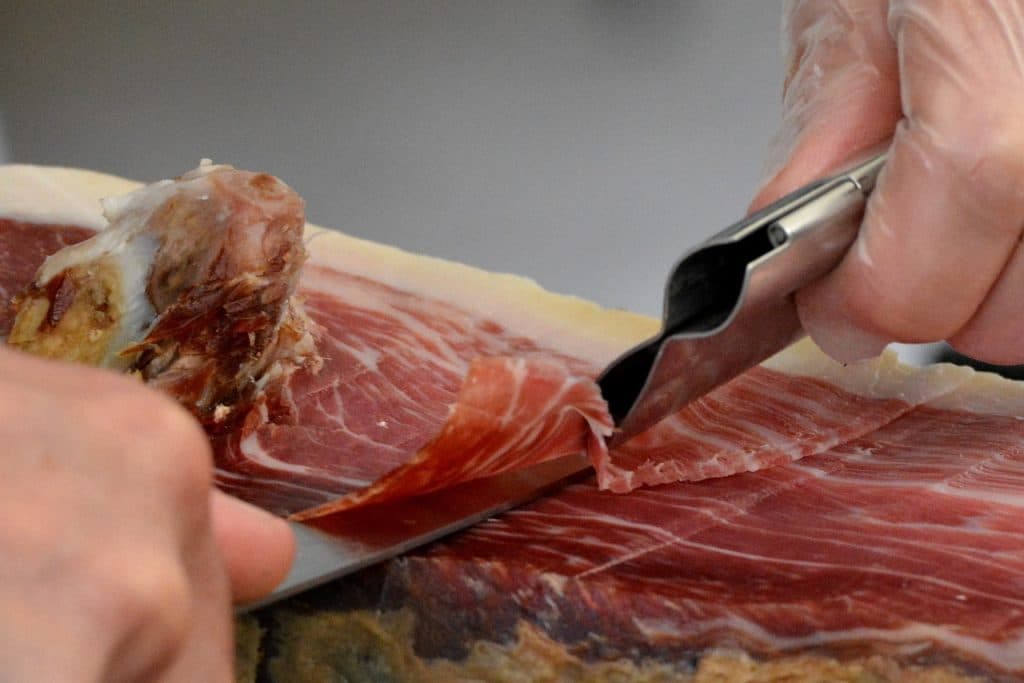 What is the recommended cooking temperature for ham?
In 2011, the USDA revised ham cooking temperatures from 160F to 145F with a 3 minutes rest time.
However, this does not apply to ground meat (organ cuts or sausages) which remains at 160F and can reach 180F for deeper flavors.
Previously, you had to cook ham at high temperatures of 160F to eliminate the trichinella parasite.
However, recent studies show the parasite is killed at 137F, making 160F an overkill temperature.
Additionally, today's ham comes cured and pre-cooked thus, high temperatures would likely lead to overcooking.
Regardless of your ham's size, weight, or thickness, ensure it reaches a 145F internal temperate at the thickest part with 3 minutes of rest time.
According to USDA, this results in a microbiologically safe quality for consumption.
How long to cook a ham at 350F
Baking ham at 350F takes about 10 to 30 minutes per pound but varies according to the size and thickness of the cut.
For instance, a 10 lbs. spiral slice takes about two hours to reach an internal temperature of 140F at 350F oven heat.
Ham weight significantly affects the cooking; for example, a half ham (5 – 7lbs) takes 20 minutes per pound, while a whole ham would cook for 10 to 15 minutes to the pound.
A shank or butt weighing 3 to 5 lbs. takes about 35 minutes a pound to reach 140F.
How long to cook a ham at 325F
Cooking a half ham weighing between 3 and 5 lbs. takes about 17-25 minutes per pound at 325F.
On the other hand, a whole ham weighing 10 to 14 pounds will cook at 325F for about 15 to 20 minutes to the pound.
According to the USDA guidelines, 325F is the optimal temperature to prepare any type of ham or pork.
However, 350F is also an option, provided the meat thermometer registers 145F for leaner cuts and 160F for ground meat.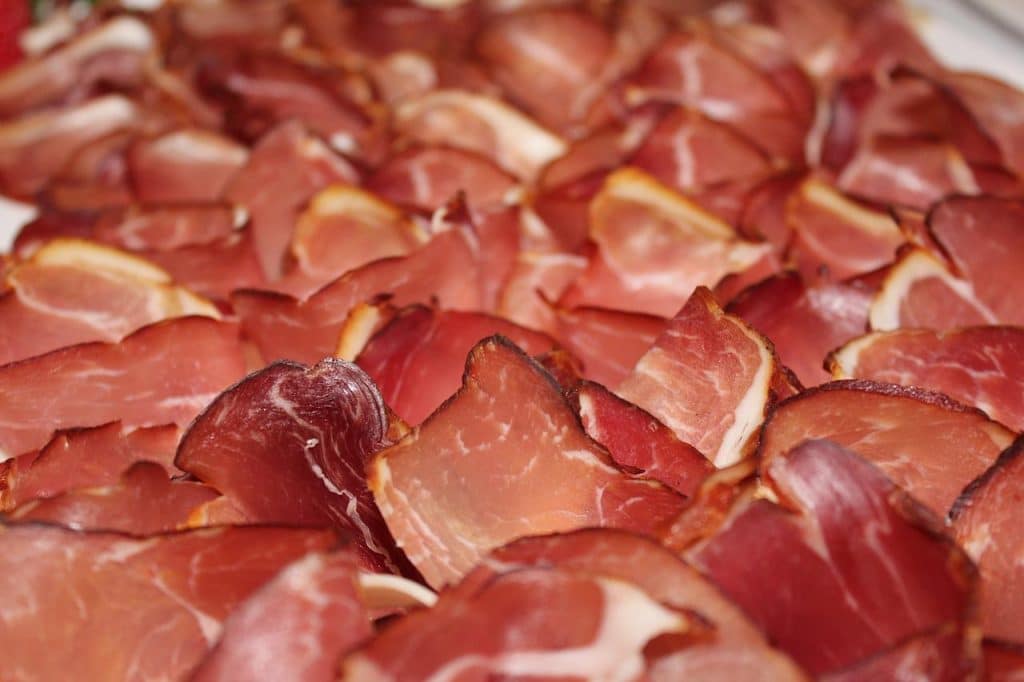 How long do you cook ham per pound?
How long to cook ham per pound depends on variables like oven temperature, ham cut, weight and thickness, and the curing process.
Most store-bought hams are packed, cured and precooked or uncooked.
This also affects the time and temperature while preparing them.
Commercially sold hams packed as half (7 to 10 lbs.) or whole (10 to 18lbs.).
Depending on the cut and thickness, a pound takes about 15 to 30 minutes at 325F.
Therefore, you can adjust the cooking time according to what and how you're preparing your ham, provided the final temperature reads 145F—after 3 minutes of rest.
How long do you cook a 5 lb ham? Half ham
It takes between 10 and 20 minutes per pound for a 5 lbs. cured and smoked ham to reach 145F when cooking over 325F oven heat.
This depends on whether it is cooked or uncooked.
A 5lbs. uncooked ham cut takes 20 minutes at 325F and about 12 minutes at 350F to reach 145F—with a 3 minutes rest time.
For a half-bone-in fresh raw ham, cook at 325F for 40 minutes per pound or until the thermometer registers 1445F.
Boneless cuts take longer to cook but varies according to the thickness.
For example, a 5 pounds boneless shoulder roll or butt cooks for about 35 to 40 at 325F.
A whole leg bone-in ham will take about 20 minutes per pound to cook through.
Carefully monitor the internal temperature to avoid overcooking or drying out your ham.
Allow the 3 minutes to cook to stand for a tender and juicy ham.
How long do you cook a 18 pound ham? Whole ham
Cook an 18lbs. ham at 350F for 10 minutes per pound or at 325 for 18 minutes to a final temperature of 145F.
That's approximately 2 to 3 hours of total cook time, depending on whether the ham is boneless or bone-in, precooked or uncooked, and the cooking method.
An 18lbs. ham would take about 5 to 6 hours in a slow cooker and 3 hours maximum in the oven.
Depending on the cut, and 18lbs. bone-in leg cooks for about 15 minutes per pound in the oven.
Whereas a whole boneless ham at 325F takes 30 minutes to reach 145F with an added 3 minutes stand time.
How long do you bake an 11 pound ham? Oven method
A thicker ham cut will take longer than a thin slice in the oven.
Thus, there is no rubric for an exact cooking time; ensure the final internal temperature is at 145F with a 3 minutes rest time.
Here are the steps to follow, adjust accordingly based on your meat weight:
Step 1: Preheat the oven to 325F. Place your ham on a rack in an oven-roasting pan.
Step 2: Add water to the bottom part of the pan and cover with a lid.
Step 3: Bake covered in foil for 18 minutes per pound or until the thermometer reads 140F.
Step 4: Unwrap the ham and apply the glaze. Increase the heat to 375F and bake for 15 more minutes.
Step 5: Let it stand for 3 minutes to a final reading of 145F.
How long do you cook a 7 lb ham? Slow cooker method
A slow cooker is the best if you want tender and flavor-dense ham.
However, time is the significant downside.
Ensure the slow cooker is large enough to fit your ham, and add an inch of water for even cooking.
Step 1: Add water to the cooker and place your ham inside. It may take 6 to 12 hours, depending on the meat size and thickness, temperature settings (low or high), and the ham cut. Here are the instructions for a 7 lbs. ham:
Step 2: Cook covered on low heat for about 5 to 8 hours, depending on the ham thickness, or until the thermometer reads 140F.
Step 3: Remove from the pot and glaze, then broil for about 10 minutes. Ensure the glaze is well cooked.
Step 4: Let it sit for 3 minutes, carve and serve. Enjoy.
Tips for tender and juicy ham
Cooking tender ham is easy with the following tips:
Lean cuts: Least used muscle cuts like tenderloins, pork chops and roasts have less fat and are prone to overcooking and drying out. Thus, cook them at high heat (350F to 400F) for a brief time until a final temperature of 145F with a 3 minutes rest.
Tough cuts: These cuts produce tender and flavor-dense dishes when slow cooked for longer. Preferably, cook pork shoulders or ribs in a slow cooker for hours to an internal temperature of 180 – 195F. This gives the meat enough tenderizing time resulting in juiciness and tasty ham.
Brine your ham: Baste the ham with a brine mixture at the bottom of the cooking tray. Making your glaze and using it repeatedly throughout the cooking process will give you tender and flavorful ham.
Bake covered: Covering your ham in foil while cooking helps preserve the moisture leading to a juicy outcome.
Rest the ham: Don't skip this process. Resting allows the juices to redistribute to the meat fibers resulting in juicy ham slices.
How do I know when my ham is well-done without a thermometer?
There are several ways to tell when your ham is well-done without a thermometer.
First, insert a metal cake thermometer into the thickest of your ham and feel the heat.
If hot, your ham is well-done; a cold feel indicates more cook time.
Alternatively, insert a metal fork at the thickest part of your ham; if it slides without resistance, your ham is cooked through.
In case of resistance, let the ham cook a bit longer.
Lastly, gently press the thickest part of the ham with your fingers to gauge its firmness.
A soft texture indicates cooking time extension.
If firm to touch, your ham is well-done.
Let's wrap it up
Ham is perfect for most family occasions.
Grilled ham can serve as a main dish, alongside a side and gravy.
The great thing about ham is that it lasts for days in the refrigerator and even longer in the freezer.
That means you can make it a week (or more) before you need it, which cuts down your catering prep time.
These tips render a tender and moist ham for your family and friends.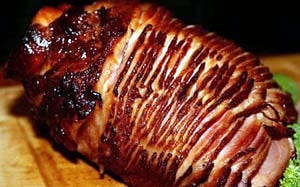 Make Brown Sugar Ham in Slow Cooker
This recipe is perfect for holidays, special occasions, or anytime you want an impressive yet easy meal.
Instructions
Begin by removing the ham from the package and placing it in your slow cooker.

If there is a large amount of fat on the ham, you may want to trim this off.

Mix the brown sugar and butter until well combined in a small bowl.

Rub this mixture over the entire surface of the ham.

Next, add some water or broth to the bottom of the slow cooker to keep the ham moist and tender as it cooks.

If desired, stud the ham with cloves for extra flavor.

Cover the slow cooker with a lid and cook on low heat for 6-8 hours, or until the ham is cooked through.

When the ham is finished cooking, remove it from the slow cooker and allow it to rest for 10 minutes before slicing and serving.

Enjoy!
Video
---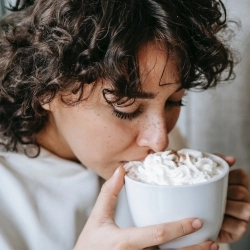 Latest posts by Grace Lambert
(see all)